The following interview was conducted at the "ranch" of the Santa Fe Opera, whose facilitation of the interview is deeply appreciated.
[Below: Michigan soprano Leah Crocetto; edited image of a publicity photograph, courtesy of Leah Crocetto.]
Wm: What were your first memories of music and of opera?
LC: I was born in South Carolina, and in my baby years we moved to Connecticut, where my family is from, and then on to Michigan. My early memories of music and opera go together. I remember listening to Luciano Pavarotti singing Nessun Dorma from Puccini's "Turandot" as a little girl, and the Three Tenors album with Plácido Domingo, José Carreras and Pavarotti. I used to listen to that to go to sleep at night.
The first recording ever made of my voice was when I was three years old, singing Lydia the Tattoeed Lady from the Marx Brothers movie At the Circus. (I wish I still had it.)
I got into opera very naturally. I grew up in a big Italian family where opera was just a normal part of life. It was a genre of music we listened to, like jazz, or rock and roll. I even used to sing myself to sleep.
Wm: What was your first live operatic performance?
LC: In fifth grade I saw Bizet's "Carmen" in Adrian, Michigan at the Opera!Lenawee, at the historic Croswell Opera House. I heard the soprano Liping Zhang as Micaela. My voice already had a natural vibrato, so when I heard Ms Zhang perform with a vibrato that seemed similar to mine, I was inspired! Then the next season I saw Puccini's "Tosca" at the Opera!Lenawee and I was over the moon and just KNEW.
Wm: When did you begin to consider training in vocal performance?
LC: My mom encouraged me to learn about vocal performance. When I when high school I took musical theory classes, and I auditioned performing musical theater songs.
I really wanted to be accepted to Juilliard, but I was scared to death to audition. Nor did I audition for any of the major voice studios.
[Below: Leah Crocetto as Desdemona in the English National Opera's 2015 production of Verdi's "Otello" (center, holding parasol); edited image, based on a production photograph for the English National Opera.]
Wm: Where did you pursue vocal studies?
LC: For college, I enrolled in the Moody Bible Institute in Chicago to study vocal performance. At Moody, I met my voice teacher, the operatic tenor Arnold Rawls. He has been my teacher since I was 18.
Wm: I've reviewed Rawls in live operatic performance and was impressed by his singing. What were your first experiences in opera performance?
LC: I performed at the Utah Festival Opera when I was 19 as part of their Young Artists program, and I participated in Chicago-area competitions. After those experiences, there is a big hiatus in my career.
Wm: Why so?
LC: I felt that I had burnt out and needed clarity in my life. I couldn't take the pressure. After a year at the Moody Institute, I left it and moved back home. Then, when I was 23, I moved to New York City.
Wm: What did you do in New York City?
LC: I waited tables at the Olive Garden and sang cabaret music in jazz clubs. After a few years in New York, I decided that I needed a steady job, so I auditioned for the Metropolitan Opera Chorus.
The person for whom I auditioned told me that I was not meant for an opera chorus. He said keep singing and we will be hearing much more from you in the future. He asked me to leave my materials. I am so glad I heeded his advice and kept singing. (I made my Met debut in 2015 as Liu.)
[Below: Rodolfo (Eric Barry, right) gets to know Mimi (Leah Crocetto, left) in the 2014 Pittsburgh Opera production of Puccini's "La Boheme"; edited image, based on a David Bachmann photograph for the Pittsburgh Opera.]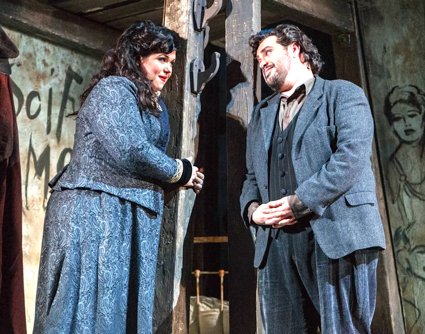 Wm: What did you do with that information?
LC: In 2007, my father and my mom moved back to Connecticut from Michigan. My father told me to get back to my vocal studies with Arnold Rawls. At age 27, I moved back to Chicago with my little sister, when my parents moved to Connecticut.
I auditioned for the Sarasota Opera and was accepted into their Apprentice Artists program and for San Francisco Opera's Merola Young Artists program.
Wm: Tell me about your audition for the Merola program.
LC: When I auditioned for the Merola program, they had me sing my entire catalogue of prepared operatic arias. Its director, Sheri Greenawald, slammed down her hand on the table and said that I had a voice. [See Interview with San Francisco Opera Center's Sheri Greenawald.]
She asked what I had been up to over the past six years, and I told her that I had obtained an acting degree, and had helped my dad while he was very ill. (My father passed away in 2008 just before I began the Merola program.)
Sheri asked me to learn the role of Donna Anna in Mozart's "Don Giovanni" and Alan Darling taught me how to sing it. That is what landed me in the Merola program!
Wm: What did the Merola program teach you?
LC: I knew that I lacked experience. I was green, but hungry to learn.
The program taught me to be appreciative of other artists, and how to be a good colleague. So many singers don't ever learn how to do that, and I saw people that were already tired and disconnected from their careers.
In addition to guiding vocal and dramatic training, the Merola program provides incredible performance opportunities. I sang in San Francisco Opera's annual Schwabacher concert, as the title role in Massenet's "Manon". I sang the Saint-Sulpice scene (with Nathaniel Peake as Chevalier Des Grieux and Ben Wager as the Comte) and the second act of Donizetti's "Don Pasquale"(with René Barbera as Ernesto, David Pershall as Malatesta and Ben Wager as Pasquale). We always say the Merola Class of 2008 was the "dream cast". Every one of us has a career, and we're all close friends.
The Donizetti ensemble, which contains so much coloratura, truly allowed me to find my coloratura voice. It was amazing, and helped me to make my mark that summer. I received great press from that performance, and things started to fall into place.
[Below: Leah Crocetto as Liu in the 2011 revival of David Hockney's production of Puccini's "Turandot"; edited image, based on a Cory Weaver photograph, courtesy of the San Francisco Opera.]
Wm: In my interview with Sheri Greenawald (cited above) she commented on the decision of the San Francisco Opera to offer you an Adler Fellowship at the end of the Merola Program.
LC: When I found that I had been selected to be an Adler fellow, I knew my career was not just a fluke. I got to cover incredible sopranos, including Sondra Radvanovsky as Leonora in Verdi's "Il Trovatore" and Patricia Racette as Marguerite in Gounod's "Faust" and in the title role of Puccini's "Suor Angelica". I also covered the Countess in Mozart's "Marriage of Figaro" and Donna Anna in Mozart's "Don Giovanni". I feel fortunate that all the roles that I covered are roles that I'm singing now.
Wm: It's very unusual for a soprano to have within her repertory the roles of the Countess, Donna Anna, Norina, Marguerite, Leonora in "Trovatore" and Suor Angelica. And your role debut as Verdi's "Aida" is scheduled at the San Francisco Opera. Do you see yourself specializing in a particular type of soprano role, or will you continue to sing a wide-ranging repertory?
LC: I would love to sing the whole Italian spectrum. I've enjoyed singing the bel canto roles of Rossini, Bellini and Donizetti. I've sung the title role of Rossini's "Semiramide", and, of course, you saw me sing Anna in Rossini's "Maometto II" at Santa Fe Opera.
Wm: Yes, in fact I was at the performance which was one of stormy nights that occasionally inflict Santa Fe Opera performances. [See Stormy Weather, But Strong Performances from Pisaroni, Crocetto, Bardon, Sledge in Rossini's "Maometto II" – Santa Fe Opera, August 2, 2012.]
LC: That was a legendary performance. It was the most difficult and memorable night in my career so far. The wind was blowing so hard! The audience at the theater's open sides left their seats and were sitting in the center aisles. Just getting through the night was one of my proudest moments.
Wm: Before we discuss some of the other composers, let's talk some more about your Rossini performances.
LC: Rossini's operas are calisthenics for the voice. He offers the artist a freedom to vary what is sung, so that there is excitement as to how the vocal line is altered and what vocal ornaments an artist can choose to sing. When I practice my scales and runs I use the pop technique of "back singing". Having a background in jazz is extremely helpful in singing Rossini.
[Below: Leah Crocetto is Anna and Elizabeth DeShong is Calbo in the Canadian Opera production of Rossini's "Maometto II"; edited image, based on a production photograph for the Canadian Opera Company.]
Wm: In my interview with Rossini tenor Lawrence Brownlee, he made the point that the melismatic singing (several notes sung to a single syllable) associated with gospel music is great preparation for Rossini. What Rossini roles are you considering, beyond Anna and Semiramide?
LC: I'm interested in performing the title roles in "Zelmira" and "La donna del lago". I see them eventually leading to the title role in Bellini's "Norma".
Wm: What about Adalgisa in "Norma"?
LC: I was offered the role as a young artist, but declined, because its tessitura is not a good fit for my voice.
Wm: What about Donizetti beyond Norina?
LC: I'd like to do the title role of "Lucia di Lammermoor" before I've moved past that repertoire, but I am not sure that will happen. The big Donizetti "wish list" roles for me are the Queens!
Wm: What other roles are you looking forward to trying?
LC: I'm lucky that virtually all of the roles that I consider my favorites, I already sing or have in my future schedule. I will be singing many more Leonoras from Verdi's "Il Trovatore". That is a role that has been steady in my career. I made my European debut in the role at Opéra National de Bordeaux and got to sing it at the Arena di Verona in the great Zeffirelli production! Beyond that I would love to sing Floyd's "Susannah" and also Tatyana in Tchaikovsky's "Eugene Onegin". Gorgeous music. All the Verdi heroines are in my future schedule!
Wm: We are here on the "Santa Fe Opera Ranch". What are your thoughts about this company?
LC: I feel at home. Here in Santa Fe, despite the altitude and allergies, I know that I become a better singer whenever I'm back. They let me try things here. The summer is long, so there is ample time to work on other roles and projects in addition to my operatic assignment.
The administration is a dream – Charles MacKay, the general director, Brad Woolbright, the director of artistic administration, and Adam Franklin, the artistic administrator. They are all like family to us.
[Below: Donna Anna (Leah Crocetto, center) is disconsolate over the death of her father, the Commendatore (Soloman Howard, lying at her feet); edited image, based on a Ken Howard photograph, courtesy of the Santa Fe Opera.]
Wm: Now we can return to "Aida" and your role debut at the San Francisco Opera.
LC: Oh yes! I've seen questions about it on social media, where of course many opinions are shared. I've been working with coaches on preparing the role, and I'm so excited to sing my first Aida in San Francisco.
Wm: You will be singing this role under Maestro Nicola Luisotti whom you've performed as Liu [Luisotti Leads Superb "Turandot" Cast In David Hockney's Treasured Production – San Francisco Opera, September 9, 2011] as the Soprano [San Francisco, Naples Jointly Celebrate Verdi Bicentennial With "Manzoni Requiem" – San Francisco Opera, October 25, 2013] and as Luisa Miller [Review: A Second Look at "Luisa Miller" at the San Francisco Opera – September 27, 2015]. As musical director of the San Francisco Opera, I assume you have been selected as Aida, because he feels you are right for the role.
LC: I feel protected when I sing with Maestro Luisotti. He leads the San Francisco Opera Orchestra perfectly, and the rapport between myself, the conductor and the orchestra makes me feel very safe.
Wm: What does a conductor do that makes you feel safe?
LC: I have a distinctive vibrato that has a particular rhythm, as all singers do. A good conductor knows how to work with that rhythm. It's collaboration. For example, I am here in Santa Fe singing Donna Anna under Maestro John Nelson. He understands an artist's vibrato and is a joy to work with in this music. Same for Harry Bicket, who conducted me in "Maometto Secondo" in Toronto.
Maestro Riccardo Frizza is another conductor that I adore. He is one who feeds you so much from the pit. I was singing the role of Desdemona in Verdi's "Otello" at the Oper Frankfurt, and Maestro Frizza and I had such a great moment during the performance. I was looking at him and he was providing me support, and knew that we were making great art together. I felt on that important night of my career, that the performance was magical.
I also love working with Maestro Donald Runnicles, and am dying to work with him again. He is so organic. There is nothing forced or showy in his performance. What he does is truly legitimate music making. He's well liked by the orchestras and singers. I've never heard a singer speak ill of him. I would watch him conduct anything.
The first Wagnerian operatic performance I ever heard, was when I was in the Merola program and Runnicles was conducting "Das Rheingold". The sound that came from the orchestra under his baton was so beautiful.
Wm: I suspect there are some conductors who won't make your list of favorites. What might a conductor do wrong?
LC: I've worked with some conductors that don't look at singers at all. It's the conductor's responsibility to know a singer's capabilities and to figure how to work together. I remember a conductor who, when I first started performing, burned me and left me in the dust during a performance. Sometimes ego gets in the way of artistic collaboration.
Wm: You had the distinction of having the title role Verdi's "Luisa Miller" for the opening night of the San Francisco Opera's 2015-16 season. That was another career milestone, wasn't it?
LC: It was a dream come true. After I performed Liu in the 2011 season opener of "Turandot", San Francisco Opera's general director David Gockley told me that I would be performing the role of Luisa Miller to open his final season as director. What a wonderful experience, with Michael Fabiano as Rodolfo, the tenor lead, in a Francesca Zambello production, with both Laurie Feldman, Francesca's associate director, and Francesca herself.
I'll never forget the rehearsal in which we staged the final scene in "Luisa Miller". That staging turned into what I believe was some of the most powerful staging of my career. Michael and I know the music well, and are so comfortable singing with each other. The final trio (with Vitaliy Bilyy's Miller) was sung so naturally every performance, that I don't have sufficient words to express its effect.
[Below: Leah Crocetto (left) is Luisa Miller and Michael Fabiano (right) is Rodolfo in the 2015 revival of Francesca Zambello's production of Verdi's "Luisa Miller"; edited image, based on a Cory Weaver photograph, courtesy of the San Francisco Opera.]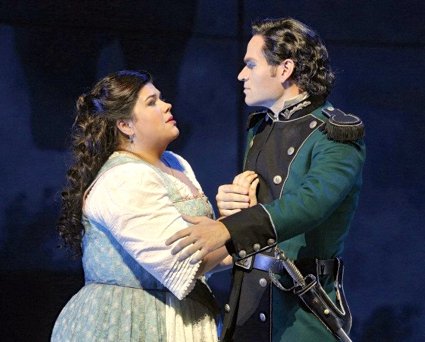 Wm: It's obvious that you have a special rapport working with Michael Fabiano.
LC: I don't feel any inhibitions working with Michael. He cares so much about the story being told and bringing it forth to the audience. He feels the drama and wants the audience to feel what he's feeling. Each night we sang it was like we were living our parts.
Wm: It's quite impressive that two previous San Francisco Opera Adler Fellows – you and Brian Jagde – have been chosen to sing Aida and Radames in a new Francesca Zambello production, and that you (separately) will be debuting at the 2017 Glimmerglass Festival in a lead role in Donizetti's "The Siege of Calais".
LC: The San Francisco Opera "Aida" is an incredible honor for both Brian and I. We couldn't be more thrilled. And to be tackling these gargantuan roles together is a gift, as we already know each other very well! As I am making my role debut as Aida in Francesca Zambello's brand new production, all I can think about is how grateful I am to have the responsibility of this epic role. It's a role that Leontyne Price debuted in San Francisco in 1957, and I am fortunate to have such a wonderful working relationship with Francesca.
Our future endeavors together will be fantastic, including my debut as Eleonora in Donizetti's "The Siege of Calais" this summer at the Glimmerglass Festival. It is also the American premiere. It has never been done this side of the pond! I look forward to working with her on many projects in the years to come.
[Below: Leah Crocetto (below) is Aida and Ekaterina Semenchuk is Amneris in the Francesca Zambello production of Verdi's "Aida" at the San Francisco Opera; edited image, based on a Cory Weaver photograph, courtesy of the San Francisco Opera.]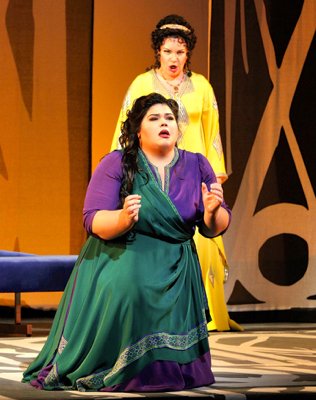 Wm: I expect to be at your role debut as Eleonora. Leah, thank you for an informative interview.
LC: Thank You! Absolutely my pleasure!
A Second Look: Luisotti Improvises in "Turandot" Game Delay, then Hits a Grand Slam – San Francisco Opera, September 25, 2011
Review: Crocetto, Berrugi, Dehn, Mulligan Star in Well-sung, Intelligently-Acted "La Boheme" – San Francisco Opera, November 15, 2014
Review: Zambello's Production of Poulenc's "Dialogues of the Carmelites" at the Kennedy Center – March 8, 2015
Review: Michael Fabiano's Star Ascends in Verdi's "Luisa Miller" – San Francisco Opera, September 11, 2015.
Review: Okulitch, Ketelsen Star in Santa Fe Opera's New "Don Giovanni", July 2, 2016.