Donizetti's "Don Pasquale", a timeless comic treatment of generational conflicts, returned to the War Memorial Opera House stage after a generation's absence. For the opera's re-emergence, the company presented French director Laurent Pelly's zany production, created for the Santa Fe Opera in 2014 and seen last year in Barcelona.
Maurizio Muraro's Don Pasquale
With a deep and resonant bass, command of tongue-twisting patter, and superb comic timing, Maurizio Muraro displayed the innate humanity of the Don Pasquale role.
Muraro's hilarious portrayal engenders audience sympathy, even though he holds an "old-fashioned" idea of marriage – that it is to acquire and protect wealth – whereas the other principal characters represent "modern" ways of thinking – that marriage is a consecration of romantic love.
I had admired previous comic ventures of Muraro at both the Bastille [Fine Cast Revives Strehler's Treasured "Nozze di Figaro" Production – Opera National de Paris, May 31, 2011] and the War Memorial [Daniela Mack, Alek Shrader, Audun Iversen and Maurizio Muraro Sparkle in San Francisco Opera "Barber of Seville" – November 14, 2013].
[Below: Italian bass-baritone Maurizio Muraro as Don Pasquale; edited image, based on a Cory Weaver photograph, courtesy of the San Francisco Opera.]
Before Muraro assumed the role of the crotchety Don, only three artists – each one among the most important buffo comedians of the past century – assayed the role in regular San Francisco Opera performances on the War Memorial Opera House stage.
These three were the movie celebrity and bass buffo Salvatore Baccaloni, the Welsh bass baritone Sir Geraint Evans and the esteemed Italian basso Paolo Montarsolo (who doubled as stage director for the company's 1984 performances).
Having seen each of these artists perform in this opera house, the latter two as Pasquale, I can attest that Muraro deserves to be ranked with those 20th century giants.
Heidi Stober's Norina
Possessing a bright lyric sound, solid coloratura technique and impressive acting skills, Heidi Stober is an invaluable member of any opera company's roster.
The youthful woman roles, be they the romantic lead, the soubrette or the ingenue, are her province. Her ventures into musicals presented on the War Memorial stage are especially noteworthy [see Aboard San Francisco Opera's "Show Boat": Showy Cast, Abundant Show-stoppers – June 1, 2014.]
[Below: Wisconsin soprano Heidi Stober as Norina; edited image, based on a Cory Weaver photograph, courtesy of the San Francisco Opera.]
From Norina's famous first aria Quel guardo il cavaliere (about a fantasy knight lover, in Pelly's staging sung as she reads a romance paperback), she reveals her "feminine wiles". Over the course of the performance Stober will display meekness, shrewishness and romantic ardor, yet also compassion for the elderly Don that she has been engaged to torment.
(Even after the opera's happy ending, one doubts that Norina will submerge her vibrant personality to her new husband, Ernesto.)
Lawrence Brownlee's Ernesto
Ernesto is Lawrence Brownlee's San Francisco Opera debut role. One of the world's leading leggiero tenors, Brownlee is a specialist in the early 19th century Italian opera roles that require virtuoso vocal dexterity [see Rossini Royalty – An Interview with Lawrence Brownlee.]
For Ernesto, Donizetti requires the artist to spend much the opera singing high in the tenor range, and Brownlee performed Ernesto's plaintive arias with stunning beauty.
[Below: Ohio tenor Lawrence Brownlee as Ernesto; edited image, based on a Cory Weaver photograph, courtesy of the San Francisco Opera.]
In Pelly's production, Ernesto, when around Don Pasquale, acts like a spoiled brat, which may suggest to the audience that Pasquale's doubts about him are not entirely unfounded. One imagines, however, that Ernesto's new wife, Norina, intends to shape him up.
Lucas Meachem's Doctor Malatesta
Lucas Meachem's glistening baritone continues to grow in power and expressiveness. Like Muraro, Meachem is an expert in singing rapid-fire patter, assuring a memorable Cheti, cheti duet in which both artists alternate a patter song, then sing it simultaneously. [For his most famous role, see "Hey, Figaro!": A Conversation with Baritone Lucas Meachem.]
[Below: North Carolina baritone Lucas Meachem as Doctor Malatesta; edited image, based on a Cory Weaver photograph, courtesy of the San Francisco Opera.]
Meachem is a favorite of San Francisco Opera audiences (formally confirmed by his being elected as "the San Francisco Opera Emerging Artist" earlier this year, besting a field of 11 formidable nominees in the San Francisco Opera's first-ever "fans' favorite" competition.)
[Below: at the end of the first act, Doctor Malatesta (Lucas Meachem, left), Norina (Heidi Stober, second from left) and Ernesto (Lawrence Brownlee, right) confront a suddenly perplexed Don Pasquale (Maurizio Muraro, second from right, on floor); edited image, based on a Cory Weaver photograph, courtesy of the San Francisco Opera.]
Don Pasquale in San Francisco
Donizetti's comic opera "Don Pasquale" has been a rarity at the San Francisco Opera. Prior to this season's six scheduled performances there had been only 17 previous regular season performances in the company's history – those spread over seven different seasons.
Yet the casts of those 17 performances shone with famous 20th century opera stars. The cast mounted for the opera's six 2016 performances – the first in 32 years – continues that lustrous heritage.
The sets, created for Director Pelly by his frequent collaborator, French designer Chantal Thomas, provided the opportunities for a few gags, without getting in the way of the story. Overseeing the revival was Associate Director Daniel Dooner.
Additional humor was added by chorister Bojan Knezevic – an appropriately ludicrous Notary. The conductor was the Italian maestro Giuseppe Finzi. The San Francisco Opera Orchestra played brilliantly, with the opera's plaintive trumpet solo associated with Ernesto's despair eloquently performed by Adam Luftman.
Back at the beginning of the 1980s, when supertitles were still a novelty, the young Francesca Zambello helped translate "Don Pasquale" (and its jokes) into English, continuing to earn her credit in the company program over three decades later.
Thoughts on "Don Pasquale"
For a different production at another opera company I was invited to write the program notes, which outlined what I regard as the reasons for recognizing the genius inherent in Donizetti's composition of the opera and its central importance to Italian comic opera [See From the "Barber of Seville" to "Don Pasquale".] I also was at the production's premiere in Santa Fe [see my comments at Review: Ovations for Laurent Pelly's Daffy "Don Pasquale" – Santa Fe Opera, June 28, 2014.]
[Below: his household turned upside down, Don Pasquale (Maurizio Muraro, front left) takes some suggestions from Doctor Malatesta (Lucas Meachem, front right) on what to do next; edited image, based on a Cory Weaver photograph, courtesy of the San Francisco Opera.]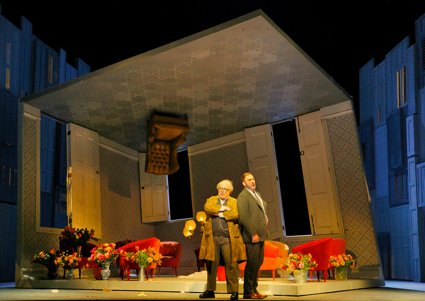 Recommendation
I recommend this opera and its excellent cast, both for the veteran operagoer and the person new to opera.