The 18th century Chinese classic The Dream of the Red Chamber qualifies as one of the significant contributions to the literature of the human experience. That does not necessarily mean that one can extract a successful opera out of the sprawling epic.
Chinese composer and co-librettist Bright Sheng and his California co-librettist David Henry Hwang have done just that, neatly intertwining the supernatural story about a stone and a flower, who have co-existed in a loving relationship for 3000 years, with their "human" story after the flower, born as Dai Yu, and the stone, born as Bao Yu, become enmeshed in Chinese imperial and clan politics.
[Below: Pureum Jo as Dai Yu; edited image, based on a Cory Weaver photograph, courtesy of the San Francisco Opera.]
The first 80 chapters of the Red Chamber are attributed to a single author, who wrote the work in the mid-18th century. From these 80 chapters Sheng and Hwang have fashioned a viable operatic work, that brilliantly melds the supernatural love story and the gritty, savage imperial politics of a Chinese ruling class – that most observers suggest is meant to be the Qing (Manchu) dynasty.
[Below: Yijie Shi as Bao Yu; edited image, based on a Cory Weaver photograph, courtesy of the San Francisco Opera.]
The would-be lovers, Bao Yu (sung by tenor Yijie Shi) and Dai Yu (sung by soprano Pureum Jo) have connected through poetry and comprehend their attraction to each other. Their love affair is thwarted by the machinations of the emperor (who never appears in the opera, but is the puppet-master of much that happens).   Bao Yu has been born as the only son of the Jia clan that owes the emperor a huge debt but does not have the resources to pay it.
We observe the effects of the emperor's malevolent strategy near the opera's end. He has demanded that that Bao Yu marry Bao Chai, the daughter of the wealthy Xue clan. Bao Yu is tricked into marrying a veiled woman he believes is Dai Yu. The veiled woman is Bao Chai.
The ceremony uniting the Jia and Xue clans is all that the Emperor needs to justify confiscating all the properties and wealth of both the Jia and Xue clans to pay off the Jia clan's debt (simultaneously impoverishing two of the Emperor's rival clans).
Yijie Shi's Bao Yu 
The reputation of Chinese leggiero tenor Yijie Shi is as a specialist in bel canto operas (performing regularly in Europe, notably at the Rossini Festival in Pesaro, Italy).
In this, his San Francisco Opera debut, he made a strong impression as Bao Yu, displaying a bright, elegant lyric tenor.
[Below: Bao Yu (Yijie Shi, right) expresses his love for Dai Yu (Pureum Jo, left); edited image, based on a Cory Weaver photograph, courtesy of the San Francisco Opera.]
Pureum Jo's Dai Yu
I have been present at each of Korean soprano Pureum Jo's last three operatic assignments, including her Houston Grand Opera appearances as Barbarina [Review: Boogie Nights at Mozart's "Marriage of Figaro" – Houston Grand Opera, January 30, 2016] and as part of the world premiere of Carlisle Floyd's new opera, "Prince of Players".
Her vocal performances in Houston had impressed me. Her assumption of the lead female role in "Red Chamber" confirmed that she is in the early years of a major career as a lyric soprano.
[Below: Dai Yu (Pureum Jo, front, right) plays music on her qin; edited image, based on a Cory Weaver photograph, courtesy of the San Francisco Opera.]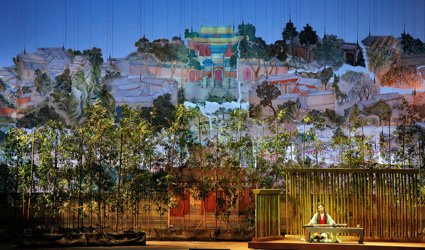 Hyona Kim as Lady Wang
South Korean mezzo-soprano Hyona Kim has been the winner in important vocal competitions, but her San Francisco Opera debut as Lady Wang is her most important operatic assignment thus far in her career.  With a power mezzo and superb acting ability, that career should be an important one.
The second matriarch (after the death of Granny Jia) of the Jia clan, Lady Wang is the unwitting agent of the emperor's deceitful strategies that result in the destruction of the family into which she married, as well as her sister's family.
[Below: Hyona Kim as Lady Wang; edited image, based on a Cory Weaver photograph, courtesy of the San Francisco Opera.]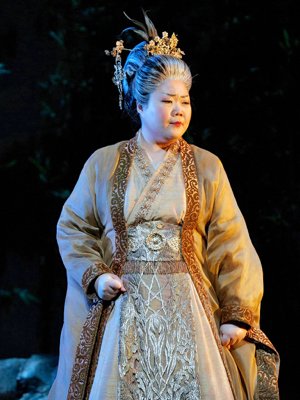 Irene Roberts as Bao Chai
California mezzo-soprano Irene Roberts is known to San Francisco Opera audiences through her Giulietta [Matthew Polenzani Triumphs in Pelly's Take on "Tales of Hoffmann" – San Francisco Opera, June 5, 2013] and Carmen [Review: Roberts, Jagde and Dehn in "Carmen" – May 29, 2016].
Roberts was an engaging, vocally secure Bao Chai, a likable character even though representing "the other woman".
As the daughter of the wealthy Xue clan, into which Lady Wang's sister has married, she becomes another unwitting pawn of the emperor's strategems.
[Below: Irene Roberts as Bao Chai; edited image, based on a Cory Weaver photograph, courtesy of the San Francisco Opera.]
Karen Chia-Ling Ho's Princess Jia and Quilin Zhang's Granny Jia
Recently a young artist in San Francisco Opera's Merola program, Taiwanese soprano Karen Chia-Ling Ho, in her San Francisco Opera debut, performed the role of the emperor's concubine, Princess Jia.
Wearing successfully one of the most ambitious costumes in the opera company's history (requiring a reported 70 yards of fabric), Chia-Ling Ho made a stunning impression, moving gracefully and singing beautifully.
[Below: Princess Jia (Karen Chia-Ling Ho, left) informs Granny Jia, the matriarch of the Jia clan (Quilin Zhang, center) and Lady Wang (Hyona Kim, right) that she may be losing a power struggle at the imperial court, which may have disastrous consequences for the family; edited image, based on a Cory Weaver photograph, courtesy of the San Francisco Opera.]
Chinese contralto Quilin Zhang was a deep-voiced Granny Jia, the elderly matriarch of the Jia clan, whose deathbed wish – that Bao Yu and Dia Yu be married – was thwarted by Lady Wang's ultimately unsuccessful alternate plan.
[Below: Bao Yu (Yijie Shi, center, in red) is arrested by the army of the emperor, whose real purpose becomes clear; edited image, based on a Cory Weaver photograph, courtesy of the San Francisco Opera.]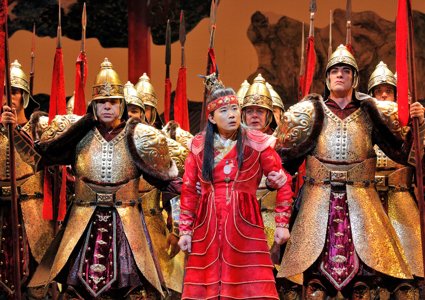 Other Cast Members and the Musical Performance
Chinese mezzo-soprano Yanyu Guo, a veteran of several San Francisco Opera roles during the early 1990s, was Aunt Xue. California actor Randall Nakano played the parts of the Monk and Dreamer, who were narrators explaining some of the action to come. Latvian mezzo-soprano Zanda Svede, Pennsylvania soprano Toni Marie Palmertree and Egyptian-born New Zealand soprano Amina Edris each performed double roles, as did Samoan-born New Zealand tenor Pene Pati, New York tenor Alex Boyer and baritone Edward Nelson.
Georgia conductor George Manahan conducted the San Francisco Opera Orchestra.
Stan Lai's Staging, Tim Yip's Production and Other Credits
Taiwanese director Stan Lai's staging was fast-moving and clear. The production was by Chinese designer Tim Yip, who won an Academy award for the film Crouching Tiger, Hidden Dragon. Yip, who has also designed a television series based on The Dream of the Red Chamber, created beautfully conceived and visually effective sets and costumes.
Californians Gary Marder was the lighting director and Lawrence Pech the dance master. Taiwanese choreographer Fang-Yi Sheu, Scottish Chorus Director Ian Robertson and New York Fight Choreographer Dave Maier also contributed to the successful production.
Thoughts on the Opera
An ambitious work based on a literary masterpiece that seemed to defy distillation into an operatic form, the result by Sheng and Hwang was a success. The juxtaposition of its supernatural and human worlds was understandable, its story-line far easier to explain than, say, the contemporary opera, Corigliano's "The Ghosts of Versailles".
Sheng more or less described himself, in a press briefing I attended, as a person considered to be Chinese in the West and a Westerner in China. Although his opera honors a great Chinese work of art, it seems to me to be quite Western in its musical idiom, its orchestration and its pleasantly melodic writing for the operatic voice.
When one assesses a new work at its world premiere, it's always possible to think of alternative ways that this or that detail could have been done, and some of the greatest operatic masterpieces have had portions reworked. On balance, however, is a significant achievement.
Recommendation
I recommend this opera for those who appreciate contemporary opera, and for all those who would enjoy seeing a Chinese epic presented in English on the operatic stage.
Since this is an expensive production with a large cast, it is beyond the resources of most opera companies. It is an opera that one cannot be assured will be repeated often. The tickets have sold briskly, and those intrigued by the story should avail themselves of this opportunity to see this opera.