The Glimmerglass Festival presented a superb new production of Robert Ward's 1961 opera, "The Crucible", under the musical direction of French conductor Nicole Paiement, staged by New York director Francesca Zambello, with sets by Welsh designer Neil Patel and costumes by Washington state designer Jessica Jahn.
The opera is based on Arthur Miller's 1953 play. Miller originally intended the play to be an indictment of a notorious technique of Congressional investigating committees that encouraged witnesses to "name" persons they believed were Communists or Communist sympathizers. The events of "The Crucible" are propelled by young girls "naming" certain leading women of Salem Village whom the girls claim are witches.
The general theme of the opera is that a community divided by social and political values can be torn apart by demagoguery and irrational thought. Its apparent relevance to controversies of our present day seemed to Glimmerglass Festival general director Francesca Zambello as a timely reason for the Glimmerglass Festival to create this new production of the opera.
However, "The Crucible" is much more than a "message" opera. In performance, its proves to be not only one of the great mid-20th century American works – undeservedly neglected – but a dramatically powerful, musically compelling, operatic experience.
Notes on the Performance
The opera opens with the event in the woods (seen through a scrim) in which the slave Tituba (Illinois mezzo-soprano Zoie Reams) is engaged in a mysterious ceremony with several of girls who are daughters of prominent families in Salem Village.
[Below: Tituba (Zoie Reams, center, in front of fire) is surrounded by girls of Salem Village as she appears to conjure up the forces of evil; edited image, based on a Karli Cadel photograph, courtesy of the Glimmerglass Festival.]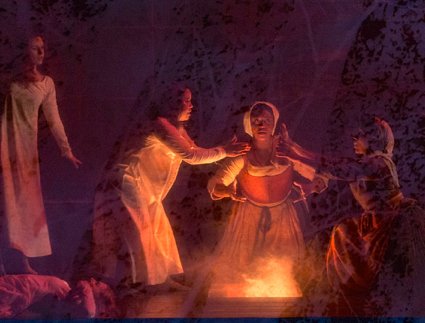 The scrim rises and we are in the home of one of the young women, Betty Parris (California mezzo-soprano Mary Beth Nelson), the daughter of the Reverend Samuel Parris (Virginia tenor Frederick Ballentine, whom the Glimmerglass Festival has announced will be Sportin' Life in their 2017 production of Gershwin's "Porgy and Bess".)
The Reverend John Hale (Connecticut bass-baritone David Pittsinger) has been called in to help determine if there is a supernatural cause to an illness that has befallen Betty Parris that the medical doctors cannot diagnose. The assembled families divide between those who are open to the existence of Devil-inspired witchcraft and those that don't believe such a phenomenon exists.
[Below: Family and neighbors gather to ponder the causes of the mysterious illness that afflicts Betty Parris (Mary Beth Nelson, lying in bed in white nightgown), from left to right, Tituba (Zoie Reams), Thomas Putnam (Michael Miller), Ann Putnam (Gabriella Sam), Francis Nurse (Zachary Owen, standing), Rebecca Nurse (Helena Brown, at bedside), Betty Parris (Mary Beth Nelson), the Reverend Samuel Parris (Frederick Ballentine) and the Reverend John Hale (David Pittsinger); edited image, based on a Karli Cadel photograph, courtesy of the Glimmerglass Festival.]
Brian Mulligan's John Proctor, Jamie Barton's Elizabeth Proctor and Ariana Wehr's Abigail Williams
It is the opera's next scene that introduces the opera's principal protagonists, the Proctors, played by the two of opera's most important young stars, New York baritone Brian Mulligan and mezzo-soprano Jamie Barton.
It is the Proctors' relationship that provides the dramatic arc of the opera. The vocally strong, soulful performances of the two artists set a new standard for 21st century performances of this important work.
[Below: John Proctor (Brian Mulligan, left) attempts to secure forgiveness for a marital transgression from his wife Elizabeth Proctor (Jamie Barton, right); edited image, based on a Karli Cadel photograph, courtesy of the Glimmerglass Festival.]
The Proctors' marriage has been strained by Elizabeth's discovery that her husband had had a brief affair with their servant, the mentally unbalanced Abigail Williams, whom Elizabeth then dismissed. It is Williams (Brazilian soprano Ariana Wehr) who leads a group of hysterical young girls in accusing various community women of witchcraft.
Abigail has the unwelcome delusion that should John Proctor's wife be disposed of, that she and he can leave the community and live happily together.
Salem Village is a community in which private relationships are considered public matters, so Abigail's false accusation of Elizabeth for witchcraft inadvertently ensnares Abigail's would-be lover, John Proctor. The natural inclination of married couples to protect one another led Elizabeth to deny in a court of law that her husband had had an affair, whereas he had confessed the affair to the court as Abigail's motivation for so accusing his wife. But Judge Danforth regards every misstatement in court as a criminal offense, usually requiring incarceration and often execution.
[Below: Abigail Williams (Ariana Wehr, right) whose accusations have resulted in John Proctor (Brian Mulligan, left) being accused of "lechery", tries to get him to leave his wife for her; edited image, based on a Karli Cadel photograph, courtesy of the Glimmerglass Festival.]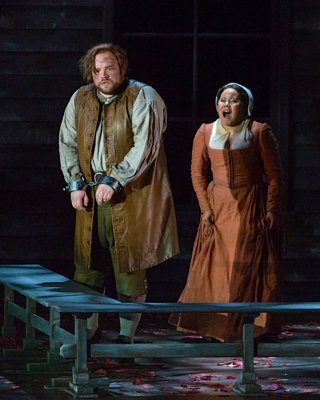 This summer's performances by both Mulligan [see Rising Stars: An Interview with Brian Mulligan and Barton [see, for example, Review: Meade, Barton, Thomas, Robinson Sing Beautifully in "Norma" – Los Angeles Opera, November 21, 2015 have followed significant career-advancing years for both artists. Their "Crucible" performances confirm that each is an international opera star of the first rank.
Jay Hunter Morris' Judge Danforth
The narrow-minded, witch-hunting Judge Danforth (impressively sung by Texas tenor Jay Hunter Morris) insists that anyone accused must be guilty of the crime, but can obtain clemency from hanging through confessing to the crime.
[Below: Jay Hunter Morris is Judge Danforth; edited image, based on a Karli Cadel photograph, courtesy of the Glimmerglass Festival.]
Morris has emerged as one of the world's most sought after heldentenors in the heroic roles of both Wagnerian [see Review: Jay Hunter Morris, Christine Goerke Lead a Vocally Strong "Siegfried" Cast – Houston Grand Opera, April 20, 2016] and contemporary [see Review: Maestro Conlon Captains Another Successful Launch for Heggie's "Moby Dick" – Los Angeles Opera – November 22, 2015] opera. His dedication to the Glimmerglass Festival as its 2016 resident Artist and his character study of Judge Danforth is evidence of Morris' commitment to projects important to Francesca Zambello [See Rising Stars: An Interview with Jay Hunter Morris.]
Helena Brown's Rebecca Nurse and Other Cast Members
Morris' Judge Danforth fervently believes that the Devil controls the souls of many residents of Salem Village, and that persons who accuse others of witchcraft are the agents of God. Danforth insists that accused souls can be saved if they would only confess to witchcraft, which the Judge believes releases a person from the Devil's hold. If a person does not confess to such a charge, that in itself is proof that the Devil holds them and they must be eliminated from the community through execution.
Such a perversion of justice cannot be agreed to by two of the opera's characters, Rebecca Nurse (Helena Brown) and Giles Corey (Missouri tenor Chaz'men Williams-Ali) – each of whom chooses death over confessing to witchcraft. John Proctor, reconciled with his wife, intended to confess, but Rebecca Nurse's refusal to accept the Judge's unconscionable demands, caused Proctor himself to stand with Rebecca Nurse. Both were hanged.
Helena Brown projected a strong image, beautifully sung, of the heroic Rebecca Nurse.
[Below: Rebecca Nurse (Helena Brown, left) refuses to believe that witches exist in Salem Village, and, supported by her husband Francis Nurse (Zachary Owen, right) will not confess to witchcraft, even though it will cost her her life; edited image, based on a Karli Cadel photograph, courtesy of the Glimmerglass Festival.]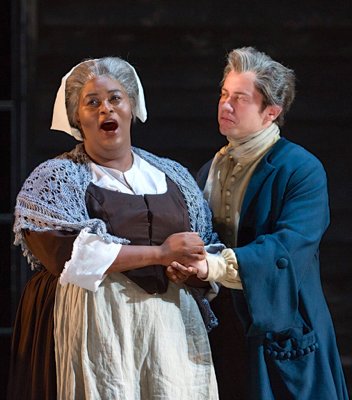 Each of the cast members in the smaller roles gave extraordinary individual performances. These include David Pittsinger's Reverend Hale, Frederick Ballentine's Reverend Samuel Parris, Mary Beth Nelson's Betty Parris, Pennsylvania bass-baritone Michael Miller's Thomas Putnam, New York soprano Gabriella Sam's Ann Putnam, Illinois bass-baritone Zachary Owens' Francis Nurse.
Texas soprano Maren Weinberger was Mary Williams, Illinois tenor Ian Koziara was Ezekial Cheever. Pennsylvania soprano Emma Grimsley was Ruth Putnam, Colorado mezzo-soprano Molly Jane Hill was Susana Walcott and California soprano Meroe Khalia Adeeb was Sarah Good.
Nicole Paiement's Conducting and the Musical Performance
French conductor Nicole Paiement has become an impassioned advocate for new productions of operas that are "neither old or new", such as this masterwork by Robert Ward. She expressed her particular admiration of Ward's opera.
In her informative pre-performance talk, Maestra Paiement described the technical structure of "The Crucible's" lyrics, which follow closely the rhythmic structure of Arthur Miller's verses. The musical score is built ingeniously around the lyrical framework of the libretto.
Paiement's conducting reflected her passion for the score. The Glimmerglass Orchestra responded brilliantly.
[Below: Conductor Nicole Paiement; edited image, based on a publicity photograph for Opera Parallele.]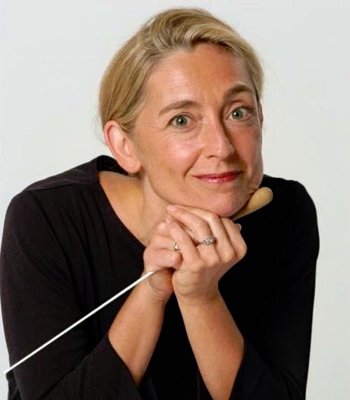 Francesca Zambello's production and Neil Patel's sets
Francesca Zambello devised intelligent staging for the Ward's opera that permitted smoothly flowing scenes for the through-composed opera. The opening transition from Tituba's incantation to Betty Parris' sickbed was effective, and the action flowed through the chilling final scene in which the impending deaths of Rebecca Nurse and John Proctor were confirmed.
"The Crucible" utilized an imposing unit set, created by Neil Patel, that variously represented the home of Reverend Parris' family, of the Proctors, the courtroom in which Judge Danforth presided. The branches of trees seen above the stage suggested the natural world that surrounds the small, isolated Salem Village community and its vulnerability to forces it does not control.
[Below: Neil Patel's sets for the Glimmerglass Festival production of Ward's "The Crucible"; edited image, based on a Karli Cadel photograph, courtesy of the Glimmerglass Festival.]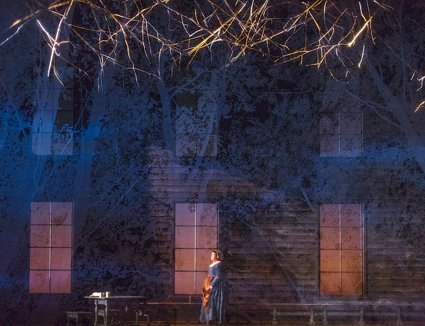 "The Crucible" in the 20th and 21st Centuries
The prejudices or calculations of critical and audience responses of many large city operatic managements had routinely passed over mid-20th century American works for entry into their performance repertories. "The Crucible" was rarely considered for and virtually never included in the main season repertories of the big companies. (Despite their adventuresome reputations, "The Crucible" has never been performed at the Santa Fe Opera, and has had only one performance in history by the San Francisco Opera, and that performance in their low budget "Spring Opera Theater" series in 1965.)
Despite its relative neglect by the American operatic community, it is an extraordinary operatic experience, musically imposing, melodically effusive, and dramatically absorbing and cohesive. It deserves recognition in the 21st century as an operatic masterpiece.
[Below: Composer Robert Ward in a photograph contemporary to the 1962 premiere of "The Crucible"; resized image of a historical photograph from the Blackstone Studios.]
The enthusiastic reception for the opera at the Glimmerglass Festival, although seemingly unknown to most of the festival audience, is predictive of the acceptance it will receive from opera audiences if it becomes better known and is performed with the quality of production and depth of cast as was mounted by the Glimmerglass Festival.
Recommendation
I recommend the performance and production enthusiastically, both for the veteran operagoer and the person new to opera.