The following interview took place with the facilitation of the Santa Fe Opera, in conjunction with Patricia Racette's appearances as Minnie in Puccini's "Girl of the Golden West".
[Below: Minnie (Patricia Racette, center) stands among the regular ragazzi at her Polka Dot Saloon in Richard Jones' 2016 Santa Fe Opera production of Puccini's 'The Girl of the Golden West"; edited image, based on a Ken Howard photograph, courtesy of the Santa Fe Opera.]
Wm: I ask each of the artists I interview as to their earliest memories of music, and of opera, and how they became an opera singer. How would you respond to this question?
PR: I remember being a four year old child on Christmas morning. One of the first gifts presented to me was a miniature toy organ. I remember so clearly being fascinated by the instrument, the sounds it made–to the point of not having any interest in the rest of my Christmas gifts! I was hooked. I knew that music had lured me in!
Wm: Over the past decade I've reviewed 22 of your performances in 16 roles at six opera houses. This includes a significant part of the Puccini canon – Manon Lescaut, Butterfly, Tosca, Giorgetta in "Il Tabarro", Suor Angelica, Lauretta in "Gianni Schicchi", and Marta Domingo's version of Marta in "Rondine", and, previously, Liu in "Turandot". Currently you are performing Minnie in "Girl of the Golden West". What are your thoughts about Minnie – vocally and dramatically – in relationship to Puccini's other heroines? Will I be able to see you as Turandot at some time and place in the future?
PR: I have certainly enjoyed a wonderful gamut of Puccini roles in my career, and I can honestly say that I find Minnie to be the most unique among them vocally. The role encompasses both a stentorian vocal line (much like Turandot) as well as a need for supple and subtle singing.
[Below: Minnie (Patricia Racette, left) rejects the marriage offer from Sheriff Jack Rance (Mark Delavan, right); edited image, based on a Ken Howard photograph, courtesy of the Santa Fe Opera.]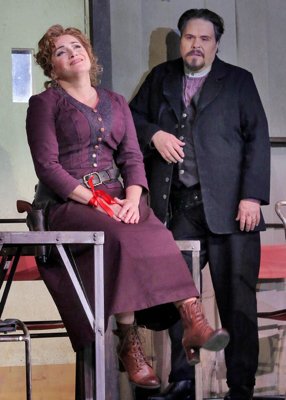 The vocal range of this role winds through the voice within short periods of musical time, making it a unique and ultimately satisfying challenge! Dramatically, Minnie is a woman of great strength and resource. Let us remember – she owns her own saloon! She is in charge of her life and her boundaries – at least until Johnson enters the picture!
Wm: Your early career is associated with the San Francisco Opera, where you performed an extraordinary group of roles in the lyric and lighter spinto repertories – including Micaela in Bizet's "Carmen", Desdemona in Verdi's "Otello", Mathilde in Rossini's "Guillaume Tell", and the title roles in Verdi's "Luisa Miller" and Janacek's "Jenufa".
Even though you are now associated with the heavier dramatic soprano repertory, you occasionally have performed more lyric roles such as Marguerite in Gounod's "Faust" and Margherita in Boito's "Mefistofele". Do you look forward to mixing in a lyric role between the big dramatic parts?
PR: The progression of repertoire for me has been a road I have carefully considered and chosen – and that includes when to say goodbye to certain roles. As you may be aware, I retired the role of Cio Cio San last summer, feeling complete in the journey we had taken together. I pride myself on paying close attention to the function of my voice and make my role choices accordingly. All this being said, I have remained clear as to the timbre and weight of my voice.
[Below: Butterfly (Patricia Racette) futilely awaits the return of her husband in the Anthony Minghella production of Puccini's "Madama Butterfly"; edited image, based on a production photograph from patriciaracette.com.]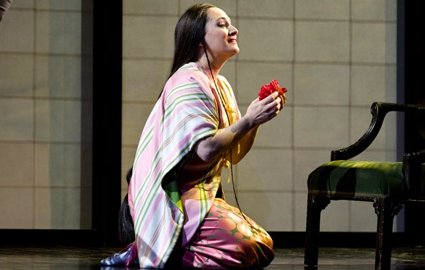 My biggest consideration is ensuring that I can serve the role and the piece in an effective and healthy manner. The other important factor is the character– I gravitate towards portrayals of women who are believable, who exist in "3-D"– the more complex, the better!
Wm: Your admirable performance in Floyd's "Susannah" confirmed the dramatic impact of this work and contributed to the reputation of this enduring opera. You've performed several important contemporary roles in works by Floyd, Tobias Picker, Paul Morevac and others. What contemporary operas do you believe have a chance at the permanent performance repertory if they could get more productions and performances?
PR: I think most contemporary operas would benefit from repeated performances and productions! I think it important to give these pieces a chance to have several interpretations both from production value and artist input. Where would Puccini's "Madama Butterfly" be without having first explored the Brescia edition, the Milano edition before our now performed Paris edition? Opera takes time to incubate!
[Below: Patricia Racette in the title role of Richard Strauss' "Salome"; edited image, based on a Karen Almond photograph from patriciaracette.com.]
Wm: Your performances bring such a humanity to each of your roles that its apparent that you've achieved a personal understanding of how that character thinks and feels. Is there a process that you follow in adding a new character to your repertory?
PR: Firstly, thank you for the generous comment. I pride myself in finding the truth and believability in every part I portray. As a contemporary woman, certainly my literal 'life situation' is rarely going to overlap with the character's, but the thread of humanity and the common human experience is a constant factor in how we/how I continually find that there is always more to say.
[Below: Katerina Ismailova (Patricia Racette) in the Dmitri Tcherniakov English National Opera production of Shostakovich's "Lady Macbeth of Mtensk"; edited image, based on a Tristram Kenton photograph from patriciaracette.com.]
Wm: If a major opera company offered you a new production of any work, from any operatic composer, that you wished to perform, what opera and role would you choose?
PR: What a great thought! I have to say, if I had my choice, I would wish for a new commission (musically written in Kurt Weill-esque style) of the life of Edith Piaf. Having recorded a few of her songs on my cabaret album (have you heard my CD, Diva on Detour??!), I fell in love with her music and her story all over again.
[Below: the Album Cover of Patricia Racette's CD "Diva on Detour".]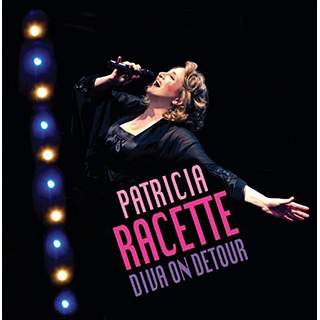 Barring that – or in addition! – I would love to give Emilia Marty in Janacek's "Makropolous Case" a whirl!
Wm: Thank you for participating in this interview.
PR: Thank you!