As the last production overseen by the San Francisco Opera's retiring General Director David Gockley, the company mounted Czech composer Leoš Janácek's lushly melodic, highly dramatic, masterpiece "Jenufa".
Malin Byström's Jenufa
Swedish soprano Malin Byström, in her San Francisco Opera debut role, was a moving Jenufa. She gave an affecting vocal performance, displaying mastery of the high tessitura of the role.
Byström's Jenufa, convincingly conveyed the emotional reactions of a woman who suffers a series of deeply hurtful crises – the hostility of Steva, the village ne'er do well who has impregnated her; the accidental mutilation of her face from her ardent suitor Laca; the mysterious death of her newborn son; and the eventual revelation that it was her stepmother Kostelnicka who killed the infant to save Jenufa from "shame".
[Below: Malin Byström as Jenufa; edited image, based on a Cory Weaver photograph, courtesy of the San Francisco Opera.]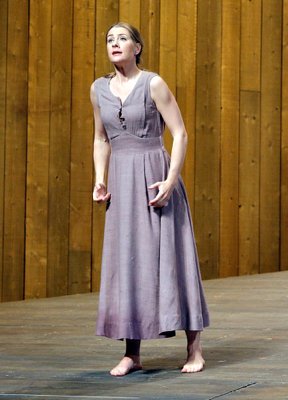 Karita Mattila's Kostelnicka
Finnish soprano Karita Mattila was strikingly effective in the role of Jenufa's stepmother Kostelnicka, whose horror of being judged by the small community is such an obsession that it leads her to infanticide.
[Below: Karita Mattila as Kostelnicka Buryjovka; edited image, based on a Cory Weaver photograph, courtesy of the San Francisco Opera.]
It is rare for an operatic character like Kostelnicka to gain audience sympathy, but Janacek's music, the unforgettable vocal power and dramatic intensity of Mattila's performance, and the redemptive quality of Kostelnicka's stepdaughter Jenufa's expression of empathy (though not forgiveness) are transformative.
Mattila's monologue and her final duet with Byström, were in a special class of operatic excellence. Always dramatically effective in any part she assays [Review: Houston "Walküre" Showcases Christine Goerke's Astonishing Brünnhilde, Karita Mattila's Stunning Sieglinde – Houston Grand Opera, April 25, 2015], Mattila's Kostelnicka deserves to be remembered as one the great performances in San Francisco Opera history.
William Burden's Laca
The male leads in "Jenufa" are hardly romantic heroes. New Jersey tenor William Burden sang the part of Laca, who Jenufa ultimately agrees to marry, even though Laca has accidentally slashed her face, leaving a permanent scar.
Burden, in his role debut, gave one of the finest vocal and dramatic performance that I've yet heard from an artist, whose previous work I have long admired. Burden's Laca was an extraordinary characterization, an impressive addition to his repertory of operatic roles.
Laca's heartfelt expression of love in the opera's final scene is one of the most beautiful passages in all of opera, which Burden sang memorably.
[Below: William Burden as Laca Klemen; edited image, based on a Cory Weaver photograph, courtesy of the San Francisco Opera.]
In the past few months alone I have reviewed Burden's roles from dramatic bel canto [see Review: New Orleans Opera's Spectacular "Lucia di Lammermoor" with Laura Claycomb, William Burden – March 15, 2015] to classical period comedy [Review: "La Finta Giardiniera": Madcap Mozart at the Santa Fe Opera – July 29, 2015.
Scott Quinn's Števa
Texas tenor Scott Quinn, in his San Francisco Opera debut role, plays the devil-may-care, but weak-willed Števa, whose ribald entrance with his beer-sotted friends is one of the many brilliant highlights of Janacek's score.
Director Tambosi and dance master Lawrence Pech have given Quinn's Steva complex movements that plausibly mimic drunken Moravian folk dancing. Well-sung and well acted, Quinn's Steva is a nicely conceived portrait of a ultimately dislikable character.
[Below: Scott Quinn as Steva Buryja; edited image, based on a Cory Weaver photograph, courtesy of the San Francisco Opera.]
I had reported on Quinn's humorous performance as the charlatan barber Pirelli in Houston [see Review: "Sweeney Todd" at Houston Grand Opera: Nathan Gunn, Director Lee Blakeley Make a Compelling Case for Sondheim as Opera, April 24, 2015], which provides evidence of Quinn's ability to portray markedly different operatic roles.
Jill Grove's Grandmother Buryjovka and Other Cast Members
Previous appearances by Jill Grove in San Francisco during the past decade have been few, although her acccomplishments at other companies are well-regarded [see, for example, her Jezibaba Review: Powerful Performances by Martinez, Jagde in "Rusalka" – Houston Grand Opera, January 29, 2016]. Her secure lower register and affecting duets with Byström's Jenufa were especially noteworthy.
[Below: Jenufa (Malin Byström, left) seeks comfort from Grandmother Buryjovka (Jill Grove); edited image, based on a Cory Weaver photograph, courtesy of the San Francisco Opera.]
Basso Matthew Stump was excellent as the Foreman at the mill, bass-baritone Anthony Reed as the Mayor of the Village. Toni Marie Palmertree was Barena, Julie Adams was Karolka, Zanda Švede was the Mayor's Wife and Buffy Baggot was Kostelnicka's aunt. Angela Moser and Torlef Borsting rounded out the cast.
Olivier Tambosi's Direction and Frank Philipp Schlössmann's Sets
Parisian director Olivier Tambosi's production is from the Hamburg State Opera. It emphasizes the stifling of individuality that can occur in a small rural community such as here in Moravia. It is a theme that recurs in such operas as the Wartburg of Wagner's "Tannhäuser" or the New Hope Valley of Floyd's "Susannah".
Schlössmann's sets, dominated by a large boulder in the second act and less obtrusive rock formations in the first and third, were designed to symbolize the stultifying and oppressive effects of the village's reaction to signs of non-conformity in its inhabitants. Rock metaphors, in fact, occur in the libretto.
The village's chief economic enterprise is the Buryja mill, so that vertical wood planking framing the scenes is another reference to the mill village's closed community.
[Below: Jenufa (Malin Bystrom, left center) has been hidden from the village during the full term of her pregnancy, represented symbolically by the large boulder at center stage; edited image, based on a Cory Weaver photograph, courtesy of the San Francisco Opera.]
This is the third occasion at the San Francisco Opera in which Olivier Tambosi has directed a Karita Mattila performance [See World Class "Manon Lescaut" – S. F. Opera November 19, 2006 and [see Brilliant Belohlavek Conducts Mattila's Masterful "Makropulos" – San Francisco Opera, November 28, 2010], the latter with Maestro Beholavek.
Each of Mattila's roles directed by Tambosi I regard as among the most distinguished performances at San Francisco Opera during the decade of San Francisco Opera's "Gockley era".
[Below: Kostelnicka (Karita Mattila, right, dressed in black) has told Jenufa (Malin Byström, dressed in blue) that her child has died; edited image, based on a Cory Weaver photograph, courtesy of the San Francisco Opera.]
Maestro Jirí Belohlávek and the San Francisco Opera Orchestra and Chorus
Maestro Jirí Belohlávek presided over Janacek's musically complex score.
The San Francisco Opera Orchestra played beautifully both in ensemble and in the several parts of the score in which virtuoso performances by individual instrumentalists were evident. Particularly noteworthy were the affecting solos of Concertmeister Kay Stern.
[Below: Jenufa (Malin Byström, center front, right) chugs a beer as Laca (William Burden, center front, left) looks on in distress and the drunken Steva (Scott Quinn, front, far right) has collapsed; edited image, based on a Cory Weaver photograph, courtesy of the San Francisco Opera.]
Janacek in the Far West
By what seems to be a happy coincidence of separate decision by opera companies on the Pacific Coast, one has the opportunity to see all four of Janacek's most often performed operas – "Jenufa", Makropulos Case", "Katya Kabanova" and "The Cunning Little Vixen" – in live performance by Pacific Coast opera companies in over the next several months.
Besides San Francisco Opera's June 2016 performances of "Jenufa", the company performs "The Makropulos Case" (again with Burden) beginning in October and the Seattle Opera mounts "Kabanova" beginning in February 2017. "Vixen" will be performed by both the West Edge Opera in Oakland (July and August 2016) and by the Santa Barbara Opera in March 2017.
[Below: Laca (William Burden, standing) and Jenufa (Malin Bystrom, kneeling) have become reconciled and have agreed to marry; edited image, based on a Cory Weaver photograph, courtesy of the San Francisco Opera.]
Recommendation
I recommend the "Jenufa" cast and production, performed by the San Francisco Opera, enthusiastically, for both the opera veteran and the person new to opera.