Experienced San Francisco Opera subscribers know when they've seen a performance so superb that it will be long-remembered. Such a performance was the lavishly cast production of Verdi's "Don Carlo", in which every member of a stellar ensemble contributed to an opera that deserved to be called "grand".
Michael Fabiano's Don Carlo
The opera's title role was assumed by tenor Michael Fabiano in his role debut.
In an opera filled with attention-drawing characters – the King, the Queen, the Marquis of Posa, the Princess Eboli, the Grand Inquisitor – Fabiano's Don Carlo was a dominant presence, an ardent exemplar of great Verdian singing. His voice displayed the range of emotions, with a control and subletly we associate with great lyric tenors, while calling forth the spinto power where appropriate.
[Below: Michael Fabiano as Don Carlo; edited image, based on a Cory Weaver photograph, courtesy of the San Francisco Opera.]
Fabiano has acknowledged the importance to his career, when, at age 27, he debuted to great acclaim at San Francisco Opera [see my review at Fleming, Fabiano, Frizza Fuel San Francisco Opera's Flaming, Fulfilling First "Lucrezia Borgia" – September 23, 2011].
San Francisco Opera's General Director Gockley and Musical Director Luisotti showed early confidence in the youthful Fabiano, now sought after by the world's leading opera houses [see  Review: A "Rigoletto" Surprise in Paris: Ludovic Tézier Subs in Title Role in Claus Guth's Production with Fabiano, Peretyatko, Luisotti – May 5, 2016].
Ana María Martínez' Queen Elizabeth of Valois
Puerto Rico soprano Ana María Martínez was imposing as Elizabeth of Valois, Spain's conflicted queen. Martínez embodied both elegance and suppressed passion throughout the early acts.
No performance as Elizabeth can be judged until the artist sings her final act aria Tu che la vanita, conoscesti del mondo, one of the great showpieces of the Italian opera repertory.
Martínez' delivery of the aria was electrifying. She attacked it with the dramatic intensity one associates with a Verdian dramatic soprano – with a ferocity that I had not heard from Martinez before – while retaining the lyric beauty I associate with her voice.
[Below: Ana Maria Martínez as Queen Elisabetta di Valois; edited image, based on a Cory Weaver photograph, courtesy of the San Francisco Opera.]
This is my third report on Martínez' performances this year [see Review: Powerful Performances by Martinez, Jagde in "Rusalka" – Houston Grand Opera, January 29, 2016 and Review: An Exciting, Moving "Madame Butterfly" – Los Angeles Opera, March 12, 2016.]
Marius Kwiecien's Rodrigo, Duke of Posa
One of the great singing-acting opera stars of our time, Polish baritone Mariusz Kwiecien, absent from the San Francisco Opera for nearly a decade, was an astonishing Posa. His voice has a vocal flexibility rarely associated with baritones, including the ability to trill – a skill he used (and Verdi calls for) in two different acts of the opera.
[Below: Marius Kwiecien as Rodrigo, Duke of Posa; edited image, based on a Cory Weaver photograph, courtesy of the San Francisco Opera.]   
When Kwiecien's Posa and Fabiano's Carlo sang together, the effect was magical. Their sentimental anthem Dio che nell'alma in fondere amor was greeted by tumultuous applause from the sold-out War Memorial Opera House audience.
Part of the beautifully sung final scene between Fabiano and Kwiecien, Posa's aria Io morro, ma lieto in core, sung while dying in Don Carlo's arms, will be a lasting memory.
[Below: The dying Rodrigo, Duke of Posa (Mariusz Kwiecien, left) expreses his wish that Don Carlo (Michael Fabiano, right) continue the fight for the people of Flanders; edited image, based on a Cory Weaver photograph, courtesy of the San Francisco Opera.]
René Pape's King Philip II and Andrea Silvestrelli's Grand Inquisitor
One of the highlights of the Italian basso repertory is singing the role of King Philip, who has one of opera's most mesmerizing monologues, in which he bemoans his failing marriage and his inability as sovereign to control events, followed by the chilling duet with the Grand Inquisitor.
[Below: René Pape as King Philip Second; edited image, based on a Cory Weaver photograph, courtesy of the San Francisco Opera.]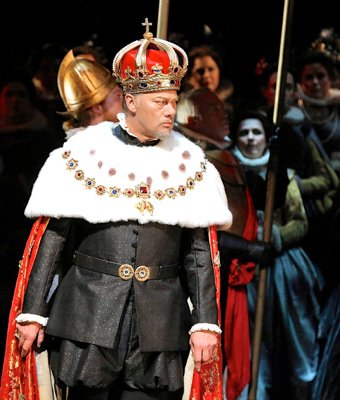 Pape appeared in two less stellar roles at the San Francisco Opera 15 seasons ago, but I suspect that most of the present San Francisco audience had not seen him before in live performance. Pape, at the height of his vocal and dramatic powers, authoritatively portrayed the careworn Spanish emperor.
Italian-b0rn American basso Andrea Silvestrelli was an extraordinarily menacing Grand Inquisitor, arguably the biggest voice of any of the artists that have assumed the role (the opera was first heard at the San Francisco company in 1958.) The duet between Pape and Silvestrelli was among the performances many high points.
Nadia Krasteva's Eboli
Bulgarian mezzo-soprano Nadia Krasteva was a creditable Princess Eboli, integrating the light and dark elements of this challenging role.
The light elements include the early act coloratura Veil Song and the contrasting dark parts include the highly dramatic aria O don fatale near the opera's end, each of which Krasteva dispatched effectively – the result a beguiling presentation of a meddlesome character.
[Below: Nadia Krasteva as the Princess Eboli; edited image, based on a Cory Weaver photograph, courtesy of the San Francisco Opera.]   
This was Krasteva's San Francisco Opera debut, although she has appeared in successful efforts as Carmen and Dalila elsewhere in the Central and Western United States [see my reviews at Krasteva, Jovanovich Sizzle in Chicago "Carmen" – Lyric Opera, March 15, 2011 and San Diego Opera Offers Saint-Saens' Sensuous "Samson and Delilah" – February 16, 2013.]
Maestro Nicola Luisotti, the San Francisco Opera Orchestra and the Modena Edition of "Don Carlo"
San Francisco Opera's music director Nicola Luisotti led the San Francisco Opera Orchestra in a superb performance of Verdi's score. The score abounds in instrumental solos, each of which was skillfully done, displaying the depth of talent possessed by the San Francisco Opera Orchestra.
In two previous seasons, including 2003, the San Francisco Opera performed the opera in French (in the five act version including an opening Fontainbleu scene)
A "new" performing edition, in French, was well-received in Houston. [See my review at Brandon Jovanovich Triumphant in Historic "Don Carlos" Production – Houston Grand Opera, April 13, 2012.] That edition restored extensive cuts to the Fontainbleu scene made just before the opera's 1867 Parisian premiere.
Luisotti used the 1886 Modena edition of "Don Carlo", which includes the opening Fontainbleu scene, traditionally cut from the four act version which prevailed in early and mid-20th century performances of the opera. The opera was performed in Italian.
Luisotti writes of his strong preference for the Modena edition. Verdi himself, as Luisotti points out, had approved the Modena edition, in Italian. Luisotti regarded Verdi's final thoughts on how the opera should be performed  as compelling.
Other Cast and Crew Members
Chinese soprano Nian Wang was impressive as the page Tebaldo. Indiana bass-baritone Matthew Stump, effectively portrayed a mysterious monk, whom we know represents either the living ex-emperor Charles V or his ghost. Pennsylvania soprano Toni Marie Palmertree was the Celestial Voice.
The small role of Count Lerma was the occasion for the San Francisco Opera debut of Pene Pati, a Samoan-born New Zealand tenor, who is a current Adler fellow already destined for major roles in the future [he is scheduled to be the Duke of Mantua in San Francisco Opera's production of Verdi's "Rigoletto" in Summer 2017].
Lerma is the also the role in which William Burden, who is Laca in Summer 2016's production of Janacek's "Jenufa", made his San Francisco Opera debut.
Emilio Sagi's production
The Emilio Sagi production, utilizing New York designer Zack Brown's sets, was previously seen in San Francisco in 1998 and 2003.
"Don Carlo" abounds in dramatic energy and psychological depth. Its pageantry contrasts with the chilling burning of heretics auto da fe scene. The heretics' martyrdom is represented by three victims wearing sanbenitos (penitential headgear that might remind one of "dunce caps") who are hoisted up in front of a red curtain as if their souls are released to heaven from their burning bodies.
[Below: the Emilio Sagi production, with Zack Brown's sets; edited image, based on a Cory Weaver photograph, courtesy of the San Francisco Opera.]
This is the first of two performances I am scheduled to review. In my second review, I will discuss the Sagi production further, as well as the relevance of the opera and Friedrich Schiller's work on which it was based to the current day.
Recommendation
I recommend the opera, cast, musical performance and production enthusiastically, both for the veteran operagoer and the person new to opera.