The Opéra de Lyon became the third opera house to mount a double bill of operas – Tchaikovsky's "Iolanta" and Stravinsky's "Perséphone" – conceptualized by director Peter Sellars.
Although "Iolanta" has been the first opera performed in this double bill, the idea of pairing the two operas did not emerge until after plans for "Perséphone" were underway. For that reason, I will reverse the order of my reviews of each of the performances of the double-billed operas.
Stravinsky's "Perséphone" is a product of an uneasy artistic collaboration between himself, French poet/dramatist André Gide, and dancer Ida Lvovna Rubinstein, who were not in agreement on how the work – encompassing an opera singer, an actor, dancers, and adult and children's choruses – should be staged. Although the work's premiere took place in 1934, it has rarely been staged since.
I believe that, because "Perséphone" has only a single operatic role, here sung in the original French, it should matter to a reviewer whether the work is being presented as a "semi-staged" symphonic evening or as a "fully staged" opera.
Paul Groves' Eumolpe
In Lyon, the operatic role was sung by Louisiana tenor Paul Groves, who has experience in performing other French works that have a somewhat tenuous claim to the opera house stage.
Groves is associated with the vocal works of Berlioz, particularly that composer's self-proclaimed légende dramatique [Berlioz' Faust Fantastique: Lyric Opera Does "Damnation" – Chicago, March 8, 2010].
Groves' secure grasp of French style (his pronunciation wins favor even among French critics) and theatrical instincts has made him a favorite choice of directors, including Sellars, wishing to "rescue" difficult-to-stage French works for the opera house stage.
Groves' Eumolpe narrates (in French) the story of the goddess Déméter's daughter, Perséphone, who was the gods' guardian of springtime, until she was captured by Pluto and forced to be his consort in Hades. Perséphone developed empathy with the persons stuck in Hades. That empathy resulted in her agreement to return each year to Hades, which created the annual effect on the earth's seasons.
Below: Eumolpe (Paul Groves, front center) is surrounded by the children's chorus; edited image, based on a J.-P. Maurin photograph for the Opéra de Lyon.
Groves' voice encompasses the expressiveness of a lyric tenor [see Master of the Lyric Voice – An Interview with Paul Groves] and the power to perform the jugendlicher title roles of Wagner's "Lohengrin" and "Parsifal".
Paul Groves was associated with a performance of "Perséphone" on a double bill with Poulenc's "La Voix Humaine" in the 2003 BBC Proms in London, conducted by Sir Andrew Davis (of which a recording is available.)
The Sellars Solution for Staging "Persephone"
Director Peter Sellars, who has collaborated with Groves on other projects [See Extreme Makeover: A Vivaldi Revival's Reveal – Peter Sellars' "Griselda" at Santa Fe Opera – August 4, 2011] had desired to mount "Perséphone", but had not decided on how to organize the work's elements.
In Sellars' staging, Groves sings Eumolpe's narrative while an actress speaks librettist André Gide's spoken dialogue for Perséphone (in Lyon, performed by French actress Pauline Cheviller).
[Below: Pauline Cheviller (center right, in blue dress) as Perséphone; edited image, on a J.-P. Maurin photograph for the Opéra de Lyon.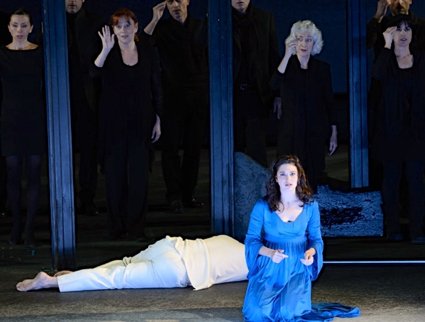 It was Sellars' interest in classical Cambodian dance that led to his conceptualization of how to stage "Perséphone".
Supplementing the sung and spoken dialogue are four classical Cambodian dancers who represent various characters of classical Greek mythology associated with the Perséphone myth. The four Cambodian dancers contributed stylized, mesmerizing movement.
Once the decision was made to organize "Perséphone" around the Cambodian dances, Sellars began working with the Amrita Performing Arts Troupe of Phnom Penh, Cambodia.
[Below: Peter Sellars (left) works on gestures with Chumvan Sodhachivy (Belle), dancer/choreographer of the Amrita dancers; edited image, based on a Javier Del Real photo from amritaperformingarts.wordpress.com via www.javierdelreal.com.]
Perséphone was danced by Sthya Sam (Lux), Déméter by Sodhachivy Chumvan (Belle), Pluton by Chan Sithyka Khon (mo) and Mercure, Démophon and Triptoleme by Narim Bam.
The Sets and Lighting
The abstract images that one associates with set designer George Tsypin [see Mariinsky "Götterdämmerung" in Orange County – 'Hehrstes Wunder' October 11, 2006 and, for another collaboration with Sellars, see Strong Cast for Peter Sellars' Reconceptualization of Handel's "Hercules" – Lyric Opera of Chicago, March 16, 2011] were utilized.
The images reinforced the Tsypin "brand"; whether they contributed to the dramatic coherence of either opera on the double bill is a matter of debate.
[Below: the George Tsypin sets for "Perséphone", edited image, on a J.-P. Maurin photograph for the Opéra de Lyon.]
Backlighting the action (designed by James F. Ingalls) were warm colors. The costumes were by Martin Pakledinaz.
The Chef des Choirs was Bohdan Shved. The Orchestra, Chouers et Maitres de l'Opéra de Lyon performed the work, a production of the Teatro Real de Madrid.
Thoughts on the Sellars "Perséphone"
Judging Sellars' efforts as to whether they resulted in a unity of style to what might appear to be disparate elements, "Persephone" was a success. The total performance was absorbing, Groves' singing eloquent, the Cambodian dancers effective in presenting the storyline.
Pauline Cheviller, the actress seen in Lyon, obviously had the ability to project her voice, and need not have – probably, should not have – been miked.
The argument could be made, and I will explore the argument in my subsequent review of "Iolanta", the companion piece on the double bill, that "Perséphone" should have preceded the much longer Tchaikovsky opera.
Whether or not "Perséphone" has claim on the performance repertory of major opera houses, especially when paired with "Iolanta", is a fair topic for discussion, that I will postpone for the "Iolanta" review.