Russian mezzo-soprano Elena Maximova and Montana spinto tenor Brandon Jovanovich led a cast of international stature in a revival of the Lina Wertmüller production of Bizet's "Carmen".
Elena Maximova's Carmen
Elena Maximova made a strong impression as Carmen, with a dusky voice, vibrant at its top, and secure in its lower range.
[Below: Elena Maximova as Carmen, in the 2015 Royal Opera House, Covent Garden production; resized image of a Catherine Ashmore photograph for the Royal Opera House.]
She was a seductive actress, vividly convincing in her sexual interplay with Brandon Jovanovich's Don Jose. She performed each of Carmen's classic arias – Habanera, Seguidilla, Chanson Bohème – with dramatic intensity.
Brandon Jovanovich's Don Jose
Jovanovich, in an interview I conducted with him earlier in his career [Rising Stars: An Interview with Brandon Jovanovich] identified Don Jose as one of his favorite roles. In fact, few roles provide as much opportunity for a lead tenor to show off his vocal and acting skills as Don Jose.
Jovanovich's performance was mesmerizing, from the first moments when his Don Jose and Maximova's Carmen encountered each other on a darkened stage, accompanied by overture's theme of fate.
Jovanovich was affecting in his sympathetic first act duet with Golda Schultz's Micaela, and physically convincing in his first act encounters with Carmen (that includes her erotically straddling his body prostrate on the stage floor in a departure from most productions of the opening scene).
[Below: Tenor Brandon Jovanovich; edited image of a Kristen Hoebermann photograph for IMG Artists.]
Jovanovich showed heightened emotion in his "flower song" confession of his love for Carmen, angry machismo in his knife-fight with D'Arcangelo's Escamillo at the smuggler's hideout, and despair and resignation in his final encounter with (and murder of) Carmen. Throughout the evening, Jovanovich masterfully sang some of the most beautiful and dramatic music in all of opera.
This is the third time I've reviewed the Jovanovich Jose [see Krasteva, Jovanovich Sizzle in Chicago "Carmen" – Lyric Opera, March 15, 2011], including a previous performance in which he co-starred with Ildebrando d'Arcangelo's Escamillo [Domingo at Helm for a Stellar "Carmen" – Los Angeles Opera, September 21, 2013]. I found his match-up with Maximova's Carmen the most effective of the three Carmens on which I've reported.
(In total I've reported on 14 Jovanovich performances of ten roles, including his earliest performances of Wagnerian operas, as well as operas of Verdi, Puccini, Dvorak and Carlisle Floyd.)
Golda Schultz' Micaela
New to me was Golda Schultz, the South African lyric soprano. She was a poised Micaela possessing a luxurious spinto.
[Below: Soprano Golda Schultz; edited image, based on a publicity photograph.]
Schulz' third act aria Je dit que rien ne m`épouvante elicited a thunderous ovation from the Munich audience, including the foot-stomping that would later be shared with the entire cast during the curtain calls at opera's end.
Ildebrando d'Arcangelo's Escamillo
D'Arcangelo brings star power to the role of Escamillo, whose iconic (and technically difficult) Toreador Song remains the most famous aria in an opera that abounds with famous music.
[Below: Ildebrando d'Arcangelo as Escamillo; edited image, based on a photograph, courtesy of the Bayerische Staatsoper.]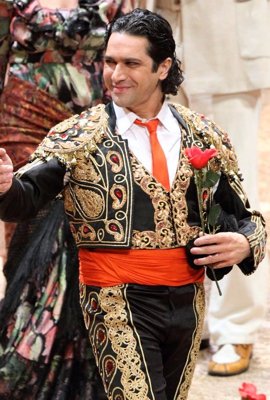 Always an interesting actor, d'Arcangelo was a high octane performer in his third act knife-fight with Jovanovich's Jose.
Dan Ettinger's conducting and other Cast and Crew members
Zuniga was well-sung by Kuwaiti-born bass-baritone Tareq Nazmi, as was the Morales of Italian baritone Andrea Borghini.
Connecticut tenor Matthew Grills, Spanish tenor Francisco Vas, Japanese soprano Eri Nakamura and Arizona mezzo-soprano Angela Brower were brilliant as Carmen's smuggling confederates.
Israeli conductor Dan Ettinger (whose performances I've reviewed of Verdi at the Royal Opera House, Covent Garden and of Mozart at the Opera National de Paris) surprised the Munich audience by beginning the overture a moment before the lights dimmed for the performance.
[Below: Conductor Dan Ettinger; edited image of a publicity photograph from dan-ettinger.com.]
Ettinger led a spirited performance on the part of the Bayerische Staatsorchester. The opera-comique version of the score, with spoken dialogue, was used.
The Lina Wertmüller production
Italian filmmaker Lina Wertmüller (the first woman to be nominated for the "best director" Academy Award) conceived the production, while Wertmüller's late husband, Enrico Job, designed the unit set.
Each of "Carmen's" four acts was built around the unit set's sharply raked stage floor. The slope the raked stage created, was dressed as the town center in the first act, an outdoor tavern adjoining a gypsy encampment in the second, a mountainous hideaway for smugglers in the third act and the grounds outside a bullring in the fourth.
The first act in the Seville plaza is dominated by an iron fence and gate onto which children climb. The slope is used as the passageway for townspeople, children at play, and fighting cigarette factory women (some of the most aggressive fighting I've seen staged).
[Below: the changing of the guard in the  first act of the Bayerische Staatsoper production of "Carmen"; edited image, based on a production photograph, courtesy of the Bayerische Staatsoper. ]
The second act is furnished at stage right with the tables of Lillas Pastia's tavern (the tables providing a platform for gypsy dancing and for Escamillo to attract new audiences for his bullfights. At stage left there are several gypsy tents (into which Duncairo, Remendado, Frasquita et al. retire until aroused by the fight between Nazmi's Zuniga and Jovanovich's Jose).
[Below: Escamillo (Ildebrando d'Arcangelo, on table) extols the life of a bullfighter; edited image, based on a production photograph for the Bayerische Staatsoper.]
For the third act Job's slope is covered with craggy rock formations representing the smuggler's camp, providing areas for the act's events – card scenes, gypsy ensembles, Micaela's aria, the Jose-Escamillo fight, and Jose's departure with Micaela.
[Below: Micaela (here, Aga Mikolaj in a 2011 performance) arrives at the smuggler's hideaway; edited image, based on a production photograph for the Bayerishe Staatsoper.]
The fourth act is filled with the bullfighting ceremonies and crowd activities, until – everyone else on stage having entered the bullring – Jose and Carmen meet for the opera's fatal denouement.
[Below: In the fourth act of "Carmen", crowds have arrived in anticipation of the upcoming bullfight; edited image, based on a photograph for the Bayerische Staatsoper.]
Each of the four acts are backlit (lighting by Franco Marri) to create a different mood, the first and last act crowd scenes bathed in sunny yellows, the second and third acts in darker hues. Job's set unifies the production, even as it shifts the interest from the sets themselves to the highly creative staging.
Recommendation 
I enthusiastically recommend this opera (a great "first opera") and its cast, both for the veteran opera-goer and the person new to opera.