The Houston Grand Opera mounted Broadway director Rob Ashford's production of Rodgers' and Hammerstein's dark classic "Carousel" with an appealing cast of opera singers, led by Australian baritone Duncan Rock and American soprano Angela Carroll.
[Below: Julie Jordan (Angela Carroll, left) stands by her man, Billy Bigelow (Duncan Rock, right) on a Maine coastal sea wall; edited image, based on a Lynn Lane photograph, courtesy of the Houston Grand Opera.]
The Ashford production had been performed by the Lyric Opera of Chicago with a cast comprised mostly of musical theater stars. The Houston Grand Opera chose to cast it with artists whose careers are centered in opera.
Duncan Rock's Billy Bigelow
Australian baritone Duncan Rock was a personable Billy Bigelow. He was impressive both for his singing and his acting in his romantic duet If I Loved You with Andrea Carroll's Julie Jordan. He was stunningly effective in Billy's Soliloquy, his long scene contemplating his imminent fatherhood.
[Below: Baritone Duncan Rock as Billy Bigelow; edited image, based on a Lynn Lane photograph, courtesy of the Houston Grand Opera.]
Andrea Carroll's Julie Jordan
Andrea Carroll created a sympathetic portrait of the good-hearted but steel-willed Julie Jordan. Irresistably attracted to Bigelow, Carroll's Julie accepts the social disapproval (including losing her mill job) that comes to those who do not conform to her small community's expectations.
Carroll's duets with Lauren Snouffer's Carrie and Duncan Rock's Billy Bigelow signalled that the audience was in for an evening of musical pleasure.
[Below: Andrea Carroll as Julie Jordan; edited image, based on a Lynn Lane photograph, courtesy of the Houston Grand Opera.]
I had reported on Carroll's Julie earlier [Review: Ryan McKinny Stars in Affectionately Mounted "Carousel" – Glimmerglass Festival, July 18, 2014] and note the confidence that Carroll brings to this role in the Ashford production.
Stephanie Blythe's Nettie Fowler
Traditionally, even when "Carousel" is presented with a musical theater cast, the role of Nettie Fowler is sung by an operatically trained voice.
Mezzo soprano Stephanie Blythe, who had recently triumphed as Mrs Lovett in Sondheim's "Sweeney Todd" [Review: Searing Performances by Brian Mulligan and Stephanie Blythe for San Francisco Opera's First "Sweeney Todd" – September 12, 2015], took on another significant Broadway musical role for her Houston Grand Opera debut.
[Below: Stephanie Blythe (center) as Nettie Fowler surrounded by village folk; edited image, based on a Lynn Lane photograph, courtesy of the Houston Grand Opera.]
Houston audiences were treated to a bravura performance by Blythe, whose affinity for Rodgers and Hammerstein's works shone first in the blockbuster June is Bustin' Out All Over, and later in one of the greatest numbers in the American song-book, You'll Never Walk Alone.
Lauren Snouffer's Carrie Pipperidge and Alexander Lewis' Enoch Snow
If Billy Bigelow's and Julie Jordan's personal choices are considered improper by the society in which they reside, the one couple who abide by the social norms are the stiff-necked, often insufferable Enoch Snow and his wife and Julie Jordan's friend, Carrie Pipperidge.
Lauren Snouffer and Alexander Lewis sang convincingly, their duet When I Marry Mr Snow particularly noteworthy.
[Below: Carrie Pipperidge (Lauren Snouffer, left) and Enoch Snow (Alexander Lewis, right) agree to be married; edited image, based on a Lynn Lane photograph, courtesy of the Houston Grand Opera.]
Ben Edquist's Jigger Craigin
Ben Edquist, like Carroll, a veteran of the Glimmerglass Festival "Carousel' production, reprised the role of Jigger. Edquist's Jigger was a strong presence in the Whalin' We Will Go song and dance number.
His Jigger also had an amusing scene (cut in some productions) in which he puts the make on a not-entirely reluctant Carrie Pipperidge.
[Below: Ben Edquist as Jigger Craigin; edited image, based on a Lynn Lane photograph, courtesy of the Houston Grand Opera.]
If Jigger is written to be the evil influence who leads Billy astray, casting Edquist, whose charm and charisma is innate, seems to suggest that the robbery caper with its fatal consequences was more a situation of men behaving badly than an act of criminal violence.
Rob Ashcroft's Stage Direction and Choreography and Paolo Ventura's Set Designs
Rob Ashcroft has moved the time period from the late 19th century to the Great Depression of the 1930s, underscoring Billy Bigelow's dire economic situation.
Under Ashcroft's direction, the action moved smoothly with brilliantly conceived scene changes. The 14-person dance troupe performed extensive, athletic dances with impressive skill and precision.
The attractive sets, suggesting the New England coastline, were created by Italian children's book illustrator Paolo Ventura.
[Below: the village's men and women engage in a community dance; edited image, based on a Lynn Lane photograph, courtesy of the Houston Grand Opera.]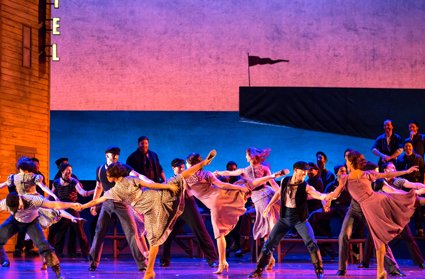 Richard Bado conducted. Catherine Zuber created the costumes, Neil Austin was original Lighting Designer, Christopher Maravich the Lighting Realizer, Andrew Harper the Sound Designer.
British Dancer/Actor Helen Anker played the Bigelow's cougarish former employer, Mrs Mullin. James Belcher was both the Starkeeper and Dr Seldon, Paul Hope was David Bascombe, Abigail Simon was Louise and Marty Lawson the Carnival Boy.
"Carousel" and 21st Century Sensibilities
Three quarters of a century ago Richard Rodgers and Oscar Hammerstein were in the process of adapting "Carousel" from Ferenc Molnar's much darker play "Liliom". Their concern was to create a more hopeful ending than Molnar's, without alienating the difficult Molnar, who retained the right of final approval of the musical's libretto. (In Molnar's "Liliom", the character on which Bigelow is based is consigned to burn in hell – like Don Giovanni.)
[Below: Billy Bigelow (Duncan Rock, standing right) looks on with disapproval of the attraction of his daughter Louise (Abigail Simon, front left) to the Carnival Boy (Marty Lawson, front center); edited image, based on a Lynn Lane photograph, courtesy of the Houston Grand Opera.]
Unquestionably, Billy is reckless and something of a scoundrel, but arguably is, in his self-absorbed way, good-hearted and loyal to Julie (and his posthumous daughter Louise).
The themes of redemption and atonement evident in the scenes between Billy and the starkeeper and Billy's scenes with daughter Louise and widow Julie satisfied Molnar, so that "Carousel" reached the Broadway stage. Yet, decades later "Carousel's" reputation has been clouded by advocates of zero-tolerance for spousal violence.
In fact, there is no scene in "Carousel" where Billy strikes Julie and only a couple of lines that reference a single incident in the past. But those (not totally unambiguous) lines, spoken by Julie, seem to many to be the words of a woman who defends a dangerous man from whom she should seek escape.
Perhaps a revision to a couple of lines would satisfy its critics (although it is probable that no modifications of Hammerstein's libretto can take place while "Carousel" is in copyright). That would not prevent opera-goers from considering the offending lines as metaphorical statements rather than defenses of spousal mayhem.
[Below: Paolo Ventura's sets for the high school graduation; edited image, based on a Lynn Lane photograph, courtesy of the Houston Grand Opera.]
There is also the argument that none of the Broadway musicals, whether their music is composed by Jerome Kern, Richard Rodgers, Stephen Sondheim or others – particularly those with extensive spoken dialogue (in this production, miked) – belong in the opera house.
However, as my reviews of Broadway musical productions at Houston, San Francisco and the Glimmerglass Festivals have suggested, many American opera companies, such as Houston Grand Opera, can bring together the resources for mounting these musicals as they should be performed. The results can be greater appreciation by opera audiences of the great classics of American musical theater, while expanding the audiences for live operatic performance.
Recommendation:
I recommend the production and cast without reservation, both for the veteran opera-goer and the person new to opera company performances.