The following interview took place at the Glimmerglass Festival, whose facilitation of this interview is deeply appreciated.
[Below: Baritone Eric Owens; resized image of an Paul Sirochman photograph for IMG Artists.]
Wm: I ask each of my interview subjects, what are your earliest memories of music, of vocal music, and of opera?
EO: My mom was an amateur pianist who would play gospel and some classical music. She believed that taking music lessons was required for a well-rounded person, so both by brother (two years older than myself) started piano when we were age six. I also played oboe in the school orchestra. In time, my oboe playing became quite good and played oboe professionally for many years.
My earliest memory of vocal music was listening to our church choir. I myself started to sing in junior high school choir.
About age seven or eight I would listen to classical music on the radio. When I was in junior high school one of my teachers would lend me LPs. These included recordings of Weber's "Der Freischütz" and Mozart's "Don Giovanni" that I would play over and over.
Wm: As a high school student, then, you were interested in both vocal and instrumental music.
EO: I kept taking piano lessons until my high school studies required a lapse there. I continued my oboe throughout my high school years. I was taking oboe lessons from Lloyd Shorter of the University of Delaware music department (then at the Germantown branch of Philadelphia's Settlement Music School) and from Louis Rosenblatt, who was the Philadelphia Orchestra's English horn player. In all, I studied oboe for a good eight years or so.
Wm: What was the result of your oboe studies?
EO: Beginning at age 14, I joined the Philadelphia Youth Orchestra, benefiting during those years from such assistant conductors as Robert Spano and Peter Smith (who was also the Philadelphia Orchestra's associate principal oboe player). At age 15 I first took part in the Eastern Music Festival in Greenboro, North Carolina, which was associated with one of the greatest principal clarinetists who has ever walked this planet, Ricardo Morales.
During the summers there was a professional orchestra in residence in Greensboro, so that I had the opportunity to study in the summers with Laura Ahlbeck, who, during the regular season, was the second oboist in the Metropolitan Opera Orchestra.
Ahlbeck knew I was a lover of opera. For my first visit to the Met in 1985, she got me standing passes. My first opera was Puccini's "Tosca" with Eva Marton as Tosca, Ermanno Mauro as Cavaradossi and Juan Pons as Scarpia. Then I saw Richard Strauss' "Der Rosenkavalier" during Elizabeth Soderstrom's farewell season. Soderstrom as the Marschallin was joined by Brigitte Fassbaender as Octavian and Barbara Hendricks as Sophie.
During the mid-1980s I saw the new production of Wagner's "Ring of the Nibelungs" from the Met's standing room. This was still a time when I thought my musical career would center on oboe playing. I had no idea that I would be in another new "Ring" production some 15 years later.
[Below: Eric Owens as Alberich in the New York Metropolitan Opera's Robert LePage production; edited image of a Ken Howard photograph.]
Wm: What caused you to veer away from your oboe career?
EO: When I was around 16 our high school choir director began to give me solos to sing. He thought he heard something in my voice that could be developed. I started taking voice lessons as a senior. I would still hang out with the orchestra, where I had many friends.
When I was a senior there was a young artists' competition for high school seniors called ARTS, now called YoungArts. It included master classes by Renee Fleming and Placido Domingo.
I applied for the voice competition. I made it through the round where high school kids were invited to Miami, Florida. It was a competition that never felt like it, comprised of like-minded high school seniors. Symposia were performing for each other. It was in Miami that I met opera singer Betty Allen. She became a wonderful mentor and friend. Another of my friends that I met there was Richie Hawley, who became principal clarinetist at the Cincinnati Symphony at age 23.
For my undergraduate degree I went to Temple University, studying voice under Professor George Massey.
Wm: When did you decide that you pursue a career in vocal performance?
EO: I was already thinking ahead. I always had thought of the arts as being a business, but YoungArts in those days was not so much as now in people's consciousness. I knew when I got out of graduate school, I would need recognition beyond credit for performing roles in university productions.
Wm: How did you go about getting that recognition?
EO: I started doing competitions. While I was still an undergraduate I started performing as a professional, developing a professional's resume. I was in a Baltimore Opera competition. As a result, I was picked to perform Angelotti in "Tosca" and the Second Philistine in Saint-Saens' "Samson et Dalila".
I won first prize at the Palm Beach Opera competition. There I meet soprano Angela Brown and mezzo-soprano Vivica Genaux. We were young as hell. The following 1992-93 season, we were invited to take part in the company's production of Rossini's "Barber of Seville". Vivica was Berta and I was Fiorello.
While I was an undergrad, I competed in the Philadelphia Orchestra's Albert M. Greenfield Student Competitions. I did George London Vocal Competition, the Loren Zachary Competition in Los Angeles, and the McAllister Voice Competition of Indianapolis and also the Opera Index Vocal Competition.
I would win several thousand bucks. But I would also get a crowd in New York City to see what I was. I knew that they were hearing me for the first time. Often, when I didn't win a competition, I would re-enter the same competition again, and would win on the second try. I worked on finding out what they wanted, applied it to my performance and that blew them away.
[Below: James Jarvis (Wynn Harmon, front right) comforts Stephen Kumalo (Eric Owens, front left) in the 2016 Washington National Opera production of Weill's "Lost in the Stars"; edited image, based on a Karli Cadel photograph, courtesy of the Washington National Opera.]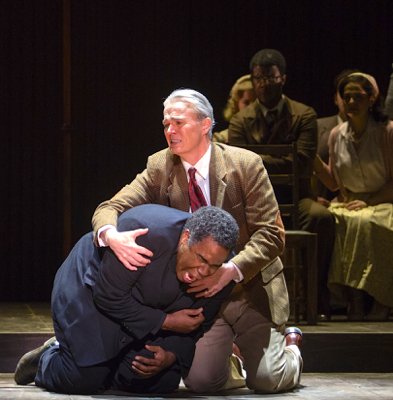 Wm: During this time you were still pursuing your academic vocal training. What did you do next?
EO: After graduating from Temple, I applied to the Curtis Institute, but I didn't get in the first year. But during that year after Temple I started studying with Helen Laird, who was the Dean of the School of Music at Temple. She saw something she felt she could foster.
Dean Laird knew that I hadn't gotten into Curtis. She took me into her office, and said "Listen at this time, you don't have enough credits to graduate. I want to take you to next level. Your teacher at Temple is leaving. I want to find you a new teacher, but not necessarily here. What I would love to do to find some scholarship money that would permit you to take any course you like."
She recommended a teacher, Armen Boyajian, who took me right away. Not only did she find the money for the lessons, I didn't even have to pay for a train ticket to New York City. After that, I applied to the Curtis Institute and they were astounded with the progress.
Wm: I have interviewed other opera stars whom Boyajian teaches. What is your experience with him?
EO: With Armen Boyajian, it was almost two years before we worked on any repertory. We started on a single note and we found the optimum placement tone on every vowel. Then we worked on the consonants, including where two consonants are sounded together, always working to make sure the consonants did not hurt the vowel production.
That takes a long time. There are no short cuts to this. That's why it doesn't help to start until you are around age 26.
Wm: When did it become clear that you would have a successful career in opera?
EO: I had been accepted into the Houston Grand Opera Studio for young artists. When did I think my career was going to happen? It was my second year in the HGO studio. During that year I got my agent and started doing auditions.
I finished the HGO studio in Spring 1997 and that fall I started working. I didn't know whether my career would have longevity, but I knew I had work for the season.
That's not the story for every young artist. It's a little easier for the lower male voices but much more difficult for the sopranos. There are more sopranos around than bassos and fewer roles for sopranos in opera.
Wm: A basso or bass-baritone can all a lot of Mozart's young men's roles in his youth and then progress to the big Verdi and Wagner roles and do character basso roles in late career.
EO: In a typical bel canto opera there is one lead woman and her maid. A young soprano can undertake these roles, but, unlike the low male voices, there is a deficit of roles for the more mature soprano.
[Below: Capellio (Eric Owens, left) prefers Tebaldo (Saimir Pirgu, center) as the suitor to his daughter; edited image, based on a Cory Weaver photograph, courtesy of the San Francisco Opera.]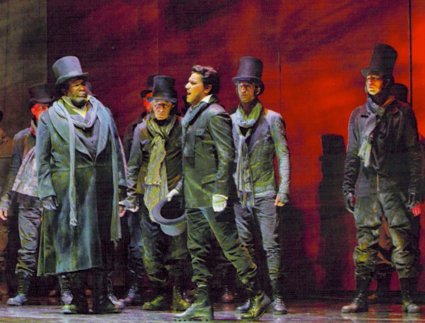 Wm: When as a teenager I first became acquainted with opera, there were half dozen major opera companies that promoted the artists that they had on their rosters. Nothing equivalent exists in the contemporary scene.
EO: There are no record companies with rosters of opera artists. There are not even classical music recordings made in the United States.
In the 1980s and 1990s we had a lot of American stars, such as Renee Fleming, Richard Leech, Jerry Hadley, Thomas Hampson, Carol Vaness and Ruth Ann Swenson. Hampson, DiDonato and Fleming still sell CDs, but almost everyone else has little opportunity.
Wm: The record business changed when the income from rock music began to decline, impacting such companies as RCA Victor, EMI and Decca that had leading roles in recording complete operas.
EO: The subsidies to opera began its decline once the record companies came to be owned by conglomerates, and their accountants started looking at opera record sales. Then they crunched the numbers they showed that a significant percentage of opera recordings didn't recoup their expenses. They were losing money year after year.
What the conglomerates did is to pump all of their money into two or three stars, build a "rock star cachet" for the Anna Netrebkos and Rolando Villazons and then start to acquire a piece of the live performances. Some stars had enough public recognition that they could fill sports arenas. But I believe the record companies have a conflict of interest. It will probably change again because of the impact of HD performances in movie houses.
Wm: You performed the role of Porgy in Francesca Zambello's production of George Gershwin's "Porgy and Bess" at the San Francisco Opera, which is memorialized on a EuroArts DVD. What are your thoughts on Gershwin's opera and Zambello's production of it?
EO: It's a production that I love. There is a lot of heart to it as with everything that Francesca brings to it. The production is fantastic. It's the only "Porgy" that I've done, but I've done it three times. The piece is glorious music.
[Below: Porgy (Eric Owens, right) and Bess (Laquita Mitchell, left) have found happiness in each other's company; edited image, based on a Terrence McCarthy photograph, courtesy of the San Francisco Opera.]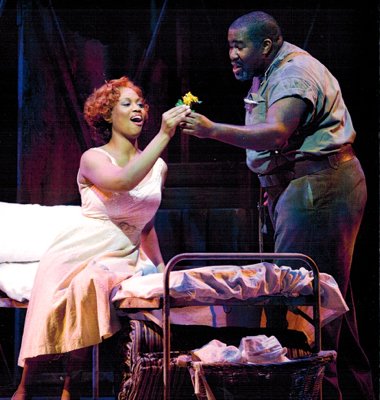 Gershwin was not just a jazz guy He studied classical music. There is quite a bit of Stravinsky influence. When Robbins is killed and when Porgy kills Crown, the Rite of Spring chord plays in the orchestra. When I first heard it – the chord plus one note – I appreciated how intricate and technical Gershwin's writing is. It's quite serious music. It's fantastic.
Wm: Your role as Stephen Kumalo in Weill's "Lost in the Stars" was such a resounding success at the 2012 Glimmerglass Festival that Francesca Zambello has scheduled you and the production for the 2015-16 Washington National Opera season at the Kennedy Center. What are personal thoughts about that role and Weill's treatment of Paton's novel "Cry the Beloved Country"?
EO: That role took me to a different place as an artist. It's not an opera at all. The dialogue is a piece of theater with music. There is tons of dialogue. When "Lost in the Stars" was originally written, the Stephen Kumalo character didn't have all that music to sing until Todd Duncan became part of it. Todd added some songs, which are now a core part of the role.
[Below: the Reverend Stephen Kumalo (Eric Owens, left) sits with Alex (Caleb McLaughlin, right) in the 2016 Washington National Opera production of Weill's "Lost in the Stars"; edited image, based on a Karli Cadel photograph, courtesy of the Washington National Opera.]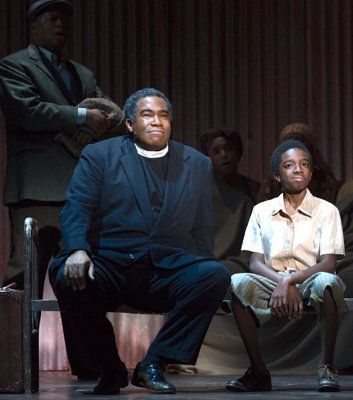 Wm: Elaborate on "Lost in the Stars" being "theater with music".
EO: In the scene that moves the drama along, there is powerful dialogue. I remember thinking when I was learning it that I don't want to sound like an opera singer doing dialogue. I have to be a decent actor. I tore that script apart learning the nuances of the role.
In the past, you could get by with crappy acting in a part like Sarastro in Mozart's "Magic Flute". I knew it wasn't that kind of piece. I had a fear of looking like a complete idiot. That was something that was stretching my boundaries – a life changing kind of thinking. I think the idea that "great actors are born" is just bull. I think you can learn it.
Wm: You have been exploring the Verdi baritone repertory at the Glimmerglass Festival as Amonasro in "Aida", directed by Francesca Zambello and as the title role of "Macbeth", directed by Anne Bogart. What were these experiences like?
EO: I've worked with Cesca Zambello many times, including her "Porgy and Bess" production.
I found that working with Anne Bogart on "Macbeth" was incredibly special. I would like to be on a par with the actors she regularly works with. It was an amazing process.
[Below: Macbeth (Eric Owens, left) is haunted by hallucinations as Lady Macbeth (Melody Moore, right) looks on in terror; edited image, based on a photograph, courtesy of the Glimmerglass Festival.]
If you approach a Shakespearean opera with a verismo take on it, you need to behave like the music is not happening. When the drama has equal weight in the opera, the story is just as impactful as the music.
Gone are the days of hanging out on stage and just singing, as so many of the great voices of the past did. In these times, Anne Bogart is not coming over to direct people to stand and sing. There needs to be a truth in what you're doing. It is hard. It's easier in the moments of recitative moment.
Wm: Of your Vodnik in Sir David McVicar's production of Dvorak's "Rusalka" in Chicago I wrote: "Vodnik is perhaps the most perceptive thinker among the opera's characters, and, in many ways, the most endearing. He also has some of most affecting music to sing. Owens played the role superbly, making a strong impression as a Rusalka's deeply concerned parent, as well as a guardian of nature." What are your thoughts about that role, and are you planning to sing it again?
EO: I don't agree with your take on the role. Vodnik is a strange creature. There is a part of Vodnik's character that I respect a lot, but overall, I found the part frustrating, because he just gave advice. He didn't try to do anything. I had to find the love that he had for his daughter.
[Below: Vodnik (Eric Owens, left) tries to dissuade his daughter Rusalka (Ana Maria Martinez) from the life she is determined to lead; edited image, based on a Todd Rosenberg photograph, courtesy of the Lyric Opera of Chicago.]
David McVicar and I had known each other since 2000, but "Rusalka" was the first time we worked together.
Wm: I have reported on your performances of productions of Handel's "Hercules" staged by Peter Sellars in Chicago, as well as Handel's "Ariodante" staged by John Copley in San Francisco. What are your thoughts as to how baroque opera should be acted.
EO: I think ideally opera companies should present operas with verismo acting, whether it is for by Handel or Mozart or a modern composer.
I know that it's hard to make a baroque opera realistic, but I've seen wonderful people do it, where the da capo conventions can make perfect dramatic sense.
I think of was one of the first truly great experiences was first met became a decent actor at age 29 or 30. I was in Monteverdi's "Coronation of Poppea" at the English National Opera in 2000. Alice Coote was Poppea. Sarah Connolly was Octavia, and the cast also included Susan Gritton, Carolyn Sampson, Michael Chance and Anne-Marie Owens. Harry Christophers conducted.
There I worked with Steven Pimlott, OBE, who was at that time an Associate Director of the Royal Shakespeare Company. He passed away later on.
The process was so new to me and so enriching How much I enjoyed it! There was an eight-week rehearsal period. We had seven sitzprobe!
The whole cast sat around the table going from scene to scene talking about this period of Roman history and the characters. I'm surrounded by a table full of Brits with classical training quoting Suetonius and Tacitus. These were the brilliant responses of a wonderful cast of amazing people.
Wm: What other directors have particularly inspired you?
EO: I enjoyed working again with Stephen Lawless in his production of Wagner's "Flying Dutchman" at the Washington National Opera.
I had a ball work with both David and Christopher Alden. They both know every word of any opera they direct and know the scores backwards and forwards, well enough to conduct.
Wm: Thank you for the time.
EO: I enjoyed the conversation.