The following interview took place at the Santa Fe Opera, whose facilitation of this interview is deeply appreciated.
[Below: Tenor Brian Jagde; edited image of a publicity photograph.]
Wm: My usual first questions of artists are about your earliest memories and experiences with music. What were yours?
BJ: For me, I first bonded with music through choral singing. Also, I played the recorder, tried saxophone and cello. but I've always loved singing and was in my first choruses when I was five.
I grew up in Rockland County, New York, during a time when its elementary schools had music classes five days a week. It provided a constant reinforcement of the idea that music should be part of your life, which is something I am very passionate about today, because the arts have suffered so much in schools.
[Below: Brian Jagde visits a elementary school classroom to talk about with the students about music; edited image, based on a photograph from brianjagde.com.]
Wm: When did you discover opera?
BJ: Opera came to me by surprise. I never had any training on how to sing professionally and it would never have occurred to me to sing opera. It wasn't until I went to Britten's "Billy Budd" at the Met during high school that I saw my first opera.
I had planned to study computer science in college, which I did at SUNY Albany for a couple of years, but during that time I also continued to sing in the chorus. Midway through college, I decided that computer science was not as interesting to me as music, so I auditioned for the SUNY Purchase Conservatory of Music's Voice/Opera Studies Program and was accepted.
Wm: So, never having had any vocal lessons in singing opera, you ended up in a Voice/Opera Studies program. What, then, were your first experiences with opera?
BJ: The Purchase music conservatory was performing Mozart's "The Magic Flute". I was assigned to Monostatos' slave chorus and singing the role of the First Priest. I was also covering Monostatos.
Wm: What was the outcome of that first experience with opera?
BJ: It was the slave chorus that caused me to fall in love with opera. To be able not only to sing but to act and move around on stage I found exciting. Also, I remember never having heard orchestration like that before and I fell in love with it.
I found myself drawn to learning new techniques in singing that were so different from pop music or anything else that I had sung previously.
Wm: What did you learn in the Purchase opera program?
BJ: In a college program like Purchase's you learn a lot of things, including stagecraft – how to move onstage, how to stage fights, and how to make an audience understand what you are doing.
My first year there I sang tenor roles, then, based on the how my voice was developing, they switched me to baritone roles, which I performed for the next ten years.
[Below: Brian Jagde as Don Jose in the 2015 Teatro San Carlo (Naples, Italy) production of Bizet's "Carmen"; edited image of a production photograph from Facebook/Brian Jagde Tenor.]
Wm: I not sure that many operagoers understand that the lyric baritone and tenor voices can be quite similar, particularly at the beginning (and end) of a career. Tell me about your life as a baritone, and how you decided to return to the tenor fold.
BJ: I pursued a Masters at Purchase Conservatory of Music during the academic year and each summer would pursue young artists' programs – at the Chautauqua Festival, at the Des Moines Metro Opera and at Virginia Opera in Norfolk.
Each of these programs has so much to teach you, and when you are there, you know that this is how you earn your dues.
At the Des Moines Metro Opera, I was covering the role of Enrico in Donizetti's "Lucia di Lammermoor. The institution's amazing co-founder and artistic director, Maestro Robert L. Larsen, was very strict and specific in what he required of artists.
At Virginia Opera I covered the title role in Tchaikovsky's "Eugene Onegin"
It was around 2008 that I began to realize that I had the high notes that a tenor needs, and that that might be the vocal category in which I belonged.
I was singing the baritone role of Danilo in Lehar's "Merry Widow". At that point, I went to a teacher to get advice as to whether I was a tenor or baritone. He said that he felt that I was a tenor.
It was five weeks after that that I was accepted into first the 2009 San Francisco Opera Merola program and from that was invited to become a San Francisco Opera Adler Fellow.
Wm: I spend quite a bit of time writing about how the Young Artists' programs, as exemplified by the San Francisco Opera's summer Merola program and the full-year Adler Fellowships, have transformed opera internationally, particularly in the United States. What did the summer 2009 Merola program mean to you?
BJ: I was surrounded by the amazing conductors and coaches in San Francisco. Since this was the first time that I was performing as a tenor on a regular basis, I was taught the basics of being a tenor. The Merola and Adler program staff are really supportive.
You learn how to pace yourself for five days a week, with coaching taking place all the time. You have to learn what works for you, what your voice wants to do. You build a self-awareness of your instrument.
I was assigned covering the role of Fritz, in Mascagni's "L'Amico Fritz". At the end of the Merola summer they put you on stage with the orchestra in front so that the intendent can see what you've got. I did Don Jose's part with Carmen in the Seguidilla duet from Bizet's "Carmen" and then got to sing Macduff's aria from Verdi's "Macbeth".
You are one of the few persons who has been an Adler Fellow for three years (your fellowship taking place in 2009-2012). What are your thoughts on how having been an Adler Fellow shaped your own career?
BJ: The San Francisco Opera through its Adler fellowships really invests in and endorses the artists they accept. They can see which singers are going make it big in the field.
Nobody really knows who will be chosen for the Fellowships. They are not just hiring singers for the seasons that they will be Adlers but are thinking of the future years. I wasn't sure if an Adler Fellowship would be right for me, but I had done some thinking about what I would do if I was offered a fellowship, even though I didn't expect to get one.
When I found out that I was offered a fellowship, to start the following January, I took it. It was best career decision that I've made.
I sang several comprimario roles and covered Brandon Jovanovich as Froh in Wagner's "Rheingold". Froh is a pretty role.
Then I got the word that I should be preparing for Cavaradossi in Puccini's "Tosca" for the San Francisco Opera's Fall 2012 season.
[Below: Brian Jagde is Mario Cavaradossi and Christian Van Horn is Angelotti in the 2012 San Francisco Opera production of Puccini's "Tosca"; edited image, based on a Cory Weaver photograph, courtesy of the San Francisco Opera.]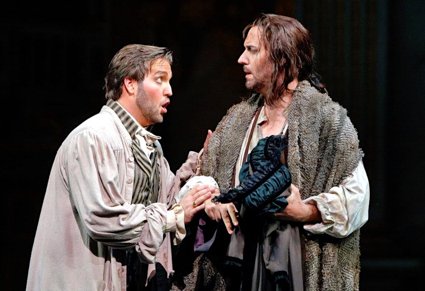 Wm: During the summer of 2012 some major career boosts took place. In June of that year (the third year of your Adler Fellowship) you competed in Placido Domingo's Operalia in Beijing China where you won second prize as well as the Birgit Nilsson Prize for Wagner and Strauss and immediately afterwards opened the Santa Fe Opera season as Cavaradossi in Puccini's "Tosca" (a performance I reviewed). Tell us about that summer?
BJ: Operalia was a wonderful experience, especially being able to meet Placido Domingo and converse with him.
At the Santa Fe Opera I had signed on to sing the role of Count Elemer in Richard Strauss' "Arabella" and to cover another artist for the role of Cavaradossi, which would help me prepare for the Cavaradossis in San Francisco in November. As you know, I ended up performing all the Cavaradossis in Santa Fe.
Wm: Your Adler Fellowship took place during the middle years of David Gockley's general directorship at San Francisco Opera. What are your impressions of Gockley, who is retiring in mid-2016.
BJ: David Gockley has done an extraordinary job of restoring the San Francisco Opera to financial health and building its endowment. He has correctly identified why people would want to go to see opera in live performance – to hear artists with great voices and see them perform in outstanding productions. That's what you can expect at the San Francisco Opera.
Wm: You've become a leading Puccini tenor at the San Francisco Opera, singing Cavaradossi there in 2012 and Fall 2014 and also Pinkerton in Jun Kaneko's production of "Madama Butterfly" in Summer 2014. What did you think of Kaneko's sets and costumes?
BJ: The Kaneko costumes are challenging for the artist, but they drive you to be fully part of that very character-driven story.
[Below: Brian Jagde as Pinkerton in San Francisco Opera's 2014 Jun Kaneko production of Puccini's "Madama Butterfly"; edited image, based on a Cory Weaver photograph, courtesy of the San Francisco Opera.]
It was a joy to work directly with San Francisco Music Director Nicola Luisotti, who was conductor of that "Butterfly". He always brings something new to the table. It's something that he feels. When you've done a lot of Pinkertons, it's fun for it to be done differently.
Wm: Although so far in San Francisco you've sung Puccini operas, you will be singing Don Jose in Calixto Bielto's production of Bizet's "Carmen". I was present to review the production's English premiere that took place at the English National Opera in 2012. It's quite a show! Before that you will be singing the Prince in Melly Still 's production of Dvorak's "Rusalka" at the Houston Grand Opera.
How do you prepare for productions that come with some notoriety?
BJ: "Carmen" in San Francisco is to be Calixto's American debut. I've already gone on a regimen to prepare for the physicality of the show. I like the darkness of the character of Don Jose, who we know was a killer even before the story starts. I expect to have fun with the violent aspects of his character.
I'm aware that the "Rusalka" production involves acrobatics, so I got in touch with Brandon Jovanovich, who has sung the role at Glyndebourne in this production as what to expect.
Both Don Jose and the Prince are wonderful roles. Don Jose is my favorite role all around. Cavaradossi is my favorite to sing, although the Prince also has wonderful music.
[Below: Brian Jagde as Mario Cavaradossi in the Lyric Opera of Chicago's John Caird production of Puccini's "Tosca"; edited image of a Todd Rosenberg photograph, courtesy of the Lyric Opera of Chicago.]
Wm: What roles are you looking at for the future?
BJ: I will be preparing Calaf in Puccini's "Turandot", Radames in Verdi's "Aida", Manrico in Verdi's "Il Trovatore", Enzo in Ponchielli's "La Gioconda" and Maurizio in Cilea's "Adriana Lecouvreur". Maybe I'll try to squeeze in a Turiddu in Mascagni's "Cavalleria Rusticana".
Wm: The San Francisco Opera has announced you as their Radames in Verdi's "Aida" in November 2016. I will be there for your Radames and certainly hope to see you sing all of those roles.
As a Birgit Nilsson prize-winner I assume that people are talking to you about Wagnerian roles besides Froh.
BJ: I am aware that spinto tenors are doing the title roles of Wagner's "Lohengrin" and "Parsifal" and I can see myself doing them in the very distant future. I will wait on other heavier voiced roles like the title role in Giordano's "Andrea Chénier". No need to rush into "Chénier".
Wm: Since you are associated so closely with Puccini in these early days of your career, there are a couple of Puccini roles that I'm looking forward to seeing you try out – Des Grieux in "Manon Lescaut" and Dick Johnson in "La Fanciulla del West".
BJ: I do want to add Puccini's Des Grieux, but for now it will be the French version by Massenet, some of whose wonderful music I have sung. The Puccini is Des Grieux at least a few years away.
[Below: Brian Jagde as Lieutenant B. F. Pinkerton in the 2015 Royal Opera House production of Puccini's "Madama Butterfly"; edited image, based on a Bill Cooper photograph, courtesy of brianjagde.com.]
At some point I would love to sing Dick Johnson – probably in about five years.
Wm: Are you looking at the heroic tenor roles in French opera, beyond Don Jose and Massenet's Des Grieux?
JP: The other French tenor roles I'm looking at are the title role in Massenet's "Werther", which I've had the pleasure of singing only one time thus far, and Hoffmann in Offenbach's "The Tales of Hoffmann", which I've already prepared.
Wm: I look forward to seeing you in every possible future role you've named. Thank you for you this very interesting interview.
JP: Thank you.
For my reviews of selected Brian Jagde performances, see: Echalaz, Jagde, Aceto Open Santa Fe Opera Season in Wonderfully Sung "Tosca" – June 29, 2012, and also,
House of Puccini: Jun Kaneko's Enchanting "Madama Butterfly" Soars at War Memorial – San Francisco Opera, June 15, 2014.
For my review of Calixto Bielto's production of Bizet's "Carmen", which Jagde will perform in San Francisco in June 2016, see: Ruxandra Donose, Adam Diegel Are Dramatically Convincing in Calixto Bieito's Sexy, Edgy "Carmen" – English National Opera, November 21, 2012.