Note from William: This post continues my series of observances of historic performances that I attended at San Francisco Opera during the general directorship of Kurt Herbert Adler. This is the seventh of sixteen such observances of performances from the company's 1965 Fall season.
The October 2nd performance of Giordano's "Andrea Chénier" was the first time that I had attended two performances of the same opera in a single season. In fact, that season I also attended two performances of Mozart's "Don Giovanni" and two of Puccini's "Tosca" as well. Each pair had at least one change of a principal artist, in the "Chénier", Brazilian tenor João Gibin, whom I had just seen as Dick Johnson in Puccini's "La Fanciulla del West", sang the title role [Historical Performances: "La Fanciulla del West" with Marie Collier and João Gibin – San Francisco Opera, September 26, 1965].
[Below: João Gibin was Andrea Chénier; resized image of a publicity photograph from Facebook/Joao Gibin.]
Even though some patrons grumbled about the substitution of another artists for the previously announced but indisposed Franco Corelli, the role of Andrea Chénier was an excellent one for Gibin. Possessing a hefty spinto voice in a role with a big aria in each act, Gibin was an impressive performer.
Of course, it was not just Corelli that was reason that "Chénier" had been a hot ticket. The opera's cast also included the superstar soprano Renata Tebaldi, returning to San Francisco for two roles after an absence of eight seasons. Tebaldi had the box office to sell out all three performances and the estimable tenor Richard Tucker had replaced Corelli for two performances [Historical Performances: Richard Tucker's "Andrea Chénier" with Tebaldi and Bastianini – San Francisco Opera, September 16, 1965].
Tebaldi's voice was ideal for the War Memorial Opera House where her power resonated, but where her extraordinary control would produce the legendary Tebaldi pianissimi.
[Below: Renata Tebaldi as Maddalena di Coigny; edited image, based on a historical photograph.]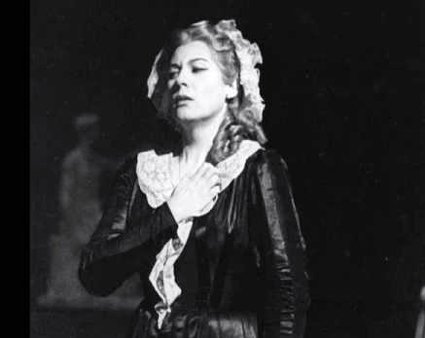 I doubt that I will ever forget the memories Tebaldi with Gibin (or Tebaldi with Tucker) in their duet Ah viene come l'aurora in which Chénier and Maddalena are awaiting their summons to the guillotine.
This was the fourth time that I had attended a Tebaldi performance. It was fitting since I was tebaldiano even as a junior high school student that my first Italian opera performance ever starred Tebaldi [Simon Boccanegra – October 20, 1956], as did two previous performances in San Francisco Opera's 1965 season as Maddalena and as Mimi [50 Year Anniversaries: "La Boheme" with Renata Tebaldi, Sandor Konya – San Francisco Opera, September 23, 1965].
Tebaldi's superstar status had been confirmed five years before with being one of only a couple of dozen or so opera stars that have received stars on the Hollywood Walk of Fame, Tebaldi's adjacent to 6628 Hollywood Boulevard in the Hollywood neighborhood of Los Angeles.
[Below: Renata Tebaldi's star on the Hollywood Walk of Fame.]
Neither Gibin nor Tebaldi returned to the San Francisco Opera after that 1965 season, nor did the great baritone Ettore Bastianini, then terminally ill with throat cancer.
But Bastianini, whose performances in those last few months of his career seem (understandable under the circumstances) to have been uneven, sounded in the peak of health in his two San Francisco appearances that I attended.
[Below: Ettore Bastianini as Carlo Gerard in "Andrea Chénier"; edited iimage of a historical photograph.]
I was fortunate to have been present at the live performances so many of the great Italian baritones of the postwar years, including Giuseppe Taddei and Tito Gobbi, but I associated Bastianini with a sound that was robust and dramatic, but also sublimely lyrical. Having seen and heard him perform the roles of Nabucco [50 Year Anniversaries: Bastianini's "Nabucco", with Tozzi, Cioni and Janis Martin – San Francisco Opera, October 23, 1961], Gerard and Renato [50 Year Anniversaries: Brouwenstijn, Bastianini, Zampieri in "Ballo in Maschera" – San Francisco Opera, October 12, 1961] were memorable experiences.