Note from William: this continues my series of "end of the year" thoughts on the live performance of opera.
My "Thoughts and Assessments" series began at the end of calendar year 2009. Each year since then I've discussed a variety of subjects. Before I begin my schedule of 2016 performance reviews, including upcoming performances in California, Texas, Washington, France, Switzerland, Germany, New Mexico and New York, I am posting my end of the year thoughts for 2015.
***
First, I wanted to acknowledge a performance of "Norma", conducted by Maestro James Conlon, an enthusiastic proponent of Bellini's opera. In his now-famous lectures that Conlon provides before virtually every performance he conducts in Los Angeles, he was effusive about the opera stars that Los Angeles had secured for the four principal roles – Angela Meade as Norma, Jamie Barton as Adalgisa, Russell Thomas as Pollione and Morris Robinson as Oroveso. His very-informed opinion was that no opera company worldwide could mount a superior cast for "Norma" than these four.
What he did not say, because no longer is it a surprise to opera-goers, was that the cast was all-American, superbly performing this quintessential bel canto Italian opera. It was also American trained. Meade is a graduate of Philadelphia's prestigious Academy for the Vocal Arts (AVA); Barton hails from Indiana University and the Young Artists' program of the Opera Theater of Saint Louis (OTSL); Thomas has been in the Young Artists' programs of Seattle Opera, Florida Grand Opera, Sarasota Opera and the New York Met's Lindemann Young Artists' program; Robinson is an alumnus of the Met's Lindemann program as well.
Yet only 60 years ago, neither Santa Fe Opera's Apprentice program nor the San Francisco Opera's Merola program, two of the earliest Young Artists programs in the United States, had yet been created.
The investment in training American singers has been extraordinary (as have similar investments in such countries – far from opera's original creative centers in Italy, France, Germany and Austria (IFGA) – as South Korea and China. Every year we produce more great operatic voices than we create opportunities to hear them in live performance in the opera house setting.
[Below: Pollione (Russell Thomas, front right) finds himself in the power of Norma (Angela Meade, front left) in a 2015 revival of Anne Bogart's production of Bellini's "Norma" in Los Angeles; edited image, based on a Ken Howard photograph, courtesy of the Los Angeles Opera.]
[For my performance review, see: Review: Meade, Barton, Thomas, Robinson Sing Beautifully in "Norma" – Los Angeles Opera, November 21, 2015.]
***
Of course, citing those four IFGA countries as the creative center of opera, does not take into account the production of important operas in Russia, the Czech Republic, Great Britain and elsewhere – "elsewhere" including the United States. Every major company in the world includes operas from a variety of countries, even though the most performed and best-established part of the repertory is from the four IFGA nations.
American opera had a rough go of it in the 20th century, even in the major American opera houses other than such "festival" houses as the Santa Fe Opera. But American opera has begun to gain new respect in the 21st century.
***
This is partly because some opera company managements and their audiences have begun to look at some of the durable works from a half century ago or older – such as George Gershwin's "Porgy and Bess" and Carlisle Floyd's "Susannah" as worthy, substantive contributions to the performance repertory.
One by one some important compositions that never gained enough traction to be considered "repertory" are being revived. The Santa Fe Opera has scheduled Samuel Barber's "Vanessa" this summer, while across the country the Glimmerglass Festival will produce Jonathan Ward's "The Crucible".
Some late 20th century American works seem to have more secure futures, notably John Adams' "Nixon in China", which has almost shed its "novelty" status.
Perhaps even more important are the number of American composers who are actively working today, receiving commissions and guarantees of the commissioned opera being performed in more than one venue.
Jake Heggie's operas have become phenomena of multiple productions, his "Moby Dick" having no fewer than five companies co-sponsoring it even before its world premiere, with the principal opera companies of Dallas, Houston, San Francisco and San Diego standing ready to mount other Heggie works as they become ready. This is the kind of sponsorship that allowed Rossini, Bellini, Donizetti, Verdi and Puccini to be so productive and so often successful. (If only Mozart had had such security.)
[Below: Jay Hunter Morris as Captain Ahab in the 2015 Los Angeles Opera production of Heggie's "Moby Dick"; edited image, based on a Craig T. Mathew photograph, courtesy of the Los Angeles Opera. ]
[For my performance review, see: Review: Maestro Conlon Captains Another Successful Launch for Heggie's "Moby Dick" – Los Angeles Opera – November 22, 2015.]
***
There are several critics who don't seem to like the new directions in American opera, particularly those who like music, and, therefore, operas, that are composed with intricate tonal patterns. In a classic example of such inherent patterns, Berg's "Lulu", each character has her or his 12-tone formula. It's a fascinating creation that, in the context of Wedekind's wild story, makes a theatrical impact.
However, even though I am someone who can be fascinated by productions of "Lulu" (especially when done by Paul Curran), I'm aware that not everyone is spellbound by Berg. I invited a companion to "Lulu", and at the intermission I accepted his excuse (that just as well could have been) "I loved it, but this is the hour that my cat expects me to put out a saucer of milk and I've got to get home to do it."
Berg's compositional style (and his colleague, Schoenberg's) has influenced other composers, none of whom, at least that I have come across so far, have produced a work as good as "Wozzeck" and "Lulu". But if you as a critic are hoping for a new "Lulu"-styled opera, and regard "tonal" operas (i.e., there is a hint of melody here and there) as retrogressive, Heggie and many of the most successful contemporary American composers – Mark Adamo, Jennifer Higdon, Kevin Puts – will disppoint you.
I think some opera managements wanted to find new operas that both the critics and audiences liked. However, opera companies increasingly understand that repertory choices can be existential decisions. Operas that are theatrical and at the same time don't go out of the way to avoid "melody" have the best chance of being liked by their core audience, who, after all, buy subscriptions and make the lifeline contributions that sustain the opera.
[Below: Inman (Nathan Gunn, left) intends to court Ada Monroe (Isabel Leonard, right) in the Santa Fe Opera production of Higdon's "Cold Mountain"; edited image, based on a Ken Howard photograph, courtesy of the Santa Fe Opera.]
[For my performance review, see: World Premiere Review: All-Star Cast and Crew, Ardent Audience Ovation for Higdon's "Cold Mountain" – Santa Fe Opera, August 1, 2015.]
***
Last fall, classical music critic David Patrick Stearns', writing in the Philadelphia Inquirer, pondered Jennifer Higdon's "Cold Mountain", whose world premiere I reviewed. Does Jennifer Higdon's opera, he appears to ask, illuminate a New York City Metropolitan area – American Southwest operatic divide?
Stearns, an aficionado of polytonal music – Eliot Carter style – found himself rather liking the Higdon's "neo-tonal" opera and rather disliking George Benjamin's polytonal opera "Written on Skin".
Stearns wrote in the Inquirer: "The division is emblematic of a continuing split between composers who draw from such past tonal composers as Samuel Barber and those arising from a more recent modernist past; "Cold Mountain" belongs to the former and "Written on Skin" the latter.
"Were preferences so simple, however, I would've loved the polytonal "Written on Skin" (since Elliott Carter is my idea of a good time), with its constant collages of simultaneous elements, while Higdon's opera would have felt like a summer rerun.
"Truth is, Higdon's neo-tonal generation has delivered the most popular operas of our time – Jake Heggie's "Moby-Dick" and Kevin Puts' Pulitzer Prize-winning "Silent Night" – though their works are rarely if ever produced in (onetime Modernist Central) New York City.
"Though his lush, Straussian opera "Il Postino" made Mexican composer Daniel Catán beloved on the West Coast, he was barely known on the East Coast when he died in 2011. No big deal – opera careers are now made in Dallas, Houston, Fort Worth, Los Angeles, St. Louis, and San Francisco, among other cities."
***
How, indeed, did the existence of "melody" [for which "tonal" is something of a code-word] in contemporary opera become such a divisive issue? Broadway musicals charge big bucks for tickets, but audiences don't feel that they've been cheated if there are melodies they remember and songs that they intend to add to their i-tunes library as soon as they become available.
When blockbuster movies, whose ticket prices are a fraction of that of Broadway shows, and a much smaller fraction of the costs of a center orchestra seat in major opera houses, hire the likes of John Williams or Howard Shore, they don't ask them to emulate the works of Schoenberg, or Berg, or John Cage or Elliot Carter. They want soaring melodies so memorable that Richard Wagner might have approved.
The welcoming of "Broadway" fare into major American opera houses – Kern's vintage "Show Boat", designed by American Director/Impresario Francesca Zambello and Sondheim's more contemporary "Sweeney Todd" designed by British Director Lee Blakeley — is possibly just the beginning of a major transformation of the American opera repertory.
[Below: Nathan Gunn as Sweeney Todd in the Lee Blakeley production at Houston Grand Opera; edited image, based on a Lynn Lane photograph, courtesy of the Houston Grand Opera.]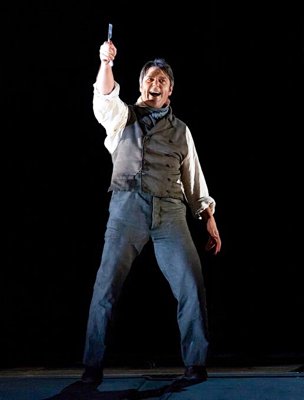 [For my performance reviews of the Blakeley production, see: Review: "Sweeney Todd" at Houston Grand Opera: Nathan Gunn, Director Lee Blakeley Make a Compelling Case for Sondheim as Opera, April 24, 2015 and Review: Searing Performances by Brian Mulligan and Stephanie Blythe for San Francisco Opera's First "Sweeney Todd" – September 12, 2015 and Review: A Second Look at "Sweeney Todd" at San Francisco Opera – September 20, 2015.]
Blakeley and the production team at Paris' Théâtre du Châtelet have a Sondheim-heavy stable full of Broadway productions rethought and redesigned for French and American opera audiences ready to set sail across the Atlantic.
But if Sondheim, who never seems worried whether or not his music sounds like Alban Berg's or Elliot Carter's, can produce shows that engender audience standing ovations, why shouldn't the opera composers who are producing works for the opera house rather than Broadway also be able to write whatever music they wish in order to make whatever dramatic point they deem to be desirable?
I spent some time in June 2015 analyzing the world premiere reviews of Tutino's "Two Women" of a couple of the lead critics of "newspapers of record" of American cities with major opera companies.
Both wrote as if they were deeply offended by the pronouncement of San Francisco Opera's General Director David Gockley and Music Director Nicola Luisotti that composer Marco Tutino was commissioned to write an opera on an Italian theme (in Italian) with the specific instruction to study the styles of Puccini and his contemporaries (a group of composers who combined the idea of melodramatic libretti whose stories were told in large part through richly orchestrated melodic themes.)
[Below: Anna Caterina Antonacci as Cesira in Tutino's "Two Women"; edited image, based on a Cory Weaver photograph, courtesy of the San Francisco Opera.]
[For my performance review, see: [World Premiere Review: Tutino's Melodic, Melodramatic "Two Women (La Ciociara)" Makes a Strong First Impression – San Francisco Opera, June 13, 2015.]
The result is something that the stage director Francesca Zambello described as neoverismo and that I call 21st Century Verismo. A major critic asked "Why not just revive 'Tosca'?" There are so many problems with this quip, even if generates big traffic in the twitterverse, that it will require another essay to reply to it.
***
I've related the angst that some critics feel about the two Jake Heggie commissions of The Dallas Opera – "Moby Dick", that absorbs both the tradition of the Broadway musical and the blockbuster music score, and "Great Scott" that unabashedly revives (albeit in a humorous context) the musical styles of Rossini, Donizetti and John Phillip Sousa.
"Likability" by the ticket-buying audiences is considered a "liability" to more than one critic – a meretricious work that panders to audiences. New operas, according to one condescending review from yet another "newspaper of record" critic, are supposed to "challenge" audiences, and he couldn't discern any challenges in "Moby Dick".
[Below: Arden Scott (Joyce DiDonato, left) enters into a serious conversation with stage director Roane Heckle (Anthony Roth Costanzo, right); edited image, based on a Karen Almond photograph, courtesy of The Dallas Opera.]
[For my performance review, see: World Premiere Review: Heggie's "Great Scott" is a Great New Opera, Hilarious, Endearing, Sophisticated, Profound – The Dallas Opera, October 30, 2015.]
***
On a rather different note, I mention from time to time on the Facebook/Opera Warhorses site that augments my on-page website remarks smaller operatic works performed in community settings by opera singers outside the larger opera house. Some of these, like David Little's "Dog Days", have led to the composers being commissioned to develop larger works for opera houses, such as Little's "JFK" whose world premiere I am scheduled to review this coming April.
Even smaller works abound, such as Daniel Crafts' "Too Much Coffee Man", based on Shannon Wheeler's comic strip. TMCM runs only a few minutes and has now been invited to be part of a performance of ten brief mini-operas – the Third Annual Sound Bites 10-Minute Musical Theatre Festival – in New York City later this month.
What strikes me as interesting about the idea of experiencing short operatic works by contemporary composers is that a composer and librettist can collaborate on a new piece. The music can be wildly innovative and or can be imitative of any style that has ever existed (a bit like successive scenes of "Great Scott").
Perhaps one or two singers and a piano and woodwind might constitute such an opera. I can imagine that an opera company itself might commission a promising composer to create a short work that permits an audience to sample their talents.
New venues are being created in association with opera companies, such as San Francisco Opera's new 299-seat performance center that opens next month in the Dianne B. Wilsey Center for Opera in the refurbished Veterans Building, adjacent to the War Memorial Opera House. One can imagine a program of such mini-operas being performed there in the future.
***
At the beginning of this year's "thoughts and assessments" I spoke of the pool of operatic talent now available to American companies (which, of course, include the talents of singers from all over the world, just as American artists are seen in the opera houses throughout the world).
Opera has become a supreme art form, combining music, theater and art, and the major American companies utilize not only musical talents (vocal and orchestral) of the highest order, but are able to enlist the finest of stage directors, set and costume designers, and, what is increasingly important, the developers of awe-inspiring video projections.
Building audiences who appreciate (and can help sustain) the art form is an important priority. There are challenges everywhere, but successes to report.
One obvious multi-decade success is the Santa Fe Opera. Nothing about John Crosby's scheme for creating a summer opera festival in Northern New Mexico in the middle of summer would have passed the finance committees of any major urban cultural organization when Crosby implemented his ideas in the mid-1950s.
[Below: Salome (Alex Penda, left) has entered the inner sanctum of John the Baptist (Ryan McKinny, right) in the 2015 Santa Fe Opera Daniel Slater production of Richard Strauss' "Salome"; edited image, based on a Ken Howard photograph, courtesy of the Santa Fe Opera.]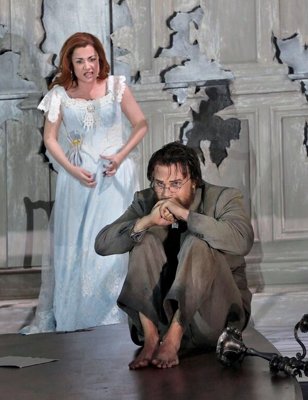 [For my performance review, see: Review: Penda, McKinny, Brubaker, Jagde Impress in Daniel Slater's Psychiatrically Searing "Salome" – Santa Fe Opera, July 31, 2015.]
The Santa Fe Opera flourishes, financially and artistically secure, with a loyal clientele comprised of both visitors from afar and a local population, a large proportion of which has no memory of a time when Santa Fe didn't have opera.
Now, companies throughout the United States and the World have programs that emulate the Santa Fe Opera Apprentices program. It has transformed opera in North America, where it is now a rarity to find an American or Canadian artist who has not been a member of the Santa Fe Apprentices or San Francisco's Merola or Adler programs, or the Met's Lindemann, or Chicago's Ryan, or Houston's HGO Studio or the equivalent in so many other companies.
The Dallas Opera has its young artists' program, but it also has created an Institute for Women's Conductors, one of whose seminars and whose "graduating" concert at the Winspear Opera House with seven young artists I was privileged to witness.
***
All of these experiences can be important to later careers. In my now quite long list of interviews and conversations with opera artists, it is always instructive to learn how many major careers were built on opportunities that were offered them in the past.
Jay Hunter Morris is a heldentenor whom every company now keeps track of, should they think of planning a cycle of Wagner's "Ring of the Nibelungs" or Heggie's "Moby Dick".
[Below: Erik (Jay Hunter Morris, center left) is disturbed by the obsession of his fiance Senta (Melody Moore, center right) with the image of the Dutchman (Eric Owens, shadow in portrait at left) in the 2015 revival of Stephen Lawless' production of Wagner's "The Flying Dutchman"; edited image, based on a photograph, courtesy of the Washington National Opera.]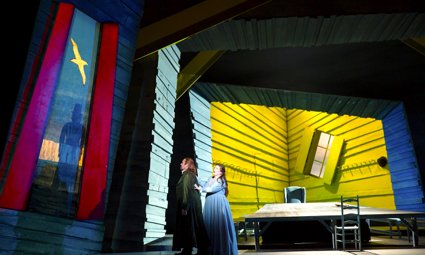 [For my performance review: Review: Fair Weather and a Well-Sung "Flying Dutchman" at Washington National Opera – March 7, 2015.]
As one of my most recently published interviews discussed [Rising Stars: An Interview with Jay Hunter Morris], Morris credits the invitations of the general directors of the opera companies of Dallas, Seattle, Los Angeles, San Diego and San Francisco, each of whom persuaded him to prepare roles to cover other artists, as crucial to his career.
In fact, it was his being the cover for Placido Domingo and Ben Heppner and other famous singers that gave him the knowledge of the roles and confidence to emerge as a top dog in the heldentenor category.
This story reinforces yet another theme of this website. The quality of opera singing and the depth of talent is so good these days that the announcement of the replacement of an "indisposed" singer with another artist (in most cases, the person the opera company has paid to cover that artist) is more likely than not to produce as fine a performance as one would have had if the original artist was in good health and performing.
For my previous year-end essays, see:
Opera in Live Performance: Thoughts and Assessments at the End of 2009, Part One
Opera in Live Performance: Thoughts and Assessments at the End of 2009, Part Two
Opera in Live Performance, Thoughts and Assessments at the End of 2010, Part One
Opera in Live Performance, Thoughts and Assessments at the End of 2010, Part Two
Opera in Live Performance, Thoughts and Assessments at the End of 2010, Part Three
Opera in Live Performance, Thoughts and Assessments at the End of 2011, Part One
Opera in Live Performance, Thoughts and Assessments at the End of 2011, Part Two
Opera in Live Performance: Thoughts and Assessments at the End of 2012, Part One
Opera in Live Performance: Thoughts and Assessments at the End of 2012, Part Two
Opera in Live Performance: Thoughts and Assessments at the End of 2013
Opera in Live Performance: Thoughts and Assessments at the End of 2014