Note from William: This post continues my series of observances of historic performances that I attended at San Francisco Opera during the general directorship of Kurt Herbert Adler. This is the fifth of sixteen such observances of performances from the company's 1965 Fall season.
The third 1965 offering of the San Francisco Opera's Saturday night subscription series was the company (and West Coast) premiere of Alban Berg's "Lulu", presented in the two act version whose orchestration Berg had completed before his death. The opera was performed in English in a translation by Santa Fe Opera founder John Crosby (with acknowledgement to a pre-existing translation by Arthur Jacobs.)
For the opera's protagonist, General Director Kurt Herbert Adler procured the talents of a leading Lulu of the day, 39-year old New York soprano Evelyn Lear, who had achieved international recognition in performing the role in Vienna, learning the role quickly after replacing another singer on short notice.
[Below: Soprano Evelyn Lear; resized image of a publicity photograph.]
Lear's acting skills and sheer mastery of singing complex coloratura passages in twelve-tone rows were impressive, that offset the impression that her voice was of lighter weight than one would expect of artists singing in the 3200 seat War Memorial Opera House.
But this was both her San Francisco Opera debut and the night of the company's premiere of an important 20th century work. Eight years later I found her convincing as Fiordiligi in Mozart's "Cosi fan Tutte" in this house.
[Below: Evelyn Lear as Lulu, dressed as Perriot the Clown in the 1965 San Francisco Opera premiere; edited image of a Dennis Galloway photograph, courtesy of the San Francisco Opera.]
Returning to the San Francisco Opera after an absence of 13 seasons was Ramon Vinay as Dr Schoen. However, in the three previous seasons he had sung in San Francisco (1949 through 1951) Vinay sang four dramatic tenor roles, Samson in Saint-Saens' "Samson et Dalila", Don Jose in Bizet's "Carmen", Tristan in Wagner's "Tristan und Isolde" and the title role of Verdi's "Otello".
In the 1965 and 1966 season he was to sing (and I was to see him in each), besides Dr Schoen, Scarpia in Puccini's 'Tosca", the role of Doctor Bartolo in both Rossini's "Barber of Seville" and Mozart's "The Marriage of Figaro", Varlaam in Mussorgsky's "Boris Godunov" and the title role of Verdi's "Falstaff".
[Below: Ramon Vinay as Dr Schoen; edited image, based on a Pete Peters photograph, courtesy of the San Francisco Opera.]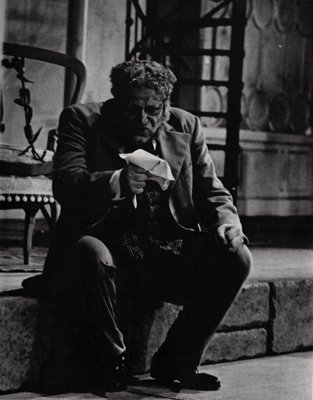 Vinay was a student of the operatic dramatic tenor voice. He developed a plan as to how, as such a tenor moved into late career in which it is typical for him to lose control of the highest notes of his range, that it would be possible to extend his career by taking on role in the baritone repertory.
He had analyzed exactly which operatic baritone roles might be appropriate for a former heldentenor or spinto.
In that same year a 24-year old tenor, Placido Domingo, was establishing his reputation, and would make his own San Francisco Opera debut four years later. As Domingo moved into late career, he became a student of Vinay's tenor-to-baritone blueprint.  (Significantly, the most recent Domingo appearance at San Francisco Opera, the title role in Alfano's "Cyrano de Bergerac" was one of the roles recommended by Vinay as part of the transition from tenor to baritone.)
[Below: Alwa (Richard Lewis, left) is fascinated by Lulu (Evelyn Lear, right); edited image, based on a Dennis Galloway photograph, courtesy of the San Francisco Opera.]
I have already spoken of the importance of the British tenor Richard Lewis, who sang the role of Schoen's son Alwa, to a wide range of operas mounted by the San Francisco Opera [see Historical Performances: "Die Fledermaus" with Mary Costa, Richard Lewis, Reri Grist – San Francisco Opera, September 18, 1965].
Similarly, Czech mezzo-soprano Sona Cervena, who appeared as Count Orlofsky in "Fledermaus" a week before, returned for yet another impressive character role, that of Countess Geschwitz, who like Schoen is another of Lulu's admirers and lovers.
[Below: Make-up is being administered to Sona Cervena (in this case for the role of Orlofsky); edited image, based on a Dennis Galloway photograph, courtesy of the San Francisco Opera.]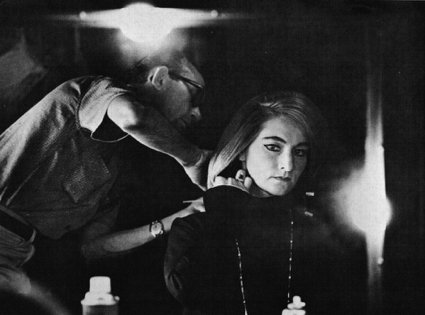 One note about the cast. The Animal Trainer was Brian Sullivan, who had sung lead tenor roles at both the San Francisco Opera and the Met (San Francisco in the 1952 through 1955 seasons, including the title role of Wagner's "Lohengrin"). I had seen him the previous week as Alfred in "Fledermaus" and in the 1962 "Wozzeck" as the Drum Major.
This was to be the last time I saw him perform. Four years later, at age 52, engaged by the Grand Theater of Geneva to cover another artist in the title role of "Siegfried", he drowned in the Rhone River, some believe as the result of a career crisis.
Alban Berg at the San Francisco Opera
When conductor Kurt Herbert Adler became San Francisco Opera's second General Director in 1954 he began a process of expanding the company's repertory of operas.
One of his successes was mounting a production of Alban Berg's "Wozzeck" in 1960 (in English, with an intermission following the second act barracks scene), led by German conductor Leopold Ludwig, directed by Paul Hager with sets designed by Leni Bauer-Easy. [See 50 Year Anniversaries: Geraint Evans, Marilyn Horne, Richard Lewis in "Wozzeck" at San Francisco Opera – September 15, 1962.]
 "Lulu's" world premiere in the unfinished two-act version (that was later presented in San Francisco) had taken place in Zurich 28 years prior. Mounting "Lulu" was postponed by most opera companies as a result of World War II and of the postwar recovery from the war's impact. With Berg's widow in control of the composer's sketches for the unfinished third act, the two act "Zurich version" was all that could be mounted.
German Maestro Leopold Ludwig, who was the lead conductor of the German repertory at San Francisco betweem 1958 and 1968 (and who had introduced both Richard Strauss' "Ariadne auf Naxos" and "Die Frau ohne Schatten" to San Francisco), was involved in "Lulu" productions in Europe.
[Below: Maestro Leopold Ludwig (left), discussing a musical score with Kurt Herbert Adler (right); edited image, based on a Pete Peters photograph, courtesy of the San Francisco Opera.]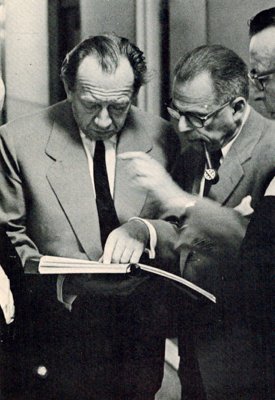 "Lulu", even in its English translation, proved not to be as successful with San Francisco audiences as "Wozzeck" had been earlier in the decade.
One notes, however, that both Berg operas shared the same experience in San Francisco. Adler presented them in English, utilizing the artistic team of conductor Ludwig, director Hager and set designer Bauer-Easy. Later, General Director Lotfi Mansouri, whose leadership of the company spanned 1988 through 2000, revived "Wozzeck" and "Lulu" in new productions, both sung in German, "Wozzeck" without intermission.
Over the course the 55 years since the first "Wozzeck", it has been performed in San Francisco by the company a total of 23 times, 13 times in the Adler era (1960, 1962, 1968 and 1981) in English, ten times in the Mansouri era (1990, 1999) in German.
"Lulu" has been performed in San Francisco by the company a total of 17 times, six times (1965 and 1971) in the Adler era in English (1965 and 1971) and 11 times in the Mansouri era (1989 and 1998) in German in the Friedrich Cerha three act edition.
One notes also that neither Berg opera was mounted during the San Francisco Opera administrations of Terrence McEwen (1982-1998), Pamela Rosenberg (2000-2005) and David Gockley (2006-2016).
The production of "Lulu" that I have liked best is the one that Scottish director Paul Curran created for the Lyric Opera of Chicago ["Lulu" at the Lyric – November 19, 2008].