The San Francisco Opera revived its 2013 Emilio Sagi production of Rossini's joyous comic opera, "The Barber of Seville".
[Below: Festivities take place at the hastily called Almaviva wedding; edited image, based on a Cory Weaver photograph, courtesy of the San Francisco Opera.]
Lucas Meachem's Figaro
North Carolina lyric baritone Lucas Meachem has become strongly associated with the role of Figaro [see "Hey, Figaro!": A Conversation with Baritone Lucas Meachem]. The role is ideal for Meachem's engaging personality, mastery of Rossini's tongue-twisting comic patter, and mellifluous vocal delivery (with abundant power whenever he needs it.)
Meachem is one of nine of the ten listed cast members to have been trained in the San Francisco Opera's Merola program or the Adler Fellowships (eight of them in both).
[Below: Lucas Meachem as Figaro; edited image, based on a Cory Weaver photograph, courtesy of the San Francisco Opera.]
René Barbera's Count Almaviva
At the end of the 20th century a great revival began in Rossini performances, in which artists, especially tenors, revived and perfected an authentic Rossini style of singing with the melismatic rapid movement of the voice that we associate with some styles of gospel music.
I collectively refer to these artists as the "Rossini Royalty". One of the artists is Texas tenor René Barbera. He debuted last year in another great Rossini comic role, Prince Ramiro [See "Cenerentola" Review: San Francisco Opera's Splendidly Sung, Sumptuously Staged Cinderella Story – November 9, 2014]
The opera contains an extensive aria (more properly, a sequence of arias) entitled Cessa di più resistere in a florid style whose extensive coloratura passages were deemed too difficult for tenors to sing. It was routinely cut from "Barber" performances for most of the 19th and 20th centuries.
In San Francisco Opera's history, no one performed Cessa before 2013, but now in the 21st century there exists a group of tenors all of whom sing Almaviva's role in its complete form, including Cessa. Barbera is a brilliant member of that group [See Rising Stars: An Interview with René Barbera].
[Below: René Barbera as the Count Almaviva; edited image, based on a Cory Weaver photograph, courtesy of the San Francisco Opera.]
Barbera demonstrated his extraordinary ability in mastering the Rossini style by brilliantly dashing off the vocal fireworks of Ah il più lieto, il più felice, the second part of the Cessa's extended scene.
Daniela Mack's Rosina
Argentinian-born mezzo-soprano Daniela Mack was an attractive Rosina, brilliantly performing the showpiece aria Una voce poco fa.
[Below: Daniela Mack as Rosina; edited image, based on a Cory Weaver photograph, courtesy of the San Francisco Opera.]
Of the great Italian opera roles, Rosina is arguably one of the most modern in sentiment, making clear her intention not to buckle under to the oppressive regimen of her guardian, Bartolo. Daniela Mack is convincing in the role, both vocally and dramatically.
Alessandro Corbelli's Doctor Bartolo and Andrea Silvestrelli's Don Basilio
Returning for the buffo roles were Italian baritone Alessandro Corbelli playing the curmudgeonly Doctor Bartolo, and the Italian-born American basso Andrea Silvestrelli as Don Basilio.
[Below: Andrea Silvestrelli (left) as Don Basilio and Alessandro Corbelli (right) as Doctor Bartolo; edited image, based on a Cory Weaver photograph, courtesy of the San Francisco Opera.]
Both Corbelli's Bartolo and Silvestrelli's Basilio have a major comic aria.
Bartolo's A un doctor della mia sorte requires a touch of elegance in its melodic passages and an ability to sing the fast-paced patter section. Corbelli showed both the desired elegance and the proficiency in patter.
Basilio's La calunnia is a comic masterpiece describing how useful slander can be when taking on a rival. The Callunia aria and Basilio's central part in the hilarious ensemble Buona sera, mio signore makes this a particularly attractive role, even to basses not normally associated with the buffo repertory.
Silvestrelli has one of the great operatic basso voices. His comedic skill employed as Basilio allows audiences to see a different side of his acting talents.
Catherine Cook's Berta and Efraín Solís' Ambrogio
California mezzo-soprano Catherine Cook, a San Francisco Opera audience favorite (and former Adler Fellow) reprised her role as Doctor Bartolo's surly maid Berta, who has an amusing solo aria of her own.
In Sagi's production Berta has a thing going with the servant Ambrogio, a mute role. In both the Sagi production and the 2003 Schaal-Schaaf production that preceded it, San Francisco Opera has assigned the Ambrogio role to an Adler Fellow. For this revival California baritone Efraín Solís takes on that part.
[Below: Catherine Cook (right) is Berta and Efraín Solís (left) is Ambrogio; edited image, based on a Cory Weaver photograph, courtesy of the San Francisco Opera.]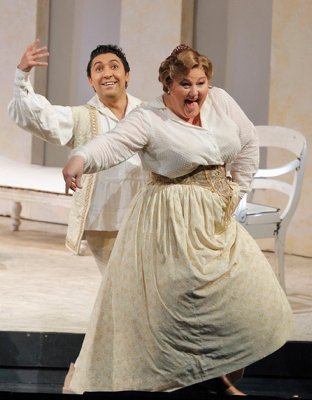 This permits Solís, whom the San Francisco Opera has cast in the major comic singing roles of Papageno in Mozart's "Magic Flute" and Dandini in Rossini's "Cinderella", to show off his comic skills, while not having to utter a note of music the entire performance. [See Rising Stars: An Interview with Efraín Solís.]
Giuseppe Finzi's Conducting and the "Barber" Cast
Italian conductor Giuseppe Finzi led the San Francisco Opera Orchestra in an affectionate "Barber" performance, accompanying the singers on the keyboard. As one always expects of them, the San Francisco Opera Orchestra performed with distinction.
The opera's entire cast was experienced in performing Rossini's madcap comedies on the War Memorial Opera House stage. Five of the opera's principals had performed their roles in this production two years earlier, and two other cast members had starring roles in Rossini's "Cinderella" the previous season.
California baritone Edward Nelson, a first year Adler Fellow was Fiorello. Indiana bass-baritone Matthew Stump, was An Officer.
Emilio Sagi's Production
This is the third time I have reviewed Director Emilio Sagi's co-production of the San Francisco Opera and the Lithuanian National Opera and Ballet Theater [See Lucas Meachem, Javier Camarena and Isabel Leonard Romp in Sagi's Sprightly New "Barber of Seville" – San Francisco Opera, November 13, 2013 and Daniela Mack, Alek Shrader, Audun Iversen and Maurizio Muraro Sparkle in San Francisco Opera "Barber of Seville" – November 14, 2013.]
The production incorporates many of the ideas that Sagi used in creating the Los Angeles Opera's production (discussed in my 2013 reviews), with some original thoughts – the use of the space under Doctor Bartolo's house for various unexpected entrances and exits and billowing cloths to accompany Don Basilio's aria apotheosizing slanderous gossip.
Recommendation
I recommend this opera, cast and production enthusiastically, both for veteran opera-goers and persons new to opera.