Jake Heggie's 2010 opera "Moby Dick", the most successful 21st century American opera to date, has added the Los Angeles Opera to the list of companies that have launched this tale of doomed men at sea.
[Below: in a scene from "Moby Dick's" second act, the whaling ship Rachel implores captain and crew of the Pequod for assistance in vain; edited image, based on a Ken Howard photograph, courtesy of the Los Angeles Opera.]
James Conlon's Conducting
"Moby Dick's" Los Angeles performances are under the baton of Maestro James Conlon, the Los Angeles Opera Music Director, who has become an important advocate for the opera.
Conlon stated joyously before the performance that the Los Angeles Opera Orchestra was excited about this opera. That excitement was translated into a brilliant performance by Captain Conlon and his symphonic crew.
Maestro Conlon is ebullient when he loves an opera and his conducting gave full expression to his enthusiasm for the work. This is a work that contains soaring melodies that variously represent dynamic seascapes, and the inner thoughts of Ahab or his first mate Starbuck.
[Below: Maestro James Conlon; resized image of a publicity photograph from jamesconlon.com.]
In his pre-performance lectures, in which Conlon tutors both the veteran opera aficionado and the uninitiated newcomer curious about the art form, he methodically drilled down into the opera's rich thematic structure, proposing names for the ideas he associates with particular melodies.
He described the musical context for each theme. He wants us to know that when Ahab talks about the doubloon that he will award to the man who first sights Moby Dick, his words are accompanied by a theme written with a twelve-tone structure, not present anywhere else in the opera. He assures us that buried deep in Ahab's themes is a rhythmic pattern suggesting the effect of his wooden leg on his gait.
Jay Hunter Morris' Captain Ahab
I have reported on Texas tenor Jay Hunter Morris' performances as Ahab in San Francisco [see Another Opera House Conquered: Ovations for Heggie's "Moby Dick" at San Francisco Opera, October 10, 2012 and A Second Look: A Bright Future for Heggie's Magnificently Melodious "Moby Dick" – San Francisco Opera, October 21, 2012.]
I suspect that few will disagree with my assessment that Morris, who has performed the role of Ahab more than any other artist, rightfully is recognized as the definitive Ahab.
[Below: Jay Hunter Morris as Captain Ahab; edited image, based on a Ken Howard photograph, courtesy of the Los Angeles Opera.]
Even though Heggie originally wrote the role for Ben Heppner, who has since retired, Morris possesses the large, healthy heldentenor the role requires and the stamina to meet the role's extraordinary physical demands [for the tenor's thoughts on this role, see: Rising Stars: An Interview with Jay Hunter Morris.]
Observing his well-sung performance for a third time, I was struck at the power inherent in the Morris' interpretation of Ahab – an authoritarian figure, introspective, but unwavering in his conviction that what he seeks to do is the right path, displaying sufficient human qualities to win the crew's confidence – even momentary compassion from Starbuck, the man most wary of his Captain's obsessions.
Morgan Smith's Starbuck
All five performances that I have experienced shared the presence of Washington State baritone Morgan Smith as Ahab's first mate, Starbuck, the god fearing Nantucket man, who is confronted with the question of whether murder is justified when you are certain that a man's actions will lead to the deaths of all around him.
These performances by Smith include the Dallas and San Diego premieres [see World Premiere: Heggie's Theatrically Brilliant, Melodic "Moby Dick" at Dallas Opera – April 30, 2010 and A Majestic West Coast Premiere for Heggie's "Moby Dick" – San Diego Opera, February 18, 2012.]
[Below: Morgan Smith as Starbuck; edited image, based on a Ken Howard photograph, courtesy of the Los Angeles Opera.]
Few operatic roles written after Puccini's "Turandot" nine decades ago contain as much effusive melody as Starbuck's, and Smith's lyric baritone is a beautiful instrument for realizing Heggie's melodies.
Joshua Guerrero's Greenhorn
Los Angeles native Joshua Guerrero sang the role of the Greenhorn. He is the third artist I've seen portray Greenhorn, each of whom brought their own talents to the role. I found Guerrero's singing and acting to be intense, illuminating and effective.
[Below: Joshua Guerrero as the Greenhorn; edited image, based on a Ken Howard photograph, courtesy of the Los Angeles Opera.]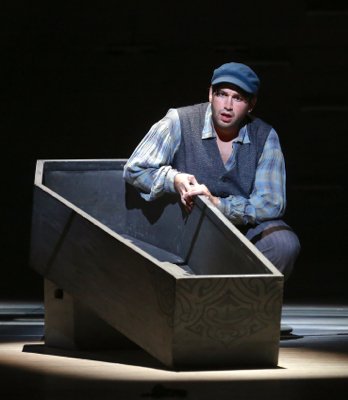 Greenhorn is the opera's character who most vividly represents the method by which Heggie and his librettist Gene Scheer have adapted Melville's sprawling opera into a linear drama (taking place on four separate days of the multiyear voyage).
Melville's novel famously begins with the phrase "Call Me Ishmael". The character Ishmael then narrates the story of Ahab and Moby Dick in the past tense.
At the opera's end, in response to the question of Captain Gardiner of the Rachel, Guerrero's Greenhorn identifies himself as Ishmael. Greenhorn's response to Gardiner is meant by composer and librettist to suggest that Greenhorn is uttering the first words that after the opera will become Melville's Moby Dick. The opera explains in the present tense the key events as they occur.
Musa Nsqungwana's Queequeg
The South African bass-baritone Musa Ngqungwana performed the role of the mysterious harpooner Queequeg, who is a prince on the tiny, but seemingly idyllic island of Kokovoko, from whence he comes. He made a strong impression vocally, and, exotically costumed and tattooed, was a powerful physical presence.
[Below: Musa Ngqungwana as Queequeg; edited image, based on a Ken Howard photograph, courtesy of the Los Angeles Opera.]
Queequeg's role in both novel and opera is symbolically important, an alternative morality to the "Western" ethos that prevails in the whaling communities of New England.
Queequeg has the first words in the opera. This is what I call the Spouters' Inn scene because of its location in Melville's novel, but which in the opera – which narrates the action in the present tense and does not dwell on backstories – takes place at sea, as does the whole opera, onboard and around the Pequod.
Jacqueline Echols' Pip
The role of the cabin boy Pip has been assumed for this performance run by Michigan soprano Jacqueline Echols. Her performance was nicely sung and believably acted.
[Below: Jacqueline Echols as Pip; edited image, based on a Ken Howard photograph, courtesy of the Los Angeles Opera.]
Other Cast Members
California baritone Malcolm MacKenzie, who had sung the offstage role of Captain Gardiner in the work's San Diego performances, made a strong impression in the onstage role of second mate Stubbe.
Indiana tenor Matthew O'Neill, whose career is centering around opera's character roles, recreated a role he has "owned" in its American performances, the third mate Flask.
Alabama bass-baritone Nicholas Brownlee who sang the role from a position above the audience gave a sympathetic potrayal of the anguished Captain Gardiner.
[Below: the devout Christian Starbuck (Morgan Smith, left) and the agnostic Greenhorn (Joshua Guerrero, right) both wrestle with moral issues raised on the Pequod; edited image, based on a Craig T. Mathew photograph, courtesy of the Los Angeles Opera.]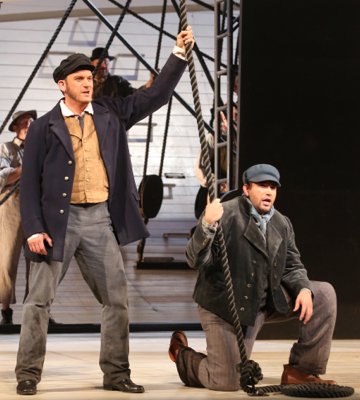 The elements of the original Dallas Opera production, with some tweaks here and there, were retained. It was directed by Leomard Foglia with set designs by Robert Brill and costumes by Jane Greenwood and amazing projections by Elaine J. McCarthy.
Every discussion of Heggie's "Moby Dick" should observe the critical contributions to the opera's success of Elaine McCarthy's projections that reinforce the idea of events occurring in real time. McCarthy's powerful images chart the Pequod's voyage, and that provide us with our own encounter with the White Whale as it shatters the whaleboats and the Pequod itself.
For Los Angeles Opera, the chorus director was Grant Gershon.
A Whalewatcher's Thoughts on the Opera and Performance
There exists what I would describe as a deep concern by some critics about Heggie's operas, as if these works represent something unsettling to an old line operatic establishment. They are concerned that the operas cater to what audiences want to see and hear. "Accessibility" to opera audiences is good or evil depending on the critic.
I have been present at first performances in three other cities – its world premiere at The Dallas Opera, its West Coast premiere at the San Diego Opera, and its San Francisco Opera premiere.
In each city not only was "Moby Dick" embraced, but the local opera company committed to performing one of Heggie's next two works "Great Scott" (Dallas and San Diego) or "It's a Wonderful Life" (San Francisco).
Reporting on the first performance runs of a relatively new opera in a new city, I believe, should be approached differently than reporting on how an opera company performs, say, Puccini's "Tosca".
Every opera in the performance repertory has its own history of diffusion from city to city. The Los Angeles Opera production was yet another confirmation of the long term viability of this opera, and of Heggie's and Scheer's genius.