Note from William: This post continues my series of observances of historic performances that I attended at San Francisco Opera during the general directorship of Kurt Herbert Adler. This is the first of sixteen such observances of performances from the company's 1965 Fall season.
The 1965 San Francisco Opera season opened Friday, September 10th with Giordano's "Andrea Chenier", heralding Renata Tebaldi's return (and final performances in San Francisco). I attended the second "Chenier" and third performances of that opera, each of which I will report on subsequently.)
My personal season began the next night with the first of three scheduled performances of Wagner's "Die Meistersinger", which was mounted to herald the return of tenor Jess Thomas, whose performances in Richard Strauss' "Der Rosenkavalier" (the Major Domo) and Verdi's "Macbeth" (Malcolm) in 1957 helped launch the former Stanford psychology student's operatic career.
[Below: Sir Walther von Stolzing (Jess Thomas, right on stand) sings the prize song that wins the hand of Eva (Pilar Lorengar, seated on flower throne, left) as Magdalene (Claramae Turner, seated second from left) looks on; edited image, based on a Pete Peters photograph, courtesy of the San Francisco Opera.]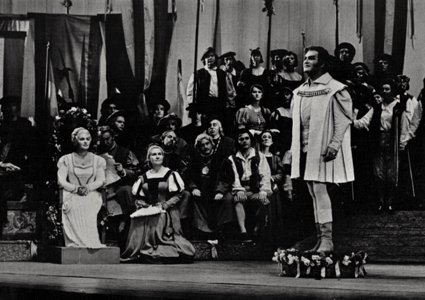 Jess Thomas' Walther von Stolzing
This was my first experience seeing and hearing the 38 year old South Dakotan. Since his appearances in San Francisco eight years prior, he had established himself as a major Wagnerian tenor in such venues as Bayreuth and the New York Met. There was a lyrical beauty to his powerful tenor voice, especially in the early years, and his acting brilliantly reflected his psychological insights into the characters he portrayed.
Thomas' triumphant return to San Francisco began an important new episode in his career. In 1965 he appeared eight times at the War Memorial Opera House, in four separate roles – including the title role of Wagner's "Lohengrin" (performed twice), Bacchus in Richard Strauss' "Ariadne auf Naxos" (performed twice) and Mario Cavaradossi in Puccini's "Tosca" (performed once).
I will report on Thomas' Bacchus and Cavaradossi in future posts, but found myself unable to schedule his Lohengrin, particularly since the illness of the Elsa, Hildegard Hillebrecht, required that his first Lohengrin, originally scheduled for a Friday had to be replaced with Rossini's "Barber of Seville".  "Lohengrin" was postponed until the following Tuesday, replacing a scheduled performance of "Barber" (creating, as one can imagine, massive chaos in the opera box office and with the ticket takers at the opera house's entrances).
Thomas was to become San Francisco Opera's leading heldentenor over the next 15 years. I saw him perform operatic roles on 17 occasions, including a famous late career substitution for a suddenly indisposed Siegmund in a Sunday matinee performance of Wagner's "Die Walkure",
For several important tenor roles, Thomas was the first artist I saw perform them. He my first Loge in Wagner's "Das Rheingold", my first Siegfried in both Wagner's "Siegfried" and "Gotterdammerung". He sang the title roles of my first performances ever of Wagner's "Tannhauser" and Britten's "Peter Grimes".
Heinz Imdahl's Hans Sachs
The cast that Adler surrounded Thomas with was excellent, even though the men were less well known in the United States than Thomas or his Eva, the Spanish soprano Pilar Lorengar.
[Baritone Heinz Imdahl, who sang the role of Hans Sachs; edited image, based on an historical photograph.]
;
German baritone Heinz Imdahl provided a sensitive and beautifully sung Hans Sachs (a role which the great German baritone Paul Schoeffler sang on this stage and in this production only four years prior [See 50 Year Anniversaries: Schoeffler, Della Casa, Uhl, Geraint Evans in "Die Meistersinger" – San Francisco Opera, October 21, 1961].)
Pilar Lorengar's Eva
Pilar Lorengar had one of the most distinctive voices of the 1960s and 1970s, with a beautifully controlled, but very pronounced vibrato. I had been charmed by her Countess Almaviva [50 Year Anniversaries: "Nozze di Figaro" with Geraint Evans, Grist, Lorengar, Waechter – San Francisco Opera, October 3, 1964] and found her equally likable in this jugendlicher Wagner role.
[Below: Soprano Pilar Lorengar sang the role of Eva; edited image, based on a publicity photograph.]
Toni Blankenheim's Sixtus Beckmesser
German baritone Toni Blankenheim was an appropriately cantankerous Beckmesser, and certainly I regarded this his San Francisco debut as a great success.
However, Beckmesser is a role that San Francisco Opera associated with Sir Geraint Evans, who was not available for the 1965 season (the only season he missed between 1959 and 1973), and Sir Geraint reclaimed the role for the 1971 season's new production of "Meistersinger"
Blankenheim, like Imdahl, appeared in San Francisco only for the three 1965 "Meistersinger" performances. Both Blankenheim and Imdahl also performed their roles in the single tour performance of the opera in Los Angeles at season's end and never returned to the San Francisco Opera.
[Below: Baritone Toni Blankenheim sang the role of Sixtus Beckmesser; edited image of an historical photograph.]
Alexander Young's David and Claramae Turner's Magdalene
Hans Sachs' apprentice David and his sweetheart, Magdalene were sung by British lyric tenor Alexander Young and California mezzo-soprano Claramae Turner.
Interestingly, in one of the curiosities of casting, the artists playing the two young lovers were both 45, the oldest in age of the principals in the cast. (Blankenheim was 44, Imdahl 41, Thomas 38 and Lorengar 37.)
[Below: Backstage at a San Francisco Opera performance of Wagner's "Die Meistersinger" in which Claramae Turner, center, who sang the role of Magdalene talks with Chester Ludgin, right, who sang the role of Fritz Kothner; edited image, based on a Pete Peters photograph, courtesy of the San Francisco Opera.]
Young was to sing three roles that season (the others being Brighella in Richard Strauss' "Ariadne auf Naxos" and Count Almaviva in Rossini's "Barber of Seville"), all of which I saw him perform. Yet the 1965 season was the only time that Young performed with the San Francisco Opera.
[Below: English tenor Alexander Young; resized image of an historical photograph.]
Not so with Claramae Turner, who had debuted with the company 23 seasons earlier. A popular favorite in San Francisco (she had sung the big mezzo and contralto roles in Gilbert and Sullivan operettas in town before joining the opera company), I suspect that casting her as Magdalene was designed not just for Turner's singing but also to provide a familiar name for the opera patrons to a roster that included lesser or unknown Europeans.
Turner's long career with the company in singing roles ended with the 1965 season, excepting a return in 1974 in the juicy comic role of the Marquise of Berkenfeld in Donizetti's "La Fille du Regiment", to Beverly Sills' Marie and Hermione Gingold's Duchess of Krakenthorp.
The "Meistersinger" conductor, Leopold Ludwig, continued as the major presence in the company's "German wing" conducting staff.