Puccini's "Tosca" opened the Houston Grand Opera's 2015-16 season. I attended the third of six scheduled performances.
The principal cast consisted of Ukrainian soprano Liudmyla Monastyrska in the title role, Siberian tenor Alexey Dolgov as Mario Cavaradossi, Polish tenor Andrzej Dobber as Baron Scarpia and Russian bass Dmitri Bellosselskiy as Cesare Angelotti.
[Below: Liudmyla Monastyrska as Floria Tosca; edited image, based on a Lynn Lane photograph, courtesy of the Houston Grand Opera.]
Four Americans completed the cast: Bass-baritone Kyle Albertson was the Sacristan, tenor David Cangelosi and baritone Ben Edquist were Scarpia's operatives, respectively Spoletta and Sciarrone and bass-baritone Said Henry Pressley was the Jailer.
Liudmyla Monastyrska's Tosca
"Tosca" is the second role that Liudmyla Monastyrska has sung at the Houston Grand Opera. She debuted here in 2013 in the title role of Verdi's "Aida".
Her large voice and superb vocal control [See my review at Liudmyla Monastyrska, Issachah Savage Lead Strong "Aida" Cast – Houston Grand Opera, November 1, 2013] as the Egyptian princess led to the invitation to bring her Tosca, which has become a signature role for her, to Houston.
[Below: Tosca (Liudmyla Monastyrska, right) has some words of advice for the painter, her lover, Mario Cavaradossi (Alexey Dolgov, left); edited image, based on a Lynn Lane photograph, courtesy of the Houston Grand Opera.
Monastyrska's voice has the power to soar above the richly-scored orchestral passages that enhance the opera's swiftly moving drama, and the vocal color and expressiveness to display a range of emotions.
Monastyrska also proved to be, in the first act, a rather more girlish Tosca than often encountered. She obviously gained audience sympathetic from the start, even winning a few audience laughs as she insisted on her lover Mario to change the eye color of the woman he has painted.
Alexey Dolgov's Cavaradossi
The original 2010 Houston Grand Opera mounting of John Caird's production constituted Alexey Dolgov's role debut.
Although Dolgov sings spinto roles, even the role of Bacchus that many heldentenors would regard as in their province  [See Goerke, Claycomb, Graham in Stylishly Accessible "Ariadne auf Naxos" – Houston Grand Opera, April 29, 2011], I hear, rather than a spinto, a fine lyric voice with sufficient weight to be impressive in Cavaradossi's moments of defiance in Act II and the inherent beauty to draw audience ovations for his two great arias Recondita armonia and E lucevan le stelle.
As if to confirm my impression of his lyric roots, his role debut as the light lyric part of Nadir in Bizet's "Pearl Fishers" has been scheduled to take place in Israel.
Andrzej Dobber's Scarpia
Baron Scarpia, the corrupt Chief of the Roman Police (a sinister job in this time of reactionary forces suppressing the recent revolutionary tendencies of Rome's population) was played by Andrzej Dobber.
I had last seen Dobber in the gentlemanly role of the Elder Germont [See A New Verdian Golden Age? – Poplavskaya, Giordano in Elegant Agostinucci "Traviata": Los Angeles Opera, May 21, 2009].
Dobber proved to be a convincing villain.
[Below: Andrzej Dobber as the Baron Scarpia; edited image, based on a Lynn Lane photograph, courtesy of the Houston Grand Opera.]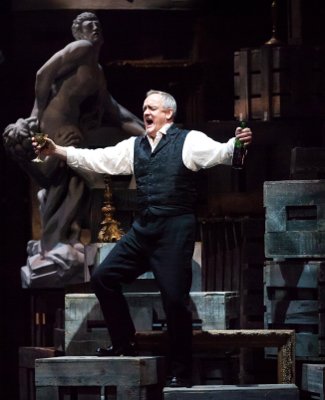 Dmitry Belosselskiy's Angelotti
Russian basso Dmitry Belosselskiy is performing in both "Tosca" and Tchaikovsky's "Eugene Onegin", two operas that are in rotation with each other in the first weeks of the Houston season.
Belosselskiy's deep rich bass voice and strong stage presence has resulted in dramatic contributions in such roles as Sparafucile [Dramatic, lyrical and powerful: Ryan McKinny's Rigoletto Role Debut – Houston Grand Opera, January 24, 2014] and Oroveso [Legend Making at the Kennedy Center: Angela Meade's First Norma – Washington National Opera, March 9, 2013].
His Angelotti was particularly effective.
David Cangelosi's Spoletta and Ben Edquist's Sciarrone 
It is always interesting the many ways that directors stage the activities of Scarpia's operatives Spoletta and Sciarrone. David Cangelosi, making his Houston Grand Opera debut, was the Spoletta, in a performance that demonstrated his committed (and athletic) performance style. [See Opera, Drama and the Character Tenor: An Interview with David Cangelosi.]
For the smaller part of Sciarrone, whose task includes observation of (and participation in) the torturing of Cavaradossi, Houston Grand Opera cast Ben Edquist.
Although I have reported on his lead role of Papageno elsewhere [Review: Sean Panikkar, So Young Park Brilliant in Madeline Sayet's "Magic Flute" – Glimmerglass Festival, July 20, 2015], Houston Grand Opera will give him his first major starring assignment next March when he assays the title role in the world premiere of Carlisle Floyd's latest opera, "The Prince of Players" (the name used to describe Edward Kynaston, a famous Restoration era actor).
Kyle Albertson's Sacristan
The other principal character in the drama, the Sacristan, acts as a minor apparatchnik of Scarpia's police state (the Pope and the church apparatus supporting the crackdown on revolutionary thought and action).
Kyle Albertson was effective in this role.
Patrick Summers and the Houston Grand Opera Orchestra
Conductor Patrick Summers has had an extraordinary schedule shuttling between Houston and Dallas.
On successive Friday evenings, he opened the Houston Grand Opera's 2015-16 season with "Tosca" and The Dallas Opera's 2015-16 season with the world premiere of Jake Heggie's "Great Scott". In between, he conducted the second performance of "Tosca" in Houston and final dress rehearsal of "Scott" in Dallas.
The performance of "Tosca" I reviewed took place the night after the previous evening's Dallas world premiere.
If a schedule that would seem fatiguing was affecting him, his performance did not show it, his conducting taking place with both the energy and attention to detail that one associates with a Summer performance.
The Houston Grand Opera Orchestra exhibited its high level of professionalism.
John Caird's Production
The production was a revival of British director John Caird's "Tosca" production that premiered at Houston Grand Opera in 2010 [For my reviews of two mountings of the Caird production, see A New "Tosca" for Houston Grand Opera – January 30, 2010 and Sondra Radvanovsky is a Radiant, Transcendent Tosca – Los Angeles Opera, May 18, 2013.]
[Below: Mario Cavaradossi (Alexey Dolgov, center, left) confronts Tosca (Liudmyla Monastyrska, center, right) about her betraying him; edited image, based on a Lynn Lane photograph, courtesy of the Houston Grand Opera.]
Most of the eccentricities of Caird's production (which I confess I have no problem with) were retained – the three-level scaffold, each level of which accesses parts of a surreal painting of Mary Magdalene; Tosca's predilection for cutting throats (Scarpia's and her own); and the unit set with a hole in the ceiling, whose significance will become evident in the final act when Angelotti's body is hung by the neck according to Scarpia's previous order.
However, there is at least one important change. When first introduced, the shepherd child who sings at the beginning of the last act appeared as some sort of supernatural presence – an angelic force, perhaps. In this latest permutation of Caird's thoughts, the shepherd child sings offstage and does not appear. Nothing supernatural remains in the performance.
This requires another change in the staging. In previous mounting a bloody curtain hides the stage at the beginning of each act and the person with the first words in the act pulls down the curtain. As before, the act one curtain is pulled down by Angelotti, the second act curtain by Scarpia.
But unlike previous mountings, no corporeal shepherd/angelic presence appears in the scene, and instead we hear the shepherd child (whose offstage air is sung by Jacqueline Hickman) as was intended by Puccini.
With the previous surreal elements of the third act suppressed, the person with the first words sung onstage now has become the Jailer (Said Henry Pressley), so, employing the internal logic of the production, it is the Jailer who now tears down the curtain before the third act.
The Jailer oversees a grisly world where political prisoners are summarily executed. Even as Angelotti's body swings from high above the prison floor, a group of condemned prisoners, in a gathering reminiscent of Beethoven's "Fidelio", embrace Cavaradossi, the nobleman who had supported the unsuccessful Roman revolution, as he awaits his summons to the gallows. Caird's revised third act strengthens an already effective production.
Recommendation
"Tosca" is a very strong candidate for a first opera, and I recommend it to newcomers.
It is an opera that is especially thrilling when performed by great voices with strong acting skills and when staged effectively. The cast present and production in Houston meets these criteria.
I enthusiastically recommend the performance and production both to the veteran operagoer and to persons new to opera.