In the final season of the tenure of its General Director David Gockley, the San Francisco Opera, revived one of the Gockley era successes, the Jun Kaneko production of Mozart's fantasy opera, "The Magic Flute".
First unveiled in 2012 [see my reviews at Perfect Game: Gunn, Shagimuratova Shine in New Kaneko-Designed "Magic Flute" – San Francisco Opera, June 13, 2012 and A Second Look: the Kaneko-Gockley Production of "Magic Flute" – San Francisco Opera, June 24, 2012] the production's use of animated projections and colorful, eccentric costumes gives it a fresh, contemporary feel.
[Below: Papageno (Efraín Solís, left) and Pamina (Sarah Shafer, right) seek a path of escape; edited image based on a Cory Weaver photograph, courtesy of the San Francisco Opera.]
Cast Changes
Not every aspect of the revival went as originally planned. Prior to the opening performance, both the originally announced Pamina (Nadine Sierra, enlisted to replace another artist in title role of Donizetti's "Lucia di Lammermoor") and the originally announced Papageno (Philippe Sly, who returned to Canada to attend to a family illness) had to withdraw, although Sierra is announced for the final two performances.
[Below: Monostatos (Greg Fedderly, front center) threatens Papageno (Efraín Solís, front left) and Pamina (Sarah Shafer, right); edited image, based on a Cory Weaver photograph, courtesy of the San Francisco Opera.]
Each was replaced with artists who had performed major roles to acclaim in San Francisco Opera's previous season.
Then, on opening night, a mere two and half hours before the first notes of Mozart's overture were scheduled, another leading cast member, soprano Albina Shagimuritova, who was to be the Queen of the Night, withdrew because of illness.
Efraín Solís' Papageno
Papageno was played by California lyric baritone Efraín Solís, who the previous San Francisco Opera season had replaced yet another artist at a late hour in Rossini's "Cenerentola" [See "Cenerentola" Review: San Francisco Opera's Splendidly Sung, Sumptuously Staged Cinderella Story – November 9, 2014
[Below: Tamino (Paul Appleby, far left) and Papageno (Efraín Solís, second from left) are informed by the three ladies (below, right, here, Jacqueline Piccolo, Nian Wang and Zanda Svede,) that Three Boys (Michael Sacco, Pietro Juvara and Rafael Karpa-Wilson, above) will guide them on their journey; edited image, based on a Cory Weaver photograph, courtesy of the San Francisco Opera.]
He brought to the role a secure vocalism, natural acting ability and a comic flair. He established an immediate rapport with the audience, suggesting that this role will become a career cornerstone. [See Rising Stars: An Interview with Efraín Solís .]
Solís' interplay with his Papagena (Georgia soprano Maria Valdes), particularly their final duet during which six egg-shaped hatchlings scurry onto the stage, was endearing.
Sarah Shafer's Pamina
Pennsylvania soprano Sarah Shafer was the co-star of the summer's San Francisco Opera world premiere [World Premiere Review: Tutino's Melodic, Melodramatic "Two Women (La Ciociara)" Makes a Strong First Impression – San Francisco Opera, June 13, 2015].
Shafer was a convincing Pamina. A high point in her performance was her major aria, sung when Pamina feels rejected by Tamino's and Papageno's silence (in Gockley's translation Ah, I feel such pain and sadness).
[Below: Tamino (Paul Appleby, center, in boots), playing the magic flute, attracts a group of strange animals, whose character names and performers are Sonja (Christine Boulanger), Kiki (Jim Bowes), Howl (Kai Brothers), Kore (Kristina Kling), Chipareetee (Helen Lew), Longin (Evelyn Martinez) and Hiccup (Gilbert Martinez); edited image, based on a Cory Weaver photograph, courtesy of the San Francisco Opera.]
Paul Appleby's Tamino
The revival marked the company debut of Illinois lyric tenor Paul Appleby, on whose performances elsewhere as Fritz and Don Ottavio I have reported [See Susan Graham's Star Glows in Offenbach's Sexy, Witty "Grand Duchess of Gerolstein" – Santa Fe Opera, June 28, 2013 and Review: Ildebrando D'Arcangelo Leads Strong "Don Giovanni" Cast – San Diego Opera, February 14, 2015.]
Appleby was an engaging Tamino, performing his early aria (in Gockley's translation Oh image heavenly and rare) impressively.
Alfred Reiter's Sarastro and his Priests
German bass-baritone Alfred Reiter, returning to the San Francisco Opera after a 13 season absence, was Sarastro. He displayed security in the lower parts of his range, essential for a Sarastro, for whom Mozart wrote vocal lines that descend to low E.
[Below: Sarastro (Alfred Reiter, center front) commune with his priests (members of the San Francisco Opera chorus); edited image, based on a Cory Weaver photograph, courtesy of the San Francisco Opera.]
Chinese tenor Chong Wang has the distinction of wearing two of the most extraordinary costumes of the season, as the Ghost of Lucia's murdered bridegroom Arturo in the new production of Donizetti's "Lucia di Lammermoor" and as the First Armored Man in "Magic Flute". Minnesota basso Anthony Reed doubled as the Second Armored Man and the Speaker.
(Reed's playing two roles explains why only Chong's Armored Man took a curtain call, since Reed was in the Speaker's costume at opera's end.)
[Below: Tamino (Paul Appleby, center left in violet tunic) and Pamina (Sarah Shafer, center right) are tested by fire as they are guarded by Two Armored Men (Chong Wang and Anthony Reed; edited image, based on a Cory Weaver photograph, courtesy of the San Francisco Opera.]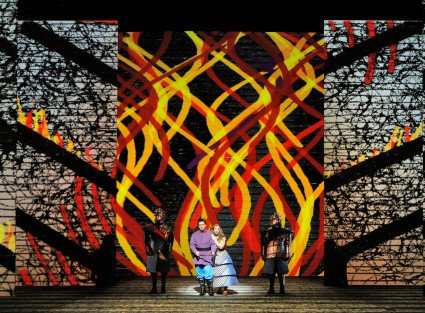 Kathryn Bowden's Queen of the Night and her Three Ladies
Kathryn Bowden, Shagimuratova's cover, had only a couple of hours to prepare for the "star-blazing" role of the Queen of the Night.
After a tentative beginning she gained confidence and audience sympathy. Each of the "Magic Flute's" two acts contains a major aria with stratospheric coloratura passages, both of which she performed flawlessly. She was rewarded with sustained audience applause after each aria and a standing ovation at opera's end.
Other Cast Members
With Shagimuratova taken ill, the only member of the original 2012 cast was Wisconsin character tenor Greg Fedderly as Monostatos, performing brilliantly in one of his many funny comic roles.
Chorister Richard Walker was the First Priest, California baritone Edward Nelson was the Second Priest. Choristers Chester Pidduck, Michael Belle and Phillip Pickens were three of Monostatos' slaves.
The Queen's three ladies also included a cast change, with California soprano Julie Adams substituting for an indisposed colleague as the First Lady. The Second Lady was sung by Chinese mezzo-soprano Nian Wang and the Third Lady by Latvian soprano Zanda Svede.
The Conductor, Orchestra and Chorus
The evening was the San Francisco Opera debut of Conductor Lawrence Foster, whose advocacy of lesser known French Romantic era works I have praised [See my review of one of these: A Rousing "Le Roi d'Ys" at Opera de Marseille – May 10, 2014.]
[California conductor and Opera Marseille music director Lawrence Foster; edited image of a publicity photograph for the George Enescu Festival.]
Mozart's famous overture provided yet another example of the virtuosity of the San Francisco Opera Orchestra, which Foster conducted with enthusiasm. (A Los Angeles native of Rumanian descent, Foster's debut at the War Memorial Opera House took place when he was only 19, conducting the San Francisco Ballet Orchestra.)
The San Francisco Opera Chorus, under the supervision of Scottish Chorus Director Ian Robertson, sounded wonderfully whether performing as Sarastro's priests or as his slaves.
Both Illinois Director Harry Silverstein, who aptly directed both the 2012 production premiere and 2015 revival) and the esteemed Japanese Production Designer Jun Kaneko were present at curtain calls to accept the audience's applause.
Final Thoughts and Recommendation
I have described Mozart's "Magic Flute" as one of the nine "safest" operas in the repertory, in that it has large fan-base to fill the audience and a comfortably large pool of operatic talent capable of singing its roles. (Two other Mozart operas, three operas by Puccini, and one each by Verdi, Bizet and Rossini constitute my list of the nine.)
That the performance could have proceeded first with two major cast changes as rehearsals began and then, on performance day, two last minute replacements of two principal singers and still have resulted in a thoroughly enjoyable performance, is a credit to the strength of the production and the talents and resources of the entire San Francisco Opera company.
I recommend the cast and production, without reservation, both to the experienced operagoer and to persons new to opera.