This DVD review of Jerome Kern's and Oscar Hammerstein's "Show Boat" is the first of two reviews of productions of classic American musicals performed by the San Francisco Opera. Each DVD is of a production conceived and staged by director Francesca Zambello. For the review review of George Gershwin's and Dubose Heyward's "Porgy and Bess" see: DVD Review: Francesca Zambello, the American Musical and the San Francisco Opera, Part 2: "Porgy and Bess".
The DVD being reviewed records performances of the Francesca Zambello production of Jerome Kern's "Show Boat", with lyrics by Oscar Hammerstein II. I had reviewed both its premiere performance in Chicago [Team Zambello Shows off "Show Boat" to Chicago's Lyric Opera – March 14, 2012] and its West Coast premiere in San Francisco [Aboard San Francisco Opera's "Show Boat": Showy Cast, Abundant Show-stoppers – June 1, 2014].
[Below: Magnolia (Heidi Stober, left) with Gaylord Ravenal (Michael Todd Simpson); edited image, based on a Cory Weaver photograph, courtesy of the San Francisco Opera.]
"Show Boat's" romantic leads Magnolia Hawkes and Gaylord Ravenal were beautifully sung by soprano Heidi Stober and lyric baritone Michael Todd Simpson whose demonstrated how operatic voices could add such elegance to the love duet, Make Believe.
Patricia Racette was a striking presence as Julie LaVerne. Her cheerful I Can't Help Lovin' Dat Man of Mine and her soulful Just My Bill demonstrated that this great dramatic operatic soprano can command the stage of musical theater.
[Below: Julie LaVerne (Patricia Racette, left) with Steve Baker (Patrick Cummings, right); edited image, based on a Cory Weaver photograph, courtesy of the San Francisco Opera.]
The most famous number in the opera Ol' Man River (certainly one of the greatest standards to have emerged from Broadway in the first two decades of the 20th century) was sensitively and authoritatively sung by Morris Robinson.
"Show Boat" as Musical Theater and Social Commentary
"Show Boat", born of Jerome Kern's music set to Oscar Hammerstein II's lyrics, inspired by Edna Ferber's book, introduced a different kind of musical theater to Broadway.
Its story covers a generation, providing a glimpse into the world of steamboat-based theatrical companies, whose performances took place at river ports before local audiences attracted by the show boat's arrival.
[Below: Joe (Morris Robinson, right) with Queenie (Angela Renee Simpson, left); edited image, based on a Cory Weaver photograph, courtesy of the San Francisco Opera.]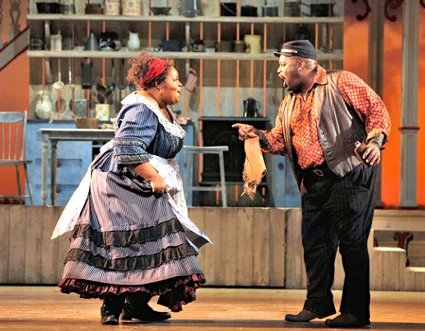 Ferber, Hammerstein, and Kern introduced new subject matter to the Broadway stage, that had long been comfortable with daffy, escapist stories. "Show Boat" explores the impact of the laws governing a segregated society on individual citizens.
When docking at a Mississippi town, one of the show boat stars (Julie LaVerne)  is accused of being of "mixed blood", and therefore illegally married to Steve Baker, since "miscegenation" is a crime in Mississippi. Baker and LaVerne have to suddenly leave the show to escape arrest.
In a way virtually unknown in the early 20th century popular theater before George Gershwin's "Porgy and Bess", "Show Boat" presents a sympathetic portrayal of African-Americans. It also deals with the other issues – the impact of addictions to  gambling (Ravenal) and alcoholism (La Verne) on individuals and their families.
[Below: Ellie Mae Chipley (Kirsten Wyatt) sings her show-stopper that describes Life on a Wicked Stage; edited image, based on a Cory Weaver photograph, courtesy of the San Francisco Opera.]
The San Francisco Opera and "Show Boat"
In my comments upon the opera's premiere performance in San Francisco, I wrote that "[e]ven though I liked the new production and the performances at Chicago Lyric, I was amazed at the strength and depth of the San Francisco cast, who, I believe, achieved performance levels that I doubt have been excelled in "Show Boat's" 87-year history."
Director Francesca Zambello, the Opera House and the American Musical
Zambello's production comfortably and effectively blends the dramatic and vocal talents of the three categories of performers – opera singers, musical performers and stage actors.
Conducted by John DeMain, a specialist in American musical theater, the San Francisco Opera cast included traditional opera singers Patricia Racette, Heidi Stober, Michael Todd Simpson,  Morris Robinson and Angela Renee Simpson; musical theater performers Kirsten Wyatt, Patrick Cummings; and stage actors Bill Irwin (Captain Andy Hawks) and Harrie Harris (Parthy Hawks).
[Below: a New Year's eve at the Trocadero night club; edited image, based on a Cory Weaver photograph, courtesy of the San Francisco Opera.]
Over the past decade, with Zambello in the forefront of the movement, there has been an acceleration of interest in the concept of the American musical being presented by opera companies.
There are several arguments in favor of the idea. Opera companies can command imposing resources – vocal, orchestral, theatrical – that can present classic musicals to great  advantage.
The larger opera companies – those with loyal subscribers and donors – can help subsidize the outsized expenses of presenting a classic musical through joint investments in important projects.
Thus, Zambello's production of "Show Boat" was designed from the beginning to be performed at the major opera company of four different cities (Chicago, Washington DC, Houston and San Francisco), and subsequently has been scheduled for performance in Dallas.
[Below: Actor Bill Irwin as Captain Andy; edited image, based on a Cory Weaver photograph, courtesy of the San Francisco Opera.]
If an opera company's core audience can help fill the seats for an American musical, there are surely core fans of American musicals that experience an opera house performance for the first time.
How many in the audience shown in this DVD have never before heard a musical performance in the luxurious surroundings of  San Francisco's War Memorial Opera House, with the effects created by its open orchestra pit and the state of the art acoustics? How many of those impressed by the look and sound of "Show Boat" can be persuaded to try out Puccini's "Madama Butterfly" or Bizet's "Carmen"?
Recommendation
I recommend this DVD to all lovers of the American musical. It is a brilliant example of Francesca Zambello's approach to performing the great classic American musicals utilizing the casts and theatrical resources available to major opera companies.