The San Francisco Opera mounted Lee Blakeley's mammoth production of Sondheim's "Sweeney Todd" with New York baritone Brian Mulligan in the title role and New York mezzo-soprano Stephanie Blythe as Todd's partner-in-crime, Mrs Lovett.
Nothing surpasses the macabre merriment that exudes from a great "Sweeney" performance. Superb portrayals of Todd and Lovett by Mulligan and Blythe, both in role debuts, suggested that the Sondheim opera's legions of fans will be delighted.
[Below: Brian Mulligan as Sweeney Todd; edited image, based on a Cory Weaver photograph, courtesy of the San Francisco Opera.]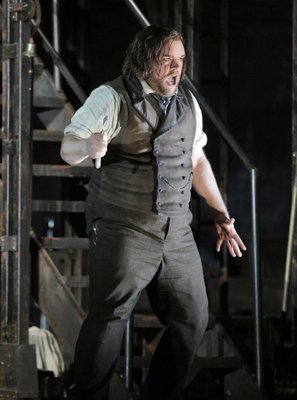 Brian Mulligan's Sweeney Todd
Sondheim's and his librettist Hugh Wheeler's composition of the character of Todd softened the centuries-old idea of the mad "demon barber" by giving Todd a coherent backstory as the motivation for his sociopathic behavior.
In Blakeley's staging, Mulligan evoked the psychological destruction of a man who is the victim of the abuse of authority of a man of power. We as the audience can empathize with the rage that Mulligan's Sweeney has internalized and to a degree can follow the twisted logic of the otherwise unimaginable ideas that emanate from Sweeney's brain.
Mulligan's portrayal, as expected from an artist with strong acting skills, proved dramatically convincing. Vocally secure throughout the role's range, Mulligan was chillingly impressive singing These are My Friends – Sweeney's anthem to the razors that he expects to advance both his profession and his plans for vengeance.
Stephanie Blythe's Mrs Lovett
The character of Mrs Lovett is one of the great female comedic roles in musical theater. As "Sweeney Todd" gains popularity as a proper offering of first-tier opera companies, it will become a touchstone role for operatic mezzo-sopranos with a comic flair.
Her first act The Worst Pies in London was hilarious. Especially noteworthy was her performance with Mulligan with the amazing showstoppers that end the first act – Sweeney's famous Epiphany followed by A Little Priest – arguably the most outrageous, if not the funniest, comic duet in the history of American musical theater.
Observing Stephanie Blythe as Mrs Lovett, in what is her first performance of this classic part, I was struck by how naturally Blythe took to it. She exuded such confidence that one could be persuaded that this were her 1000th performance, rather than her first.
[Below: Stephanie Blythe as Mrs Lovett; edited image, based on a Cory Weaver photograph, courtesy of the San Francisco Opera.]
Heidi Stober's Johanna, Elliot Madore's Anthony Hope and Elizabeth Futral's Beggar Woman
The two young lovers, Johanna and Anthony Hope, are the only characters in the opera to escape the sordid environment.
The most famous music in "Sweeney Todd" is the aria Johanna, sung eloquently by Canadian baritone Elliot Madore's Anthony to Wisconsin soprano Heidi Stober's Johanna. The latter's "bird song" Green Finch and Linnet Bird is, like Johanna a song of innocence. Both Stober and Madore (in his San Francisco Opera debut) were believable and effective in their roles.
[Below: Johanna (Heidi Stober, left) is apprehensive about the suggestion by Anthony (Elliot Madore, right) that she elope with him; edited image, based on a Cory Weaver photograph, courtesy of the San Francisco Opera.]
The crucial role of the Beggar Woman, central to the plot, was sympathetically sung by North Carolina soprano Elizabeth Futral.
It is she who understands the evil that lurks in Mrs Lovett's heart, but is unable to make her warnings understood by Sweeney.
[Below: Elizabeth Futral as the Beggar Woman; edited image, based on a Cory Weaver photograph, courtesy of the San Francisco Opera.]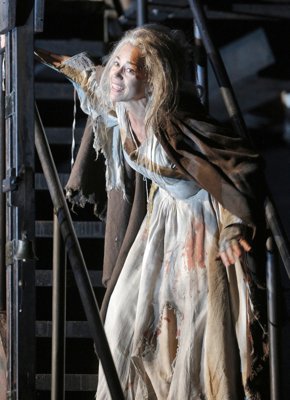 Wayne Tigges' Judge Turpin
Bass-baritone Wayne Tigges has made a specialty of opera's most villainous roles, few of which can match the unadulterated evil of Judge Turpin. Using his judicial power for his own lustful ends, he banishes Barker (Sweeney's real name) to Australia with the objective of possessing the wife and infant daughter that the prisoner has left behind.
Even though a smaller role, Judge Turpin's significance to the plot requires an outsized presence, so Tigges' experience at playing bad guys proved felicitous.
[Below: Sweeney Todd (Brian Mulligan, standing) takes the opportunity to dispatch his enemy, Judge Turpin (Wayne Tigges, in chair); edited image, based on a Cory Weaver photograph, courtesy of the San Francisco Opera.
Matthew Grills' Toby
Connecticut tenor Matthew Grills won the audience's hearts as Tobias Raggs (Toby) – a key role who sings both a lively first act solo Pirelli's Magical Elixir and one of the opera's great standards Not While I'm Around to Mrs Lovett.
Toby is the character who comes to understand what Sweeney has been doing, and, at the opera's conclusion, what needs to be done to bring an end to the madness.
Performing this role at the San Francisco Opera is Grills' most important assignment to date. Grills showed mastery of the tongue-twisting Magical Elixir patter song and provided an intensely likable portrayal of Toby's puppy-dog affection for Mrs Lovett.
[Below: Toby (Matthew Grills, left) promises that he will never let anyone harm Mrs Lovett (Stephanie Blythe, right); edited image, based on a Cory Weaver photograph, courtesy of the San Francisco Opera.]
Also in the cast (some of whom I will discuss in more detail when I review another performance in this series) are Canadian tenor David Curry as Adolfo Pirelli (San Francisco Opera debut), Oregon tenor A. J. Glueckert as Beadle Bamford, and California actor James Asher as the Bird Seller and Jonas Fogg.
Lee Blakeley's Production
Blakeley's brilliant production has wowed audiences in Paris, and was introduced earlier this year to American audiences by the Houston Grand Opera, surely the world's only major opera company to have two different productions of "Sweeney Todd" in its performance history (the first mounted under the supervision of Houston's then general director David Gockley, who is now San Francisco Opera's general director).
[For my more extensive comments on the opera's plot and background, see: Review: "Sweeney Todd" at Houston Grand Opera: Nathan Gunn, Director Lee Blakeley Make a Compelling Case for Sondheim as Opera, April 24, 2015.]
[Below: the two level set in the Lee Blakeley production of "Sweeney Todd"; edited image, based on a Cory Weaver photograph, courtesy of the San Francisco Opera.]
I expect that many of those who have been wary of whether this highly praised masterpiece of musical theater belongs at the War Memorial Opera House will discover that such a preconception is unjustified.
Even concerns that the amplification coming from the body microphones worn by the principals would have an undesirable sound in the opera house were dispelled. In fact, the War Memorial Opera House, that produces such a brilliant sound for the great works of Wagner, Verdi and Puccini, proved to resonate to Sondheim's luxuriously melodic score.
Recommendation
I recommend this production and cast to both the veteran operagoer and persons new to opera, as well as to all admirers of American musical theater.