The following interview took place in the administrative offices of the Santa Fe Opera, whose facilitation of this interview is deeply appreciated. Following the conversation, the Santa Fe Opera announced that it has commissioned its 15th world premiere for its 2017 season, Mason Bates' opera "The (R)evolution of Steve Jobs"
[Below: Santa Fe Opera General Director Charles MacKay; resized image of a publicity photograph, courtesy of the Santa Fe Opera.]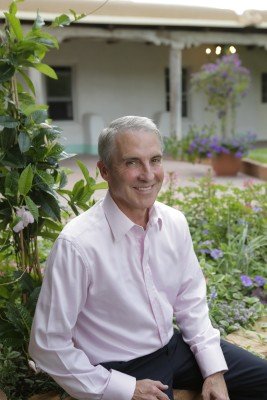 Wm: My first questions of an opera administrator is when did you first became involved with opera and how did you get into the business?
CM: I had been introduced to opera by age nine. I remember quite vividly coming into the original Santa Fe Opera theater and feeling the power of the music – as if I was hooked up to a powerful electric current. Through the music, the drama and the scenery, I had the overwhelming sense of being transported to another world.
Wm: And how did you become professionally involved with opera?
CM: Even before I was 13 years old, I was one of the kids that shepherded cars into the Santa Fe Opera parking lots. We were all volunteers. Only later did the company have a paid parking lot staff.
During my teenage years I was a serious student of the French Horn. At age 17, I auditioned for a position with the Santa Fe Opera orchestra, playing a movement from Mozart's Horn Concerto in D Major.
At that time, the fearsome John Crosby was director and was famous for mounting the works of Richard Strauss, whose works use a lot of French horns. I was invited to become an extra player, but principally to be the orchestra's pit boy, the lowest position in the company, which I did for several summers.
Wm: What is a "pit boy's" job description?
CM: The pit boy was a "gopher" position that had lots to do backstage, including painting scenery. But in my early 20s, having taken accounting courses, I was invited to assist the company's controller as a bookkeeper. and thus got into the administrative side of the opera company in 1968, during the time when the theater was being rebuilt from a destructive fire,
Wm: Most of us know about how the Santa Fe Opera rebounded from the fire, but I doubt that many of us have heard about that time from the perspective of a bookkeeper. What was it like then?
CM: Remember, this was a time when banks closed at 3 p.m. The ebb and flow in the cash receipts was so considerable that sometimes we waited until after 3 pm. on Friday to distribute paychecks.
However, through the process of dealing with financial issues, I became very interested in the management side of opera. I finally approached John Crosby and let him know of my desire to do more on the administrative side.
He said to me, "Young man, I have a job for you starting next Monday". That's when I became his administrative assistant and fund drive clerk. It was then that I became fascinated with how the company functioned and what it would take to make it flourish.
Wm: From the orchestra's pit-boy to the general director's principal assistant seems quite an accomplishment for a person just in his 20s.
CM: It rounded out my experience. I've seen opera both from the backstage nuts and bolts and from the musical side. I have been part of the rehearsal process and helped prepare productions both from the technical and financial side.
Interestingly, John Crosby arranged a three-year management apprenticeship for me at the First National Bank of Santa Fe, even while I was occasionally playing in the orchestra or working elsewhere at the Opera during the evenings.
[Below: Composer Mason Bates, who has been commissioned by Santa Fe Opera to write a new opera for the 2017 season, based on the life of Apple CEO Steve Jobs; resized image, based on a Ryan Schude photograph, courtesy of the Santa Fe Opera.]
Wm: The bank management apprenticeship was yet another step in your opera administrative career!
CM: An important one. In a bank, you don't leave at the end of any day until the credits and debits are balanced.
That gave me a foundation and reference point in how to budget for producing an opera. The artistic plans must be rigorously reviewed in the context of the financial plans.
Getting into fundraising added a new dimension to my experience.
Wm: In the United States in which governmental subsidies, if they exist at all, are very small, and ticket prices do not cover the full costs of producing the opera, fundraising is critical. It also suggests that production costs and fundraising are closely linked. Would you comment?
CM: I hearken back to what Sir Rudolph Bing of the Metropolitan Opera said – that there is no artistic decision that is not also a financial decision.
We are playing a numbers game as we look at repertory and casting. That is the key to the success of any performing arts organization.
As the company grew, I was, at the same, growing professionally. By then, I was Santa Fe Opera's business manager.
Wm: With a solid foundation in the operatic business, this is when you left Santa Fe for operatic experiences elsewhere.
CM: Yes. I spent six summers with the Spoleto Festival in Charleston, South Carolina. Then I joined Richard Gaddes at the Opera Theater of Saint Louis.
Wm: Now that you're back and have served several seasons as general manager, what are the attributes of the Santa Fe Opera that make it such a distinctive experience?
CM: The company's most important attribute is this unique setting with the view of New Mexico's Sangre de Christo mountains that draws people from all over the world. They want to see something different, new and unusual.
They enjoy the physical settings. They may visit the neighboring pueblos or relax in Santa Fe's hotel properties. The experience is so different from comparably sized opera companies.
Wm: What do you regard as the comparably sized companies?
CM: We have an operating budget of almost 22 million, which places us seventh or eighth in size. Seattle Opera's budget is close to ours and Houston Grand Opera's is a bit larger, but they both are in cities with metropolitan areas of five million or so.
Santa Fe has only around 80,000 people, with no large corporate base. Only the tourism industries are a real business presence in our area, and hotels and restaurants are not the type of industries that have a lot of extra money to give away.
[Below: the Santa Fe Opera's John Crosby Theater, with its view of the Sangue de Christo Mountains; edited image, based on a Peter Oglive photograph, courtesy of the Santa Fe Opera.]
Wm: Where does the Santa Fe Opera go to raise money?
CM: That's an interesting question. Originally, the Santa Fe Opera board was composed of Santa Fe businessmen, who sought large donations. But we've moved to a national board and we have shifted our focus towards individual philanthropy from across the nation.
Wm: Having been involved with the Santa Fe Opera for most of your life, what are your thoughts as the current leader of the company?
CM: I feel that I have a special responsibility, because I am not only a direct successor of Crosby's leadership, but that I will be the last of the line of directors trained by Crosby.
I feel I have to do everything possible to assure that the next generation of leadership has inherited an institution in the best possible condition. We want to achieve both an artistic balance sheet and to assure that our facilities are in good physical condition.
For me it's thrilling to see the company poised for its next important evolutionary step. We are now addressing the facility deficiencies on both the patron and artistic side.
Wm: Would you discuss the condition of the facilities further?
CM: Our backstage area dates from 1968 when the theater was rebuilt. Now, our productions are much larger and more complex.
As we development more co-productions with other companies, the inadequacy of our current stage becomes ever more apparent.
For me, the tipping point came in 2012 with Lee Blakeley's production of Bizet's "The Pearl Fishers".
Wm: Explain!
CM: I was backstage observing the severe traffic congestion with the chorus coming offstage as the different pieces of scenery were being moved around the stage. All the stage management personnel were involved in keeping everything moving properly.
I turned to my Productions Director Paul Horpedahl and said we needed more wing space, even though I couldn't imagine how it would be possible to expand the backstage area.
Soon we were discussing the issues with the Board of Directors. We found them to be responsive to the idea of discussing the long-term planning for the facilities.
The board members, in their business dealings might be discussing with their property managers the needs of a wastewater plant, or acres of hotel and resort properties. The board related to me as the property manager of a large institution in the same matter-of-fact way.
We have been working together on a list of needs, including new dressing rooms and more restrooms. We looked at the parking lot, that has not been repaved since 1968, and is worn in many places, with potholes.
We are aware that access and egress to the theater can be difficult, particularly on nights when we are sold out.
But it was "The Pearl Fishers" production that created the breakthrough moment. It occurred to us, what if we were to package all of our needs in a way that could be attractive to donors? What if we conceived of a major campaign to upgrade facilities that would meet the needs of at least the next 50 years.
Wm: Was this the first major fundraising effort since the rebuilding after the 1968 fire?
CM: There had been a fundraising campaign during Richard Gaddes' tenure, about halfway through my time here. But the stock market crash in 2008 caused the Board to resist pursuing a large fundraising campaign, feeling it was too soon.
Wm: And yet they were in time persuaded to go ahead with the fundraising.
CM: An organization that is thriving and strong must be pushing the envelope and forging ahead If you don't go on forward, the world will pass you by.
There are a lot of theories about fundraising. I am persuaded that a healthy organization should be in one of four phases. First, thinking about what you need and laying out the plan. Second, a quiet phase of preparing for a fundraising campaign. Third, an active fundraising effort and fourth, the completion of the fundraising and use of the funds for the planned project. Then, the cycle should begin again.
Wm: You mentioned artistic balance. That would include operatic repertory, which has observable differences between the Crosby era and yours. Would you comment?
CM: I feel that I was very fortunate to have grown up here and to have attended Santa Fe Opera performances regularly. I would travel from afar to come here, because I liked the repertory. That said, I know there were some real gaps.
Wm: Such as the French repertory, in which such standards as Gounod's "Faust", Bizet's "The Pearl Fishers" and Offenbach's "The Tales of Hoffmann" were not performed until you mounted them.
CM: It's true that John Crosby was not fond of the French repertory and that I love those pieces. I was so grateful that this was uncharted territory and that I was able to bring "Faust" and "The Pearl Fishers" to the company, as well as some pieces for which I have a personal fondness such as "King Roger".
We have more French opera ahead. At the same time, since the time I became general director in the 52nd season, I have been guided by the mission statement created by Crosby to present a mixture of standard, rarely performed and new works.
Wm: Are there other parts of the repertory you would like to showcase here?
CM: There are still a lot of areas I would like to explore. As an example, I am frustrated that our setup makes it difficult to produce Wagner.
Wm: Most Wagnerian opera challenges any company. What are the particular issues for the Santa Fe Opera?
CM: One issue is that we are an outdoor theater. Therefore, lighting rehearsals cannot take place until it's dark. This places extraordinary demands on our technical schedule.
Wm: Explain
CM: Once we have begun preparations for the season, the theater is in use 24 hours a day, seven days a week.
Let's say there is a dress rehearsal of one of the operas. It will be finished at midnight. Then the changeover to the lighting rehearsal would begin at 2 a.m. and go on until 4 a.m., with work on another opera squeezed in from 4 p.m. to sunrise. By 9 a.m. staging rehearsals for another opera might begin.
But if you have a five-hour long opera, how do you find enough time to light it properly? We've studied it, but, unless someone figures out how magically to produce longer days and nights, I don't see how it is possible.
Perhaps the day will come when we can do more Wagner than "The Flying Dutchman", that I enjoyed here in my youth, when it was conducted by Edo de Waart.
Wm: If there is no Wagner in the immediate future, where do you see repertory expansion?
CM: The younger operas can be really difficult, but there is a great expanse of unexplored territory in the baroque and bel canto repertories.
Wm: Perhaps one of the most important things to say about the Santa Fe Opera is that there are so many artists that enjoy coming here.
CM: That's very important. Artists are excited about coming to Santa Fe to spend a summer here. They get a long rehearsal period and then perform over a span of two months. Contrast this with companies in which they have a short, intense rehearsal period, then three or so performances, before leaving for their next role elsewhere.
Dramatic soprano Alex Penda has said that by singing a role like Leonore in Beethoven's "Fidelio" or the title role of Richard Strauss' "Salome" once or twice a week for six weeks, she can immerse herself in her role.
[Below: Bulgarian soprano Alex Penda as Salome; edited image, based on a Ken Howard photograph, courtesy of the Santa Fe Opera.]
It all comes back to John Crosby's incredible vision and daring to establish an opera company in Santa Fe surrounded by the beautiful Sangue de Christo Mountains.
Wm: Thank you for your time.
CM: Thank you!