Santa Fe Opera's new production of "La Finta Giardiniera" proved to be an effectively mounted and beautifully sung presentation of the 18-year old Mozart's foray into romantic comic opera. Each aria is a masterpiece.
Santa Fe Opera audiences were treated to a performance in which the seven principals were carefully chosen to excel in an opera of which the company intends to be an advocate.
The company's Chief Conductor Harry Bicket assumed the podium for an affectionate reading of Mozart's score.
[Below: the Count Belfiore (Joel Prieto, above) suspects that the gardener Sandrina is actually his fiancée, the Marchioness Violante Onesti (Heidi Stober, on ground), whom he thought he had accidentally killed; edited image, based on a Ken Howard photograph, courtesy of the Santa Fe Opera.]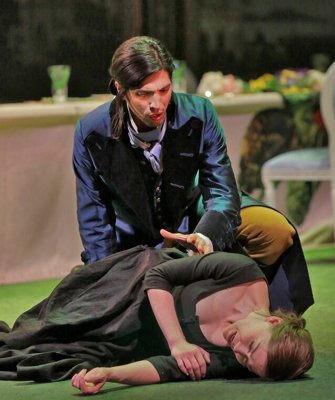 The opera has seven characters. By opera's end six have paired off and are betrothed to be married to the person for whom we in the audience know they were destined. The Count Belfiore (Spanish leggiero tenor Joel Prieto) will marry the Marchioness Onesti (Wisconsin soprano Heidi Stober).
Heidi Stober's Sandrina
Heidi Stober (Sandrina/Marchioness), with some of Mozart's most beautiful music to sing and a third act mad-scene to boot, made a powerful impression.
[Below: Heidi Stober as the Marchioness; edited image, based on a Ken Howard photograph, courtesy of the Santa Fe Opera.]
Joel Prieto's Count Belfiore
Spanish tenor Joel Prieto as an appealing leggiero tenor voice and incisive comic timing. He showered the audience with charm and a witty, often very funny portrayal of a character whose resume would otherwise suggest a sordid and dislikable person (Belfiore stabs the Marchioness, and thinking her dead, abandons her and subsequently pursues marriage to another woman, but we come to like him in the end).
[Below: Joel Prieto as Count Belfiore; edited image, based on a Ken Howard photograph, courtesy of the Santa Fe Opera.]
The final duet between count and marchioness – Dove mai son! – is one of Mozart's most charming creations and was convincingly sung by Stober and Prieto.
[Below: Don Ramiro (Cecelia Hall, left) has pursued marriage with Arminda (Susanna Phillips, right), and is upset she is betrothed to another man; edited image, based on a Ken Howard photograph, courtesy of the Santa Fe Opera.]
William Burden's Podesta
The role of the Podesta (mayor) was assigned to the distinguished lyric tenor William Burden [see American Orpheus: An Interview with William Burden].
Wildly costumed, he excelled in this great character part, whose intense vocal demands Burden dispatched with a master's touch.
[Below: William Burden as the Podesta with Laura Tatulescu as Serpetta; edited image, based on a Ken Howard photograph, courtesy of the Santa Fe Opera.]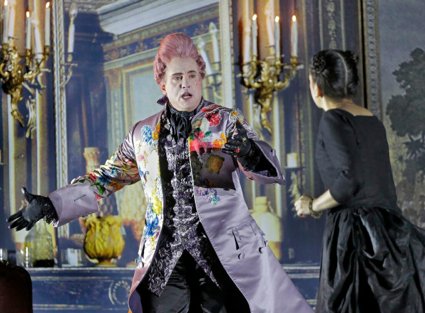 Other Cast Members
Cecelia Hall made a convincing impression in the "pants role" of Don Ramiro, who has three significant arias, culminating in Hall's nicely performed and vocally strong Va pure ad altri in braccio.
[Below: Cecelia Hall as Don Ramiro; edited image, based on a Ken Howard photograph, courtesy of the Santa Fe Opera.]
Susanna Phillips, whose previous appearances in Santa Fe have been in Mozart's statelier female parts [See Santa Fe Opera Reverentially Revives "Nozze di Figaro" – June 29, 2013 and The Man Who Loved Women: Lucas Meachem's Empathetic Don Giovanni – Santa Fe, July 31, 2009] got to play her hand in the slapstick comic role, though one that required Phillips' manifestly abundant vocal skills.
In the servants' roles both Hopkins as Nardo and Tatulescu as Serpetta excelled. Joshua Hopkins' Nardo was an ardent and impressive presence, with a vibrant lyric baritone.  Laura Tatulescu's Serpetta provided  the comic touch to every scene with an attitude that presages the likes of "Cosi fan Tutte's" Despina.
[Below: Nardo (Joshua Hopkins, right) is enamored with an occasionally interested Serpetta (Laura Tatulescu, left); edited image, based on a Ken Howard photograph, courtesy of the Santa Fe Opera.]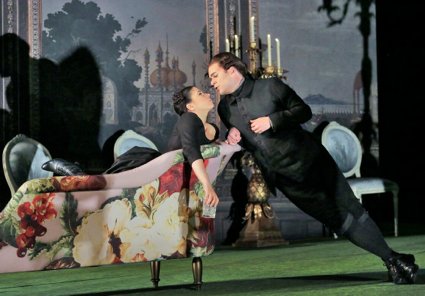 Notes on the Stage Direction and Design
British Director Tim Albery, whose work at Santa Fe Opera includes ventures into Richard Strauss' later works [see Erin Wall, Mark Delavan Are Superb in Elegant New Production of "Arabella" – Santa Fe Opera, August 1, 2012] will include next season's "Capriccio", took Mozart's unpromising libretto and created an absorbing theatrical experience.
The sets and costumes by German scenic designer Hildegard Bechtler and English costume designer Jon Morrell caught the spirit of the over-the-top comedy.
The Opera's Story Line
For the person new to the opera, I recommend against trying to sort out the opera's plot in advance. My suggestion is to keep in mind how the characters will pair off in the end, aware that they will have misadventures along the way. The newcomer will figure it all out as the opera progresses.
Podesta pursues the Gardener, Serpetta the Podesta, with the Marchioness, Count Belfiore and Arminda conflicted as to what they really want, and only Don Ramiro and Nardo each ardently pursuing the woman who will become his spouse.
Don Ramiro (North Carolina mezzo-soprano Cecelia Hall) will marry Arminda (Alabama soprano Susanna Phillips), the niece of the Podesta (New Jersey lyric tenor William Burden) and the Marchioness' servant Nardo (Canadian baritone Joshua Hopkins) will marry the Podesta's servant Serpetta (Connecticut soprano Laura Tatulescu). Only the Podesta will remain unhitched (but still looking) at opera's end.
[Below: the Podesta (William Burden, right) has become enamored with his new gardener, unaware that she is the Marchioness Onesti (Heidi Stober, left) in disguise; edited image, based on a Ken Howard photograph, courtesy of the Santa Fe Opera.]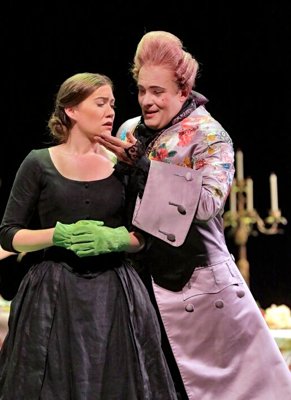 There are complications that result in what certainly should be an overwhelming favorite in any contest for the most outlandish scene in a Mozart opera. The Marchioness has been kidnapped by Arminda and abandoned in a wilderness place inhabited by wolves. All seven of the opera's characters go into the wilderness where both the Count and Marchioness temporarily and simultaneously lose their sanity.
[Below: the Marchioness (Heidi Stober, left center in wood headdress) and Count Belfiore (Joel Prieto, right center, holding the Marchioness' hand) have both gone mad as Arminda (Susanna Phillips, left), Nardo (Joshua Hopkins, seated, second from left), the Podesta (William Burden, right) and Serpetta (Laura Tatulescu, second from left in background), look on in wonder; edited image, based on a Ken Howard photograph, courtesy of the Santa Fe Opera.]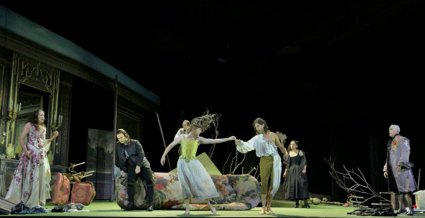 What ensues is a scene that might be thought of as the 18th century equivalent of the maenad scene in Szymanowski's 20th century opera "King Roger". The two principals, Stober's Marchioness and Prieto's Count, both behaving wildly, unleash all inhibitions. We are left we no doubt that they truly care for each other.
"Finta Giardiniera" as the Confirmation of Mozart's Musical Dramatic Genius
A half-century ago the original version of this work, composed to an Italian text for the Bavarian capital of Munich, was considered lost [an abridged German singspiel version existed] , but in 1970 a copy of the complete opera was found, and the opera has slowly begun to find a place in the performance repertory.
My hints at the opera's plot presented above may suggest a challenge to any opera composer. What is clear (and confirmed by his correspondence) was that Mozart saw abundant opportunities in this arcane story to create and refine his own operatic style of composition.
Without question Mozart succeeded in a way no teenager has done before or since. Starting with a zany story whose complicated, rangy plot conformed to a genre popular in Mozart's time, he infused into every aria a distinct emotion.
Every aria and ensemble shows the same genius as his four most performed works ["The Marriage of Figaro", "Don Giovanni", "Cosi fan Tutte" and "The Magic Flute".]
There are arias that are breathtakingly beautiful. Had Mozart saved them in exactly the form they appear in "Finta Giardiniera" for any of these four later operas, they would be just as revered today as the great arias of the Countess or Donna Anna or Pamina.
Recommendation
I recommend this without reservation to admirers of Mozart's operas, to the adventuresome, and to any opera-goer who appreciates a well-sung, intelligently staged production of a wacky comedy.