My final mainstage experience at the 2015 Glimmerglass Festival was attending a second performance of Anne Bogart's staging of Verdi's "Macbeth" [See my first review at Review: Gripping Portraits by Eric Owens, Melody Moore in Anne Bogart's Staging of Verdi's "Macbeth" – Glimmerglass Festival, July 17, 2015].
Even with so much to admire in the three other Glimmerglass productions offered this year – Mozart's "Magic Flute", Vivaldi's "Cato in Utica" and Bernstein's "Candide" – I was particularly impressed with this "Macbeth" – for its singing, for its acting and for its dramatic vision.
I will use this "second look" review, to discuss further the performance and the staging, which I've had the interval of four days since my first Anne Bogart "Macbeth" and a week since the posting of my first review to think about.
I will comment in greater depth about how intelligent staging – and I place Bogart's conceptualization of the work in this category – enriches our appreciation of Verdi's early work.
[Below: Macbeth (Eric Owens, right, seated) is questioned by his Lady (Melody Moore, left); edited image, based on a Karli Cadel photograph, courtesy of the Glimmerglass Festival.]
The Musical Performance
My earlier review praised the extraordinary singing of Melody Moore as Lady Macbeth that has challenged and even defeated some of Moore's famous predecessors in the role. She was in glorious voice as well for this third performance of this most difficult part.
I continue to find as Eric Owens highly veristic Macbeth to be revelatory. Owens dramatic instincts, honed by Bogart's theatrical insights, work beautifully together. The staging centering on Macbeth's mental deterioration, rather than the nonsense some directors have mounted, demonstrates what powerful theater Verdi's "Macbeth" can be.
The Banquo, Soloman Howard, appears to me to be on verge of an important career as a Verdian basso cantante, with the warmly luxurious legato that is a prerequsite to success in this repertory.
The Macduff, played by Michael Brandenburg, was effective throughout, performing Macduff's solo aria with the beautiful tone that confirms why he has been chosen to be Rodolfo in Puccini's "La Boheme", opening next year's 60th Glimmerglass Season.
As noted in the previous review, the supporting cast was impressive. Marco D. Cammarota was a striking Malcolm. Darrell Acon in the role of the Assassin, Nathan Milholin as the Doctor and Mithra Mastropierro as the Lady-in-Waiting all performed admirably. Joseph Colaneri led the Glimmerglass Festival Orchestra with intensity and obvious affection for the work.
Verdi's "Macbeth" and the Surreal
Verdi's "Macbeth", like the Bard's play, contains surreal elements, each element associated with an important plot point.
When surreality dominates an opera plot, as in "Macbeth" production designers often will push further into the realms of the bizarre [See Power Verdi: Stoyanov, Valayre Mesmerizing in Berlin Staatsoper "Macbeth" – April 24, 2009.] This is not the direction to which Bogart leads us.
[Below: Macbeth (Eric Owens, far right, wearing red sash) and Lady Macbeth (Melody Moore, second from left, wearing gold dress) greet their dinner guests; edited image, based on a Karli Cadel photograph, courtesy of the Glimmerglass Festival.]
Nor is Bogart's direction a traditional setting. In fact, I suspect some in the audience may find that elements of this production confuse them.
It's time-shifted from the medieval Scotland that the chronicler, quasi-historian Raphael Holinshed wrote about in the 1580s, that the Bard used as the source material for this shortest and most succinct of his tragedies. Bogart's "Macbeth" is set close to us in historical time.
[My understanding of the Holinshed chronicles impact on the Bard's play and, thus, indirectly, Verdi's opera, was immensely increased through the invaluable pre-performance lecture by Missouri basso Derrell Acon, one of this season's Glimmerglass Festival Young Artists.]
Both Macbeth and Banquo carry flashlights which they use to try to discern and illuminate what is happening around them. Both of them, as well as Macduff and Malcolm, wear military uniforms with a contemporary feel.
Verdi's "witches" whose choppy melodies Verdi assigned, not to a threesome, but to a dozen or so members of the women's chorus . They are not surrounding a cauldron on a Scottish heath costumed in tattered black dresses, but are wearing sober fashions, overcoats and gloves, that one might expect of lower middle-class women of an earlier generation shopping or attending church services.
They emerge one-by-one from different doorways of the Glimmerglass Festival's Alice Busch Theater and assemble onstage for their first chorus.
Where Bogart Leads Us
The images that Bogart presents us suggest familiar, rather than surreal surroundings. The party has the flavor of a state dinner at which men and women of power have assembled.
The image of Macbeth and Banquo as uniformed officials with flashlights and of Macbeth dressed in formal clothes while murdering the king, centers the opera's drama on Macbeth's ambition and his belief that he has the superior claim to the throne. [My debt to Acon's lecture on Holinshed's description of the relations between Macbeth and the reigning King Duncan is gratefully acknowledged.]
[Below: Macduff (Michael Brandenburg, in military uniform) is surrounded by the refugees from the wars; edited image, based on a Karli Cadel photograph, courtesy of the Glimmerglass Festival.]
We see Macbeth before us as an ambitious man of power, not unlike similar persons of our modern age. He is already driven by his inherent ambition. The witches only verbalize his subconscious thoughts.
He is tempted by those who know of his ambition to act upon it. First the witches (or "women of prophecy" as I would describe them) and then Lady Macbeth push him to do so. We then observe his psychological deterioration that begins as soon as he has committed the murder, ending with his death.
Macbeth's Lady is resolute in support of her husband even after he has lost his nerve, and attempts to cover up or explain away Macbeth's mental instability. That responsibility is too much for her, and she succumbs to her fate – her death reported, but how it happened, unknown to us.
In one of Bogart's brilliant strokes, several of the "women of prophecy" are ghostly figures around whom Lady Macbeth sleepwalks in her final scene.
[Below: Lady Macbeth (Melody Moore, front left) appears to wash her hands as she sleepwalks among the apparitions of women of prophecy; edited image, based on a Dory Schultz photograph, courtesy of the Glimmerglass Festival.]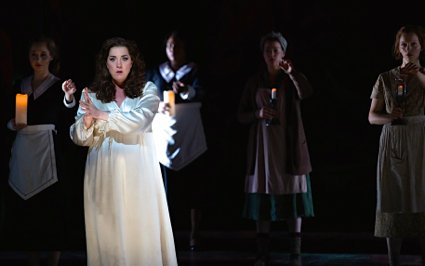 One should not underestimate the complexity of the "women of Prophecy" roles as conceived by Bogart. In addition to their appearances in the witch scenes, the twelve artists divided up responsibilities for other places where Verdi called for female voices – some for the banquet scene and the final scene in which the forces at war against Macbeth's rule are victorious – as well as non-singing assignments devised by Bogart, such as the Macbeths' household servants.
These twelve "women of prophecy" were sung by New York soprano Tracy Allen, Texas soprano Vanessa Becerra, Canadian mezzo-soprano Julia Dawson, Connecticut mezzo-soprano Allegra De Vita (who also sang Fulvio in "Cato in Utica"), Georgia soprano Jasmine Habersham (who also sang Papagena in "The Magic Flute"), Virginia soprano Courtney Johnson, New York soprano Joelle Lachance, South Korean coloratura soprano So Young Park (who also sang the Queen of the Night in "The Magic Flute"), Illinois mezzo-soprano Zoie Reams, California soprano Megan Samarin (who also sang Emilia in "Cato in Utica"), New York soprano Yolanda Sharpe and New York mezzo-soprano Lydia Walrath.)
[Below: Macduff (Michael Brandenberg, center, kneeling beside corpse) and Malcolm (Marco D. Cammarota, standing above Macduff) express their horror at the murder that has just been discovered; edited image, based on a Dory Schultz photograph, courtesy of the Glimmerglass Festival.]
The Dramatic Potential of "Early Verdi" Operas
The dramatic reputation of Wagner's music dramas and of the later Verdi operas "Aida", "Otello" and "Falstaff" had a negative impact for several decades on the reputation of Italian operatic works from the first half of the 19th century.
As late as a half-century ago, the prevailing critical opinion (and one that in some quarters still is encountered) was that Verdi's early works were inferior – musically and dramatically – to his body of works written in the decades years between his "Rigoletto" and his "Falstaff", and that such important predecessors of Verdi as Gaetano Donizetti, whom Verdi knew personally and whose work he admired, were ineffective as operatic dramatists.
I have argued the contrary, that Donizetti and Verdi produced operatic works during the 1830s and 1840s that not only transformed the operatic genre [See Gaetano Donizetti: European Romanticism and The Pathway to Verdi], but produced melodic works of theatrical genius that can and should hold their own in the performance repertory of opera companies.
[Below: An apparition of Banquo's son Fleance (Aiden Delaney, right center, dressed in white) wearing a king's crown that would confirm the women's prophecy alarms Macbeth (Eric Owens, far left); edited image, based on a Karli Cadel photograph, courtesy of the Glimmerglass Festival.]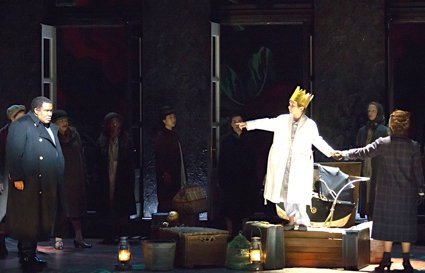 I have argued as well that Donizetti's operas have been revived in two stages – the first taking place beginning in the mid-20th century as show-pieces for the vocal virtuosity of several celebrity sopranos. The second stage actively involves directors, many from or influenced by legitimate theater, who are exploring the dramatic content inherent in many Donizetti pieces.
These include Donizetti's often shrewd use of early 19th century operatic conventions, such as arias di sortita, cabalettas and concertati to enhance the story-telling. Verdi in his first dozen or so operas incorporated these operatic forms whose theatrical use Donizetti advanced.
One can find in Verdi's later correspondence repudiation of operatic conventions he used to great effect in his early career, but Verdi's disowning elements of his own earlier style does not mean that we need to ignore them nor fail to appreciate them.
The music contains such passion that even a concert version of an early Verdi work can sweep one along. How much deeper is the impact when accompanied by a dramatic presentation of Verdi's story, directed by a person whose theatrical instincts can unlock what excited the composer, performers and audience at the work's creation, and can translate that excitement to 21st century audiences?
Recommendation
I continue to recommend this cast and production, enthusiastically, both to the veteran opera and goer and the person new to opera.