This post continues a series of conversations that I have had with British opera director John Pascoe. 
Wm: Last week, your long-time colleague, Maestro Alan Curtis,  so important to the movement to prepare scholarly and performable editions of baroque opera works, died in Florence. I learned of his death from you as I was on my way to the Glimmerglass Festival in New York, to review the first staged performance ever of Vivaldi's 1737 opera "Cato in Utica" in North America, which uses Alan Curtis' edition.
I feel, as I know you do, that it would be appropriate for us to pay tribute to Alan Curtis' life and scholarship on this website.
[Below: Maestro Alan Curtis; edited image, based on a Poplexicon publicity photograph, courtesy of John Pascoe.]
JP: I agree entirely, and would love to begin our conversation with my own personal tribute to him that I posted when I first heard of his death in Florence, Italy.
Wm: Please do!
JP: I wrote: "Today – July 15th 2015 a truly great spirit has passed. Dear Maestro Alan Curtis died in Florence, Italy this afternoon, and the world will now be without one of the most generous, charming, enthusiastic and downright brilliant conductors in the baroque repertoire.
"His editions of so many great baroque masterpieces remain as a testament to his extraordinary understanding of the period and are known as the greatest of artistic 'jewels' that will enrich the world forever.
"His well over 120 recordings were always greeted with enormous applause throughout the artistic world. I was privileged to know both him and his brilliant and charming partner Piero Luigi Ciapparelli since meeting them in 2005, when we were in preparation for our first project together for Spoleto Festival Italy – "Ercole sul Termodonte".
[Below: Maestro Alan Curtis, right, with his partner, lutenist Piero Luigi Ciapparelli, left; edited image of personal photograph, courtesy of John Pascoe.]
"He was an inspiration to all who were privileged to work with him, and was a warm and faithful friend and an intensely loving man to his family. We will all miss him enormously. With great affection and greatest sadness".
Wm: The Glimmerglass Festival's production of "Cato in Utica" premiered four days later. At the pre-opera lecture, always so important a part of the Glimmerglass Experience, Christopher Devlin, whose importance as Principal Coach and Accompanist for the production assured his immersion in every measure of the Alan Curtis edition of Vivaldi's music, paid tribute to Alan's passing.
I made reference to his death in my notes on the work [Review: Ovations for John Holiday's Cesare in American Premiere of Vivaldi's "Cato in Utica" – Glimmerglass Festival, July 18, 2015], which presented the work elegantly and in its proper historical time.
[Below: Cato (Thomas Michael Allen, center) tries to encourage a marriage between his daughter Marzia (Megan Samarin, right) and the North African Prince Arbace (Eric Jurenas, left); edited image of a Karli Cadel photograph, courtesy of the Glimmerglass Festival.]
I feel strongly he would cherished the performances by the six Glimmerglass artists – John Holiday Jr, Thomas Michael Allen, Allegra De Vita, Eric Jurenas, Sarah Mesko, and Megan Samarin – whose technical brilliance suggests that interest in authentic Vivaldi performances could grow in popularity in the Americas.
You worked with Curtis at the Spoleto Festival in Italy. What was that experience like?
JP: William, it was really wonderful. In  2005-06 we were creating the first presentation in over 250 years of Vivaldi's "Ercole sul Termodonte" and we were doing so together in his villa overlooking Florence.
He was in the music room playing through the 4 to 5 hours of music and occasionally we would meet put to talk about which pieces to include in a presentation that we aimed at being not longer than two and a half hours.  I asked him what he felt our 'modus operandi' should be in the piece and he said: "What about radically authentic but extremely new and exciting?" Indeed!
[Below: Director John Pascoe, Maestro Alan Curtis and Composer Gian Carlo Menotti together at the 49th Spoleto Festival, the 2006 Festival of Two Worlds; edited image of a Giulio Marocchi photograph for the Spoleto Festival, courtesy of John Pascoe.]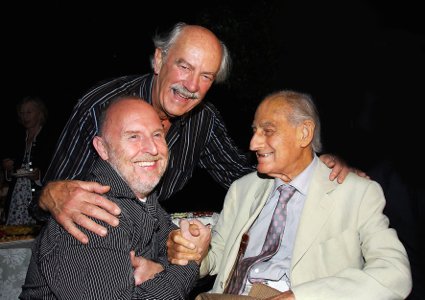 At that time I was in the library researching, and kept on coming across images of statues of Ercole (Hercules) and of course, we all know how he is dressed in those (naked with the fabled lion skin hanging over one shoulder) and of ancient Amazons with their bare breast or sometimes with a breast shorn off.
At a certain point when we were discussing the text of the first aria sung by Antiope, the queen of the Amazons. Where she addresses the "Goddess of Delos"  – some bells went off in my head at the mention of the ancient Greek island and I galloped back into the library to continue researching. Clearly the idea that the mythic wars between the Ancient Greeks and the  Amazons who were reputed to be the archetypal male-killing female was at the very base of the storyline..
Then I came across the images of the statues on Delos showing truncated phalli and the idea of these symbolizing the Amazon's attitude to men  – was born.  We both agreed that this was an authentic idea that would be pretty different and depending on how one used them could be an exciting image.
Wm: I can see where this is going!
JP: At this time the excellent American tenor Zachary Staines had by then sung many times with Alan and also had just recorded a very successful disc with both Alan Curtis and Joyce di Donato, which had won a "CD of the month" in one of Britain's prestigious music magazines.
Coincidentally Zachary was out by the swimming pool sunning himself and Alan asked me what I thought  about Zachary singing the role, wearing an authentic costume – nude with just the skin of the Nymean lion over one shoulder?  Naturally we were both somewhat stunned but excited by the idea, as it was exactly what we had already decided to be our view of the piece to repeat yet again – "Radically authentic new and exciting".
[Below: Zachary Staines (center on steps, to the left of the middle statue) is Ercole in a scene from the Spoleto Festival Italy production of Vivaldi's "Ercole sul Termodonte"; edited image of a Giulio Marcocchi photograph for the 2006 Festival of Two Worlds, courtesy of John Pascoe.]
When the DVD of the production came out the following year, it garnered excellent reviews from every major critic in the world, and landed out being voted DVD of the year 2007 in Italy.
Everything that Alan did was about giving rebirth to pre – romantic music (his own words) and it was an honor and a great pleasure for me to have been able to create two entirely different productions with him – both at Spoleto Festival Italy. The second one was of Handel's "Ariodante".
Wm: Although his passing is a great loss to music, he has greatly enriched our knowledge of "pre-romantic" opera. The extraordinary output of critical editions and of recorded performances over his career is itself a legacy of incalculable value.
You, of course, will be at the service to be held for him in Italy. Please convey my sentiments and those of the artistic community who worked on the Glimmerglass Festival's production of "Cato in Utica" to his partner, his family and associates.
[Below: John Pascoe (left) and Alan Curtis (right), together on New Years' Day 2013; edited image of a personal photograph, courtesy of John Pascoe.]
JP: Yes, his burial service is on Friday 24th July at St Miniato Monte in Florence and clearly it would be perfect if we could honor that event with our conversation being on the same day.
His partner of the last 25 years, Piero Luigi Ciapparelli, and his two, so loved daughters Julia Curtis and Daria Wrubel, have generously asked me to read my tribute to him at his funeral service at St Miniato Monte in Florence  on Friday 24th 2015.
"Maestro Alan Curtis, burned with the brightest of flames, one which was finally spent in the blazing heat of a Florentine summer's day.  But the artistic light that he so effortlessly shed on all of us who were blessed to come within his smiling gaze, will illuminate the entire world forever".
Warmest, John