cMadeline Sayet's new production of Mozart's "Magic Flute" sets in the Woodlands of Central New York State will receive 12 performances at the 2015 Glimmerglass Festival.
Her production has become the vehicle for displaying the vocal talents of Pennsylvania lyric tenor Sean Panikkar and Korean coloratura soprano So Young Park, admirably supported by strong cast of co-principals.
Sean Panikkar's Tamino
Panikkar is an operatic lyric tenor, one of the fine examples of the amazing cohort of Americans in this vocal category that has emerged in the past decade.
(To many in the world he is better known as a member of the three-person celebrity vocal group, Forte, with whom he is occasionally whisked away to record best-selling CDs, appearing with the group in iconic venues of North America and Europe, and even creating a wildly popular music video performing the famous Game of Thrones theme-song in a faux-mythical High Valyrian language.)
[Below: Tamino (Sean Panikkar, center) has gone into the woods where he is attacked by wood sprites (Glimmerglass Festival opera/dance young artists); edited image, based on a Karli Cadel photograph, courtesy of the Glimmerglass Festival. ]
In Sayet's vision, Panikkar's Tamino is the scion of a large family-owned corporation, who is trying to escape the paperwork demands of the business (a group of employees confronting him with things to read and sign during a pantomime that occurs during the overture.)
Once in the woods, Panikkar's Tamino becomes an enchanted wunderkind, who knows his destiny is with Pamina. Yet, confronted with versions of reality enuniciated by the Queen of the Night and Sarastro, he, with Pamina's agreement, chooses Sarastro's path of enlightenment.
[Below: Tamino (Sean Panikkar, left) makes the acquaintance of Papageno (Ben Edquist, right); edited image, based on a Karli Cadel photograph, courtesy of the Glimmerglass Festival.]
Having written about Panikkar's performances over the past decade [see Rising Stars: An Interview with Sean Panikkar, Part 1 and Rising Stars: An Interview with Sean Panikkar, Part 2], it is obvious that his voice has grown in power, without losing any of its inherent beauty.
At a time when other lyric tenors might consider dropping Tamino to pursue Romantic Era French and Italian roles, he has decided to continue to sing it, simply because Mozart's magical fantasy brings such joy, not just to the audiences who attend it, but to his young children who are always excited to see his Tamino.
So Young Park's Queen of the Night
Coloratura soprano So Young Park is another successful alumna of South Korea's substantial investments in music education in general and opera in particular. She flawlessly dispatched both of the Queen's two "star-blazing" arias, with their intricate coloratura sections.
Her engagement by the Los Angeles Opera in its revival of the Barrie Kosky "Magic Flute" in February 2016 demonstrates that her formidable talents are being recognized.
[Below: The Queen of the Night (So Young Park, standing) demands that her daughter Pamina (Jacqueline Echols, on ground) become the agent of her revenge; edited image, based on a Karli Cadel photograph, courtesy of the Glimmerglass Festival.]
Jacqueline Echols' Pamina
Although Michigan soprano Jacqueline Echols has had important comprimario roles in Glimmerglass productions of Verdi's "Un Giorno di Regno"(2013) and Richard Strauss' "Ariadne auf Naxos" (2014), Pamina is her biggest assignment at the Festival to date.
She brought the expected vulnerability to the role, her lament when both Panikkar's Tamino and Ben Edquist's Papageno, sworn to silence, refuse to speak to her, beautifully sung.
[Below: Tamino (Sean Panikkar, left) expresses joy when Pamina (Jacqueline Echols, right) offers to join him in his trials by fire and water; edited image, based on a photograph, courtesy of the Glimmerglass Festival.]
Ben Edquist's Papageno
The Papageno is Ben Edquist, a Texas baritone and rising star (already tapped by Houston Grand Opera to play the lead role in American composer Carlisle Floyd's "Prince of Players" whose world premiere is scheduled for March 2015.)
[Below: Papageno (Ben Edquist, left) philosophizes with Pamina (Jacqueline Echols, right) about marriage; edited image, based on a Karli Cadel photograph, courtesy of the Glimmerglass Festival.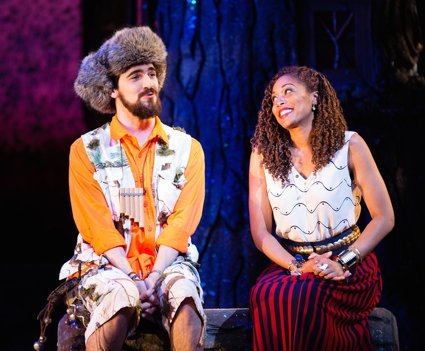 Edquist was a personable presence (as Mozart expected any Papageno to be) in this role, which is unlike virtually every other baritone role in classical opera.
Soloman Howard's Sarastro
One of America's rising star bassos was the Sarastro. The product of Washington National Opera's Domingo-Cafritz Young Artist's program (that shares its director, Michael Heaston, with the Glimmerglass Festival's Young Artists), he also sings the role of Banquo in the Glimmerglass Festival's production of Verdi's "Macbeth".
[Below: Sarastro (Soloman Howard, center front); edited image of a Karli Cadel photograph, courtesy of the Glimmerglass Festival.]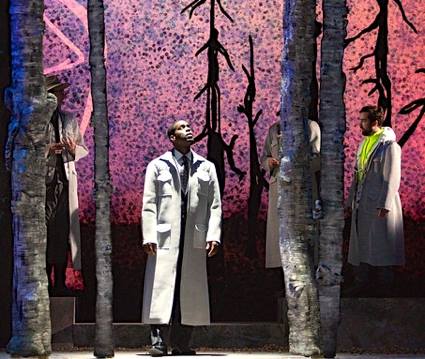 Other Cast Members
The character role of Monostatos (one of the piece's traditional five villains, who leaves Sarastro's service to join the Queen of the Night) is sung by Michigan tenor Nicholas Nestorak.
Also in the Queen's "evil" entourage are the Three Ladies – the First, Iowa soprano Raquel Gonzales, the Second, Connecticut mezzo-soprano Aleksandra Romano, and the Third, Mexican mezzo-soprano Claudia Chapa. In this production, they appear to switch sides and join the Sarastro team at opera's end.
The three Spirits (the genii) were sung by Joelle Lachance, Samuel Solomon and Andrew Pulver.
Sarastro's men included the Speaker/Second Priest of Iowa bass-baritone Rhys Lloyd Talbot, the First Priest (Minnesota tenor Brian Wallin), and the Two Armored Men (Virginia tenor Stephen Carroll and Austrian basso Anthony Schneider).
Georgia soprano Jasmine Habersahm was a delightful Papagena.
[Below: Papagena (Jasmine Habersham, right) awaits her mate; edited image, based on a Karli Cadel photograph, courtesy of the Glimmerglass Festival.]
The Six Wood Spirits
One of significant contributions of the Glimmerglass Festival to opera in America is its encouragement and support for those artists who wish to pursue both voice and dance in operatic performance.
One of the ideas that Madeline Sayet used to create her magic woodland was to enlist six dancers as wood spirits, who were choreographed by Eric Sean Fogel.
If the spirits frighten Tamino into a faint as he first enters the enchanted woodland, they are generally benign creatures, peeping out from behind trees or providing the imaginary fire and water for the trials that Tamino and Pamina endure.
In Glimmerglass the six spirits are opera singers who pursue dancing as part of their Young Artists program. The singer/dancers are New Jersey soprano Olivia Barbieri, Illinois soprano Amanda Lauren Compton, California tenor Giovanni Da Silva, Virginia baritone Cole Francum, and New York soprano Katherine Henly.
The sixth is North Carolina baritone Andrew Harper (whom Glimmerglass audiences will remember as the Carnival Boy the previous season [See Review: Ryan McKinny Stars in Affectionately Mounted "Carousel" – Glimmerglass Festival, July 18, 2014]).
The dance performances of the six were extraordinary. As with a previous Glimmerglass presentation [Superlative: Anthony Roth Costanzo, Nadine Sierra, Ensemble Dancers Superb in Jessica Lang's Visualization of Pergolesi's Stabat Mater – Glimmerglass Festival, July 20, 2013] where the opera singing young artists also danced, one would not be able to discern a difference between the dancing skills of professional dancers and of these dancing singers.
The Conductor and Production Designers
Taiwanese conductor Carolyn Kuan, music director of the Hartford (Connecticut) Symphony, led an admirable performance of the Glimmerglass Festival orchestra [See Rising Stars – An Interview with Conductor Carolyn Kuan.]
The Glimmerglass Festival's Ties to Central New York State
The Glimmerglass Festival, throughout Francesca Zambello's tenure as General and Artistic Director has encouraged opera productions with themes that tie into the communities that surround Lake Otsego, where the festival is located, and nearby Cooperstown.
This has led to commissioning a revised version of Picker's "An American Tragedy", based on a notorious murder trial in Upstate New York [Review: Tobias Picker's "American Tragedy", Extensively Revised, Debuts at Glimmerglass Festival – July 20, 2014; to presenting Richard Strauss' "Ariadne auf Naxos" as taking place in a rural New York barn [Review: Zambello's Dazzling New "Ariadne in Naxos" Enchants Glimmerglass Festival Audiences – July 19, 2014], and to sponsoring the Western Hemisphere premiere of Vivaldi's 1737 opera "Cato in Utica", for the quite obvious reasons that the opera was set in a part of North Africa with the same name as a nearby New York town [Review: Ovations for John Holiday's Cesare in American Premiere of Vivaldi's "Cato in Utica" – Glimmerglass Festival, July 18, 2015] .
Madeline Sayet and the Woodlands Connection
Upstate New York historically was the home of the Haudenosaunee Confederacy (Iroquois) of indigenous tribes (Cayuga, Mohawk, Oneida, Onondaga, Seneca and Tuscarora) whom the French had named the Iroqouis League.
The Last of the Mohicans (James Fenimore Cooper's second novel of The Leatherstocking Tales) is centered in the geographical region that includes Lake Otsego, named Glimmerglass by Cooper, which remains a central location of the Haudenosaunee Confederacy.
Director Madeline Sayet (one of whose ancestral lines includes the historical Chief Uncas, a heroic character of the Leatherstocking saga) is associated with a movement to revive Haudenosaunee communities, and those of the historical Haudenosaunee rivals, the Mohegans, of whose tribe she is a member.
The fascinating scenery by Troy Hourie and costumes by Kaye Voyce complemented Director Sayet's vision of a Magic Woodlands setting.
Glimmerglass and the Haudenosaunee
Sayet is an advocate for the cultural revival of indigenous woodland peoples, and associates with their movements against the despoliation of land, air and water [a theme explored previously by such eminences as Sir David McVicar [see Martinez, Jovanovich Lead Brilliant Cast for McVicar's Exotic "Rusalka" Dreamworld – Lyric Opera of Chicago, March 10, 2014].
But the end result transcends the obvious. It is a clever reading of Mozart's masterwork, that, shorn of the work's Masonic mysteries, suggests ever more subtle layers of Mozart's genius.
Recommendation
I enthusiastically recommend this production and cast, both for the veteran opera goer and for the person new to opera.