Italian composer Marco Tutino's new opera based on Alberto Moravia's 1958 novel La Ciociara received its world premiere at San Francisco Opera's War Memorial Opera House before an enthusiastic audience.
San Francisco Opera music director Nicola Luisotti, conducting the San Francisco Opera Orchestra with the limitless energy one expects from a Luisotti performance, added yet another triumph to his goal (and that of the opera company) to highlight the Italian opera repertory, this time with a new work of contemporary interest, yet firmly based in the tradition of turn of the 20th century verismo.
The opera was staged by director Francesca Zambello [see Born to the Theater: An Interview with Francesca Zambello], employing her frequent collaborator Peter J. Davison as set director and S. Katy Tucker as projection designer.
Set in Italy in the Second World War, "Two Women" tells the story of a mother and daughter who strive to exist in the dangerous time when Italian Fascists and German Nazis attempt to maintain control of Italy as Americans and their Allies invade it, determined to destroy the Axis powers.
[Below: Cesira (Anna Caterina Antonacci, left) tries to comfort her daughter Rosetta (Sarah Shafer, right); edited image, based on a Cory Weaver photograph, courtesy of the San Francisco Opera.]
Dispirited by the constant bombing of Rome by the Allies, Cesira (Italian soprano Anna Caterina Antonacci) and her young teenage daughter Rosetta (soprano Sarah Shafer) abandon Cesira's general store in Rome, and seek refuge Southeast of Rome in a rural village in the Ciociaria region, Cesira's childhood home.
Antonacci, who earlier in the week proved to be an extraordinary Cassandre in Berlioz' "Les Troyens", a role she will be alternating with Cesira throughout the month [For my comments, see Review: Susan Graham, Hymel, Antonacci in a Magnificent "The Trojans" from Sir David McVicar – San Francisco Opera, June 7, 2015], brought a similar intensity to her characterization of Cesira, a strong-willed woman, who is yet another witness to and victim of the destructiveness of war.
Antonacci's vocal expressiveness and ability to convey emotion as both singer and actor proved ideal for this opera, steeped in the traditions of veristic Italian melodrama.
As her daughter Rosetta, Pennsylvania soprano Sarah Shafer, making her mainstage debut at the War Memorial Opera House (she had created a role in the world premiere of Gasser's "The Secret Garden" at the Zellerbach Hall), impressed vocally while projecting the mental, physical and emotional stresses a young girl may endure in wartime.
Part of Cesira's desire to distance herself from Rome is to rid herself of Giovanni (New Jersey baritone Mark Delavan), a black marketeer and collaborator with whatever army holds power at a given moment, who has forced himself upon Cesira sexually.
Cesira's rejection of Giovanni sets up a course of events that is the core story of the opera.
[Below: Mark Delavan as Giovanni; edited image, based on a Cory Weaver photograph, courtesy of the San Francisco Opera.]
Delavan, a masterful interpreter of the dramatic baritone roles of Wagner, Verdi and Puccini, is an artist who has helped realize some of director Zambello's most vivid ideas [Delavan Shines in a Gleaming San Francisco "Rheingold" – June 14, 2008 and A New Force of Destiny: Adina Aaron, Monsalve, Delavan Shine in Zambello's Remake of Verdi's "Forza" – Washington National Opera, October 12, 2013.]
Delavan's Giovanni is a character who seeks to control Cesira, whose affections he covets. Giovanni harbors a treacherous jealousy of Cesira's relationships with other men.
[Below: Dimitri Pittas (center) as Michele; edited image, based on a Cory Weaver photograph, courtesy of the San Francisco Opera.]
Contrasted with Giovanni's lack of morality is the anti-fascist pacifist intellectual, Michele (New York tenor Dimitri Pittas), who persuades the impoverished Ciociarian villagers to allow mother and daughter to stay.
Michele's decency towards other men and women, even in this dark time, proves to be his downfall. Although he has known Cesira and Rosetta for a brief time, they are drawn to each other.
[Below: Michele (Dimitri Pittas, left, standing on wall) and Cesira (Anna Caterina Antonacci, front, center right, standing) observe as Rosetta (Sarah Shafer, center, kneeling) sings a prayer; edited image, based on a Cory Weaver photograph, courtesy of the San Francisco Opera.]
I have admired Pittas' appealing lyric tenor [Dimitri Pittas a Sparkler in Lawless' Deft "L'Elisir d'Amore" – Santa Fe July 4, 2009], which, for this, Pittas' San Francisco Opera debut, was used effectively to portray a decent, even guileless citizen in a tumultuous time.
However, as in Puccini's "Tosca", a chance occurrence leads to the death of a socially conscious character sung by the lead tenor.
A United States Air Force lieutenant has parachuted out a warplane and has landed, injured and bleeding, at the village. Michele cannot persuade any of the villagers to help him save the life of the airman, the Germans having publicized that any kind of assistance to enemy troops would be considered a capital offense.
[Below: Lieutenant John Buckley (Edward Nelson, lying on ground) is cared for by Cesira (Anna Caterina Antonacci, left) and Rosetta (Sarah Shafer, right); edited image, based on a Cory Weaver photograph, courtesy of the San Francisco Opera.]
Lieutenant Buckley (sung convincingly by California baritone Edward Nelson) is heartened by Michele's kindness in assisting him and caring for his wounds. He also startles but pleases Michele by referring to him and the two women as a "family", just after Cesira has used a term of endearment for Michele.
The American gives Michele a letter and watch to contact Buckley's family should he not survive, which Michele stores in a knapsack.
Having gained sufficient strength to resume his search for the American forces, Buckley departs, moments before Giovanni, now a fascist collaborator, comes across the two women with Michele. Although the threesome escapes, Michele's knapsack, with its contents from Buckley is left behind, providing Giovanni with the incriminating evidence to destroy a man whom he regards as his rival for Cesira's attentions. Thus ends the first of the two acts.
Giovanni learns that Michele and the two women will be seeking refuge in the town of Fondi in what Michele regards as a friend's house. But the friend is a Nazi collaborator.
[Below: the Nazi official Field Marshal Fedor von Bock (Christian Van Horn, right) has come to dinner at the home of the Nazi collaborating lawyer Pasquale Sciortino (Joel Sorensen, second from left), with the information that the lawyers' guests Michele (Dimitri Pittas, left), Rosetta (Sarah Shafer, center) and Cesira (Anna Caterina Antonacci, second from right) have aided an enemy airman; edited image, based on a Cory Weaver photograph, courtesy of the San Francisco Opera.]
Michele is arrested (later, unknown to the women, to be summarily executed).
[Below: the distraught Rosetta (Sarah Shafer, left) embraces Michele (Dimitri Pittas, center) who has been arrested; edited image, based on a Cory Weaver photograph, courtesy of the San Francisco Opera.]
One of the most disturbing scenes in the opera follows. The scene reminds us that in a struggle between the forces of good and evil, that the "forces of good" can end up with some unsavory allies.
The two women have sought refuge in the village of Sant'Eufemia, now a casualty of the allied invasion. Moroccan troops allied with the "Free French" forces are looting the village church, but pause to capture the two women whom they brutally (offstage) assault and rape.
[Below: Rosetta (Sarah Shafer, seated left on bench) and Cesira (Anna Caterina Antonacci, seated right on bench) become the object of lust of a band of Moroccan soldiers; edited image, based on a Cory Weaver photograph, courtesy of the San Francisco Opera.]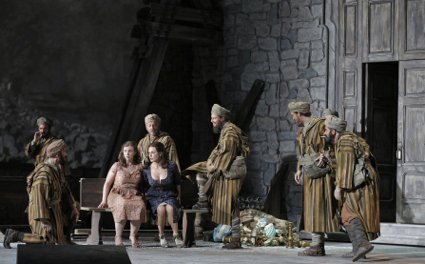 After an intermezzo which shows the strong influence of 20th century cinematic musical sound tracks on Tutino's musical palette, the final scene brings about drama's resolution.
The Americans in control, Giovanni has switched sides again and claims that it was he who had aided the Americans, but the appearance of Lieutenant Buckley leads to Giovanni's denunciation and near lynching by the Italian villagers. The war weary Cesira, seeking an end to the continual violence that she and her daughter have experienced, pleads successfully for a more humane process to judge Giovanni's crimes.
[Below: Cesira (Anna Caterina Antonacci, center) takes her place onto the American Jeep; edited image, based on a Cory Weaver photograph, courtesy of the San Francisco Opera.]
The opera's libretto by Tutino and Fabio Ceresa was based on an adaptation of the novel by Milanese screenwriter Luca Rossi. (The adaptation differs from the adaptation of the Moravia novel used by cinema director Vittorio De Sica for his 1960 film, Two Women, for which Italian actress Sophia Loren won the Academy Award for Best Actress.)
The stage director, Francesca Zambello, has referred to Tutino's music, with its lush orchestration, melodiously dramatic parlando and gritty realism as "neoverismo", reminiscent of Leoncavallo and Puccini.
I disagree a bit with that characterization. Puccini, yes, with melodies that could have been added to "Tosca" without having a jarring effect and Rosetta's prayer scene involving the Italian villagers that reminded me of the finale of "Fanciulla del West".
But Leoncavallo, no, except for one phrase that could have been uttered by Tonio (or Canio) in "Pagliacci" and Leoncavallo's use of the orchestral intermezzo (like Puccini and Mascagni) to link two dramatic scenes.
For Tutino's music and subject matter I would offer the term "21st century verismo" which might have been applauded by Puccini's Milanese roommate Pietro Mascagni, and would have been recognized as being in the spirit of Umberto Giordano, Italo Montemezzi, Francesco Cilea, and Riccardo Zandonai.
As mentioned previously, the association of the subject matter (the novel "La Ciociara") with Vittorio de Sica's novel-based film "Two Women" opens up another likely influence on Tutino's music, cinema musical soundtracks.
Is the opera's music "derivative"? Of course, but if one believes that posing the question is important, then, I submit, one is on the wrong side of what needs to be done to add new operas composed later than Puccini's "Turandot" in 1926 to the inner core of the standard Italian repertory.
[Below: (left to right) Conductor Nicola Luisotti, Composer Marco Tutino, Stage Director Francesca Zambello and San Francisco Opera General Director David Gockley, pose for an informal photograph; edited image, courtesy of the San Francisco Opera.]
One should expect the predictable hand-wringing from music critics who believe that no opera should revisit formulae of the past, even though "musical theater", which draws enthusiastic audiences, fearlessly uses whatever style serves its theatrical purposes.
However, I believe that although Tutino shows familiarity with the Italian verismo style, that except for three or four popular works of Puccini, a generation of opera-goers has been deprived of intimate knowledge of what verismo, which melds Wagner's idea of the orchestra's role in story-telling with the heightened emotions of sung melodrama, brings to the opera house.
Even the fortunes of such formerly secure operatic warhorses as Mascagni's "Cavalleria Rusticana" and Leoncavallo's "Pagliacci" are declining, if numbers of productions and performances are counted.
How many of the opera's present day audiences have seen a performance of such stalwarts as Montemezzi's "L'Amore dei Tre Re", Cilea's "Adriana Lecouvreur" –  even Giordano's "Andrea Chenier"?
San Francisco Opera goers may have seen a 1956 performance of Zandonai's "Francesca da Rimini" or San Diego Opera goers a 1982 production of Zandonai's "Guilietta e Romeo", but I personally doubt that many members of the opera audiences can tick off a dozen non-Puccini Italian verismo operas they have seen. (Nor will those operas have dealt with events from past World War I.)
The real value of Tutino will be to revive interest in a style of operatic story-telling that may well resonate with modern audiences, pointing the way to new experiences, and perhaps reviving interest in some operas that should never have fallen out of the repertory.
Recommendation
I recommend the cast, production and opera without reservation.