The following interview took place in the administrative offices of the San Francisco Opera, whose facilitation is deeply appreciated.
[Mezzo-soprano Elizabeth DeShong; resized image of a Kristen Howbermann photograph, courtesy of Elizaveth DeShong]
Wm: What are your earliest memories of music?
ED: Music was always a part of my family. My father is a United Methodist Minister, so I grew up singing in church. Both of my parents sing and play the piano, both have beautiful voices. I can recall sitting on top of our piano at home, while my dad played and I belted out tunes.
Wm: How did you become involved with music personally?
ED: I started piano lessons and sang my first vocal solo in the third grade. For a long time, I thought I'd become a pianist. I accompanied our school choirs from 5th grade through graduation, but solo piano recitals made me terribly nervous. Singing excited me, and it became clear in my summer at Boston University's Tanglewood Institute that I was most competitive in and had more of a passion for voice.
Wm: How did you become interested in opera?
ED: As a family, we did not listen to opera. My introduction to opera came through voice teachers who found a certain capability in my voice. The first opera I ever saw was a performance of Bizet's "Carmen" by a very small regional company. It peaked my interest.
I was drawn to opera, because it was the greatest challenge. I learned that opera was basically the Olympics of singing. For that reason, when I auditioned for colleges, I chose voice instead of piano.
Wm: What college did you select to further your interest in voice?
ED: My piano teacher Galen Deibler had attended Oberlin, and had only wonderful things to say about it. Also, my first voice teacher, Kathleen Osborn, knew of Daune Mahy's studio there, and felt her teaching was some of the best available. She knew that her studio utilized healthy techniques, giving young singers focused attention, and that appealed to me.
After auditioning and taking lessons at a number of prospective studios, Oberlin became the obvious choice for me.
[Below: Elizabeth DeShong as Hermia in "The Enchanted Island" for the New York Metropolitan Opera; resized image of an Elizabeth DeShong photograph, courtesy of Elizabeth DeShong.]
Wm: You are a strong proponent of the idea that an opera singer should be a good pianist.
ED: Oh, yes. My very first voice teacher began drilling into me the importance of piano for anyone involved with music. For vocal performance, one should take piano lessons in order to understand the score. It also saves singers a lot of money in coaching fees to be able to prepare roles independently.
Wm: But you moved on from Susquehanna University to schools with better-known music programs.
ED: I studied piano with a teacher that taught at Susquehanna University, while I was a high school student.
Wm: How did you choose where to go next?
ED: I decided that, at that time, I needed a liberal arts school with an important music conservatory. Heading to New York City would have been too much of an overload.
At Oberlin there was no competition with graduate students. I received a lot of extra lessons. I sang with the Cleveland Orchestra. I believe that the more opportunities to perform that one has, the better, and I am very grateful to Oberlin for providing it.
Wm: Then you pursued graduate studies at the Curtis Institute of Music in Philadelphia.
ED: Yes. Since I had graduated from a liberal arts college whose conservatory provided me with a strong academic and musical foundation, I was ready for the Curtis Institute whose focus is solely on music performance. It was there that I got my Masters.
Wm: And, ultimately, you were accepted into an opera company's young artists program.
ED: I had graduated early from Oberlin, started attending Curtis mid-year, and went directly into the Lyric Opera of Chicago's Ryan Opera Center from there. I had worked very hard at Oberlin and Curtis and was ready for new opportunities. There was no down time for me.
[Below: Elizabeth DeShong as the First Norn in Wagner's Götterdämmerung; resized image of an Elizabeth DeShong photograph, courtesy of Elizabeth DeShong.]
Wm: What did your three years in the Lyric Opera's Ryan Opera Center mean to you?
ED: When you spend time at the Ryan Opera Center so many people hear you. The training at Chicago's Lyric Opera prepares you for anything.
You learn how to be visible and audible, to project both character and voice. The opportunity the program provided to watch and learn from the top professionals in my field was invaluable.
Wm: Involvement in a high-powered Young Artist's program like the Ryan Center can be a major boost to an operatic career, yet it doesn't assure a major career. How advice would you offer an aspiring opera singer accepted into such a program?
ED: Being selected for such a program can seem like a one-way ticket to success, yet many singers don't go further than the Young Artists program. It's important for a person who has achieved acceptance to know that a successful career is not only about the voice.
Every time you meet or sing for a person, you have to view it as an audition. First impressions last in this business. It may seem like the hardest work has been done in getting accepted, but in reality, it is just beginning. You are building your reputation as an artist as soon as you step in the door, before a note is sung. This matters.
Be prepared, always. Be on time, always. Keep your eyes and ears open, and your mouth shut. Learn. If one is fortunate to continue on out of the program, there is still much to learn about the lifestyle that you can't learn until you navigate it alone.
Many talented opera singers find the lifestyle too demanding. So little of the lifestyle is costumes and applause. It is exhilarating if you love it, but you will miss weddings, funerals, births, graduations, etc.. You need to learn how to be your own travel agent, financial planner, nutritionist, press agent, therapist, and the list goes on. There are a lot of factors beyond talent that go into launching a major career.
Wm: How do you and your partner negotiate the tradeoffs between one's home-life and career?
ED: I am so fortunate to have a partner who understands the demands of my job. He is a recording engineer who initially trained as a singer. He never asks me not to take a job. It is so rare to find a partner who understands and can accept the demands that a successful opera career will make on them.
As a performing artist, you have to get your rest. You have to stay healthy. It's a matter of self-preservation. You will seem selfish at times. You have to have a partner who understands that and is willing to give you the support you need.
[Below: Elizabeth DeShong as Cinderella in Rossini's "Cenerentola"; edited image, based on a Clive Barda photograph, courtesy of Elizabeth DeShong.]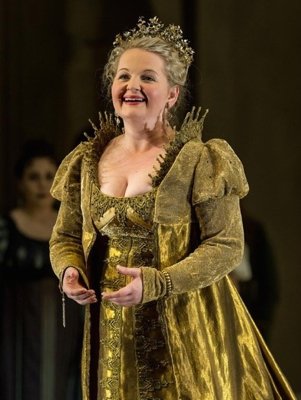 Wm: Although some artists are very successful at raising a family while pursuing an international opera career, it has to be a major consideration for any artist, and particularly for women.
ED: I talk about this a lot with friends who have chosen to have children, while pursuing an operatic career. It can be done, but it is, no doubt, exceptionally complicated. It is tricky for a woman, like me, who sings roles where they are supposed to be playing young men. There is no hiding a pregnancy when singing a "pants role".
Timing is also an issue. You have a major house or role debut scheduled, in which your time, energy and money has been invested. If you withdraw from your commitments to have a baby, or to meet the needs of your family, it can be a source of anguish or regret, or a major blow to your career. In all fairness, I believe this to be a very difficult issue for men who wish to have children and navigate this career, as well.
In the end, we make time for the things that are most important to us. There is a certain blind drive and determination inherent in any successful opera singer that makes us jump at a challenge and strive for the nearly impossible, perhaps that makes us all the more capable of leaping into the complicated journey that is parenthood.
Wm: What does your mother and father and wider family think of your career?
ED: I'm not sure what they really think of all of this. As I mentioned before, opera was not something that they were into at all. However, I do know that they have always believed in my talent, supported me in my education, and are proud of my accomplishments.
[Below: Elizabeth DeShong in her dressing room, in costume as Hansel in the Glyndebourne Festival production of Humperdinck's "Hansel and Gretel"; edited image, based on a personal photograph, courtesy of Elizabeth DeShong.]
Wm: The earliest that I reviewed one of your performances was in October 2009, when you sang the Page in Richard Strauss' "Salome" at the San Francisco Opera, under the baton of Nicola Luisotti. This was a role you had sung before.
ED: Yes, I had sung the Page at Lyric Opera with Deborah Voigt in October 2006.
Wm: Then I reported on your Suzuki in the Lee Blakeley production at the Santa Fe Opera. I noted that you, and your colleagues Kelly Kaduce (Cio Cio San) and Brandon Jovanovich (Pinkerton) were " the accomplished actors one now routinely expects from American trained artists. They rose to the occasion for Blakeley's stage direction, that emphasized the darker aspects of Puccini's work."
ED: The Santa Fe production was my first Suzuki. Lee Blakeley really understood the characters. He gave everyone the chance to be strong. I thought his production was beautifully focused. It highlighted all the elements in the drama. That was a beautiful experience. I loved it.
Wm: Then you were back at the Chicago Lyric in Neil Armfield's production of Britten's "Midsummer Night's Dream" from Opera Australia. I was impressed that, in addition to the weighty Puccini and Richard Strauss roles I had seen you perform, that you excelled also in Britten's lighter-voiced Hermia.
ED: Thank you. I first learned the role as a student of Marlena Malas. She had performed the role herself, and gave me great insight into the character.
Hermia is one of my favorite characters to play. I think my smaller physical stature lends itself to this feisty character. She goes on such a journey without the aid of magic. She brings a very strong emotional presence to the piece.
In fact, I played two Hermias in one season. The other was in the Met's "Enchanted Island". She was the same girl, in a different situation.
Wm: Before you and Michael Fabiano sang together in Donizetti's "Lucrezia Borgia' you were in a controversial English National Opera (ENO) production designed by Michael Figgis, the film director famous for the movie Leaving Las Vegas. It was a quite non-traditional approach to your character, Gennaro's friend, Maffio Orsini, wasn't it?
ED: Very much so. When I learned the role of Maffio Orsini, I was thinking of the character as a traditional pants role. The perception of Maffio as a pants role was not present in Figgis' conceptualization. He felt the piece needed another strong female influence.
When we arrived, we found ourselves working with a film director, in a filmic way. This translated well to the TV broadcast. To me, in the end, the only absolutes that one can bring to a role are healthy vocalism and a spirit of collaboration.
Wm: Figgis created a film in Italian that described Borgia family events, but the opera itself was sung in English.
ED: : It was an unexpected choice, but really spoke of his work in film.
Wm: Figgis and John Pascoe, who directed the San Francisco Opera production, approached that opera in quite different ways, did they not?
ED: For Figgis, you had to be very certain to make your intentions known vocally, and keep your focus strong . We had a very minimalistic stage quality… very little in the way of a set and reduced movement. Perfect for film, a challenge to make read in the theater. It was a different type of challenge.
San Francisco provided a more traditional experience. Operatic drama was fully embraced. My Gennaro in both productions was Michael Fabiano.
Wm: In Figgis' "Lucrezia", Gennaro and Maffio are friends, but Maffio has a feminine appearance. In Pascoe, both Gennaro and Maffio are played as men, but men who are gay lovers. I'm on record as feeling that Pascoe's approach resolves some dramatic weaknesses in the libretto.
[Below: Elizabeth DeShong as Maffio Orsino, in the 2011 Michael Figgis production of Donizetti's "Lucrezia Borgia"; resized image, based on a photograph for the English National Opera.]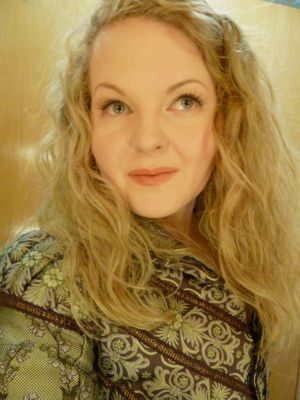 ED: I think that Pascoe's concept works very well, and comes naturally out of the text.
Wm: You sing both Rossini's Rosina in 'Barber of Seville" and the title role in "Cenerentola " as well as Donizetti's Orsini. Although Rossini, Donizetti and Bellini are usually categorized together as bel canto composers, their styles are quite different, aren't they?
ED: There is a difference in the amount of orchestration that Rossini gives you. In his more comedic operas, he provides a bubbly energy to propel the drama, that you then fill in with your voice. In Bellini and Donizetti, there is more orchestration that you have to cut through. A thicker undercurrent. A role like Orsini asks more of the voice.
What unifies them is that they all require you to use every tool in your vocal toolbox, so to speak. You have to have agility, seamless quality throughout your range, endless colors, breath control, etc. in order to make the characters and music come to life.
[Below: Elizabeth DeShong as Rosina in Rossini's "Barber of Seville; resized image of an Eli photograph, courtesy of Elizabeth DeShong.]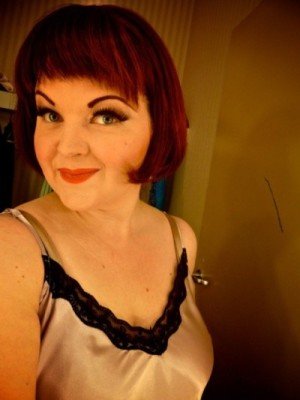 Wm: I'm looking forward to your Rosina at the Los Angeles Opera when that company performs its trilogy of operas with the lead character of Figaro (Corigliano's "Ghosts of Versailles", Rossini's "Barber" and Mozart's "Marriage of Figaro") in February and March 2015.
You've performed in Glyndebourne and English National Opera, but most of your work has been in the United States. You are used to performing in the large opera houses that North America in noted for.
ED: Yes, I've mostly sung at larger houses. Lyric Opera trained me well to feel comfortable navigating a big space. Glyndebourne is the most compact house I've experienced. A place like Glyndebourne gives you an extra special gift. Because of it's acoustics and small size, you can afford to do real extremes of dynamics and character. It is a treat!
Wm: This interview is taking place in 3200 seat San Francisco's War Memorial Opera House, What's it like singing in this very large house?
ED: It's amazing how fantastic the acoustics are in the War Memorial Opera House. For this year's "Butterfly" the Jun Kaneko sets were relatively compact, so there was no big set against which to project one's voice.
It is amazing how well the War Memorial Opera House works to caress your sound sound. It is a glorious environment. You can't ask for more than that.
Wm: Over the next few weeks you are scheduled to sing the heavier role of Suzuki in Toronto, rejoining the Cio Cio San's of both Patricia Racette and Kelly Kaduce; as well as the lighter weight roles of Rosina in Los Angeles and the title role of Rossini's "Cenerentola" in Vienna.
You only have so much influence on what roles might be offered you, but do control what offers you accept. Assuming you are offered quite different roles, how do you decide whether you want to be singing, say, Rosina or Amneris?
ED: I purposefully keep my repertory varied. I have a vocal color and flexibility that allows me to choose quite different roles.
Whenever I get an offer of a new role, I sit down at the piano and see what demands will this role make of me. I ask myself, can I meet those demands in a healthy way? Take a role like Princess Eboli in Verdi's "Don Carlos". Yes, I could sing this role now. Yes, I can imagine it being one of my future roles.
But I know that this is a project that can wait. I want to sing as young as possible as long as possible. Career longevity is important to me.
Wm: Do you have an interest in teaching younger artists?
ED: Yes, I am happy to do master classes. In San Francisco my best friend from childhood teaches in the Piedmont School District and I have given classes for the advanced students there. Even so, I hesitate to give one-off lessons to very young singers who have a private voice teacher. A student needs to trust their teacher, and confusion can derail progress.
Teaching is a hard job and should be taken very seriously. I like to do mentoring, such as advising vocal students on how to prepare for auditions. Coaching pre-professional singers is also something I enjoy.
I wouldn't say no to teaching. I might want to do it when I finish singing, perhaps while overseeing a Young Artists program.
Wm: In addition to your professional career, you've made a hobby of photography. Every day you post another one of your photographs on your Facebook page,
ED: I have a private, quiet interest in photography. The daily postings on www.asingerssuitcase.com aren't meant as a public relations move, but a way to document this very interesting journey.
[Below: The Vienna Staatsoper in the evening; resized image of an Elizabeth DeShong photograph for asingersuitcase.com, courtesy of Elizabeth DeShong.]
It's nice to capture a part of each day, because it enables me to remember it almost entirely. As I say on my blog, I hope to create a daily reminder that with travel you always take away more than you arrived with, but the most important of these things can't be put in a suitcase.
Wm: Thank you, Elizabeth, for your time.
ED: Thank you, I appreciate it.