Note from William: This post continues my series of observances of historic performances that I attended at San Francisco Opera during the general directorship of Kurt Herbert Adler. This is the second part of the seventh of 13 such observances of performances from the company's 1964 Fall season.
I reported on the first half of a double bill of operas offered by the San Francisco Opera in its Fall Season of 1964, in which the Ponnelle designs for Carl Orff's "Carmina Burana" [Historical Performances: Jean-Pierre Ponnelle's "Carmina Burana" Revived at San Francisco Opera – October 10, 1964] was paired with Puccini's comedy "Gianni Schicchi".
The 1959 production of "Carmina Burana" was revived to show off once again Ponnelle's brilliant and imaginative set and costume designs. The production of "Gianni Schicchi" was designed to show off the comic skills of the great Italian dramatic baritone, Tito Gobbi, none of whose other San Francisco Opera assignments during the 1960s afforded any opportunities for humor.
[Below: TIto Gobbi as Gianni Schicchi; resized image, based on an historical photograph from www.associazionetitogobbi.com]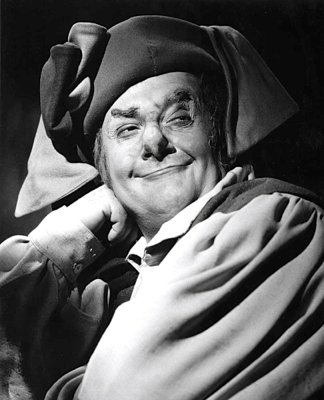 This was the fourth role (Jack Rance, Simon Boccanegra, Iago) and fifth performance in which I had seen Gobbi perform. I would see a fifth role and sixth performance five nights later when he performed the title role of Verdi's "Nabucco". He would not perform with the San Francisco Opera after the 1964 season.
Ferdinand Leitner conducted the opera, of which, surrounded by a veteran San Francisco Opera cast (including the future Brünnhilde, Janis Martin), Gobbi was the unquestioned center of attraction. (American singers Glade Peterson and Lee Venora were the lyrical lovers, Rinnuccio and Lauretta).
[Below: TIto Gobbi as Gianni Schicchi fraudulently impersonating the deceased man of wealth, Buoso, for purposes of altering his will; resized image, based on an historical photograph from www.associazionetitogobbi.com]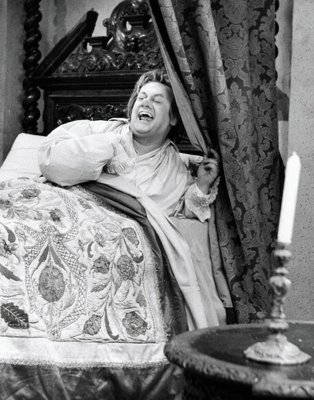 The Saturday night performance was exactly a month after the opening night of the season and already Gobbi had appeared as Iago, Nabucco and Schicchi.
Since I have already reported on three different operas each in which Austrian baritone Eberhard Waechter and Spanish Pilar Lorengar appeared, anyone who is used to current practices by the San Francisco Opera and similar repertory companies might wonder what was going on.
[Below: Tito Gobbi promoting the publication of his autobiography, "My Life"; edited image, based on a historical photograph, courtesy of the Los Angeles Opera.]
In 1964, the expectation was that most operas being presented would be performed twice, once for the Tuesday-Friday "guarantor" subscription nights (see the discussion in Historical Performances: Bizet's "Carmen" with Regina Resnik, Jon Vickers and Pilar Lorengar – San Francisco Opera, October 9, 1964),  once on either the Thursday or Saturday night series.
A few operas with a major attraction like Elizabeth Schwarzkopf as the Marschallin in Richard Strauss "Der Rosenkavalier" might have a third, "non-subscription" performance in which all the seats in the opera house would be for sale.
An artist would be engaged for portions of the San Francisco Fall season and for the Southern California tour (a practice that ended after 1965, when the opera communities of Los Angeles and San Diego made other arrangements). Instead of singing, say,  six or more performances of a single production that would have a reasonable time for rehearsal, the artists would be expected to perform two, three or more roles in their repertory, often with only a cursory walk-through rehearsal for each.
The classical divisions of record companies (flush with cash from their rock music divisions) would prevail upon the opera companies to revive operas to coincide with their new releases of complete operas, and would encourage those artists who starred in the new releases to make themselves available to companies like the San Francisco Opera.
In my opinion, opera performances as a whole are much better now than they were in 1964, although I would wish to cite many exceptions to that general statement. However, in opera cities like San Francisco we would expect and usually get (during the time that I started attending opera as a junior high school student) Renata Tebaldi, Mario Del Monaco, Boris Christoff, Birgit Nilsson, Leontyne Price, Ettore Bastianini, Leonie Rysanek, Alfredo Kraus, Joan Sutherland, Victoria de los Angeles, Luciano Pavarotti, Tito Gobbi and a host of other stars of the elite catalogues of Decca, EMI and RCA Victor, is something that opera goers under 40 have not experienced.
Many of the voices of the 21st century are as good as my list from the mid-20th century, but it seems impossible to imagine a similar confluence of events:  postwar European reconstruction of its opera performance infrastructure, rock income and the dissenination of the new technologies of high fidelity and long-play records, that could produce the results described above.