Note from William: This post continues my series of observances of historic performances that I attended at San Francisco Opera during the general directorship of Kurt Herbert Adler. This is the first part of the seventh of 13 such observances of performances from the company's 1964 Fall season.
In 1958, the set and costume designs of Jean-Pierre Ponnelle were introduced to American audiences by means of a San Francisco Opera double bill of Carl Orff's works, "Die Kluge" (notable for the performance of Leontyne Price) and "Carmina Burana" [See 50 Years Ago: Jean-Pierre Ponnelle's American Debut at San Francisco Opera.]
[Below: Laurence Winters, left, is the King and Leontyne Price, right, is the Wise Maiden (Die Kluge) in the 1958 San Francisco Opera production of Orff's "Die Kluge"; edited image, based on a Bill Cogan photograph, courtesy of the San Francisco Opera.]
The double bill was performed twice at San Francisco Opera's War Memorial Opera House in 1958. "Carmina Burana" was revived three more times, in 1964 and 1971 at the War Memorial Opera House, in 1959 at the Paramount Theater in San Francisco.
"Die Kluge", the opera that shared the double bill "Carmina Burana" did not return in the subsequent revivals, although "Die Kluge's": star, Leontyne Price, did return in 1971 in another role debut – Giorgetta in Puccini's "Il Tabarro" which was paired with "Carmina Burana". No work by Carl Orff has been performed in San Francisco since the 1971 season.
The principal female part, the Burgundian Lady, was sung by Mary Costa in the single performance in 1959 and in the second (October 10th) of the two performances in 1964. (Significantly, Ponnelle's roots were in a part of France associated with the medieval Kingdom of Burgundy.)
[Below: Mary Costa checks her costume and make-up before going onstage as The Burgundian Lady in Carl Orff's "Carmina Burana"; edited image, based on a Dennis Galloway photograph, courtesy of the San Francisco Opera.]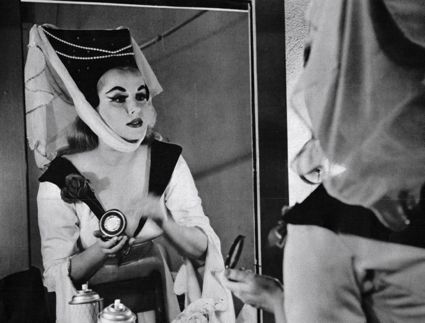 The favorable reaction to Ponnelles sets and costumes for "Carmina Burana", led to Ponnelle being commissioned to create the sets and costumes for the American premiere at the San Francisco Opera of Richard Strauss' "Die Frau ohne Schatten".
[See The Woman Without an Equal: Leonie Rysanek in "Frau ohne Schatten": San Francisco  Opera, September 24, 1960 and Historical Performances: Ella Lee, Dalis, Kuchta, Waechter, Martell in "Frau ohne Schatten" – San Francisco Opera, September 26, 1964].
Although the sets and costumes for  Orff double bill and "Frau ohne Schatten"  showed off the talent of an artist still in his 20s, his most famous work associated with the San Francisco Opera would occur a half -decade later when he added the role of stage director to that of set and costume designer.
His first "total concept" production for San Francisco was his new 1969 production of Rossini's "La Cenerentola" (which, revived again for San Francisco Opera's 2014 season, is the oldest San Francisco Opera production still in the repertory).
ˆBelow: Jean-Pierre Ponnelle's costume sketch for the Burgundian Lady in Orff's "Carmina Burana", realized for the 1958 production by the San Francisco firm of Goldstein and Company; edited image of a costume design for the San Francisco Opera.]
The combination of Orff's music, inspired by medieval themes and Ponnelle's iconic visuals, was truly an artistic triumph. Even though I saw only two perforances of the production, once  in 1964 and once in 1971, those two performances represented a quarter of the eight total performances the work received at the War Memorial Opera House.
The production was taken to Los Angeles in 1958, 1959  and 1953, and on one tour to San Diego and Portland also, but total mountings of Ponnelle's attractive sets barely exceeded a dozen times.
The Musical Performance
"Camrina Burana" is a great choral work, enhanced in the San Francisco performances by the visual scene and by the presence of major operatic voices in the solo vocal parts.
In both 1964 and 1971 key parts were taken by Ohio-born baritone Raymond Wolansky, who was a leading baritone with the San Francisco company in the mid-1960s. Wolansky pariticpated in EMI's studio recording of Orff's work. Wolansky, Costa and tenor Andre Montal were the memorable solo artists from 1964.
[Below; American baritone Raymond Wolansky; resized image of a publicity photograph.]
Paul Hager, who staged the original production, and Ghita Hager, his wife, directed the 1964 production. Ferdinand Leitner conducted. The opera was presented on a double bill with Puccini's "Gianni Schicchi", on which I will report separately.