Previously, I conducted a two-part interview with baritone Lucas Meachem, which can be accessed at Rising Stars: An Interview with Lucas Meachem, Part 1 and Rising Stars: An Interview with Lucas Meachem, Part 2. The following conversation took place in anticipation of Meachem's scheduled appearance as Figaro in Corigliano's "Ghosts of Versailles" at the Los Angeles Opera.
[Below: Lucas Meachem as Don Giovanni; edited image, based on a Ken Howard photograph, courtesy of the Santa Fe Opera.]
Wm: As you take on the role of Figaro in the new Los Angeles Opera production of Corigliano's "The Ghosts of Versailles", what are your thoughts about the L. A. Opera presenting "Ghosts", Rossini's "Barber of Seville" and Mozart's "Marriage of Figaro" as a trilogy of operas?
LM The three operas are more than a story about boy meets girl, boy chases girl, and boy wins girl with the help of a crafty and reliable servant. This is about the trajectory of love–the disappointment that emerges after fascination fades and reality hits hard — the unveiling of one's character and the recognition that we never change over time, we only become more of who we are.
Wm: Yet the operas are each written in a different style.
LM: "The Barber of Seville" is the ultimate romantic comedy of its time and "Nozze" served a revolutionary role in the reformation of societal classes but "Ghosts" hits a much deeper and existential topic–time is fleeting and there are no do-overs.
We get one chance to make life what we want of it–running by us in just a few memorable glimpses.
Wm: Rossini's Figaro has been something of a signature role for you. Do you see Corigliano's Figaro as another role you would want to do often?
LM: As a performer portraying a rather self-focused Figaro at the beginning of the trilogy in "Barber" — a role which I was thrilled to perform with LA Opera back in 2009 — and conversely his veteran version — unchanged socio-centric skills that lend love a hand — in "Ghosts", is an artistic exertion that I am happy to take throughout my life.
[Below: Lucas Meachem as Figaro; edite dimage, based on a production photograph for the Royal Opera House, Covent Garden]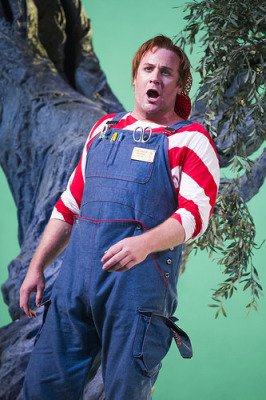 In "Barber" Figaro is shoved around, serving the Count in his romantic endeavors and he is showcased for his cleverness and handiness. Rossini's portrayal remains superficial within the light and comedic style of the opera. Traditional stunts and jokes dominate the role.
Wm: In Mozart's opera, the music is written for a different vocal range. There you take on the role of the Count, rather than Figaro.
LM: Mozart's Figaro is written for a lower voice type but in that opera I sing the part of the devilish Count — remaining in his own way with a privileged demeanor and bored attitude towards his unattended wife. In Mozart's rendition, Figaro's complexities of his personality are explored — desire, jealousy, tenderness — and are exploited through demonstrating his love for the equally charming Susanna.
[Below: The Count (Lucas Meachem) and Countess (Rachel Willis-Sorensen) hit a rough patch; based on a Bill Cooper photograph for the Royal Opera House, Covent Garden.]
Now upon learning "Ghosts", I find Figaro's essence largely unchanged in this opera. His role is just as instrumental to the plot and his integrity and ideals remain constant. He holds true to his family and his permissible power within his rank. He is irresistibly charming, of course, and no audience member can turn him down. Some things never change and it's reassuring to see that in a character I admire so much.
Wm: How would you describe Corigliano's music to someone who is unfamiliar with it?
LM: Corigliano's style is in no way atonal, although it has some of the sound of much of contemporary opera, into which enchanting melodies and very musical lines are incorporated.
The ghosts have ethereal music, but the music of the Count, Susanna and Figaro are reminiscent of classical music, even to the point of a snippet of the "Marriage of Figaro" overture. Overall, I find it much closer to the Rossini Figaro than the Mozart Figaro. If its popularity increases and it's done more often, I could see this becoming another signature role for me.
Wm: Have you worked previously with Conductor Maestro James Conlon, who conducts all three of the operas?
LM: He was not the conductor when I sang the "Barbiere" Figaro at Los Angeles Opera, but I was very impressed that he made a special effort to find me to tell me how much he liked my performance. I'm really looking forward to working with him.
Wm: Our conversation is taking place within exactly two months before opening night of the new production. Have you discussed anything with the director Darko Tresnjak and his production team?
LM: No, but I don't expect to until the beginning of the rehearsal process.
Wm: As a principal artist, what are your expectations of the stage director?
LM: I expect that a director will bring ideas to the rehearsal but will enlist the principals and others in a discussion of his or her ideas, since we will be the persons interpreting the characters onstage.
Wm: I take it that you are unimpressed with directors who have choreographed every onstage movement even before they meet the artists?
LM: My least favorite collaborations are when the director who has conceptualized every movement and is uninterested in discussing what the artist thinks about the stage director's ideas.
It's most fulfilling when our ideas inspire one another and we can truly collaborate with a conjoined effort.
Wm: You do want a director who understands the opera and comes with a point of view for the cast to discuss?
LM: Oh yes! I wouldn't normally dispute a production's theme, but within the enunciated theme, I like to formulate my own characters. Rather than just taking the director's advice on how the character fits with the theme, I'd like the character to evolve through the rehearsal process.
[Below: Dido (Sarah Connolly, left) bids farewell to Aeneas (Lucas Meachem, right) in Purcell's "Dido and Aeneas"; edited image, based on a production photograph for the Royal Opera HOuse, Covent Garden.]
In the rehearsals, I can show through my voice and through my acting how my character responds within the director's vision. I feel confident that my opinions are well-formed and that the character is malleable through my understanding of what the director seeks to accomplish.
Wm: I'd like to move from Figaro to another of your signature roles, that of Mozart's Don Giovanni. (I, myself am working on some program notes for an opera company's upcoming production and have been impressed by how you play him.)
Your approach is that Don Giovanni is an empathetic lover, who knows "what women want" and provides them with love and attention. That position comes straight from the mouth of Giovanni himself.
LM: Yes, he explains to Leporello that the reason he cannot agree to marry Donna Elvira, is because that would be a selfish act that would deprive all other women the opportunities to make love with him. You notice that the three women in the opera – Donna Anna, Zerlina and Donna Elvira – keep coming back to him.
Wm: Wherever one looks in the opera, you can find a different way of presenting it, including a strong case for your argument. Mozart and Da Ponte leave it ambiguous as to whether the Giovanni's encounter with Donna Anna was consensual or forced, or why she explains to Don Ottavio that she thought it was Ottavio in her bedroom.
LM: I agree with your point that you can find justification for many different ways of playing the Don!
Wm: My interview with you took place just five years ago, just after you had been replaced another artist as Orest in Gluck's "Iphigénie en Tauride" at the Lyric Opera of Chicago. You've sung that role since.
LM: Yes, Plácido Domingo and I were double-cast in the role in Madrid. That was an unforgettable experience.
Wm: I have a question about whether there are differences in singing Gluck and Mozart. For those of us sitting in the audience, much of Gluck and Mozart seems to be written in a similar style, but are there differences in how you approach singing the two composers?
LM: "Iphigénie en Tauride" consists of long, very flowing lines with a very high tessitura, whereas Mozart's baritone writing is lower and the Italian language allows for more dramatic articulation of the words. Mozart's use of recitative also differentiates with Gluck's through-composed writing.
Wm: On a different note, my wife Nancy and I have been gathering information on the impact on artists and musicians of the variations in pitch to which different opera orchestras are tuned, where there might be a significant difference in the pitch between, say, Houston Grand Opera and Deutsche Oper Berlin. Do the differences have an effect on the baritone voice as much as it does sopranos and tenors?
LM: It's all about tuning. Singers spend a lot of time when practicing, not only learning music but ingraining the notes into their bodies and throat. When that pitch is slightly changed, all the muscle memory they've acquired is equally altered, especially in the passaggio.
Wm: Do you find there to be an advantage to the audience in the having an authentically-pitched stringed instruments.
LM: Not at all! I think it's like trying to play golf with Sam Snead's golf clubs from the early 20th century, instead of the high tech clubs used by Tiger Woods.
Wm: You've had a great five years since that last interview. What do you regard as the career highlights during that time?
LM: Certainly, my debut at Opéra National de Paris in the title role of Britten's "Billy Budd". I enjoyed doing Rossini's Barber at the Vienna Staatsoper and Wolfram in Wagner's "Tannhäuser" in Toulouse, France. Another highlight was a controversial European production of Tchaikovsky's "Eugene Onegin" in Montpellier, France whose concept I bought into completely and which I loved doing.
[ Below: Lucas Meachem as Billy Budd in the Francesca Zambello production of Britten's "Billy Budd" at the Opéra National de Paris; edited image of a production photograph for the Opera National de Paris.]
Wm: Are there roles that you are adding to your repertory for engagements in the near future?
LM: I'm adding Malatesta in Donizetti's "Don Pasquale".
Wm: Are there roles that you would like to be invited to perform?
LM: Certainly Posa in Verdi's "Don Carlos", which I think should happen before too long. I also expect to be doing Beckmesser in Wagner's "Die Meistersinger"
Longer term, I want to do Siegmund in Wagner's "Die Walküre".
Wm: Siegmund? Are you planning to move into heldentenor territory?
LM; If heldentenors can become lyric baritones, why not the reverse? After all the role of Siegmund doesn't lie any higher than the title role of Verdi's "Rigoletto".
Wm: My final question of you relates to your European tours performing in Tchaikovsky's "Iolanta" with Anna Netrebko, conducted by Emmanuel Villaume. How did those come about?
LM: Anna and I had such a great time singing "La Boheme" together in Chicago, that I could not wait to get together and sing an opera with her in her native tongue. I was quite nervous before we began rehearsals because I don't speak Russian. However, after the first rehearsal after I sang my aria, Anna was in the back of the house where she could not see me. She approached me afterwards and immediately recognized me. She told me she thought I was some Russian baritone whom she never met before! She was so impressed by my language.
Anna is such a gracious colleague and made the entire process so enjoyable with her lovely spirit. I am equally taken by Villaume's friendliness and musical prowess. He is a monster on the podium!
Wm: I'm looking forward to the "Ghosts of Versailles". Enjoy your time in Los Angeles.
LM: I'm certain you'll love it.