Note from William: This post continues my series of observances of historic performances that I attended at San Francisco Opera during the general directorship of Kurt Herbert Adler. This is the second of 13 such observances of performances from the company's 1964 Fall season.
Two seasons prior at the San Francisco Opera, I had seen the team of tenore di forza James McCracken, dramatic baritone Tito Gobbi, and Conductor Francesco Molinari-Pradelli perform Verdi's "Otello". [See 50 Year Anniversaries: McCracken, de los Angeles and Gobbi in "Otello" – San Francisco Opera, October 9, 1962.]
The threesom reconvened = first on the opening night of the 1964 season, then eight nights later for the second offering for the Saturday night series subscribers.
[Below: American tenor James McCracken as Otello; edited image of a historical photograph.]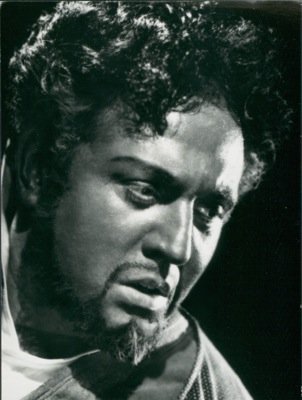 The most important difference between 1964 and 1964 was a change in the sopranos singing the role of Desdemona. In 1962 it had been the Spanish soprano Victoria de los Angeles. In her place in 1964, in both her American debuts was another Spanish soprano, Pilar Lorengar.
[Spanish soprano Pilar Lorengar was Desdemona; edited image, based on an historical photograph.]
"Otello" was the first opera that I had seen three times, the first with Mario del Monaco [see Mario del Monaco's Overpowering Otello: S. F. Opera's San Diego Tour – November 5, 1959.]  In the two decades after del Monaco's amazing performance, my Otellos were James McCracken (1962, 1964 and 1970) James King (1974) and Placido Domingo (1978).
My general reaction is that in many roles, contemporary singers were as good and sometimes better than those from the mid-20th century, I'm not sure that the present day has yet produced Otellos to match the likes of Del Monaco, McCracken, King and Domingo.
[Italian tenor Tito Gobbi as Iago; edited image, based on a production photograph.]
This was the first of many opportunities to hear Pilar Lorengar, who assumed several roles in the 1964 and 1965 seasons at San Franicsco Opera, then was absent for a decade, appearing sporadically in the 1970s.
Since she was a favorite artist of Decca Record's Terence McEwen, who in 1982 replaced Kurt Herbert Adler in one of the famously discordant changes of the guard at the San Francisco Opera. She was present in five of the seven seasons in which McEwen was at the helm.
She had a lyric soprano voice with a beautiful, very pronounced vibrato which McEwen admired. Although there were many fine Lorengar performances, I felt her lighter weight voice was always at her best in performances such as the operas of Mozart, in which she did not have to compete against a larger orchestra. (Casting her at San Francisco Opera's large War Memorial Opera House, even with its friendly acoustics, in Wagner and Puccini operas I thought challenged her vocal resources.) I will have more to say on Lorengar in my further observations on the 1964 season.
[Below: James McCracken as Otello in the San Francisco Opera production of Verdi's "Otello"' edited image, based on a photograph, courtesy of the San Francisco Opera.]
In my first decade of attending San Francisco Opera perormanes,there were many wondrous operatic experiences, yet I still regard the period from 1957 through 1965 as the era in which I saw  the great mid-20th century baritones: the North Americans (Robert Merrill, Cornell McNeil, Louis Quilico), but especially the Italians (Giuseppe Taddei, Ettore Bastianini and Tito Gobbi.) Notably, my first three Nabuccos (Verdi's "Nabucco") were, all at San Francisco Opera, Bastianini, Gobbi and MacNeil.
I saw McCracken and Gobbi together in both 1962 and 1964. Even though I never saw Gobbi's Scarpia, I was able to experience and remember vividly his Simon Boccanegra, his Jack Rance in Puccini's "Fanciulla del West", his Iago, his Nabucco, his Gianni Schicchi. After the 1964 season, Gobbi never returned to the San Francisco Opera and I never saw him again.
As we move later into the 1960s there will be a new phenomenon – the tenors, especially three men that decades later would become known as THE THREE TENORS.