The following interview took place on the "ranch" of the Santa Fe Opera, whose facilitation of this interview is deeply appreciated:
[Below: Tenor Alek Shrader; edited image of a publicity photograph for IMG Artists.]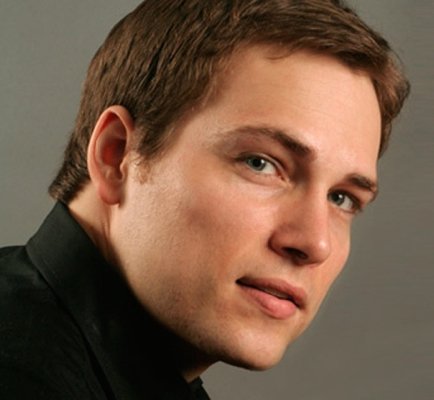 Wm: What do you consider your home town?
AS: I was born in Cleveland, Ohio, and lived as a small child in Lubbock, Texas and Stillwater, Oklahoma, but Alva, Oklahoma is where I grew up.
Wm: I routinely ask those I interview what were their earliest memories of music and of opera. But both your parents were opera singers, so your memories must be very early indeed.
AS: I really cannot remember when I first heard opera, because my mother was pregnant with me while performing.
I have many vague memories of opera when we were still in Cleveland. I would often go with them to the theater. I don't know what shows they were, but I remember that I spent time at rehearsals under my mother's makeup table.
Wm: Then how did you become an Oklahoman?
AS: When I was eight, we moved from Cleveland. After a spell in Lubbock, my father held a faculty position at Oklahoma State University and worked with the Tulsa Opera as its chorus master. He then became head of the music department at Northwestern Oklahoma State University in Alva.
Wm: When did you decide to become an opera singer?
AS: The opera bug didn't bite me for quite a while. My first decision was to become anything other than an opera singer. Since I had two opera-singing parents, I wanted to make my own way in life. However, I knew that music would still be part of it.
[Below: Alek Shrader as Count Almaviva with Isabel Leonard as Rosina in the 2014 Lyric Opera of Chicago production of Rossini's "Barber of Seville"; edited image, based on a Dan Rest photograph for the Lyric Opera of Chicago.]
Wm: How did your interest in non-operatic music manifest itself?
AS: I formed a rock band.
Wm: Rock bands seem to be an early stage of the career path of quite a few opera careers. When did you decide to leave your rock career behind?
AS: We really had a great time, and for a while the plan was to be a high school music teacher by day/small-town rock star by night. So I became a music education major at Northwestern Oklahoma State, taking voice lessons from my mother who was teaching there.
She was really supportive, motivated me and inadvertently got me thinking about pursuing performance.
Wm: When did your voice come to the attention to the music world outside of your family?
AS: In my third of year of college, I sang a master class with Richard Miller. He was very enthusiastic and encouraged me to shift my focus to performance and come audition at the Oberlin Conservatory.
I was truly flattered, but I had one year left to get my music education degree, so I delayed. After graduating the following year, I auditioned for Oberlin and got in. I worked with Miller until he retired, and Salvatore Champagne after that. That was the start of a whirlwind.
Wm: What was the whirlwind?
AS: My experience as a performer has often felt like a wild, nonstop whirlwind of events. Things happen one after the other. So much has happened at once that I entered the New York Metropolitan Opera's competition. So much has happened at once that I sometimes don't understand how I got here. But I'm grateful, and loving the ride, however.
Wm: How would you describe the current "ride"?
AS: Scary. It's always terrifying. My voice is changing. That's something that a tenor is warned will happen, but it still gives me a lot to consider.
Wm: Into what kind of repertory do you think your changing voice will take you?
AS: I expect to remain within the bel canto repertory, but I'll be leaving the lighter, higher roles to pursue the lyric tenor roles of Donizetti and the French repertory.
Wm: Your schedule includes Donizetti roles at the Santa Fe Opera in both the 2014 and 2015 seasons. Your 2014 role, Ernesto in "Don Pasquale" lies high in the tenor range. Quite a few lyric tenors avoid it.
AS: I'm comfortable singing Ernesto, even though it is a high role.
[Below: Alek Shrader as Ernesto and Shelley Jackson as Norina in the 2014 Santa Fe Opera production of Donizetti's "Don Pasquale"; edited image, based on a Ken Howard photograph, courtesy of the Santa Fe Opera.]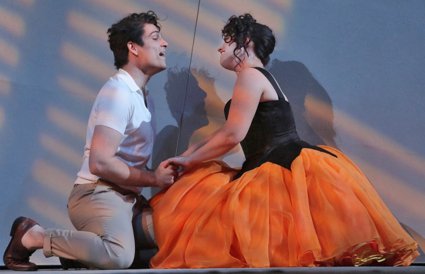 Wm: You are scheduled to open Santa Fe's 2015 season in the role of Tonio in Donizetti's "La Fille du Regiment". Many people first heard of you when you appeared in Susan Froemke's film "The Audition" about the Met competition, singing Tonio's Ah, mes amis.
Now, I've interviewed a coloratura soprano who sings Marie who expressed some annoyance at the tenors who get so much publicity for that aria with its nine high C's, while ignoring what a difficult role Marie actually is. Would you like to defend the tenor class against her comment?
AS: I've learned it's always best to give the soprano as much publicity as she needs. She does have a point. As far as high C's go, Donizetti placed them in octaves – that's a very friendly approach to high notes, much easier than the leap of a fourth, for example.
It also bypasses the passagio completely so all you have to worry about is getting a clean, onset, correct consonant/vowel agreement, breath support just right, proper resonance, make sure your face doesn't look weird, singing in tune, wait that seems to be more than I thought.
In all honesty, it is not quite as difficult as it seems, or as it could be. That's no secret.
That said, Tonio is not a walk in the park.. The role has many challenges beyond that famous aria, including its high tessitura and its requirement for vocal flexibility. The aria is not the role, but it creates its own pressure. The expectation is that you'll sing it brilliantly, and expectations are the most difficult thing a singer has to contend with.
Wm: I've interviewed both Michael Fabiano and Ryan McKinny about the film. You were made out to be the star of the show. What were your thoughts on the film?
AS: I believe that the editing was very kind to me, but the film was not scripted. We did say those things.
Wm: She seemed to be putting you and Fabiano against each other.
AS: Michael and I shared a dressing room and had a very pleasant relationship. It is true that in some ways we are opposites. He is very focused and wants to do the work. I would look for ways to play and have fun. But there was never any animosity between us.
That competition was so stressful and so important to my career. I'm really grateful for the whole experience and the fact that I have video evidence.
Wm: You won the Met competition. What happened next?
AS: I was accepted into the Juilliard Opera Center and I sang in a summer apprenticeship at the Merola Program of the San Francisco Opera.
[Below: Alek Shrader as Ernesto and Danielle De Niese as Norina in the 2013 Glyndebourne Festival production of Donizetti's "Don Pasquale"; edited image, based on a Tristram Kenton photograph for the Glyndebourne Festival.]
Wm: This was your first experience with the San Francisco Opera. How did it go?
AS: I had a great time there. I liked San Francisco and everyone at Merola, particularly a certain mezzo-soprano.
I performed with her that summer in Rossini's "Cenerentola". That was where I got to know Daniela Mack.
Wm: When did you and Daniela become an "item"?
AS: We had a summer romance. We had been secretly attracted to each other, but kept it in check during rehearsals. The director thought he was doing a great job because our chemistry was so believable.
When the summer was over, I asked if she would come back to New York City with me. Then the San Francisco Opera offered both of us its Adler Fellowships.
That knocked everything else off the table. Suddenly, I had the best of both worlds – a professional job with the woman who would become my wife.
I was still expected to complete at least one year at Juilliard, where I had been chosen for the title role in Rossini's "Le Comte Ory" and the part of George Gibbs in the world premiere of Ned Rorem's opera "Our Town". Following that, I had summer engagements at the Opera Theater of St. Louis and the Music Academy of the West.
I called Sheri Greenawald, the director of the Merola Opera Program, and explained that I really wanted to accept the Adler, but I had to fulfill the obligations. She miraculously gave me permission to show up for my Adler Fellowship eight months late. There are so many kindnesses that have been done for me, but that was a big one.
AS: On the second day of the academic year, I told the Juilliard faculty that I would complete the year I had signed up for, but did not plan to continue there afterwards.
Wm: And Juilliard gave its blessing to your change in plans?
AS: They were very understanding. They had the whole year to adjust to my decision, and I think we ended on good terms. I've had good relationships with stage director Stephen Wadsworth since my time there.
[Below: Alek Shrader next to the posters announcing his starring role in Rossini's "Le Comte Ory"; edited image of a photograph from tumblr.com.]
Wm: Describe your Adler fellowship.
AS: I was an Adler Fellow during the 2007-08 and 2008-09 seasons. I studied voice with Cesar Ulloa. Daniela and I had small roles in Korngold's "Die Tote Stadt" and I sang some of the performances of Nemorino in Donizetti's "L'Elisir d'Amore".
I also sang the role of an elderly gentleman in Mozart's "Idomeneo". It was the only time I've worn a white wig. Daniela was the cover for the much larger role of Idamante in that opera. As it turned out, the mezzo-soprano she was covering had to withdraw from the last several performances, and Daniela went on.
Wm: I was at the performance where Daniela took over, and, as far as I know, was the only reviewer of her debut performance in a leading role.
AS: We know. We cherish that review. We had expected that no one would see her performances since most reviewers are there for the first night.
We feel so fortunate that someone was there to add that moment to the historical record.
Wm: You, as a San Francisco Opera Adler fellow, spent much of your time singing in the War Memorial Opera House. As you were then a light lyric tenor, did you find the size of the house daunting?
AS: Acoustically, I cut my teeth there. I'm comfortable there and will continue to sing there. The house presents challenges, but every opera house in the world has challenges for a singer.
[Below: Alek Shrader participates in a social media interview at the War Memorial Opera House; edited image from a video, from the San Francisco Opera.]
I like the War Memorial because its acoustics allow you to get a sense that your voice is being projected, as opposed to stages where you can have no reference of what is being heard. It's really not whether the house is big or small, but how your voice works within it.
Wm: In the 2014 Santa Fe Opera season you are singing Ernesto and Daniela is singing the title role of Bizet's "Carmen". You have performed together in Britten's "Albert Herring" and in Rossini's "Barber of Seville" and have other joint appearances scheduled. What is it like performing with your spouse?
AS: For me, it's even more fun playing with your spouse in an opera. You already have an understanding of what to expect from your partner. The more you can make things spark, the more fun it can be.
But now that we are married, we are given romantic leads together, we know what the other is likely to do – it's about trust. When one of us takes the lead, the other has a good understanding of what we expect to happen. That's said, it's always fun to throw a curve ball.
Where were you married?
AS: We got married in Katy, Texas, because her parents live in nearby Houston. We found a beautiful hacienda where we could have an outside wedding.
[Below Daniela Mack with Alek Shrader; edited image of a Ken Howard photograph, courtesy of the Santa Fe Opera.]
Wm: Where do you call home?
AS: We are completely nomadic. We have a mailing address and trunks of clothing in our parents' garages.
In working out the logistics of our schedules, it was clear that there would never be much time when both of us could be at "home", where we spend our free time wherever the other one happens to be working..
Wm: How does that work?
AS: I will be following Daniela around after the 2014 Santa Fe season, since she is scheduled for galas and master classes and I have a few weeks off. Then we go to San Francisco Opera, where we both will be performing in Handel's "Partenope".
Wm: Are there special challenges in singing what Handel wrote for the tenor voice?
AS: Handel presents quite a few challenges for tenors. Since he lingers in the passaggio, there is a muscle temptation to either come off your breath or push through the phrase – that's setting yourself up to fail later in the evening.
Handel requires constant and steady supported singing, no matter how many notes are crammed into each measure. At the same time, knowledge of style is required for those all-important embellished da capos. Since he mostly wrote arias, you will feel exposed for most (if not all) of your singing.
Wm: You have engagements in Handel operas in San Francisco and at the Seattle Opera, and a track record singing in Rossini and Donizetti comedies. Which composer is your favorite?
AS: I like Rossini best, especially Almaviva, which was my first lead role. He gets to play four different characters in the same opera.
Wm: You are still one of only two tenors to have sung Almaviva's Cessa piu resistere at the War Memorial Opera House, where it was never performed before 2013. Where do you think your changing voice is leading you?
I don't expect to venture beyond the Duca in "Rigoletto" or Alfredo in "La Traviata". I am planning to avoid Rodolfo in Puccini's "La Boheme".
Wm: Are there things you regret about your nomadic existence?
AS: A dog has been on Daniela's wish list for seven years. We started looking at breeds that fit under an airline seat.
Wm: Thank you, Alek, for an interesting hour.
AS: Thank you!