San Francisco Opera, mixing old and new, continued a highly successful fall season by mounting its historic Jean-Pierre Ponnelle production of Rossini's "Cenerentola". It proved to be another smash hit, resulting in standing ovations for the four principals and conductor Jesus Lopez-Cobos.
First mounted in the 1969 season for Spanish mezzo Teresa Berganza, it is literally the oldest production owned by the opera company. Yet it proved just as fun and fresh as when the great French director-designer Ponnelle first staged it 45 years ago.
[Below: the princely residence is all atwitter at the arrival of a mysterious guest; edited image, based on a Cory Weaver photograph, courtesy of the San Francisco Opera.]
When "Cenerentola" was first heard bu San Francisco in 1969, it introduced a more authentic style of singing Rossini operas than audiences familiar only with the composer's "Barber of Seville" had experienced previously.
Rossini's florid vocal writing with its rapid runs and melismatic content, had been more or less simplified in "Barber" performances to accommodate voices whose principal fare was Verdi and Puccini. Other than "Barber" the Rossini canon was virtually unknown. not just in San Francisco, but in many other opera houses as well.
(San Francisco Opera had begun to explore Rossini beyond "Barber" five years earlier in its budget-priced Spring Opera Theater, mounting "Italian Girl in Algiers" for Marilyn Horne in 1964, repeated with a different Isabella in 1966.)
The Rossini Revival in the United States and Europe
Introducing Ponnelle's "Cenerentola" can be seen as one of the early steps in what became a slow transformation of American (and arguably also European) attitudes towards Rossini's operas.
Ponnelle's venerable sets for the San Francisco production were duplicated in Europe. The European version of the sets are frequently seen there [see, for instance, Ponnelle's Historic "Cenerentola" at the Garnier – Opera National de Paris, December 1, 2012].
[Below: Don Magnifico (Carlos Chausson, center, in blue, being carried by the royal retinue (the men of the San Francisco Opera chorus) explores the royal wine cellar in the 2014 San Francisco Opera mounting of the Jean-Pierre Ponnelle production of "La Cenerentola"; edited image, based on a Cory Weaver production, courtesy of the San Francisco Opera.]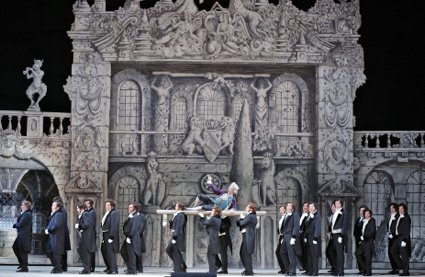 In fact, in noting the existence of American and European version of the same Ponnelle production dating from the late 1960s, it is useful to consider how Rossini performance styles have evolved on the two continents in the ensuing four and a half decades.
The 1969 performances of "Cenerentola" had four European-trained artists in the four main roles, with three Italians in support of the Spaniard Berganza.
However, whether or not European artists had an affinity for Rossini singing that the Americans lacked in the mid-20th century, there is no discernible disparity today. My experience is that there is a present day core of international artists (whom I call the "Rossini royalty") whose composition includes several American trained artists.
I've reported on Rossini productions in both Italy and France in which American artists starred [see Osborn, Meade and Jenis in Graham Vick's Mounting of "Guglielmo Tell" – Teatro Regio Torino, May 7, 2014 and Genaux, Brownlee and Vinco Romp in Rossini's "L'Italiana": Garnier Opera House, Paris – October 8, 2010.]
In 2014, two of the four principals are American-trained Americans, and a third is a European, much of whose vocal training and early career was based in the United States.
Karine Deshayes' Cenerentola
In the title role, French mezzo-soprano was oonvincing in her San Francisco Opera debut, dazzling in her great showpiece aria Nacqui all'affanno, al pianto that signals the opera's finale.
Her performance as Romeo I had reviewed earlier this year [Praiseworthy Performances by Siurina, Deshayes, Castronovo in Carsen's Classic Conceputalization of "Capuleti e i Montecchi" – Opéra National de Paris, April 30, 2014,]
[Below: Angelina (Karine Deshayes), as a result of her royal marriage, can no longer be called Cenerentola (Cinderella); editd image, based on a Cory Weaver phomograph, courtesy of the San Francisco Opera.]
René Barbera's Prince Ramiro
Also new to San Francisco audiences was Texas born-and-raised tenor René Barbera, who is the first male to win three main prizes in Placido Domingo's annual Operalia contests.
I have observed his career progress from smaller comprimario roles [see Leah Partridge's Splendid "Lakme" – Florida Grand Opera, Miami: February 27, 2009] through lead roles, especially in the Rossini repertory [see Love All Around for Cinderella, Prince Charming in Joan Font's Zany Staging of Rossini's "Cenerentola" – Los Angeles Opera, March 23, 2013 and Rossini Royalty: DiDonato, Brownlee, Pizzolato and Barbera in Curran's Staging of "Donna Del Lago" – Santa Fe Opera, July 26, 2013.]
Barbera is an alumnus of the Florida Grand Opera and Lyric Opera of Chicago young artists' programs (as well as San Francisco Opera's Merola Opera Program).
His voice displays the flexibility to master Rossini's rapidly moving vocal line and the weight to sound comfortable and balanced in the large American theaters like the War Memorial Opera House.
[Below: Prince Ramiro (René Barbera, right) to go undercover, exchanges his prince's clothing with that his valet's Dandini (Efraín Solís, left);; edited image, based on a Cory Weaver photograph, courtesy of the San Francisco Opera.]
Efraín Solís' Dandini
Two great Italian basso buffos – Renato Capecchi and Sesto Bruscantini – sang the part of Dandini in San Francisco in the first decade of this production's existence. For this production, only 12 days before the opening performance, the San Francisco Opera announced that Adler Fellow Efrain Solis would step into the principal comic role of Dandini to replace an Italian colleague whom Solis, in his Adler Fellow role, was covering.
It is remarkable just how good Solis' Dandini proved to be. Having experienced such past Italian masters of the role as Bruscantini and Capecchi (and such current Italian masters as Vito Prianti sing it, the latter also opposite Barbera's Ramiro), I found myself just as impressed by Solis' comic timing, witty delivery of Rossini's patter and strong technical skills.
(This is the second time in just over three months that I have reviewed the first performance of a production where a Young Artist has distinguished himself by taking over the entire run of performances of a principal star that he was covering. That artists of the ability of Joseph Dennis is Santa Fe and Efraín Solís in San Francisco are routinely recruited into the Young Artists programs of major American opera companies suggests the richness of the pool of artists from whom they are selected and the quality of training they receive.)
Carlos Chausson's Don Magnifico
Another San Francisco Opera debut was that of Spanish bass-baritone Carlos Chausson. He was as memorably hilarious as the great Italian buffo artist Paolo Montarsolo, who owned this role in the first three mountings of this production four decades ago.
Chausson was brilliant in his tongue-twisting monologue self-analyzing his dream about a donkey who flies up into bell-tower ("I am that ass" he confidently proclaims, as his daughters form donkey-ears behind his head).
In his scene where a tipsy Don Magnifico is sampling all the wine in the royal cellars, cheered on by the Prince's retinue, the San Francisco audience was howling with laughter.
Although Chausson is generally considered a European artist these days (he is particularly associated with the Zurich Opera), he is a graduate of the University of Michigan and spent much of his 30s at the San Diego Opera throughout much of Tito Capobianco's repertory-expanding tenure there during the late 1970s and early 1980.
Although his early career roles were comprimario parts, he more recenty has returned to California for the major basso buffo roles in the operatic repertory [see Meachem, Osborn, Tro Santafe Lead a Joyous "Barber" at San Diego Opera – April 21, 2012.]
[Below: Don Magnifico (Carlos Chausson, center, in gray wig), stands between his daughter Clorinda (Maria Valdes, left, in red wig) and Tisbe (Zanda Svede, right, in red striped dress); edited image, based on a Cory Weaver photograph, courtesy of the San Francisco Opera.]
(I personally saw him in 11 different San Diego Opera performances of the 22 operas in which he appeared in San Diego, including my very first performances ever of Verdi's "I Lombardi" and "Giovanna d'Arco", of Thomas' "Hamlet" and of Prokofiev's "The Love for Three Oranges".)
Christian Van Horn continued his invaluable services to San Francisco Opera with an excellent Alidoro. Maria Valdes (Clorinda) and Zanda Svede (Tisbe) were Cinderella's stepsisters.
Director Gregory Fortner staged the "Cenerentola" revival, preserving all of Ponnelle's timeless funny business. Ian Robertson was Chorus master, coaching the excellent male chorus of black-wigged, liveried Prince's men.
Exactly 40 years ago, Conductor Jesus Lopez-Cobos was at the podium of the San Francisco Opera Orchestra, conducting Luciano Pavarotti and Katia Ricciarelli in Verdi's "Luisa Miller" and James King in another Ponnelle production, Verdi's "Otello".
Lopez-Cobos effervescent conducting (obviously appreciated by the opera orchestra) reflected the wit and spirit of Rossini's comic masterpiece, and suggested that his 40 year absence from the San Francisco Opera is most regrettable.
Recommendation
I recommend this production and cast enthusiastically, both for the veteran opera-goer and the person new to opera.