The following interview took place at the War Memorial Opera House, home of the San Francisco Opera, whose facilitation of this interview is deeply appreciated.
[Below: Composer Carlisle Floyd; edited image, based on a publicity photograph, courtesy of Carlisle Floyd.]
Wm: Often, I ask artists whom I interview about their childhood interests in music. That you were an accomplished concert pianist from an early age is well known. My question is what were some of the piano pieces you performed in recitals at the height of your concert pianist career that were your proudest accomplishments?
CF: When, at around age 26, I made the decision to devote myself full-time to composing, I was performing Prokofiev's Seventh Sonata, Mussorgsky's Pictures at an Exhibition, Beethoven's 110th Sonata and Ravel's Gaspard de la Nuit.
Wm: You had decided that you had to choose between the piano performance and musical composition.
CF: Actually, I had never thought about composing. The process always mystified me. In fact, my chief talent was my ability to draw. My family and friends had thought that I would become an artist. But, in time, I became interested in composing opera, because opera encompassed so much that I liked – music, dramatic writing, and art.
To perform as a solo pianist, I had to spend six or seven hours a day at the piano. When I decided I wanted to compose operas, it was not an option to continue as a concert pianist, especially since I was also determined to write the opera libretti myself.
Wm: You and I are both are descended from Methodist ministers who worked on the church circuits in Upcountry South Carolina in the early 20th century. In your childhood, did you spend a lot of time with the folks in the rural communities to whom your father preached?
CF: Oh yes, It's a society in which I feel comfortable.
Wm: How much of New Hope Valley is a product of your own experience?
CF: The area that I grew up in is not necessarily a very small rural community like New Hope Valley. My father had churches in the rural towns, because the circuit minister would have one central church and then several outlying churches. He would hold two or three services a day, alternating between the smaller community churches. Everybody, including myself, of course, would be expected to attend services.
Wm: Your earliest operas "Slow Dusk" and "Susannah" take place in the rural South. "Susannah" is an established hit. I understand that there is new interest in the short work "Slow Dusk".
CF: Yes. "Slow Dusk" is being revived by a small company in New York City on a double bill with my opera"Markham". I was very surprised when I learned about this. I've not seen "Slow Dusk" performed in a very long time.
Wm: Although the San Francisco Opera lists this as a company premiere, in fact, the San Francisco Opera's Spring Theater presented this opera 50 years ago (May, 1964) at the War Memorial Opera House. You were the stage director for those performances, which starred the imposing cast of Lee Venora as Susannah, Norman Treigle as Olin Blitch, and Richard Cassilly as Sam Polk.
[Below: The Reverend Olin Blitch (Norman Treigle, above) reveals his sexual desires to the vulnerable Susannah (Lee Venora, on ground); edited image, based on a Carolyn Mason Jones photograph, courtesy of the San Francisco Opera.]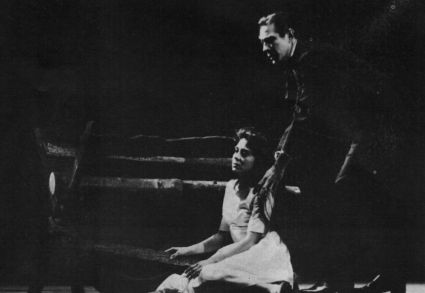 CF: Treigle and Cassilly were very good friends. I knew Lee Venora less well, but she was a very gifted soprano who had covered Phyllis Curtin in the role of Susannah at the New York City Opera. Davis L. West and Thomas Colangelo designed and constructed a new set for the opera. We all considered it a great success.
WM: What are your memories of that performance?
It was a thoroughly pleasant experience. However, I do remember an incident that was my very first experience upsetting a union member. I moved a chair on the stage and it created quite a discussion.
I stayed at a hotel at Union Square and walked back and forth every day. When I see from my taxicab the area through which I walked when I was considerably younger, I wonder if I shouldn't have been more cautious.
[Below: Carlisle Floyd at approximately age 29, on the steps of the Florida State University School of Music; edited image, based on a personal photograph, courtesy of Carlisle Floyd.]
Wm: "Susannah" is closely associated with David Gockley, who is now General Director of the San Francisco Opera, but the decision to mount "Susannah" in 1964 iby the San Francisco Opera was made by Kurt Herbert Adler, when he was general director. How did you and he get along?
CF: I liked Adler very much. I got to know him very well during the time I was out here in San Francisco staging the opera.
His record speaks for himself. He built the San Francisco Opera into a wonderful, forward-thinking international company, which has promoted great singers early in their careers.
Later, Adler and I both sat on the board of directors of the National Endowment for the Arts. I recall that he would fly across the country on the red-eye special to attend endowment board meetings.
Adler was so venerated that the rest of the panel used kid gloves whenever he was there. He would say, "Don't be so formal around me, Just call me Kurt". However, so many people worked with him or for him in other venues where they were never comfortable calling him Kurt, that they resorted to "Mr Adler" anyway.
Wm: Sometimes people refer to "Susannah" as a folk opera, but I think of it as a dramatic opera that employs certain musical themes that evoke the mountainous regions of the Southern United States.
CF: I don't use the term folk opera. My feeling is that it is part of a general idiom that I use for setting the location. When you hear the overture, you know you are in rural America. But, I haven't extorted any genuine folk material. I call my music folk-like, designed to set up a feeling that you are in a particular place at a particular time in history.
Wm: I've often thought that there is much to compare between "Susannah" and "Porgy and Bess". There was only 20 years between "Porgy" and "Susannah". George Gershwin and DuBose Heyward were writing about a community on the South Carolina coast, and "Susannah", even if set in Eastern Tennessee, could very well have been placed in a rural part of the South Carolina Upcountry.
CF: I believe that one common element to both operas is that both Gershwin and I wrote original music that sounds like it could be folk music. In fact, you know that there were New York critics who were confounded as to whether Gershwin had incorporated traditional Negro spirituals into "Porgy" or had invented them.
Wm: "Susannah" contains idiomatic music for a square dance, for Sam Polk's folksy "jaybird" song, a couple of rousing church hymns and haunting arias from Susannah and Sam that to me evoke Appalachian plainsong. How were you inspired to write these different musical "sounds"?
CF: It all came very easily to me. I always use each sound in a stylized way, although perhaps the least stylized is the first of the congregation's hymns. However, I don't think you'll ever find any other music that sounds like the congregation's final hymn.
[Below: Brandon Jovanovich (left) is Sam Polk and Patricia Racette (right) is Susannah Polk in the 2014 San Francisco Opera production of Floyd's "Susannah"; edited image, based on a Cory Weaver photograph, courtesy of the San Francisco Opera.]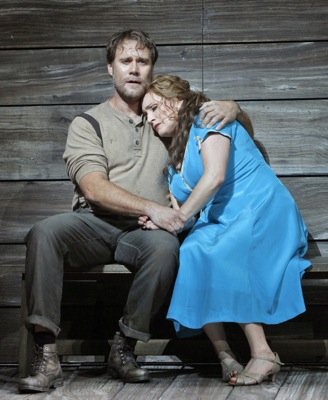 Wm: When you first started composing, there was some hostility to your style of composing. Would you comment?
CF: Yes, I would say in the 1960s and 1970s, there seemed to be three camps of composers, those that followed the musical theories of Schoenberg, those that wrote in the tradition of Stravinsky or Hindemith, and one that was influenced by native materials and by more accessible or popular kinds of music. The so-called American Operas, of which "Susannah" was considered one, would be considered as part of this latter group.
Wm: You would agree that "Susannah" would have been considered in the same group as the works of Aaron Copland and Douglas Moore.
CF: Certainly, Copland was considered the leader of the movement. Douglas Moore preceded me, although he did not compose folk-like materials to the same extent as I did. We considered him the Dean of American opera composers. He was always encouraging and most generous towards me.
I also met Virgil Thomson in Tallahassee, when he came down to Florida State University to attend a Gian Carlo Menotti play. His advice to me was "Continue to be fecund"!
[Below: Carlisle Floyd (center) with two famous interpreters of the role of Susannah, Phyllis Curtin (left) and Renee Fleming (right); edited image, based on a personal photograph, courtesy of Carlisle Floyd.]
Wm: Frequently, I get to Houston Grand Opera, where your participation with David Gockley in creating the HGO Studio is celebrated. Would you give me your thoughts on that endeavor?
CF: I do regard the HGO Studio as a great accomplishment. Many consider it one of the two or three best of its kind of young artists programs in the world, comparable to the program created at the Royal Opera House Covent Garden. It has gone far beyond what David and I had expected.
What I am most proud of is that we were the first people to demonstrate that a year-round program of continued instruction in opera could be successful. HGO Studio included coaching in vocal performance, language, and movement, It quickly became a model to be emulated, although few companies approach it as comprehensively as does the HGO Studio.
Wm: Originally, it was a joint project with the University of Houston.
CF: It was. In fact, HGO Studio would not have happened without the financial and educational support from the University of Houston.
It was such a new and costly idea that there was considerable opposition, both within the university and opera company, that it took a lot of work from David and myself to pull it off.
Finally, UH agreed to pay half the budget, the Houston Grand Opera the other half. The instruction took place at UH. I worked with the HGO Studio between 1977 and 1992.
Wm: How did the happen that Houston Grand Opera took over the entire program?
CF: In the early 1990s, financial pressures at the University of Houston required its withdrawal from the project.
Faced with the prospect of closing HGO Studio down or of absorbing the full costs of it, David, very bravely and with great farsightedness, went to his board and convinced them to fund the entire project.
Wm: You seem to have a high regard for the Houston Grand Opera.
CF: Six of my operas have been presented at Houston Grand Opera, and it is there that my next opera, "The Prince of Players" will be presented.
Wm: You have been a close observer of David Gockley through the years at Houston and San Francisco, What do you think will be his legacy?
CF: I think the chief legacy is his support of the operatic efforts of contemporary composers, in particular the young composers he sees on the horizon.
David mounts very fine productions of standard works. He began his career as an opera singer, and I believe that that gives him an insight and a fine ear for the voices of the singers he hires that a non-singer would find hard to match.
He has a theatrical sensitivity and he understands what will make a great visual scene. We've known each other for almost 40 years and have become faster and faster friends. He was so much my anchor in Houston, that it took me a while to adjust to his having left there.
Let me give you an example of how he has supported my operatic efforts.
Wm: Please do!
CF: When I first read Olive Ann Burns' book Cold Sassy Tree I found it so touching and hilarious. I began to wonder if there might be an opera there. I contacted David and asked him to read it. He said it was on his bedside table, and he wanted me to do an opera on it.
I kept re-reading the book until I found a way to create my own libretto. We proceeded with a commission from Houston Grand Opera. He was very patient with me, then not so patient, but he wanted to be sure he had first crack at the opera.
Working with David is such a joy. When we came to the production, he gave me a list and said "Here are ten top directors, choose whomever you want to direct the production". He is that sensitive to every aspect of the production.
[Below: Carlisle Floyd (standing, right center), surrounded by the Houston Grand Opera cast and crew of "Cold Sassy Tree"; edited image, based on a personal photograph, courtesy of Carlisle Floyd.]
Wm: What did you think of the new production of "Susannah" being mounted by the San Francisco Opera?
CF: My first impression of the sketches was unfavorable, but those sketches gave no sense of what the opera would look like with the scrims and projections. But every concern that I raised at the beginning was addressed and exceeded.
I regard this as the most beautiful set for "Susannah" I have ever seen. It is so imaginative and experiential. Because it all works so well, it is the greatest compliment that you can pay the opera.
The constant flow of projections makes the need for big physical sets unnecessary. Watch the scene at the baptismal creek. It opens with a projection of the sun on the bubbling creek.
There is so much detail. When the lights go up, you see that the creek really consists of only two lines and all the water is just an illusion created by the embedded projections.
[Below: Susannah and Sam Polk (Patricia Racette and Brandon Jovanovich, embracing in lower right corner) are at their cabin surrounded by the forest of Eastern Kentucky; edited image, based on a Cory Weaver photograph, courtesy of the San Francisco Opera.]
Wm: What are your thoughts on the cast that David Gockley has assembled for you?
CF: I've never seen a more committed actress as Patricia Racette. I had first been introduced to her when she created the role of Love Simpson in my opera "Cold Sassy Tree". She has the acting abilities of the soprano Teresa Stratas. Her voice is in full bloom and is incredible.
I find Raymond Aceto to be very convincing as Olin Blitch.
I had never worked with Brandon Jovanovich before, and frankly, although I knew he had good looks, I did not expect him to be such an extraordinary and committed actor.
David wants his productions to be exquisite. He attends to the smallest details. Since new productions have many opportunities for small mishaps, he made sure that this one was very wellrehearsed.
We've worked on six operas together. To see "Susannah" in this beautiful opera house in this unparalleled production is wonderfully satisfying.
Wm: Now that "Susannah" has joined the performance repertory of the "main" San Francisco Opera season, which of your other works would you regard as appropriate for the War Memorial Opera House?
CF: My opera "Of Mice and Men" is the most frequently performed after "Susannah" and should be done here. I think another one that would work well is my comedy, "Cold Sassy Tree", which, by the way, was dedicated to David Gockley.
[Below: Lennie (Robert Moulson, right) and George (William Chapman, left) in the 1976 Seattle Opera revival of Floyd's "Of Mice and Men"; edited image, based on a photograph for the Seattle Opera.]
Wm: Among the younger generation of opera composers, whom do you believe have a chance for an operatic success as significant as "Susannah"?
CF: There are two whose work has especially impressed me – Jake Heggie and Mark Adamo.
Wm: I'm on record as saying that I believe that Heggie will write the great 21st century American opera.
CF: He will be joining me for the opening night of "Susannah" here.
Wm: I had a very interesting interview with Mark Adamo, who, like you, writes his own libretti, as to the importance of the rhythm of the phrases that he writes to be sung. I raised the example of Vincenzo Bellini and his librettist Felice Romani for "Norma" (the opera that is in rotation her with "Susannah") who wrote at a time when the rhythm of each line was considered critical.
I've made the observation that the rhythm of what is to be sung is crucially important in an opera, and those composers who neglect it, and produce what is essentially a "sung play", often diminish their efforts. By the way, Adamo agreed with me. Do you agree also? Obviously, "Susannah" abounds in rhythmically sung speech patterns.
CF: I like to use the term "prosody" for what you are describing. I think those modern composers who ignore an opera's prosody do so at their peril.
I'm reminded of my first meetings with Mack Harrell, who created the role of Olin Blitch, but before that sang the role of Nick Shadow in the American premiere of Stravinsky's "The Rake's Progress". Harrell found the part of Shadow to be quite a trial for him, precisely because the rhythmic structure was so difficult. He said that it was so much harder to learn to sing a role that ignores speech patterns.
Wm: I assume he had no trouble with the prosody of Olin Blitch's role.
CF: You are right. I actually had offered to alter any phrases that he found awkward, and he said, that, no, it was fine just as I composed it. Every phrase had a purpose.
I have been very conscious of the speech rhythms in my operas. I regard the speech rhythm to be the connective tissue between the words. I try to use words that fit a pattern, that are musical and expressive, but do not sound mechanical. Above all it should have a speech rhythm that is like the rhythms that the audience would speak.
[Below: Stephen Powell and Patricia Racette in the Houston Grand Opera production of Floyd's "Cold Sassy Tree"; edited image, based on a production photograph for the Houston Grand Opera.]
Wm: I am looking forward to your next opera, "Prince of Players", about the English Restoration actor Edward Kynaston, which is scheduled for the Houston Grand Opera's 2015-16 season. What is it like to compose a new opera at this time in your career?
CF: When Verdi was late in his composing career, he said he couldn't composer more than two hours a day without tiring. Since I write my own libretti, I've found that over my lifetime it's taken me about two and a half years between operas.
I completed "Prince of Players" in about the same amount of time as my other works, but I found it much harder and much more fatiguing than ever before.
Wm: How did you choose the subject for your opera?
CF: I had seen Jeffrey Hatcher's play and his 2004 film "Stage Beauty", loosely based on the late 17th century English actor Edward Kynaston, one of the two greatest actors of his time, who was noted for playing female parts at the time when all actors on stage were male, regardless of the gender of their character. The actors who played women were accomplished in a complex set of hand gestures, that is as complicated to learn as are the roles in Japanese kabuki theater.
Samuel Pepys in his famous Diary, remarked that Kynaston would appear as both the most beautiful woman and the most handsome man. There is the report of one performance when the curtain had to be held because the Desdemona had to shave.
Wm: What attracted you to the story?
CF: I became intrigued about the impact on Kynaston of an order by King Charles II requiring that no male actors play female parts. The enactment of King Charles' ban on men playing female roles was a personal disaster for Kynaston.
Certainly, the material provided me with a fresh start, in that nothing I had written before is like this story. The setting in the era of the restoration of the British monarchy is a change of pace for me. The Restoration theater became extremely popular in reaction to the time previous to it when all social life in England was controlled by the Puritans. The Restoration actors were like our rock stars.
But i was also intrigued by the analogy to the end of the silent film era, in which certain actors could not adapt to the transition between silent and sound films, and, possessing voices of a kind that did not sound right in "talkies", were forced into retirement.
Wm: What about his story did you find "operatic"?
CF: There is a mix of human drama, that includes Kynaston's despair, and a period of his dissolution when he is performing as a woman in the dives that existed at that time. But there is abundant opportunity for comic scenes, including very bawdy ones.
In the end, late in his career, he discovers that be successful in men's roles. In the opera, Kynaston begins a play as Desdemona, and ends it as Othello.
Wm: 2015-16 is, in opera-season planning terms, right around the corner. Do you have your lead singers in mind?
CF: In fact, we have a new member of the HGO Studio, an Australian baritone, Morgan Pearse. He is phenomenally good looking, and has an androgynous appearance that fits my idea of what Kynaston would have looked like.
Wm: I deeply appreciate that you have spent an hour with me for this interview on the day of the new production's premiere.
CF: I enjoyed the time very much, and look forward to our meeting again.