Bizet's "Carmen" was the opera chosen for the 2014 Santa Fe Opera season's opening night. It's a dressy night, one the ritual occasions for tuxedos and subtly colored bow ties. Parties abound both in town, and "on campus", including the elaborate parking lot tailgate parties for which the Santa Fe Opera is famous [Review: Stephen Lawless' Creative New "Carmen" Production Opens 2014 Santa Fe Opera Season – June 27, 2014].
One knows instinctively that the Santa Fe regulars are already planning their menus and table decorations for next year's opening night (July 3, 2014 of Santa Fe Opera's first ever performances of Donizetti's "LA Fille du Regiment".
Having reported on the opening night weekend operas, which included the Carmen of Daniela Mack [see ], I returned for the "rest of the season's operas". Dressed in Southwest casual rather than formal wear, I also attended another performance of "Carmen", this time starring Puerto Rican soprano Ana Maria Martinez.
[Below: Carmen (Ana Maria Martinez, front left) attracts the attention of Don Jose (Roberto De Biasio, right) as the cigarette factory girls look on; edited image, based on a Ken Howard photograph, courtesy of the Santa Fe Opera.]
I had promised in my previous review to discuss further the elements of Stephen Lawless' inspired new production, which has been time- and place-shifted to somewhere in late mid-20th century North Central Mexico (I nominate the Mexican State of Chihuahua) which borders Texas and New Mexico.
Although there are several references to celebrity culture (Elvis, Marilyn Monroe, Amy Winehouse, some urban cowboy's mechanical bull) one need not be distracted by any of these pop culture ideas.
What is fundamental to Bizet's "Carmen" is fundamental also to Lawless' staging. Carmen fervently believes in predestination and will do nothing to attempt to alter her fate.
Her companions, male and female, are outlaws, and make their money doing things that the law defines as bad. Don Jose understands that he has lost "his soul's salvation" and therefore has nothing to lose in his quest either for reconciliation with Carmen or with his destruction – her choice.
[Below: Lieutenant Zuniga (Evan Hughes, front right) propositions Carmen (Ana Maria Martinez, front center) as Don Jose (Roberto De Biasio, front left) prepares for her incarceration; edited image, based on a Ken Howard photograph, courtesy of the Santa Fe Opera.]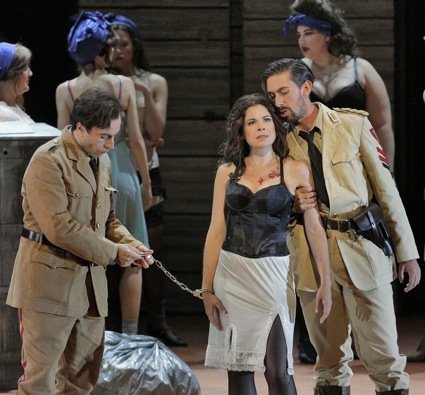 What Lawless brings to the story is the dramatic use of visual projections on a stage-wide screen (cleverly integrated into the set design), and imaginative details in his telling of the story.
During the lively overture, conducted with verve by Rory Macdonald, the projections of a bullfight command one's attention, each image carefully conceived to match the thematic music – the stylized movements of matadors, picadors and toreadors et al., the fate of the bull.
At the changing of the platoons, sets are shifted so that we see the soldiers changing in and out of uniform at their individual lockers. The boys' chorus consists of kids being smuggled across the U. S.-Mexican border in portable storage lockers.
When Carmen first appears, she has convulsive movements, like back spasms, which, at opera's end, we will find out match the agony of the death blows from Don Jose's knife.
When the soldiers who are tasked with keeping order, are confronted with rioting cigarette factory girls, a team of them rush in with a fire hose and and use water spray to control them.
Carmen is not just led away to jail. She is put into a cell. By then Don Jose is her co-conspirator enabling her to lure Zuniga into the cell with her, and, he having doffed his trousers expecting a different outcome, finds himself locked in the cell.
[Below: Carmen (Ana Maria Martinez) is ostensibly incarcerated, but she has tricks up her sleeve; edited image, based on a Ken Howard photograph, courtesy of the Santa Fe Opera.]
Lillias Pastia's tavern is a night-club with live entertainment. We get a glimpse of the dressing room in which Carmen, Frasquita and Mercedes prepare for the gypsy songs and dances for the guests distributed in booths around the semi-circular stage. Their act is crashed by Escamillo, who pretends to ride the club's mechanical bull and takes over the microphone to sing his Toreador Song.
More importantly, Pastia's is a front for smuggling activities, mainly cocaine and the boys from the first scene (who in the third scene will climb over the border's chain length fence.)
[Below the Quintet, consisting of, front row, left to right Mercedes (Sarah Larsen), Carmen (Ana Maria Martinez) and Frasquita (Amanda Opuszynski), and, standing, left to right, Le Dancaire (Dan Kempson) and Le Remendado (Noah Baetge), work out the details for the next smuggling trip; edited image, based on a Ken Howard photograph, courtesy of the Santa Fe Opera.]
In the prelude to the third scene ((the opera's Act III, although in recent years tthe custom is to present two acts together before and after a single intermission), Joyce El-Khoury's Micaela, in a projected image, administers succor to Don Jose's dying mother.
El-Khoury's beuatifully sung aria is a testament to the bravery that her character musters to bring a troubling message to Don Jose, a mother's errant son.
The smugglers arrive, then Escamillo.
[Below: the smugglers arrive in a truck containing (left to right in truck's cab) Don Jose (Robert De Biasio), Carmen (Ana Maria Martinez) and Le Remendado (Noah Baetge) and (left to right standing), Mercedes (Sarah Larsen), Le Dancaire (Dan Kempson) and Frasquita (Amanda Opuszynski); edited image, based on a Ken Howard photograph, courtesy of the Santa Fe Opera.]
Although all of the plot elements of Bizet's smuggler's hideaway are present, the images created by Lawless are striking. A woman (as discussed in the second scene at Lillas Pastia's) offers her sexual favors to distract the border guard. The street boys, now a few paces from the border, climb over the chain length fence to reach their goal.
Don Jose and Escamillo both demonstrate mano a mano expertise at knife-fighting, before both are separated by smugglers present.
[Below: Carmen (Ana Maria Martinez) is dying as a result of the knife wounds from Don Jose (shadow of Roberto De Biasio); edited image, based on a Ken Howard photograph, courtesy of the Santa Fe Opera.]
The fourth scene (Bizet's final act) takes place during the bustle of the procession of the bullfighters, with dozens of small character vignettes.
At the moment when De Biasio's Don Jose arrives and gives Martinez' Carmen the options of death at knife-point or returning to his bed, Carmen knows that her fate is sealed, and Don Jose must either kill erlet her go. Since the latter would be impossible for Don Jose, who has lost everything, she knows she will die.
The awkward movements that accompany Carmen's death scene (the death blows being knife-wounds to the back) are those of the first scene amidst the cigarette factory girls, in which she exchanged fatal glances with the then corporal Don Jose.
Final Thoughts
Each of the cast members on whose "Carmen" productions I reported several weeks ago again met my expectations. The only change of persons is the Carmen herself, now in the capable hands of Ana Maria Martinez.
As before, I recommend this production with enthusiasm for both the veteran opera-goer and for persons new to opera.