The following interview took place at San Francisco's War Memorial Opera House with the deeply appreciated facilitation of the San Francisco Opera.
[Below: Basso Morris Robinson; resized image of a photograph from Facebook/Morris Robinson, Bass.]
Wm: As a child, you were influenced by your father, a minister at the Israel Baptist Church in Northside Atlanta, and your mother, who promoted gospel choral singing. As a young boy, you played drums in church and was a soloist singing Can't Nobody Do Me Like Jesus.
Later you sang with the Atlanta Boy's Choir, which taught you to read music and to understand classical musical styles.
Your high school was a magnet school, Atlanta's Northside School of the Performing Arts where you received special permission to participate both in choir and band.
Do you believe that your earliest experiences with music prepared you to become a musician and more particularly, a musical performer?
MR: I do. I had to obtain a special exception at Northside, because I never sang in the chorus in school. In time, I quit the band to concentrate on being a high school football player. I was a jock 100 percent.
Yet, pursuing both music and football taught me to multitask, to be disciplined, which is required to be at a high level musically. What I did not know then, was that I would be doing this for a living.
Wm: But it wasn't just that you playing American football in high school. You were good enough to have received a football scholarship that you led you to the premiere South Carolina military academy, The Citadel. There you achieved the distinction of being placed on the All Southern Conference First Team and the Kodak All-American team.
Obviously, there are lots of men singing opera who didn't play football, But what qualities come from team sports that helped to make you an opera singer?
[Below: Citadel linebacker Morris Robinson, resized image of an historical photograph.]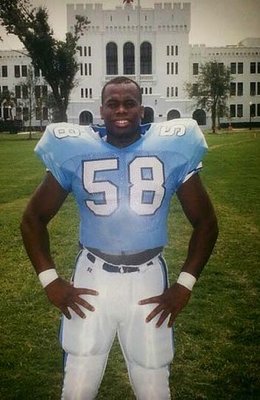 MR: If you play Division One football, as I did, and are a Cadet at the Citadel, you do not have the option of resting to deal with pain and fatigue. You have to ready for football practice, for the game, and for cadet's classes, and for military drills. You have to do what is expected of you.
To be an opera singer one needs the same type of discipline and will power. There are so many facets that come into play, that require great amounts of self-discipline and study. Singing opera is physically demanding as well. None of us can get away with saying that we feel too tired to sing on a particular evening. If I hadn't had the training to be an athlete, I don't know if I could have done opera.
Wm: After graduating from the Citadel, you did not pursue opera, but instead went to work for a blue-chip company.
MR: I had a degree in English from the Citadel, and had considered going to law school, but I went to work for the marketing department of 3M Corporation, then got into sales.
Wm: Many are familiar with the story of your wife Denise setting up an audition for you with Norman Scribner, founder of the Washington D. C. Choral Arts Society of Washington, without telling you. Yet, was that not a turning point in your career?
MR: It was an eye-opening experience. Up until then my performance career was only singing The Lords Prayer at everyone's wedding and the National anthem at sporting events.
I woke up and was told that I had an audition at 1 p.m. that afternoon. I had never done an audition. I knew the Tuba Mirum from the Mozart Requiem, and had that with me.
I drove to the audition. Without having a chance to warm up, he started playing. I took a deep breath and sang. After we finished, he was rather impressed by what I was able to do. He said that he didn't have a voice like this in his Chorus, but that I needed to be singing. So he took me into the Chorus … but he also promoted me about town having me make appearances and sing at various events around town. It was a fun time!
[Below: Morris Robinson, center, in a choral society; resized image of a photograph from Facebook/Morris Robinson, Bass.]
Wm:: Scribner introduced you to the 92-year old Todd Duncan, who created the role of Porgy, who gave you technical instruction. What did you learn from him?
MR: I was introduced to him at Todd Duncan's studio. What he taught me is that I could have a career if I wanted one, but that I had a lot of work to do.
At one of the last lessons I had from him, he played the first ten notes of Ol' Man River from "Show Boat". He asked me if I knew it, and I responded in the negative because I hadn't heard it before. He said, that song is written for your kind of voice and that "You need to learn it because you are gonna make a lot of money singing it!"
It was this experience that caused me to start thinking that maybe I do have a chance to make a career in vocal performance.
Wm: You were working as a corporate salesman for 3M industries when you were accepted into the continuing education program of the New England Conservatory of Music.
You came to the attention of Sharon Daniels of the Boston University Opera Institute, who encouraged you to pursue a professional career in music.
MR: At this point, I had convinced myself that if people who have credentials like Norman Scribner, Todd Duncan and Sharon Daniels, believe that I can make it as a singer, it was something worth pursuing.
Wm: Your early operatic successes included such major comprimario roles as the King of Egypt in "Aida", and subsequently, you have been singing principal roles such as Ramfis in "Aida", Timur in "Turandot", the Grand Inquisitor in "Don Carlos", Sparafucile in "Rigoletto", Zaccaria in "Nabucco" and Sarastro in "Magic Flute".
You have a bass voice that is secure at the lower register, that is a challenge to many of your basso colleagues? Which roles do you feel are particularly suited to your voice?
MR: Conductor Stephen Lord had asked me to audition for the King of Egypt, and I got that role as a result of that audition.
The African-American bass Chester Patton was the Ramfis in this production at Boston Lyric. I was in awe of what he was able to do, yet my drive and ambition made me want to be the LEAD bass . . . so I would practice the high F on Folgere Morte everyday, just to work on my top.
Wm Do you prepare for these roles, that are written in different styles, differently?
MR: I consider myself a technical singer, so I approach everything so as to serve my voice. Ferrando's narrative in "Il Trovatore" is fast-moving, whereas Sarastro sings in long, slow lines. I love singing the Inquisitor in Verdi's "Don Carlos" also.
But I don't particularly seek out roles that fit my voice. I work really hard to make everything sound as natural and as easy as the next. This is difficult as sometimes varying styles fall in close proximity to one another. But I believe if prepared appropriately, I can sing anything.
Wm: Do you feel that there is a role that particularly suits your voice?
MR; I prepare myself for whatever comes next. I don't know if there is any role that is particularly suited for my voice, but I especially enjoy the role of Fasolt in Wagner's "Das Rheingold". That role stands out for me.
Wm: Of "Rheingold's" two brother giants, Fasolt is the one that gets some audience sympathy. What attracts you to the role?
MR: I like playing him because his singing has a long, legato line and sings very much like Italian Bel Canto Roles. His brother Fafner doesn't get to sing that beautifully.
I like the roles that allow me to impress with the size, color and beauty of my vocal instrument. I feel like I'm a salesman who is showing off his wares. I now feel I have the experience and wisdom to incorporate nuances. Using this experience allows me to embody a role emotionally at a different level. I don't feel as though I have to prove that I have a good voice anymore as I tried to consistently do as a younger singer.
Wm: One of my early reports on a Robinson performance was when you sang Fasolt in the Achim Freyer "Rheingold". What was the experience like of working with Freyer, and in performing in that production?
MR: It was a huge learning experience. This was my first time tackling a major Wagner role. I got to work with Eric Halfvarson. So that was worth a million bucks.
It was one of my chances to work with Maestro James Conlon who has been very important to my career. The production itself was an eye-opening experience.
It was my first foray into modernistic interpretations. Freyer's "Rheingold" taught me adaptability. His blocking schemes literally taught me how to think outside the box as during the initial run, Fasolt and Fafner never stepped foot on stage!
Wm: The role of Joe in "Show Boat" has become something of a signature role for you. You appeared in each of the four cities in which Zambello's production has appeared and will be part of the upcoming DVD. What are your thoughts on this role, and do you regard it as a breakthrough role for you.
MR: Originally, I was apprehensive about it. I had a very limited knowledge of "Show Boat" and wanted to avoid any chances of being typecast at this point in my career.
Finally, though, I decided I would give it a shot. I got the score and started studying the role of Joe. The role turned out to be different than I initially conceived it to be.
[Below: Joe (Morris Robinson, center) supervises activities on the wharf; edited image, based on a Cory Weaver photograph, courtesy of the San Francisco Opera.]
I went from suspicion about the role to deciding that it needed to be me who played him. After I became familiar with the role, I didn't want to trust the delivery of this iconic song nor impassioned message to somebody else.
Ol' Man River is a song of protest, of deep thinking, of envying the river, yet metaphorically referencing it as a representation of the carefree life he desires.
Wm: Had you worked with Francesca Zambello before "Show Boat"?
MR: I had worked with her at the Met in her production of Berlioz' "Les Troyens". I sang the role of Mercury.
Joe is the first lead role that I've sung in one of her productions.
Wm: You've worked with several of my favorite conductors, including John DeMain in your "Show Boat" performances, James Conlon for Wagner and Mozart, and Nicola Luisotti for Mozart and Puccini. What did you learn from each?
MR: John DeMain: My first time working with DeMain was Opera Pacific's "Magic Flute". John taught me a lot about phrasing and, in this show in particular, he told me how to save some and keep the audience on the edge of their seats.
Now, with most Mozart, you normally can't do that, but he said "don't do the famous low G on the first verse. Save it for the repeat." I did what he said, and it really had an effect.
[Below: Morris Robinson is Sarastro in a Opera Australia production; resized image of a Branco Gaica photograph for Opera Australia.]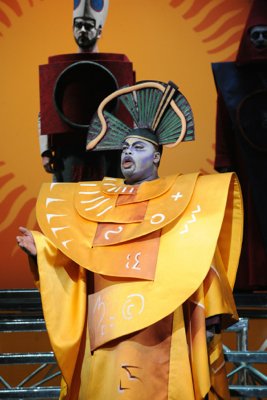 James Conlon: I first met James Conlon at the Met. He took a liking to me right away.
When it came round to the first rehearsal, he ripped me up on everything I sang. He was hard on me, and he would never let up.
Then he turned around and presented me with several contracts. He said, I want you to sing Osmin in Mozart's "Abduction from the Seraglio", Ferrando in "Trovatore", Sparafucile in "Rigoletto", Fasolt in "Rheingold", Sarastro in "Magic Flute".
He taught me that singing opera is not an easy job. There is always something to improve. If it's not nuance it's diction.
I think that he's one of the Old School guys who does things the RIGHT way. Taskmaster if you will, but if you can produce, and he knows he can count on you, he will utilize you. Maestro Conlon has been a tremendous blessing to me and to my career.
Nicola Luisotti: He is like another Conlon. I showed up at the San Francisco Opera for the first day of rehearsal for "Don Giovanni" and he puts me through the normal grind that conductors do when they are working with singers they don't know very well.
He is so musical, and so smart and so fast-paced. In my opinion, Maestro is usually at LEAST four steps ahead of you. I think the WORLD of him and look forward to any opportunity to work with him.
Wm: You were a last minute addition to the cast of "Madama Butterfly" that Luisotti conducts in rotation with "Show Boat". When was it decided that you would sing the role of the Bonze?
MR: I had arrived in San Francisco for rehearsals for "Show Boat" and I ran into Luisotti, who seemed surprised to see me there. Within a few days, I was asked if I would be willing to add the role of the Bonze to my schedule, and I agreed.
Wm: It's a very short role, but one that is often assigned to first rank bassos.
MR: There is a tremendous responsibility that comes with that role. It's three minute of Hell, that is pitched very high and has to be loud and ferocious. There's no easy way to do it.
I'm very appreciative that Maestro Luisotti and this company respects my versatility – that the company thinks of me both as Joe and as an Italian singer. I was blessed to do this.
Wm: Are there other conductors beside the three I named to which you feel an attachment?
MR: James Levine. I spent so much time with him as a Young Artist. He is simply the Best there IS! Maestro would sit in on coachings and play for us . . . give us master classes and work with us on every aspect of our musical presentation.
When you have access to world-class conductors, it's one of the most important parts of building a career.
Wm: You have recorded a series of spirituals, the album titled "Going Home", each track of which seems to have its own musical style and accompaniment, some with the symphony orchestra, others with bongos or synthesizers. How did this come about? What does this album mean to you personally?
MR: I had been invited to sing the National Anthem at a New York Yankee's game. Decca record executives heard me sing and approached me about making an album.
[Below: Basso Morris Robinson; resized image of a photograph from Facebook/Morris Robinson, Bass.]
They said that I would be able to do whatever I wanted to do on the album.
This was a moment when I had just lost my mother, and my son was about to be born. I felt that God had provided me with so much and so many opportunities, that I felt I needed to give something back to Him.
There were so many parts of my life that I had not planned, that I could not have planned, and that I attributed to Him – singing opera beginning in 1999, the extraordinary pace that my career has grown, the opportunity to to work with the conductors with whom I've worked, and to sing on the stages on which I have sung.
All of this came together because of God's will. That is why, when given the opportunity to do a project like this, I chose to give it back to God.
Wm: You live in Atlanta, as do such other African-American singers as Lawrence Brownlee and Kendall Gladen. Do you, as a group, work with the historic Black colleges there, such as Morehouse and Spellman?
MR: We do not, but I think I can speak for all of us that would be very pleased to work with those institutions, should we be invited to do so.
Wm: I assume that with your career as an operatic artist is more personally satisfying that your work for a big corporation?
MR: When I was working for corporate America, my goal was making money. Now I am doing something that is my calling, and for which God has blessed me.
I have been blessed with an opportunity to utilize my gifts to communicate with people on an emotional level.
Not everyone is capable of doing so . . . and for this I am eternally grateful!
Wm: Thank you Morris. I appreciated conversing with you.
MR: Thank you also.
For my reviews of Morris Robinson performances, see: House of Puccini: Jun Kaneko's Enchanting "Madama Butterfly" Soars at War Memorial – San Francisco Opera, June 15, 2014, and also,
Aboard San Francisco Opera's "Show Boat": Showy Cast, Abundant Show-stoppers – June 1, 2014, and also,
Team Zambello Shows off "Show Boat" to Chicago's Lyric Opera – March 14, 2012, and also,
Meachem, Vinco, Lead Cast of Imaginatively Staged "Don Giovanni" – San Francisco Opera, October 23, 2011, and also,
Achim Freyer's Fascinating "Rheingold" Begins L. A. "Ring" – March 11, 2009, and also,
Shining L. A. Opera "Magic Flute" on Sunny Matinee Day – January 11, 2009.