Composer Tobias Picker's 2005 opera based on Theodore Dreiser's 1925 novel, was presented at the 2014 Glimmerglass Festival in a revised version, directed by Peter Kazaras.
[Below: Director Peter Kazaras, resized image, based on an Alan Alabastro photograph for Seattle Opera.]
In its previous form, the opera had been commissioned by the New York Metropolitan Opera in a production that starred Nathan Gunn as the amoral Clyde Griffiths, and Patricia Racette and Susan Graham as, respectively, Roberta Alden, the factory girl Clyde impregnates and Sondra Finchley, the society woman who looks upon Clyde as a potential husband.
[Below: Gilbert Griffiths (Daniel T. Curran, above, right) introduces his cousin Clyde Griffiths (above, second from right, beneath clock) to the shirt manufacturing factory floor; edited image, based on a photograph, courtesy of the Glimmerglass Festival.]
The stage director of the Met's 2005 production, Francesca Zambello, whose administration of the Glimmerglass Festivals began in 2011, suggested the idea of reviving the opera in a revised form for the more intimate surroundings of Glimmerglass' Alice Busch Theater, casting the three  principal roles with Glimmerglass Young Artists.
[Below: Clyde Griffiths (Christian Bowers, right), defying the rules of the factory that hires him, becomes sexually involved with Roberta Alden (Vanessa Isiguen, left), one of the workers he supervises; edited image, based on a photograph, courtesy of the Glimmerglass Festival.]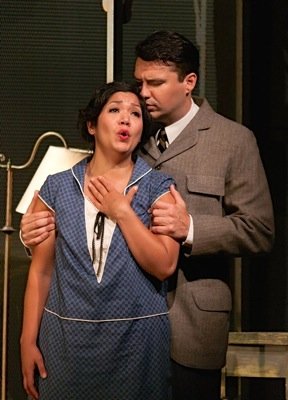 Picker and his librettist Gene Scheer (inspired in part by the theatrical pacing of Jake Heggie's "Moby Dick", whose libretto Scheer wrote) made several important changes.
They jettisoned the early scenes giving Clyde's "back story" of growing up in a missionary family and working as a hotel bellhop.
[Below: the socialite Sondra Finchley (Cynthia Cook, center left) interested in Clyde Griffiths (Christian Bowers, center right), invites him to a social event; edited image, based on a photograph, courtesy of the Glimmerglass Festival.]
In other changes, Clyde's motivations during the scene of Roberta's drowning were made more ambiguous, his mother's desire that he confesses his sins is somewhat muted, and, before Clyde's electrocution, a vision of Sondra invades his mind.
What remains is a more consistently theatrical piece that centers all action around Clyde's sexual desires and his quest for social status.
[Below: Sondra Finchley (Cynthia Cook, left) invites Clyde Griffiths (Christian Bowers, right) to join her at the lake shore; edited image, based on a photograph, courtesy of the Glimmerglass Festival.]
Picker's score is richly orchestrated and through-composed. George Manahan, an expert on Picker's works, conducted persuasively.
Using physically attractive Young Artists for the trio of principal roles lends to the dramatic impact. One notes that each of the three Young Artists have taxing parts.
Bowers' Clyde Griffiths is rarely off-stage. Both Vanessa Iniguin's Roberta and Cynthia Cook's Sondra have an abundance of long legato lines sung in the upper parts of their vocal ranges.
[Below: the Reverend McMillan (center front) preaches a Biblical parable to his congregation; edited image, based on a photograph, courtesy of the Glimmerglass Festival.]
Some of score's highlights include a church scene in which Picker's dramatic choral writing is used effectively.
Among the most gripping scenes is that of Roberta's drowning, in which Clyde tries to convince himself that he is witnessing an accident, while doing nothing to prevent the drowning of the person whom he wishes to disappear from his life.
[Below: Clyde Griffiths (above) lets Roberta Alden (Vanessa Iniguin, below) drown; edited image, based on a photograph, courtesy of the Glimmerglass Festival.]
The "law and order" scenes which follow are especially fascinating, beginning with the appearance of Minnesota bass-baritone Thomas Richards as Attorney General Orville Mason.
Mason revealed that Clyde Griffiths' efforts to cover up a premeditated murder had left too many easily discovered loose ends.
Clyde's protests that the drowning was accidental seemed sufficiently heartfelt to his Christian missionary mother (powerfully sung and acted by veteran soprano Patricia Schuman) that she tried to persuade the family's politically-connected patriarch, Samuel Griffiths (Ukrainian baritone Aleksey Bogdanov), to use his influence to get her son set free.
[Below: Clyde's mother Elvira Griffiths (Patricia Schuman, right) pleads with Samuel Griffiths (Aleksey Bogdanov, left) to take a visible role in the defense of her son; edited image, based on a photograph, courtesy of the Glimmerglass Festival. ]
But on cross-examination all of Clyde Griffiths' alibis and assertions crumble, and signalled by brief chords, Griffiths – convicted by a jury and sentenced by the judge – is executed in New York State's electric chair.
[Below: District attorney Orville Mason (Thomas Richards, center) refutes the arguments of Clyde Griffiths (Christian Bowers, right) that the drowning was an accident, while the trial judge (Matthew Scollin, left, rear) looks on; edited image, based on a photograph, courtesy of the Glimmerglass Festival.]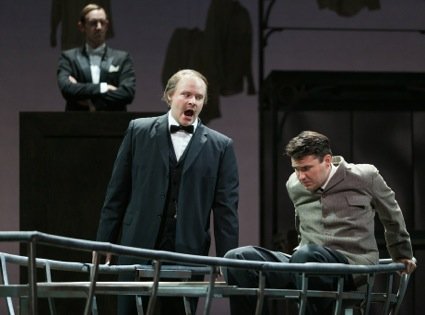 Composer Picker and librettist Sheer have demonstrated that Dreiser's lengthy novel contains material that translates well into the operatic form.
Their latest revisions go a long way towards refashioning a work that will assure it has some staying power as part of the American operatic repertory. The Glimmerglass Festival's production and staging is theatrically valid, and resourcefully exploits the opera's absorbing scenes.
It is remarkable that Glimmerglass' Young Artists are assigned virtually every part, including the treacherously difficult singing required of Iniguin's Roberta and Cook's Sondra, as well as the physical and vocal stamina that is expected of Bowers' Clyde.
The results are a credit not only to the abundant talents of the Glimmerglass Young Artists, but also to the national pool of high quality American opera singers that Glimmerglass and other Young Artists programs are able to draw from.
California tenor Daniel T. Curran sang the role of Gilbert Griffiths. Texas soprano Jennifer Root is Elizabeth Griffiths. New Hampshire soprano Meredith Lustig iss Bella Griffiths. Michigan bass-baritone Matthew Scollin is the Judge.
New York soprano Samantha Guervekian is Grace. New York tenor John Kapusta is Reverend McMillan.
Eric Sean Fogel was the choreographer. Alexander Dodge created the very effective sets. The production's lighting was designed by Robert Wierzel.
Recommendation
I recommend this to the fans of Picker's operas as an exemplary presentation of "American Tragedy" and for all opera-goers who wish to see well-performed, intelligently-staged productions of 21st century American works.
For my review of another Tobias Picker opera, see: World Premiere Review: Patricia Racette's Gritty "Dolores Claiborne" at San Francisco Opera – September 18, 2013.
See also Facebook/ Opera Warhorses