The following interview took place with the deeply appreciated facilitation of the San Francisco Opera.
[Below: Baritone Michael Todd Simpson; resized image, based on a publicity photograph.]
Wm: You are from Gastonia, North Carolina. Are you from a family with deep North Carolina roots?
MTS: Our entire family, including aunts and uncles, grew up on the same road. My great grandfather lived a mile down the road from us. We lived in a small town where we saw each other every day. We had a much different upbringing than most Americans experience.
My wife and family live in Seattle, and I'm afraid, though, that I don't get home to North Carolina as much as I'd like.  
Wm: What are your earliest memories of music, and of singing? 
MTS: My earliest memories of singing were as a five-year old in our local Baptist church. My dad would put me on a chair behind the pulpit so I could reach the microphone. Singing was always something that was fun for me as a child.
I would sing in church and at school at any opportunity. It was always something that brought people around me joy.
Wm: More than one opera singer I have interviewed has had a background in gospel singing.
MTS: Well, I wouldn't quite call myself a gospel singer. But, growing up singing in church teaches you the most valuable lesson for a singer. I learned at a very early age how to interpret songs, convey their meaning, and sing from the heart. I feel no matter what you background or belief system as a singer you feel a  power beyond yourself.
Wm: Have you found that your experience with the dramatic music associated with the charismatic religions has impacted your operatic performance?
MTS: Absolutely. Southern gospel and bluegrass are just a few steps away from Puccini and Mozart.
Wm: Did you take part in your high school musical?
MTS: Actually, no. Theater and choir were separate activities in my high school. But I did participate in a few summer community theater festivals. I got to play Olaf, the bass part in the Barbershop quartet in The Music Man and Lun Tha in The King and I.
[Below: Michael Todd Simpson; edited image, based on a Rebecca Fay photograph, from michaeltoddsimpson.com.]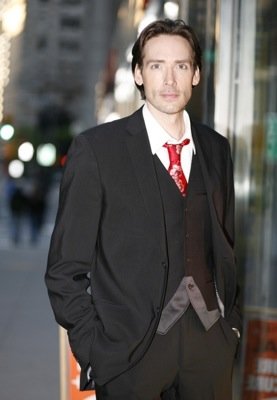 Wm: You attended Erskine College, a Christian college in Northwestern South Carolina, where you obtained a degree in musical performance. What experiences at the undergraduate level furthered your career?
MTS: As a undergraduate, I concentrated on church music, oratorio and art song.
There were two key moments that helped determine my future. I took part in a vocal competition, the South Carolina National Association of Teachers of Singers, in which I took first prize in my junior year (1996).
One of the officials there, who taught at the University of South Carolina (USC) in Columbia, asked what my plans were – whether I was pursuing a career in church music or in music education.
He suggested that I consider entering the Masters program at USC. That conversation caused me to think seriously about pursuing vocal performance at the collegiate level.
Wm: But you didn't obtain your masters in South Carolina. How did you choose to apply to the Cincinnati Conservatory of Music?
MTS: Dr John Brawley, my theory professor, was very influential in recitals and boards. At one recital he said: "You know, son, that if you really apply yourself you have what it takes. The sky is the limit!"
I was 21 at the time and knew that so far I had been lucky. I decided that as long as the doors keep opening, I'll continue to go through them. Dr Brawley died my junior year, before the NATS competition.
I only applied to CCM. I had one lesson with Barbara Hahn, who later became my teacher. I asked her if she thought I could get in.  She laughed and said sure, if I sing well at my audition. I guess I did.
Wm: You obtained a Masters in Vocal Performance at the Cincinnati Conservatory of Music, which appears to be a good school for an opera singer with an affinity with musical theater. What did you learn there?
MTS: First, I learned that at CCM you can't do musical theater and opera at the same time.
I told the Dean of Admissions that I wanted both, but a Masters degree in musical theater didn't exist, so I was told that to obtain a Masters from CCM, I would have to concentrate on classical voice and opera.
In fact, when I was at CCM, the musical theater department performed Bernstein's Candide. A couple of fellow students and I requested to audition, but none of the opera students were allowed.  It's too bad. I would have loved to play Maximillian.
Wm: When you finished your masters at CCM you become a member of the Seattle Young Artists Program and after that a Glimmerglass Festival Young Artist?
MTS: Yes, I was pursuing my DMA at CCM, their postgraduate opera-training program. I left the program in the spring of 2003 after being accepted into the Seattle Young Artist Program for the fall.
That summer was my first at Glimmerglass. I drove cross-country between Seattle and Glimmerglass for three years. I am so grateful for those experiences. I feel like they really helped me bridge the gap between university life and the professional world.
Besides figuring out how to sing and getting lots of performance experience, I found the best manager in the business (Caroline Woodfield, and thankfully she took me on) and had the opportunity to audition for many prominent casting directors.
Wm: I've found that once an artist has been selected by a certain Young Artist program, that there is considerable loyalty to that program and the opera company sponsoring it. Do you feel it has given you a special relationship with the Seattle Opera?
MTS: I really do. Every time I return to Seattle Opera as a principal artist, it feels like a homecoming. It's such an open, fun work environment, and the people are amazing to work with.
I owe so much to Seattle Opera's Speight Jenkins. He has given me so many opportunities for which I will always be grateful.
Yes, I feel loyal to Seattle Opera, but more than that I feel like Seattle Opera has been loyal to me. My wife, Julia, and I actually live in Seattle now, and it's nice to be more connected to the happenings at Seattle Opera. We love Seattle. It's one of the most beautiful places on earth.
Wm: I first saw you as Guglielmo in John Cox' production of Mozart's "Cosi fan Tutte" at The Dallas Opera in 2010. What were your impressions of working with this famous British director?
MTS: John Cox was incredible. What I remember most about John is that whenever we had a question about blocking or interpretation in a scene, he would eagerly jump up on stage and act out the scene, showing us exactly what he had in mind. It was awesome, and really entertaining!
The whole experience of putting of putting the show together was unforgettable. I had been looking forward to sharing the stage with Sir Thomas Allen as Don Alfonso and Nuccia Focile as Despina.
Wm: In my interview with your Fiordiligi, Elza van den Heever, she made the point that Cox spent time with her teaching her when to stand still and project calm.
MTS: John told me the first day of staging that he would teach me the proper staging for the count or I could do my own thing, he didn't care. But I understood what he meant. He knows what works, including those moments that need so little, as Elza was describing.
Wm: You took over the role of Escamillo in the 2011 Glimmerglass Festival production of Bizet's "Carmen" in Francesca Zambello's first season there. You had sung in several Glimmerglass seasons before Francesca took over. Had you worked with her previously?
MTS: Yes, I had. I sang my first Escamillo in Francesca's production of Carmen at Opera Australia in Sydney in 2009. That was my first experience working with her. I loved that show because I got to make my first entrance on horseback, singing my Toreador aria.
[Below: Escamillo (Michael Todd Simpson, on horseback) arrives to promote his bullfight; edited image, based on a production photograph for the Opera Australia.]
Wm: How did you come to her attention as Escamillo?
MTS: I was singing Silvio in Leoncavallo's I Pagliacci in a Cav/Pag with Virginia Opera. And it just so happened that my wife Julia was visiting at the time and we were out on the beach.
My agent rang and said Francesca was looking for an Escamillo and wanted to know if I could audition for her in Washington D. C. – in two days!
The aria was not even part of my rep at the Time! I hadn't looked at the role since my undergraduate days when a teacher was crazy enough to suggest I learn it. I re-learned it in two days, feverishly memorizing the French as we strolled along the beach.
I knew how big of a deal this would be for my career, so that really lit a fire under me. Somehow, I pulled the audition off. Francesca hired me under two conditions – I had to study with Pierre Valet and I had to lose 25 pounds.
Wm: I always make the point that the Toreador Song may be familiar to everybody, but that doesn't mean it's easy to sing.
MTS: It is one of those arias and one of those roles that is deceptively difficult. Everyone from basses to bass-baritones to lyric baritones like myself have attempted this role – and it's difficult for all. I think very few have actually succeeded in this role – Sam Ramey comes to mind as a stellar Escamillo.
But, as a lyric baritone, my Escamillo is a totally different color and character. I have been working for years on this aria, off and on.  It really demands a high level of technical mastery. I feel fortunate to be able to grow into this role, and I feel I am still doing just that.
My next Escamillo is coming up in a couple of years and I'm excited to see where my voice will be, because I think that this role is well suited for me.
Wm: Since then, you've sung Gaylord Ravenal in Zambello's production of "Show Boat" and have been cast in a role in her production of "Florencia en el Amazonas" in Washington, D.C. Do you think of yourself as one of Francesca's company of artists?
MTS: I would be honored to place myself in that company. A lot of the opportunities I have gotten have come from both good timing and being ready for anything – a last minute audition or casting change. And I've been crazy enough to go for it and say yes, even to roles that are still growing and developing in the voice. When Francesca says "Jump", I say "How high?"
[Below: Gaylord Ravenal (Michael Todd Simpson, right) and Magnolia Hawks (Heidi Stober, left) "make believe" that they are in love; edited image, based on a Cory Weaver photograph, courtesy of the San Francisco Opera.]
Wm: You've had the advantage of being called upon in several last minute casting changes the past few years, have you not?
MTS: Well, yes. It's been the story of my career that I have been able to replace someone in a role at the last minute. Getting those calls are really exciting and scary at the same time.
I've gotten calls for last minute auditions or to replace someone right away for entire or partial runs of performances, sometimes for a show I haven't sung in a year or more. I work well under pressure and fortunately all of these last minute opportunities have really benefitted my career.
Wm: In "Show Boat" when Captain Andy asks Ravenal if he is a quick study, and Ravenal replies yes, Andy may be talking about you as well as your character.
I can't pass by the opportunity to talk about the role of Silvio. I wrote the program notes for a production of Gounod's  "Romeo and Juliet", in which I made the point that Gounod, in "Faust", really created or at least popularized a new way to express the emotion of love in opera. I call it "sweet melody". Silvio's love song to Nedda, I think, is a perfect expression of this idea.
MTS: One of the first pieces that Barbara Hahn assigned me at CCM when I was 23 or 24 was Silvio's music. She said for me to learn this inside and out. She knew it would fit my personality and that I'd be singing it for a long time.
Right away, I was offered the role of Silvio by The Dallas Opera, in Stephen Lawless' production.  The production then traveled to the New York City Opera, the Palm Beach Opera and the Pittsburgh Opera. I did five Silvios in five years.
It is one of those roles that is so true to the drama that you don't have to do much else. You can let the musicality speak for itself. I call it "riding the wave". Going from the aria to the duet is erotic ecstasy. It's otherworldly!
Wm: When you take on a part like Gaylord Ravenal, do you work out the character's backstory, covering the four decades of his life.
MTS: I found most of the work on the character came in the rehearsal room, especially since I was hired only a few weeks before rehearsals started in D. C. and preparation was rushed.
But I found the book to be the biggest help in learning about this character. Now, after the second time working on this role, my understanding of Ravenal has absolutely deepened, but most of this really comes from collaboration in the rehearsal process.
Wm: One of Francesca Zambello's ideas that I find so interesting is that opera singers should be trained in dancing, like so many musical theater artists are.
MTS: It really is a collision of worlds. Working in Show Boat with all these expert dancers is definitely a humbling experience, and I do get a hard time about the few dance steps that Ravenal has – they make fun of my shuffle every time! I do plan to take some dance lessons in my off time.
Wm: Besides Gaylord Ravenal, you sing Billy Bigelow in Rodgers and Hammerstein's "Carousel" – two roles that share the lyrics of Roger Hammerstein II.
You perform opera in several languages. Do you look forward to roles with poetic lyrics originally written for artists to sing in English?
MTS: Yes, I do look forward to singing in English.
Some singers I know prefer singing in anything but English. I personally love it, especially in this genre. This season I have had the privilege of singing three works in English: Demetrius in Britten's  A Midsummer Night's Dream, John Sorel in Menotti's The Consul, and of course, Ravenal in Show Boat.
All of these roles are of vastly different styles. But I think singing in English presents a different challenge because you're singing to an English-speaking audience. But it also helps me connect more deeply to the characters and the text.
I seem to have a certain affinity for English diction. So yes, I really enjoy it and hope to do more contemporary American works in the future.
Wm: It's too bad there isn't a big lyric baritone role for you in Floyd's "Susannah".
MTS: Well, I wouldn't mind some day trying out the role of Olin Blitch in Susannah.
Wm: "Carousel" takes place in New England, but the role of Billy Bigelow fits nicely with a Heartland American accent, even one with a hint of the South.
MTS: I played Billy with a bit of Southern, but mostly as a nomad who loses a bit of his accent as he moves north.
Wm: What were the "Carousel" accents like in Britain when you sang Bigelow there?
MTS: The cast was mostly British and the accents were amazing, mostly a coastal Maine dialect.
Wm: What roles would you like to sing?
MTS: New roles? If we're talking musical theater: Sweeney Todd, Emil Debeque (South Pacific), Lancelot (Camelot), and Don Quixote (Man of La Mancha) are on my short list. For opera, I'd love to sing Billy in Billy Budd, Valentin in Faust and eventually Eugene Onegin.  But truthfully, I'm really excited to revisit my old standards because I'm coming into my prime in roles like Marcello in La Boheme, Escamillo and Don Giovanni.
[Below: Michael Todd Simpson as Marcello in Puccini's "La Boheme"; edited image, based on a production photograph for the Seattle Opera.]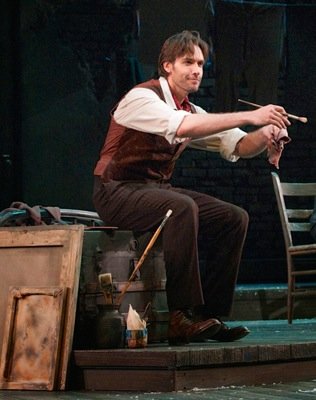 Wm: What about the Romantic era classics like Wagner and Verdi?
MTS: Puccini is probably as big as I will get with this lyric baritone. I would like maybe to sing Posa in Verdi's Don Carlo, but that is the only Verdi I expect ever to get close to.
I'm doing the Herald in Wagner's Lohengrin in 2017, but I doubt I will be belting out Wotan in my future. But who knows?
Wm: Returning to the subject of "Show Boat" I've frequently made the point that San Francisco Opera's War Memorial Opera House is a perfect place to hear the operas of Wagner and Puccini, two composers who use the full sound of a large orchestra as a key element of the drama. What are your thoughts on "Show Boat" being performed in the War Memorial?
MTS: I think it is a perfect house for Show Boat. The music of Show Boat, especially the duets, are very "Puccini-esque" – the warm acoustics of the War Memorial are perfect for natural singing voices.
Wm: How does the acoustics of the house affect you as a singer?
MTS: It affects everything you do. I sang Carousel at the Barbican in London, where the acoustics are so dry. I think the sound is dead by the time it reaches the second row of the audience. It's like trying to sing into a pillow.
It's scary singing in a non-responsive hall. You end up singing tentatively just trying to get your bearings and hear what the hall is giving back to you. But if the hall is welcoming, you can go all out and have confidence that the audience is hearing what you want them to.
Singing at the War Memorial Opera House is like singing in the shower. It just feels good.
Wm: One of the arguments that I have been making is that Americans have produced two rich source of memorable melody, which I believe should be exploited in creating American operas in the future. These include the American musicals and the film scores of the blockbuster Hollywood movies.
The composer that has tapped into these sources, I believe, is Jake Heggie, most obviously in his opera "Moby Dick".  What are your thoughts on this observation?
MTS: Like you, I was fortunate enough to be in Dallas to see the premiere. I love Jake's writing and would love to work with him someday. His writing is striking, both musically and visually as you see in Moby Dick.
I do agree with you that American opera is going to see a rebirth, a new way of writing that incorporates many different styles from our American heritage – from jazz to gospel to the American musical.
American opera is becoming more grand, more visual, especially with the trend towards Opera in HD for the big screen.
Wm: I can't leave you without confessing that in a review of one of your performances I garbled your name! Fortunately, with the Internet a mistake like that can be corrected eventually.
MTS: That's right! I had forgotten that. I looked at this good review and I said "he's got my name wrong". Apology accepted!
Wm: Thank you for your time. I enjoyed our very interesting conversation.
MTS: Thank you also.
For my reviews of Michael Todd Simpson performances, see: Aboard San Francisco Opera's "Show Boat": Showy Cast, Abundant Show-stoppers – June 1, 2014, and also,
Costa-Jackson, Diegel, Matanovic and Simpson Excel in Glimmerglass Opera's "Carmen" – August 13, 2011, and also,
Bel Canto "Cosi fan Tutte" at Dallas Opera – February 18, 2010.