The following conversation took place at the War Memorial Opera House in San Francisco. with the deeply appreciated facilitation of the San Francisco Opera.
[Below: Lyric tenor Saimir Pirgu; edited image of a Fadil Berisha photograph, courtesy of Saimir Pirgu.]
Wm Saimir, this is my first opportunity to congratulate you on your Edgardo in Donizetti's "Lucia di Lammermoor" at the Los Angeles Opera, in a new production, opposite Albina Shagimuratova's Lucia. Although you've sung Rinuccio in Puccini's "Gianni Schicchi" (just before you turned age 27) and Ferrando in Mozart's "Cosi fan Tutte" there, I think that your Edgardo really gave Angelenos a sense of the power and beauty of your lyric voice.
SP: I have a big spot in my heart for the public of Los Angeles. All the critics said wonderful things about the performance. I was happy that all of us performed at such an accomplished level. It was such a good feeling working again under the baton of Maestro James Conlon. It was a wonderful time in Los Angeles.
[Below: Saimir Pirgu as Alfredo in the New York Metropolitan Opera's 2013 production of Verdi's "La Traviata"; edited image of a Ken Howard photograph, courtesy of Saimir Pirgu.]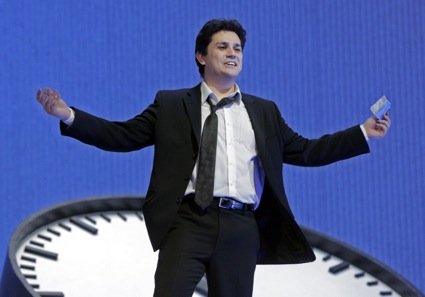 Wm: In a few days, you will be singing one of your signature roles, Alfredo in Verdi's "La Traviata", reunited with Nicole Cabell, who was Giulietta to your Tebaldo in your San Francisco Opera debut in Bellini's "I Capuleti e i Montecchi".
But Alfredo is a much more of a lead role than Tebaldo. Is it personally satisfying to have sung a major role in each city in which you perform?
SP: Alfredo is a role which an artist must sing and act well and it is one of the roles that has provided me with an opportunity to sing in many of the world's most important opera houses. I've sung the role of Alfredo at the Vienna Staatsoper, at the Royal Opera House Covent Garden, at the Metropolitan Opera and at the Santa Fe Opera, among others.
I'm very pleased with John Copley's historic production of "La Traviata" that will be revived in San Francisco. I've done both classic and modern productions. I think, though, that people will like this classic production, which I think will be a great success in San Francisco.
Wm: Following up on that, although you have an international career, do you as an artist have a separate relationship with each city's operagoers?
SP: I'm a European singer and have had great successes in London and Vienna. However, if you don't perform in the United States, U. S. audiences will not know who you are, and that limits a career. I spend several months a year in the United States.
Wm When I last spoke with you, it was just before your September 2012 debut at San Francisco's War Memorial Opera House. During your run of performances here in June of 2014, you will fly to Zurich for performances there as well. How do you adjust your voice to a small house like the Zurich Opernhaus and one perhaps three times its size like the War Memorial or the Metropolitan Opera?
SP: I don't think that most experienced opera singers – certainly not me – sing differently in a small house than in a large house. In the U. S. most of the major opera houses are very big. In Europe, the theaters are smaller. I think the smaller houses allow everyone in the audience to see and hear well.
Even though I have had successes in the larger houses such as the Metropolitan Opera and here at the War Memorial Opera House, I really think that these houses are just too big for the human voice.
Your voice only projects so many meters. Techniques differ on how to project one's voice. I do try to project a bit more in a large house, but I don't try to push my voice to match the house.
Young artists can be tempted to push their voices, so as to accommodate the largest American houses, but over time that can turn out not to be a good thing.
[Below: Saimir Pirgu as Alfredo and Nicole Cabell as Violetta in the 2014 San Francisco Opera production of Verdi's "La Traviata"; edited image, based on a Cory Weaver photograph, courtesy of the San Francisco Opera.]
Wm: Conductor Claudio Abbado, with whom you are closely associated, recently died.
SP: It has been a sad year for me, because I lost both my father and my friend and mentor, Claudio Abbado, within a short amount of time. To lose your father is not easy, and to lose two people who made such powerful influence of my life in so short a period of time makes me very sad.
When I was twenty-two, I started to work with Abbado. Without him I would not be singing in the major opera houses. He told me that I would have an important career. He said that he could hear that I had an intuition about the musicality of the music I was singing, but that I had not yet developed a technique.
Wm: As we discussed in my interview with you, Abbado's interest in you was piqued because you are an Albanian, and had the right voice for Ferrando, who, in the plot of "Cosi fan Tutte" is disguised as an Albanian for half the opera.
SP: Without a doubt, but it is what made my career! He worked with me on the proper technique to sing the role of Ferrando and promoted me to major opera houses. I'm so grateful that I came to his attention and that he took me on as a colleague.
Wm: the Albanian connection in Mozart's opera, promoted by Abbado, has resulted in your becoming an international symbol of the Albanian nation and culture.
SP: I'm proud to be an ambassador for my country and a representative of its culture. There are not many Albanian people worldwide, and I so pleased that my success in opera has given me the opportunity to speak on behalf of my nation.
[Below: a poster announcing a Saimir Pirgu concert in Tirana, Albania, to raise funds to combat Down Syndrome; edited image of a poster, courtesy of saimirpirgu.com.]
Wm: As a child did you speak only Albanian or other languages as well? Albanian is noted as being different from virtually every other language. In how many languages are you fluent, and which others do you sing?
SP: I spoke only Albanian as a child. I never learned another language until I started to travel to Italy, Germany, France and the United States. I learned the languages of those countries because I needed to be able to work there. Knowing Albanian didn't help me learn any of the other languages.
Wm: You will be singing the Role of the Shepherd in Polish with Marius Kwiecien in "King Roger" at the Royal Opera House Covent Garden. Have you a had a chance to dig into that role, and its message?
SP: It will be a new production, so I will wait until closer to the time to find out how the director wants us to approach it. There'll be time for that. Although I've never seen the opera performed, I have the score and will begin to dig into it shortly over the next months. There be plenty of time to talk about "King Roger" later.
In the meantime, I will concentrate on my Verdi roles – I have more Alfredos coming up and also will be singing the Duke of Mantua in "Rigoletto".
Wm: In addition to Abbado, we've conversed previously about the importance of Riccardo Muti to your career. Now here in California this year you worked in star roles with the music directors of the two largest opera companies, James Conlon in Los Angeles and Nicola Luisotti in San Francisco. What is it like working with these conductors?
SP: Every one of these great conductors has so much experience. It is necessary for an artist who wishes to have an international career to be able to work with conductors of their caliber.
Wm: Most singers are proud to have these big names on their resumes, just as you are. But it's not just their star quality. Each brings you an opportunity to learn something more of your craft.
SP: Exactly! Luisotti and Conlon are stars, but the most important thing about working with them or another great conductor is to learn whatever you can. By the way, this goes for the entire musical staff of an opera company.
Wm: You are a runner. Where do you do your running when you are in San Francisco?
SP: In San Francisco, because the weather can be so changeable, I go to the gym. There is too much wind for me. I prefer to run in Los Angeles, because there are all those parks that are great places for a runner.
Wm: You're still in your early thirties, and slowly adding other repertory. When we talked last, you indicated you would try to add a role a year.
SP: My repertory is based in a lyric repertory, which I feel is just right for my voice. I don't want to go fast in adding other repertory. I'm comfortable with the Donizetti roles, such as Edgardo and Nemorino and in the early Verdi roles, particularly the Duke of Mantua and Alfredo.
Wm: You were mentored by Pavarotti, and these are the roles that he sang at your age. In fact, in his first eight seasons in San Francisco, all of them when he was still in his 30s, he sang all Donizetti and early Verdi, except for Rodolfo in Puccini's "La Boheme", which he considered his "lucky" role.
SP: What were his roles here during those years?
[Below: Tenor Saimir Pirgu, recipient of the 2013 Pavarotti d'Oro, stands next to the poster announcing his "Omaggio a Luciano Pavarotti" award in Correggio, Italy; edited image of a photograph, courtesy of Saimir Pirgu.]
Wm: He did Rodolfo first with Mirella Freni, then two years later with Dorothy Kirsten. He did Edgardo with Margherita Rinaldi, Nemorino, Riccardo in Verdi's "Ballo in Maschera", Edgardo with Beverly Sills, Fernando in Donizetti's "La Favorita" and Rodolfo in Verdi's "Luisa Miller" with Katia Ricciarelli.
When he turned forty in 1975, he moved into heavier roles beginning with Manrico in Verdi's "Il Trovatore" with Joan Sutherland, then two years later, Calaf in Puccini's "Turandot" with Montserrat Caballe (with whom he did Cavaradossi to her Tosca the next season), then Enzo in Ponchielli's "La Gioconda" with Renata Scotto, and finally Radames in Verdi's "Aida" at age forty-six in Kurt Herbert Adler's last season as general director.
After that, he repeated a couple of the earlier roles, but he never had the relationship with the later general directors that he had with Adler, so he pretty much disappeared from San Francisco.
SP: Pavarotti's roles followed the way his voice grew, and we will see what happens with my voice. I will try different roles, but there is a great risk to one's career. It's not just the weight of the role, although trying to sing too heavy a role can injure the voice. One has to also be aware of the pressure placed on you by expectations of the audience.
Wm: What are examples of these pressure roles?
SP: Any tenor that adds Cavaradossi or Calaf in Puccini's "Turandot" has to know that the audience is waiting for his entrances and especially his big arias.
Wm: Thanks in no small part to Pavarotti's celebrity. How does your perception of what the audience expects affect your choice of repertory?
SP: I want to be very good as Alfredo. If a lyric tenor isn't great as Alfredo, then he can try to do Nemorino, because the audience will help him out a bit.
But I would never agree to add a role like Massenet's "Werther" and debut it at a big opera house like the Met with its audience. The role of Werther is bigger than the typical lyric role.
I sing Gounod's "Faust" and "Romeo" in Gounod's "Romeo et Juliette". In the future, I can see myself singing such French roles as Hoffmann in Offenbach's "Tales of Hoffmann" and Des Grieux in Massenet's "Manon". I would also expect to add Riccardo in "Ballo", but would expect to mix it with lots of Donizetti in the seasons I sang it.
Wm: I have often made the point that three composers often lumped together – Donizetti, Bellini, and Rossini – each developed a distinctive style. What is happening now is that there is a whole group of tenors who have become specialists in a more authentic Rossini style than the mid-20th century, when there was virtually no "Rossini tenor role" other than Almaviva in "Barber of Seville".
SP: I don't plan to sing Bellini roles in the future. I agreed to do Tebaldo, because I was offered it for my San Francisco Opera debut. That appearance was important to me, but I much prefer singing Alfredo and would want to do other Verdi and Donizetti roles here.
Wm: I attended a lecture by Conductor James Conlon who made the point that Donizetti was a musical conservative who used all the conventions of early 19th century Italian opera. Yet, it's my argument that Donizetti was radical in his dramatic and theatrical uses of those conventions and that Verdi's work is a direct outgrowth of Donizetti's.
I believe one can take the twenty-three years between Donizetti's "Anna Bolena" and the two Verdi masterpieces he composed simultaneously – "Il Trovatore" and "La Traviata" – one sees the harnessing and improvement of the Italian conventions in an increasingly powerful use of music used to promote drama.
SP: I agree that both Donizetti and Verdi understood the theater and wrote music that enhances the drama. In both Rossini and Bellini the music is dominant, but with Donizetti, and especially with Verdi, the words and music go together closely.
Throughout his career Verdi worked to perfect his style, and made choices that enhanced the dramatic effect, even if it resulted in battles with censors. By the time he composed the music for the blasphemous words of Iago's Credo in "Otello" he had reached that perfection. Verdi's "Otello" is truly a theatrical piece, like Shakespeare's "Othello".
Donizetti and Verdi were successful in doing this, because both were men of the theater, like Mozart.
[Below: Saimir Pirgu as Alfredo with Natalie Dessay as Violetta in the 2008 Santa Fe Opera production of Verdi's "La Traviata"; edited image, based on a Ken Howard photograph, courtesy of Saimir Pirgu.]
Wm: And, of course, Donizetti's teacher, mentor and adviser, Simone Mayr, was a close student of Mozart's operas.
Both the operas of Donizetti and Verdi advanced new styles of singing, particularly the tenor voice in Donizetti, and all the voices from mezzo-soprano to basso in Verdi.
Some of Donizetti's and Verdi's contemporaries felt the new styles were destructive of the human voice, but, from the distance of time, that clearly was not the case.
SP: The secret of Verdi's vocal music is that it is grounded in bel canto technique. Verdi knew voices. There are many of Verdi's roles, particularly the ones that we think of as written for "big voices", that I do not plan to sing until after I turn forty, yet, I know, that even the big roles, if I were to sing them with the technique that Verdi expected, I would not be in danger of injuring my voice.
That can't be said of the big Puccini roles, such as Des Grieux in "Manon Lescaut", or the other verismo roles, such as Giordano's "Andrea Chenier". Young singers can wreck their voices trying to sing them too early, or if they don't have a voice with the vocal weight that these roles require.
Wm: We know that Verdi disapproved of Wagner and of Wagner's Italian disciples, such as Puccini, Giordano and Mascagni, because they required the singers to sing above an orchestra playing at full volume. Obviously, the theatrical effect is extraordinary, but Verdi, and I believe you, would argue that the effect comes at a great price.
SP: I have worked on vocal technique with the great conductors and singers we have been discussing. As far as I'm concerned, some of the singers you hear performing Wagner are screaming the notes so as to be heard over the big orchestra. You can hear ugly voices on the operatic stage.
Wm: I've also heard some ugly Wagnerian singing, although I believe there are also examples of bel canto Wagnerian singing, which can be beautifully sung. That's how I described Placido Domingo's Wagnerian tenor roles, such as "Parsifal" and Siegmund in "Die Walkure". There are others singing such roles today that I characterize as bel canto Wagnerians.
SP: A think the Rossini revival has had an impact on singing. It was Claudio Abbado who had the courage to revive Rossini's "La Donna del Lago", an opera nobody was doing in the mid-20th century. Some of the singers who have successful careers as Rossini singers or in Handel and other Baroque operas, have voices of a weight that even a couple of decades ago might have been of a chorister, rather than a principal artist.
[Below: Placido Domingo, left, as Giorgio Germont and Saimir Pirgu, right, as Alfredo Germont in the New York Metropolitan Opera's 2012-13 production of Verdi's "La Traviata"; edited image, based on a Ken Howard photograph, courtesy of Saimir Pirgu.]
Wm: In a number of large opera houses, the only Rossini role a tenor would have sung in the mid-20th century was Almaviva in "Barber of Seville", but he would have sung it quite differently than one would expect to hear the role sung today.
SP: In the early 20th century, tenors, such as Enrico Caruso and Beniamino Gigli expected to sing all the tenor roles. Now there are many categories of tenors. Even so, there are many fine tenors, certainly including Piotr Beczala, Jonas Kaufmann, and Ramon Vargas.
Wm: You don't subscribe to the belief that the days of great opera singing are behind us.
SP: I'm optimistic about the future of opera. There are many really good singers today who have wonderful techniques, including my colleagues in the San Francisco Opera "La Traviata", Nicole Cabell and Vladimir Stoyanov. I also have sung with Quinn Kelsey, who is the Giorgio Germont in the opera's July cast, whom I found to be a fantastic singer.
Wm: You are a successful international opera star, who is only thirty-three. What advice would you give to young tenors that are still in their 20s?
SP: My debut was in 2002. I have been singing continuously for the past twelve years, and have had a lot of experience as a young singer. I've worked with veteran artists such as Leo Nucci and Placido Domingo, and have asked them for their advice on my career.
They have told me, that for every performance I should strive to be better and better. Each time I sing a role, I should look for new ideas of how to sing and how to act that part.
My voice is changing in ways that permit me to sing better. I listen to recordings of my first Alfredo, and believe that even though I was singing very well, my interpretation was not good enough.
I want to continue to sing a small number of roles that fit my voice, but do not ever want to become a routinier. For that reason I will continue to seek to perform on a high level and am determined to bring quality to the night's performance, both vocally and dramatically.
Wm: You are receiving advice from artists with long careers. Have you thought where you would like to be in the later parts of your career?
SP: At the moment, I'm happy that I'm now singing at all the opera houses that were only dreams of mine when I started my career. Maybe I'd like to run an opera company, but ask me that question again in 20 years.
Wm: I'll put it on my list of things to do in 2034. Thank you, Saimir. It's always a pleasure to speak with you.
SP: I always enjoy our conversations. Thank you.