Last Fall, EuroArts issued the first in a series of six scheduled DVDs of performances by the San Francisco Opera at its home, the War Memorial Opera House. The performance is of Donizetti's "Lucrezia Borgia", starring Renée Fleming as Lucrezia, the Duchess of Ferrara.
[Below: the cover of the brochure accompanying the "Lucrezia Borgia" DVDs.]
What San Francisco Opera has presented is a dramatically plausible and vocally secure performance by Fleming, whose reputation as one of the most important operatic sopranos of the past 25 years is wholly deserved.
Returning to the San Francisco Opera after an absence of ten seasons from performing opera at the War Memorial Opera House, the company honored her wishes that an opera and production she championed be mounted for her.
Supporting Ms Fleming's vocal performance in the sonic splendor of the War Memorial Opera House was a brilliant young cast that included lyric tenor Michael Fabiano as Gennaro, her illegitimate son who is unaware that Borgia blood flows in his veins; mezzo-soprano Elizabeth DeShong as the scrappy Venetian soldier, Maffio Orsini; and Ukrainian basso cantante Vitalij Kowaljow as Lucrezia's sinister husband, the Duke of Ferrara.
Demonstrating the depth of casting that the San Francisco Opera can devote to a high profile project, major voices, several already singing principal roles in internationally ranked opera houses, were assigned to Gennaro's and Orsini's companions, and to the spy/operatives that served either Ferrara's Duke or Duchess. These supporting roles were taken by Christopher Jackson, Brian Jagde, Austin Kness, Ao Li, Daniel Montenegro and Igor Viera.
The San Francisco Opera Orchestra, conducted by Donizetti specialist Riccardo Frizza, gave the spirited performance one expects of this orchestral ensemble so expert at opera performance.
[Below: a party scene in Ferrara; edited image, based on a Cory Weaver photograph, from johnpascoe.com.]
The History and Significance of the Pascoe Production
The production, created by British director John Pascoe, was originally created for the Washington National Opera Fall 2008 season, starring Fleming, with Placido Domingo conducting.
This is a production that I had reviewed three times. Two of those reviews were of performances with the cast whose performances were recorded on this DVD.
See [Fleming, Fabiano, Frizza Fuel San Francisco Opera's Flaming, Fulfilling First "Lucrezia Borgia" – September 23, 2011] for an account of the operas San Francisco Opera premiere.
See also my review of a later performance [A Second Look: "Lucrezia Borgia" at the San Francisco Opera – October 2, 2011].
[Below: the cover of the "Lucrezia Borgia" DVD.]
I had also reviewed the production with an entirely different cast at the Washington National Opera [The Donizetti Revival, Second Stage: Radvanovsky, Grigolo in Pascoe's WNO "Lucrezia Borgia" – November 17, 2008].
Reviving Donizetti: A Movement in Two Stages

Donizetti operas other than "Lucia di Lammermoor" and a couple of his romantic comedies, were rarely performed in the later decades of the 19th century and early decades of the 20th century.
The "Donizetti Revival" of the mid-20th century was associated with superstar sopranos Maria Callas, Joan Sutherland, Montserrat Caballe, Beverly Sills and, significantly, Leyla Gencer, the Turkish soprano who sang the very first bel canto role of her career (Lucia) at the San Francisco Opera.
One shouldn't state unequivocally that these mid-20th century artists ignored dramatic values – certainly Callas deserves her reputation for focusing the public's attention on the dramatic possibilities of such assignments as the title roles of Donizetti's "Lucia di Lammermoor" and "Anna Bolena".
That said, I believe that the first stages of the Donizetti revival concentrated on getting the vocal performances right, with drama of secondary concern.
The vocal and dramatic elements within Donizetti operas
When the dramatic elements for staging an opera are secondary to the vocal, the principal concern of the director (and the singers) may be seeking the most advantageous vocal placement of the voices.
Singers may know instinctively (or by experience) what is the best posture for their vocal performances and from which point onstage they will sound best. An artist's preferred spot may even vary from one opera house to another.
As an (perhaps stereotypical) example, consider when a lyric tenor wanders to the footlights. Is there a dramatic motivation for his moving there, or is his purpose to place himself in the most sonically advantageous place onstage?
The Donizetti Revival, Second Stage
Donizetti's music and pace has dramatic impact simply being performed. However, during the 21st century much thought has been given by stage directors (particularly those experienced in the British theater) as how to stage these operas to maximize their dramatic impact.
A director who is considering the drama onstage and the visual impact of the placement of each singer and chorister quite likely will have a quite different idea than certain artists as to where an artist should be placed.
However, increasing numbers of artists, especially including American-trained artists, such as Fabiano and Deshong, are comfortable with the 21st emphasis on the dramatic performance.
[Below: Maffio Orsini (Elizabeth Deshong, left) is engaged in the defacement of a monument removing the "B" in "Borgia" to create the word "orgia" (orgy) as Gennaro (Michael Fabiano, right) look on; edited image, based on a Cory Weaver photograph, courtesy of johnpascoe.com.]
The John Pascoe "Lucrezia"
The opera "Lucrezia Borgia's dramatic possibilities had rarely been plumbed during the century and three quarters since its composition. Director Pascoe and both the Washington and San Francisco casts (each of which was comprised of operatic artists who can act as well as sing) proved that this opera can be a grand night in the theater.
[See my essay on the opera's inherent theatricality: "Lucrezia Borgia" – The Dramatic Foundations of Donizetti's Opera].
[Below: Director John Pascoe, resized image, from johnpascoe.com.]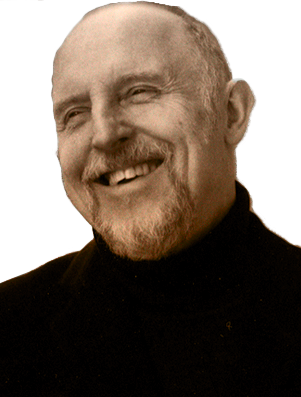 Whereas some operatic directors appear to approach a Donizetti opera as merely a showcase for a diva with an improbable plot, Pascoe takes the work's story-line seriously.
Back-stories have been thought through for Lucrezia (abused childhood) and Gennaro (gay, in romantic relationship with Maffio Orsini).
Of course, one can project any human experience onto any operatic character, but, unless the opera's context supports that projection, it will make little sense to the viewing audience.
But, if the attributions are plausible and presented with clarity, a plot that seems little more than a device to piece together arias that display vocal virtuosity might actually prove to be viably dramatic. Such, I argue, is the case with the Pascoe "Lucrezia".
Delving into the psychological backgrounds of characters, and considering their relationships to each other leads to insights that assist the director in the physical staging of the opera. This can (and should) be a very different process from staging a opera that maximizes the vocal delivery of the artists.
Pascoe unabashedly uses the sentimentality that Donizetti's music portrays of Gennaro's longing for learning about the mother who abandoned him as an infant and Lucrezia's longing to communicate with Gennaro, the Venetian captain she has discovered is the son who was lost to her.
Most striking is the idea of exploiting a gay relationship between Gennaro and Orsini (and there's no reason not to believe that all of the companions are gay). As I've mentioned in my previous reviews, the gay bonds between Gennaro and Orsini provides a plausible motivation for Gennaro's refusal to accept Lucrezia's antidote to the poison meant for his companions that she mistakenly administered to Gennaro as well.
But is his resolve to die is shaken when Lucrezia reveals to Gennaro too late that she is his mother. With only moments left in his life, after the poison's effect has passed the point of no return, Gennaro learns the truth about his origins. His chilling question "I am a Borgia?" has a powerful impact.
[Below: Michael Fabiano, in costume as Gennaro, and Renée Fleming, in costume as Lucrezia Borgia, at the end of a performance; resized image of a publicity photograph.]
Recommendation
I believe that one should take any opportunity to experience opera at the War Memorial Opera House. Although a DVD is not a substitute for a live performance, it can be a very desirable memento of a live performance for those who were able to attend and, for those who were unable to attend, a documentation of a significant staging of the work with a solid cast that was uniformly excellent in both the major and smaller roles.
I recommend the DVD without reservation.
For my interviews with key cast members, see: Rising Stars: An Interview with Michael Fabiano and Basso Nobile: An Interview with Vitalij Kowaljow.