The following interview took place in the administrative offices of the Houston Grand Opera, whose facilitation of this conversation is deeply appreciated. This section follows: An Interview with Houston Grand Opera Managing Director Perryn Leech Part 1.
Wm: You came to opera very indirectly. You were enrolled in a drama school and were introduced to a baroque opera at London's Royal Academy of Music, as part of work experience for your drama school's technical theater course. What did you do that gained the attention of your stage director and an invitation to be on the staff of the Glyndebourne Festival?
PL: I'm afraid that the work experience rules for students of the United Kingdom drama schools when I was at college created a group of student "slaves" for the theater companies. As part of my experience, I was put on the crew preparing a production of Monteverdi's The Coronation of Poppea. That was my first opera experience and – what I couldn't believe – was the sheer length of the opera.
I had been working as a stage manager with another friend who was working at the Glyndebourne Festival.  In the production only one thing happened. This particular Poppea staging required two pillars to move imperceptibly slowly towards each other to create a door as an entrance. In the second performance, my friend and I missed the cue and the pillars did not operate as expected. We were able to figure out how to get things back to working properly, but in a production of 4 hours with one only thing to do we had messed up pretty badly!
My colleague on the Poppea stage management team worked for the Glyndebourne Festival and he suggested that I go for a job interview. Upon arriving there, they didn't interview me at all – they said, "Here's an Equity card, you start August 3rd" and just like that I was invited to join them on the tour. It was my (probably undeserved) lucky break.
[Below: Perryn Leech (left) and Spanish set designer Joan Guillen (right) have fun with guitar models to be used in the Houston Grand Opera production of Rossini's "Barber of Seville"; resized image of a photograph, courtesy of the Houston Grand Opera.]
Wm: So it was an experience with a 17th century baroque opera and work for the Glyndebourne tour caused you to shift your attention toward opera?
PL: Absolutely but I knew that I what I really wanted was to be a theater electrician. I was asked to do the regular Glyndebourne Festival season, where I worked with some of the great British directors of the time including Sir Peter Hall, the Director of Productions at Glyndebourne, and Trevor Nunn who was running the Royal Shakespeare Company.
During the Festival they had to fire a guy and so I inherited stage management responsibility for one piece of the production of Rossini's La Cenerentola. In the production there is the three-and-a-half-minute storm scene with 140 lighting, sound, puppet, and automation cues notated in the musical score.
At that point I had no training or any idea how to read music, but I knew that I had to learn fast.  A very good friend spent hours with me at the kitchen table teaching me overnight how to follow the score – and thirty years later I can still cue those moments with my eyes closed!  As I have done other disciplines in opera throughout my career, the skill and ability to follow a score has been very valuable in my work.
[Below: the 2012 John Caird production of Puccini's "La Boheme" with Katie van Kooten (right) as Mimi and Dimitri Pittas (left) as Rodolfo; edited image, based on a Felix Sanchez photograph, courtesy of the Houston Grand Opera.]
Wm: It appears that instead of a theater career you ended up with an opera career. How is the latter different from the former?
PL:  As I said earlier, I had known nothing about opera, and before long had become one of the small group of people who comprise the quite small British "opera scene." The art form fascinated me, and it was especially exciting for me as a technical person because opera is a combination of several art forms, there are a lot of toys to play with, and it requires a lot of money to produce scenery and lighting effects.
That opera people were willing to pay a lot of money for technical effects was very satisfying when that is your area of expertise.  It doesn't happen that often on the more conventional drama stage and indeed only the modern world of musical theatre is anywhere close.
When I am paying my own money to see shows in London or New York, it is normally musicals that I seek out. For instance, from a technical perspective I completely geeked out at Spider Man – Turn off the Dark. Artistically vacuous but oh the technical ambition and achievement – and talk about pushing the boundaries!
[Below: the 2013 Christof Loy production of Wagner's "Tristan und Isolde" with, from left to right, Nina Stemme as Isolde, Ben Heppner as Tristan, Christof Fischesser as King Marke; Kevin Ray, Melot; Ryan McKinny, Kurwenal and Claudia Mahnke as Brangaene;edited image, bsed on a Felix Sanchez photograph, courtesy of the Houston Grand Opera.]
Wm:  Houston Grand Opera has had a reputation for commissioning new works, particularly during David Gockley's general directorship, while the Anthony Freud period is especially remembered for the Britten cycle. Do you consider the Ring the defining effort of your co-administration with Patrick Summers?
PL: Currently, we are focused on planning for the four years of our Ring Cycle. Launching a Ring commands so much of any company's main-stage resources, and will impact our repertory choices as well for several years. A major company needs a successful Ring as part of its performance history and legacy.  We also both understand the importance of commissioning new works and are committed to them. We are currently involved in presenting the commission of Ricky Ian Gordon's A Coffin in Egypt.
HGO has been lauded for it over several decades. But as you know it's a risky business.  I absolutely admire the resources that David Gockley commits to his commissioning work and Patrick and I are determined to carry on the HGO tradition and build it even more into the future. This art form must continue to invest in itself and evolve as it has done over the last 400 years.
Wm: It seems to me that one of the problems is that worthy operas are introduced, but are not revived routinely by the major companies. Take the example of Floyd's Susannah that Houston Grand Opera premiered. It is only reaching the San Francisco Opera main season this fall, a half-century after its premiere here in Houston.
PL: We are proud of the company's historic partnership between David Gockley and composer Carlisle Floyd, which we commemorate through our Floyd and Gockley Rehearsal Rooms here at the Wortham Theater Center.  I agree that the larger companies such as HGO have to invest in revivals of promising works. Every time a work is revived, its chances of long-term success are increased. That is especially true when the larger companies that have the creative resources to study a work and present it in the most advantageous way.
[Below: the 2013 production of Johann Strauss' "Die Fledermaus" from Opera Australia with, from left to right, Laura Claycomb as Adele, Wendy Bryn Harmer as Rosalinde and Liam Bonner as Eisenstein; edited image, based on a Lynn Lane photograph, courtesy of the Houston Grand Opera.]
Wm: In the course of my reviews, I see new works that I believe have obvious merit, but which also have flaws that could be addressed in later performances. One trend that may be helpful are the joint projects, in which four or five opera companies share the commission and production costs and get to kibitz on how things are going. Heggie's Moby-Dick is a good example of that trend.
PL: There have only been a few composers in history whom have produced an opera so brilliant, that, once it is staged, nothing has to be changed. Sometimes you give a person a chance and wonder if you've made a wise choice. Sometimes giving that person more and more chances to get it right is not the answer but other times a fresh look at a piece allows for new insight.
But in essence you're right. Schönberg's musical Les Miserables was a four-and-a-half-hour mess in its early performances. One gauges the audience response and determines what should be changed to give a show the best possible chance at survival. They made some very hard choices with that piece and now it's the most popular musical in the world.
This process is very common in the world of the musical –previews in particular are sometimes six weeks long with shows every night and sometimes twice a day – for a total number of performances larger than most new operas have in a decade!
Who knows from a first performance whether an opera like Ricky Gordon's A Coffin in Egypt will be considered a masterpiece, but if no one will give it a first, and then a second chance, we will never know. That is why we are so thrilled that there will be eleven total performances with shows in both L.A. and Philadelphia after the Houston debut – otherwise known as a week and a half of previews on Broadway!
[Below: Federica von Stade (left center in red) came out of retirement to perform in the world premiere of  Ricky Gordon's "A Coffin in Egpyt"' edited image, based on a photograph, courtesy of the Houston Grand Opera. ]
What has really caught on here and also in Paris, San Diego, and Chicago is our mariachi opera, Cruzar la Cara de la Luna. Not only is it a terrific dramatic piece that is well regarded in its own right, but it also introduces potential new audiences to operatic performance.
Wm: And there are many examples of operas that were extensively revised after their premiere, with or without the composer's participation, including Puccini's Madama Butterfly. We're still revising Offenbach's Tales of Hoffman 130 years after his death.
After the birth of your first child, you decided to take full time jobs, first as Senior Production Manager at English National Opera, then at Welsh National Opera. During these years you developed a professional relationship with Anthony Freud. How did this come about?
PL: My daughter was born with complications and has been disabled and in a wheelchair throughout her life. Her disability required me to want and need to be at home for a much greater amount of time than being a freelancer and working with opera companies on tour could allow.
The transition from working for a touring company to a big opera company that performs in its own home theater, is that a touring company has to be more effectively organized. You cannot move opera productions through multiple different cities without very specific plans for each element of sets, technical equipment, and everything that a touring show requires. You also need to be very flexible when certain theaters have differing restrictions and present challenges when mounting a production and adept at making those changes quickly.
Wm: Were the stationary opera companies as well organized?
PL: When I started working at English National Opera as a Production Manager reporting directly to the technical director, it became clear to me that the big companies had this huge human resource and yet seemed to be in complete shambles.  I often asked myself how ENO was ever able to open a show at all –it certainly felt like it was in spite of itself.
I did have four fantastic years at ENO, but felt bypassed when they selected a different person when the position of technical director became available. This happened just as Welsh National Opera was advertising for a technical director and I was intrigued by the opportunity to take over and prepare the company to move into a new purpose built arts center in Cardiff Bay.
It felt like all my skills could be used to help move the company forward – I was a perfect fit with my touring background, the knowledge I had of opera, and my vast experience working in different venues.  I also immediately had a rapport and trust in Anthony that led me to believe that we could work well together. I am generally impulsive in my feelings about people and Anthony and I clicked from Day 1.
[Below: a scene from the 2012 production of "Cruzar la Cara de la Luna"; edited image, based on a Felix Sanchez photograph, courtesy of the Houston Grand Opera.]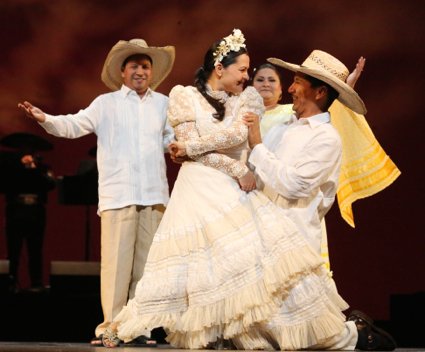 Wm: You moved your family from London to Cardiff, Wales.
PL: We certainly liked the idea of raising our children (by now we had added twins into the Leech Family) away from London. Interviewing there, I found the job in Wales just gave me the right amount of challenge as well as a professional opportunity, which all really appealed to me. So I accepted the job of technical director for Welsh National Opera.
Wm: As a person who began as a lighting technician, you've seen quite a revolution in equipment during your career.
PL. When I began, one had to adjust each light by hand. Now, virtually all lighting cues can be done by computer. It's still a complex job, but it is done very differently and the skill-set continues to evolve as advanced technology from commercial rock-and-roll tour lighting and video techniques are honed, become more affordable, and are passed down to opera companies.
Wm: Then Antony Freud left Cardiff to take the General Director position at Houston Grand Opera.
PL: Yes, and when he arrived in Houston he concluded that he wanted a different kind of technical director than the company engaged in the past. Eventually he persuaded my wife and me to consider moving to Houston.  By then, the twins were six and my eldest was nine, so it seemed the right time to have a life adventure.
We came to Houston, looked at the schools and housing, and made sure that the American healthcare system would work for our eldest daughter.  We were so taken by the warmth of the people and the spirit of the city and we were hooked.  I knew I would be able to do the job that Anthony wanted so we moved here and have been very happy for the last seven years.
Wm: And your twins have been raised as Texans!
PL: Oh, yes!
[Below: Simon O'Neill as Florestan in the production of Beethoven's "Fidelio"; edited image, based on a Felix Sanchez photograph, courtesy of the Houston Grand Opera.]
Wm: With your ongoing partnership with Patrick Summers here at Houston Grand Opera, it seems unlikely that you will follow Anthony Freud to Lyric Opera in Chicago.
PL: I'm very happy where I am and Anthony has a wonderful staff who work for him in Chicago. And let's face it – he can't afford me!
Wm: After your partnership with Opera Australia on the Britten cycle, some assumed that you would join with them on Wagner's Ring of the Nibelungs, but you've chosen a different path. Could you discuss how you made that decision?
PL:  As you say, we have had a very close and mutually beneficial relationship with Opera Australia and especially with Neil Armfield, so we did start talking about jointly doing a new Ring.  Maureen Wheeler, the wife of the founder of the Lonely Planet travel books and an opera buff, pledged five million Australian dollars to Opera Australia for such a project.
However, as they were performing the full cycles first, we were not fully brought into the creative process at an early date. When we saw the initial designs and models, we were unimpressed with the direction the show was going and what would be seen on the Houston stage. We couldn't envision presenting the production teams concept, because we strongly believe that for the Ring to be successful, the visual impact is almost as important as the sound.  This was going to be the first ever Ring in Houston and we wanted it to be really special.
As we wrestled with our thoughts we had looked around to assess other possible options and became interested in the Fura dels Baus Ring that had been created for Valencia, Spain.  The visual impact of the production is quite spectacular and we were very keen to bring it to Houston.  I negotiated a deal and were thrilled to be able to get that production.
[Below: a scene from the Palau de les Arts Reina Sofia production of "Das Rheingold" opening at Houston Grand Opera in April 2014; edited image of a Tato Baeza photograph, courtesy of the Houston Grand Opera.]
We wanted to use this opportunity in casting the Houston Ring to develop a new generation of principals in these roles – including several important role debuts – such as Iain Paterson as Wotan and Chrstine Goerke as Brünnhilde, which she sings with us before she sings the role at the Met.  By giving these important role debuts a full five-week rehearsal period, combined with the quality of our music staff and the size of our auditorium, I am confident that the performances, audience reception, and reviews will all be positive.
Wm: Speaking of reviews, the continued decline in the print media seems to be affecting the number of print journalists that actually know very much about opera. Even if they do know opera well, they may not have enough space in their columns to write much about what they know. I assume you have an opinion on this subject.
PL: I think that one problem is that often there is a mismatch between what the reviewers and the public want to see.  The public might simply want confirmation that this was indeed a good performance of La Bohème as it is the first or second time they have seen the piece.
A reviewer, however, might have seen thirty-three different performances of La Bohème and wants to be blown away by something unexpected. In these days of Internet reviews there is very little filter and everyone can write what they want – and that has not seen the quality of writing improve in my opinion!
Wm: I agree that the Internet can be a caveat emptor experience, but I can see advantages to an Internet site whose understanding of opera and whose quality of writing might meet your standards. Many websites have the capacity for a thorough discussion of a performance, including the performances of persons in smaller roles, who might not be mentioned in a brief press article.  
There is also the capacity for a useful number of photographs. Furthermore, the existence of search engines that constantly prowl the better sites can help organize information in ways that should prove useful to persons learning about particular artists or operas.
I appreciate having the chance to talk with you.
PL: I thank you for coming to see me and I look forward to seeing you next time you are in town.