The following interview took place in the administrative offices of the Houston Grand Opera, whose facilitation of this conversation is deeply appreciated. This section is followed by: An Interview with Houston Grand Opera Managing Director Perryn Leech Part 2.
[Below: Houston Grand Opera General Director Perryn Leech; resized image of a publicity photograph.]
Wm: Although it's common for an opera company to have a general director who oversees all aspects of the company, and a music director who oversees conducting and other musically related activities, you and Patrick Summers seem to have combined the responsibilities of two positions in a different way. Now that you've had a couple years experience with this arrangement, how do you feel it is working.
PL: I think you are right in saying that the General Director, Intendant, or impresario that was common in past times is a nearly impossible job to do now because there is so much work that must be done. It's important to share the workload.
When Anthony Freud was the General Director of Houston Grand Opera, I was – to use a term from Game of Thrones – the hand of the king. I was very lucky to have a close long-term working relationship with him and he encouraged me to run the business side of HGO's operations. When Anthony left for his current position at the Lyric Opera of Chicago, the HGO Board asked me to stay and take on the equivalent of a chief executive officer position.
The board previously had discussions with Patrick Summers to see if he had interest in the general director position, when David Gockley left and before Anthony was appointed, but at the time Patrick wanted to concentrate on his varied freelance conducting career. However six years later after Anthony's departure we talked and Patrick agreed to take a wider role as Artistic and Music Director working in partnership with me.
It does take a lot of compromising as we split the workload, but the arrangement allows us both to manage the areas of the company that are within our strongest skill set. People know that they have 24-hour contact with leadership of the opera company even though, in addition to his role at HGO, Patrick is still very actively conducting regular engagements at other major companies.
The responsibility of the company's artistic vision is primarily Patrick's but of course, it is very important that we are in sync with each other about the artistic vision as it is imperative when we are making decisions about how to plan the future – and to raise the money to pay for it all!
[Below: Mary, Queen of Scots (Joyce DiDonato, left) deliberately insults Queen Elizabeth (Katie Van Kooten, right) in a 2012 performance of the Stephen Lawless production of Donizetti's "Maria Stuarda"; edited image, based on a Felix Sanchez photograph, courtesy of the Houston Grand Opera.]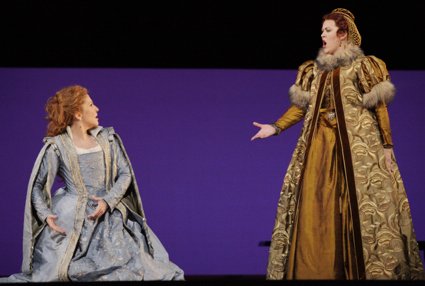 Wm: What things are happening in Houston because of this dual arrangement that you believe would have happened differently or not at all without the "diad" being in place?
PL: I think our partnership allows us to always question and challenge each other on how HGO's artistic vision and business model are to work. If the general director has a music director who wishes to do an entire season of early baroque operas, they will need to have a conversation that requires a huge amount of compromise.
Patrick is somewhat surprisingly very pragmatic. He understands that box office matters, and that the relationship between subscribers and the opera company is of paramount importance. It is, after all, the long time subscribers whom you hope become donors and then are the most likely group to evolve from being lower-level donors to making more significant financial contributions.
Once, as an opera company, we've built a relationship of trust with our subscribers, we hope we have an opportunity to go further in exploring wider and more varied repertoire. For instance this season, we are committed to a production of Wagner's Ring of the Nibelungs and we obviously have to raise a lot of money in order to present it. It means appealing to our supporters and programming work around massive projects such as this that will allow for some breathing room.
Wm: Recently, I spoke to Pierre Dufour who was the Opera de Montreal's production supervisor before becoming general director, who felt his background was important to assuming the company's lead position.
PL: It is becoming more common for an opera company's general director and senior leadership to have experience dealing with the administrative side of the company, including knowing how to build and manage budgets. The Director of Production spends more money than most in an opera company and the nature of that job means that they become very adept at spending wisely! Kevin Ramach of Minnesota Opera is another example of someone who comes from a technical background and has assumed the top job at his company.
The great impresario leaders of the past who just said, "Let's do this and then find the money" would no doubt find it difficult to survive in today's opera world. Individuals, foundations, and corporations want to support the arts but they are ever more focused on funding organizations with a sustainable business model as well as sound financial planning and management.
My responsibility to HGO and our supporters is in the short, medium, and long term. There have been plenty of other general directors who wasted no time in spending all the money within their grasp. A case can always be made to spend the money that you raise on high profile and high-risk projects, but it is very important that you have the discipline to not overextend and lead the company deep into potential problems.
[Below: a 201w performance of the John Caird production of Verdi's "Don Carlos" from Welsh National Opera, Cardiff; edited image, based on a Felix Sanchez photograph, courtesy of the Houston Grand Opera.]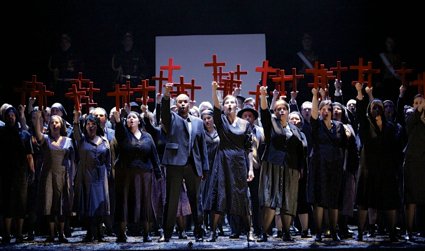 We are arts companies but we are also small businesses – we must take risks but we must be smart whilst evaluating potential risk, choose the right opportunities to take risks, and avoid doing it too often.
A change I implemented right away when I became managing director was a policy to designate all legacy gifts for the HGO endowment rather than applying them for immediate operational needs (unless the donors themselves wish it to be unrestricted). It is almost always a surprise to receive legacy donations in any given year and this particular kind of fundraising is typically not factored into the current annual budget.
It would be ridiculous for us to try produce the best opera in only current performances, and to neglect our longer term fundraising, such as our endowment.
Wm: Even so, you've committed to some adventuresome repertory, notably Weinberg's holocaust-themed opera The Passenger.
PL: Since the score of the piece arrived at HGO we always believed The Passenger to be a very important mid-20th century work, and we were determined to have its North American premiere in Houston. The production has artistic appeal and the work itself is also very much tied to a central core value in our strategic plan – relevance.
I do not believe that opera is a dying art form, in fact quite the opposite. The ability of music and a storyline such as this one about the Holocaust, to encourage dialogue and conversations about a subject that is almost impossible to discuss, is proof that this piece is very important indeed. We knew that it would be a very tough sell for our single ticket buyers but there proved to be a hunger for the educational and engagement themes around the opera that surprised even us.
[Below: Sister Prejean (Joyce DiDonato, left) converses with the convicted murderer Joseph de Rocher (Philip Cutlip, right) in a 2011 performance of the Leonard Foglia production of Heggie's"Dead Man Walking"; edited image, based on a Felix Sanchez photograph, courtesy of the Houston Grand Opera.]
The presentation of Heggie's Dead Man Walking in 2011 is another example of Houston's reputation as a sponsor of relevant new works. The opera's central theme of capital punishment has an added significance and relevance in Texas. You can always play it too safe by only performing a very narrow group of well-known operas, but that is not a good fit for a bold, artistic company or for that matter for this wonderful, young, growing city in which we are fortunate to be creating art.
The choice to play it safe almost always leads to a stale artistic company as well as declining audiences and support.
Wm: I assume that your replacement of Mozart's La Clemenza di Tito with Johann Strauss' Die Fledermaus was an attempt to offset the expectation of lower revenue from the Weinberg with a potential box office success.
PL: True to a certain extent – my predecessor, Anthony Freud, had scheduled Clemenza here and Patrick and I just felt that the balance of the season wasn't quite right. Clemenza is a wonderful and extraordinary opera but we had not performed Fledermaus for many years either.
We had also made a change in the previous season, replacing what would have been the last opera in our Britten series, Gloriana, with a co-production of the Francesca Zambello production of Jerome Kern's musical Show Boat. It was an artistic success and our audiences were delighted for an opportunity to see another piece they had not seen in awhile. And I think it is fair to say that it sold more single tickets than Gloriana would have.
Wm: I reviewed the production's premiere night at Lyric Opera in Chicago.
PL: What did you think of the Chicago performance?
Wm: I liked Zambello's staging and enjoyed it very much. I will be reviewing it again in San Francisco at the beginning of June 2014. I had spoken with one of the lead artists about the very noticeable amplification, who felt that it was designed for a particular artist in the cast.
PL: In my opinion that artist was wrong. Show Boat was written as a musical with a large amount of underscoring that, unlike a traditional opera, requires amplification. I did see Show Boat performances in Chicago and experienced the amplification, which was not done the way I believe it should have been and – in my opinion – it was over done.
[Below: a scene from a 2013 performance of the Francesca Zambello production of Kern's "Show Boat"; edited image, based on a Felix Sanchez photograph, courtesy of the Houston Grand Opera.]
It is very difficult to get it right in such a large auditorium, but the sound was very "bright." When we brought it here, we worked very hard to get the right balance taking into account the size of our theater and the fact that we had operatic voices singing the roles. I believe our sound designer Mark Gray did a great job achieving that balance.
Wm: There are people who were so convinced by critic Martin Bernstein's famous "dirty little secret" charge that opera companies routinely amplify their singers, that they cannot be convinced otherwise. With your extensive knowledge of the technical side of opera production, what is your reply to this idea?
PL: It's not true that live performances of opera are routinely amplified. I have worked on productions when there have been isolated cases – such as the three boys in Mozart's The Magic Flute and the boy in Britten's The Turn of the Screw. We don't expect an adolescent to have the power to project in an opera house. The spoken dialogue in an operetta like Fledermaus – but none of the music – is amplified for clarity.
There was a similar issue with some of the dialogue in The Passenger. Some of the Weinberg score is written so densely – multiple voices are talking during a musical crescendo – that one needs to carefully amplify to direct the sound in a way that your ears can hear what the composer intended. We do not ever amplify singing unless the composer has written it for enhancement, but underscored dialogue does sometimes need a boost. I can pass any polygraph test saying that since I have been at HGO that we have not amplified any music!
[Below: Walter (Joseph Kaiser, far left) is astonished at what he's learning about the past of his wife, Liese (Michelle Breedt, in fron tof Kaiser) in a 2014 perofrmance of David Pountney's production of Weinberg's "The Passenger"; edited image, based on a Lynn Lane photograph.]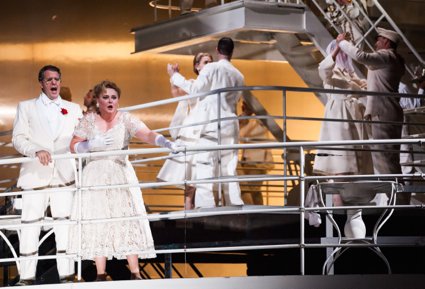 [Note: the second part of this conversation will appear subsequently.]
—