The Los Angeles Opera chose the Ides of March to unveil a new production of Donizetti's most famous opera, "Lucia di Lammermoor", conducted by the opera company's Music Director James Conlon and starring Uzbekistan-born Russian soprano Albina Shagimuratova and Albanian lyric tenor Saimir Pirgu.
Coloratura Soprano Albina Shagimuratova's Lucia
In this most lustrous of the coloratura diva roles, Shagimuratova was a phenomenon, handling the part's serene legato passages effortlessly, while dashing off the coloratura trills and cadenzas with seeming perfection.
Conductor Conlon has not observed any of the traditional cuts in the musical score, so Shagimuratova had considerably more to sing than would have been expected of a soprano in a typical 20th century performance.
[Below: Albina Shagimuratova as Lucia di Lammermoor; edited image, based on a copyrighted Robert Millard photograph, courtesy of the Los Angeles Opera.]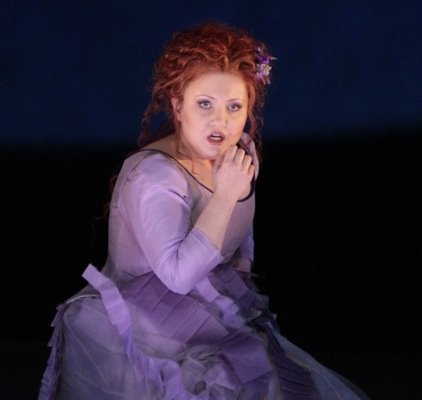 Having established herself as one of the world's predominant coloratura sopranos, Shagimuratova had appeared in California previously as the Queen of the Night [Shining L. A. Opera "Magic Flute" on Sunny Matinee Day – January 11, 2009 and Perfect Game: Gunn, Shagimuratova Shine in New Kaneko-Designed "Magic Flute" – San Francisco Opera, June 13, 2012] and as Gilda [Vratogna, Shagimuratova, Chacon-Cruz, Luisotti: "Rigoletto" Magnifico – San Francisco Opera, September 8, 2012.]
Her brilliant "Lucia", performed before an enthusiastic audience at the Dorothy Chandler Pavilion, home of the Los Angeles Opera, was an unambiguous triumph.
Donizetti Tenor Saimir Pirgu's Edgardo
Donizetti's opera is a superb example of how Italian opera composers, particularly Donizetti and his younger contemporary, Verdi (who outlived Donizetti by more than half a century), associated the male heroes of Romantic literature and poetry – exemplified by works of Goethe, Byron and Scott – with the emerging style of the Italian tenor, using chest tones to produce ringing high notes.
As Lucia's chosen life-partner, Edgardo, L. A. audiences are able to see Pirgu cast in one of the greatest roles of early 19th century Italian opera. Pirgu evokes indelible memories of the young dispossessed nobleman, a self-destructive, passionate lover, [See Rising Stars: An Interview with Saimir Pirgu.]
Even a costuming scheme – part of the new production's designed time-shift to the late 19th century – reinforced Pirgu's image as a quintessential Byronic hero.
[Below: Saimir Pirgu as Edgardo; edited image, based on a copyrighted Robert Millard photograph, courtesy of the Los Angeles Opera.]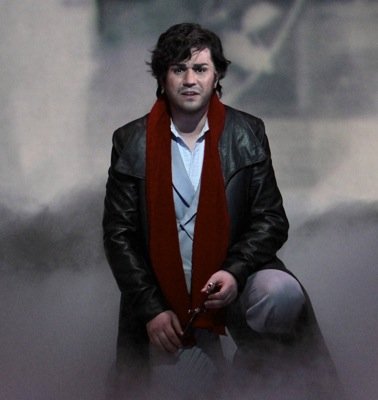 Saimir Pirgu has a lyric voice of an appropriate weight for this Romantic era tenor role. His part was uncut as well, including the restoration of a violent, testosterone-induced exchange between Edgardo and Lucia's brother Enrico (effectively sung by baritone Stephen Powell).
Pirgu's appearances to date in Los Angeles have been the brief role of the ardent Rinnuccio in Puccini's "Gianni Schicchi" [Woody Allen's L. A. "Gianni Schicchi": Spoofing Italian Films – September 6, 2008] and the "Byronic bad boy" Ferrando in Sir Nicholas Hytner's witty production of Mozart's "Cosi fan Tutte" [Stylish Production, Fine Cast for "Cosi fan Tutte" – Los Angeles Opera, September 18, 2011].
[Below: Edgardo (Saimir Pirgu, right front with red scarf) confronts Lucia (Albina Shagimuratova, right front, in bridal dress) as the wedding party looiks on; edited image, based on a copyrighted Robert Millard photograph, courtesy of the Los Angeles Opera.]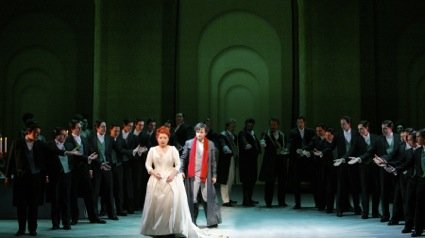 Both Shiguratimova and Pirgu are savvy actors and were physically believable as young lovers, drawn to each other at a time when each was under extreme psychological stress.
Director Elkhanah Pulitzer's staging handily established Pirgu's Edgardo's hair-triggered emotional state. Whether or not Pulitzer intended to do so, it is Edgardo's angst that attracts the audience's attention in this production.
[Below: Enrico (Stephen Powell, right) warns his sister Lucia (Albina Shagimuratova, left) not to do anything that betrays their family; edited image, based on a copyrighted Robert Millard photograph, courtesy of the Los Angeles Opera.]
Stephen Powell's Enrico and James Creswell's Raimondo
The quartet of "Lucia" principals was filled out by Stephen Powell as Enrico and James Creswell as Raimondo.
Powell made a strong impression vocally in the role of Lucia's brother, who has taken the responsibility of arranging a marriage that will help secure the beleaguered family estate.
James Creswell, who continues to be a Los Angeles Opera stalwart in significant basso roles, was effective as the Presbyterian minister, Raimondo.
[Below: Raimondo (James Creswell, right) takes a last look at Lucia's body; edited image, based on a copyrighted Robert Millard photograph, courtesy of the Los Angeles Opera.]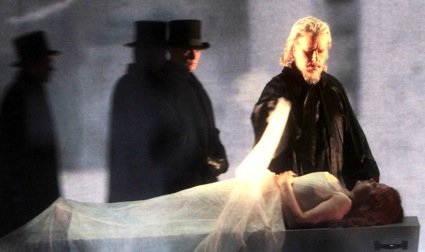 Recommendation
In a departure from my usual practice, I am posting my recommendation before discussion of the new production. I strongly recommend that one secures tickets to this "Lucia" because of the presence of Shagimuratova and Pirgu in the lead roles, the conducting of James Conlon, and the completeness of the score, that includes scenes that are rarely seen. These musical performances are worth the highest ticket prices.
Notes on the New Production
The new production marks the first effort of Director Elkhanah Pulitzer at creating a wholly new production. (She took over the stage direction for the San Francisco Opera's 2014 new production of Wagner's "The Flying Dutchman" [See Grimsley, Lindstrom Launch a Sonically Lavish, Visually Dazzling "Flying Dutchman" – San Francisco Opera, October 22, 2013 ] after the original director was fired by the opera company.)
[Below: Lucia (Albina Shagimuratova, small figure at bottom in lilac-colored gown) sings of the apparition of an ancestor who died a bloody death; edited image, based on a Robert Millard photograph, courtesy of the Los Angeles Opera.]
Pulitzer's ambitious new production incorporates a number of ideas, some of which I believe were quite successful and some less so.
The first, as a general principal, I applaud – the use of projected images that reinforce a backstory narrative that one of the characters is relating to themselves or to others, and, as well, to the audience.
Its most striking use in the current production is in the fountain scene, when, during the aria Regnava nel silenzio, and later in the
"mad scene", the images were prominently seen of the departed women whose fate Lucia described. I can think of several operas, such as Verdi's "Il Trovatore", in which such a device might prove to be theatrically valid.
[Below: Lucia (Abina Shagimuratova, at bottom in white) recounts what she believes is happening' edited image, based on a copyrighted Robert Millard photograph, courtesy of the Los Angeles Opera.]
I also believe there are several additional potential advantages that may arise from more extensive use of projected images .
Conceding that as operatic projections become ever more complex, the additional computer programming can be a big expense, projections may provide the opportunity to stage some worthy operas for which the construction costs of physical stage sets might seem prohibitive.
Projections certainly can aid in the swift movement from one scene to another, which sometimes happened in the "Lucia" performance, such as the scene between Enrico and Edgardo and a brief scene in which Raimondo scolds Normanno (sung by Joshua Guerrero).
[Below: the stylized hand gestures of the women of the chorus; edited image, based on a copyrighted Robert Millard photograph, courtesy of the Los Angeles Opera.]
But even with an evening in which projections predominated, there was an occasional long pause between scenes, to enable stagehands to move the surfaces against which images were projected.
If something was awry in this Ides of March production, the fault was not in the projections but in the director's concept that "Lucia di Lammermoor" is a proper vessel to examine, in Pulitzer's words, "a culture that controls women and arranges marriages for them . . . [and] where men's impulses and actions determine the fate of everyone".
With this is mind, she shifts the action to 1885, late in the reign of Queen Victoria(!) because Pultizer "strove for a marriage between the late 1800s and now . . bringing out contemporary flourishes to connect with the modern world and with technology inherent in a world made of light and projections. The projections allow us to enter into Lucia's mind and finally move between internal and external spaces . . essential to exploring Lucia's journey to murder and madness".
Pulitzer got me at the idea of exploring Lucia's mind and lost me in shifting the action to the late 19th century – "a world" according to Pulitzer "close to the cusp of changes for women towards equality but still removed from the freedoms that would eventually come". (Pulitzer's hint that the suffragette movement influenced her thoughts about "Lucia" seems to me a bridge too far.)
As a follower of the work of concept director Francesca Zambello, I know that much can be learned from opera about the power of women, without muddling the theatricality of the works themselves.
In my remarks on a performance of Sir David McVicar's reading of Mozart's "La Clemenza di Tito" four nights prior to my viewing Pulitzer's "Lucia", I expounded on McVicar's suggestion that we consider the actions in Vitellia in "Clemenza" as a high stakes attempt by a female character to re-establish her family's fortunes in a time and place where women could not hold property [See Polenzani and DiDonato Triumph as McVicar Illumines "La Clemenza di Tito" – Lyric Opera of Chicago, March 11, 2014].
We are 21st century opera-goers at a time when epic fantasy has become popular – particularly, at this moment, the works of George R. R. Martin. The essence of some operatic plots would fit neatly into the story arcs of some of these popular fantasies – certainly Vitellia's ambitions could be incorporated into one of Martin's Westeros story arcs.
So would the entire plot of "Lucia", which immerses us into wars over estates, marriages to advance dynastic goals and – even (though referred to only tangentially) conflicts between religions.
In my opinion, however, "Lucia di Lammermoor" is the wrong opera to explore a society where "men's impulses and actions determine the fate of everyone". Ultimately, no impulse nor action of Edgardo, Enrico, Arturo, Normanno or Raimondo – even forging letters – did much to determine what happens in the opera. It was the actions of Lucia that "determined the fate of everyone".
[Below: Lucia (Albina Shagimuratova) emerges from her bridal chamber having murdered the bridegroom; edited image, based on a copyrighted Robert Millard photograph, courtesy of the Los Angeles Opera.]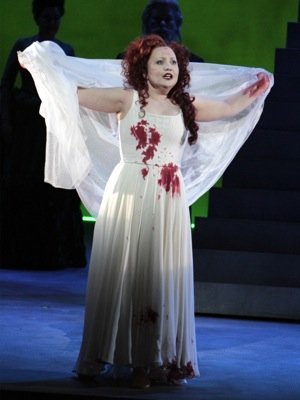 Final Thoughts
Whether or not you agree with the points I make about the director's ideas about the opera, I strongly recommend attending the Los Angeles Opera "Lucia" for the performances of Shagimuratova and Pirgu.
Not attending one of these performances because you are not sure you'll like the production is like not having attended operatic performances by Callas, or Sutherland, or Pavarotti, because you were not sure you would have liked the sets.