The San Diego Opera mounted Verdi's "Ballo in Maschera [A Masked Ball]" for Polish tenor Piotr Beczala, who returned to San Diego after his 2010 debut as Rodolfo in Puccini's "La Boheme",
[Below: Piotr Beczala as King Gustavus; edited image of a Ken Howard photograph, courtesy of the San Diego Opera.]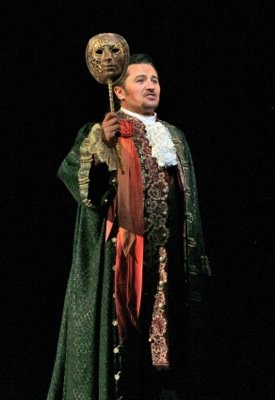 Beczala was joined by a celebrated international cast that included the San Diego Opera debuts of Bulgarian soprano Krassimira Stoyanova as Amelia Anckarstrom, Korean American soprano Kathleen Kim as Oscar, Greek baritone Aris Argiris, in his North American debut, as Count Anckarstrom, and American mezzo-soprano Stephanie Blythe as Madam Arvidson (Ulrica).
"Ballo" is a "singer's opera" with each of these five principal singers having both major arias and parts of the great Verdi ensembles that abound in this melodious masterwork.
[Below: Krassimira Stoyanova as Amelia Anckarstrom; edited image, based on a Ken Howard photograph, courtesy of the San Diego Opera.]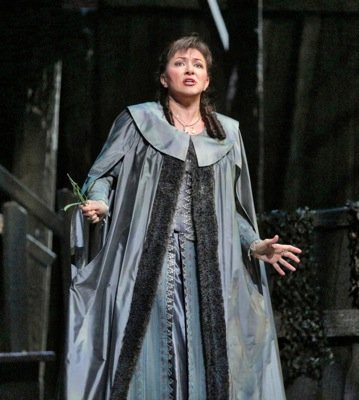 In addition, several of those ensembles are anchored deep in the bass clef by two comprimario basses, the conspirators Count Ribbing (American bass Kevin Langan) and Count Horn (Eqyptian bass-baritone Ahsraf Sewailam).
The vocal performances were invariably world class, led by Beczala. He was a major presence in most of the opera, from the first scene's big chorus, through his attractive barcarolle in the second scene (at the fortune teller Madame Arvidson's), after which he leads off E scherzo od è follia, the second most famous quintet (after "Carmen's") in all opera.
[Below: Stephanie Blythe as Madame Arvidson (Ulrica), the fortune teller; edited image, based on a Ken Howard photograph, courtesy of the San Diego Opera.]
The big gallows scene, during which Beczala's lyric tenor melds with with the creamy dramatic soprano of Stoyanova, was particularly effective.
I had reported on Kim's Oscar and Blythe's Madame Arvidson when they appeared in this production at the Lyric Opera [See 21st Century Verdi: Radvanovsky Leads World Class Lyric Opera "Ballo" Cast – Chicago, November 15, 2010.] They must be regarded as leading contemporary exemplars of those quite spectacular roles.
How to Stage an Assassin's Ball
"Ballo" is one of the rare operas that is always performed whole (no cuts are made in the score) but its staging has had a checkered history. The opera was based on an early 19th century French libretto about the assassination of King Gustavus III of Sweden at a masked ball.
[Below: The page Oscar (Kathleen Kim, left) inadvertently reveals her king's disguise to his assassin, Count Anckarstrohm (Aris Argiris, right); edited image, based on a Ken Howard photograph, courtesy of the San Diego Opera.]
After the widespread European Revolutions of 1848, the idea of staging the assassination of a reigning European monarch was considered too dangerous, and censors forced a change of locale (to Massachusetts!) and name changes for the characters.
In the 20th century it became fashionable to restore the "Swedish" setting and names, which generally is followed for this production seen in San Diego
The Swedish version, being closest to Verdi's original intentions, has an aura of authenticity. But the Swedish version has sometimes inspired curious ideas for staging the opera, based on the historical Gustavus' reputation for kinky sexuality, that Verdi assuredly did not intend to portray.
Lesley Koenig's stage direction generally plays the opera straight, although she too apparently finds it irresistible to add some fussy touches that in my opinion did not succeed, such as a bit where the page Oscar annoys the High Judge (Joseph Hu) or various instances where lead characters hand off a hand-held mask to one another.
Another important debut is that of Italian conductor Massimo Zanetti, whose generally fast-paced musical performance still allowed for elegant attention to the details of the vocal ensembles.
San Diego Opera veteran Scott Sikon sang the role of Christian the Sailor. The commedia dell' arte inspired dance entertainment at the ball was choreographed by Kenneth von Heidecke.
[Below: King Gustavus (Piotr Beczala, center, in chair) dies after forgiving his assassins as Count Anckarstrom (Aris Argiris, left), Amelia (Krassimira Stoyanova, second from left) and Oscar (Kathleen Kim, fourth from left) look on; edited image, based on Ken Howard photograph, courtesy of the San Diego Opera.]
The production is owned by the San Francisco Opera. The attractive costumes originally were created by production designer John Conklin for a 1977 San Francisco Opera production that starred Jose Carreras and Katia Ricciarelli.
(Unfortunately, and I believe unwisely, Conklin's beautiful sets that the costumes complemented were discarded by a previous administration at the San Francisco Opera, which required the succeeding administration to purchase the existing sets from another company. The details of this story and why the costume designer, but not the set designer, is identified in the San Francisco program materials (and those for the production's later mountings in Chicago and San Diego) can be read in my previous review [Missing "That 70's Show": S. F. "Ballo" — September 17, 2006.)
However, whatever the history of the sets and costumes, the reasons for attending this "Ballo" are the musical performances of Beczala, Stoyaova, Kim, Argiris and Blythe.
I recommend it without any reservations.