The following interview was conducted in the administrative offices of the Houston Grand Opera, whose facilitation of this interview is gratefully acknowledged.
[Below: Wendy Bryn Harmer; resized image of a publicity photograph from wendybrynharmer.com.]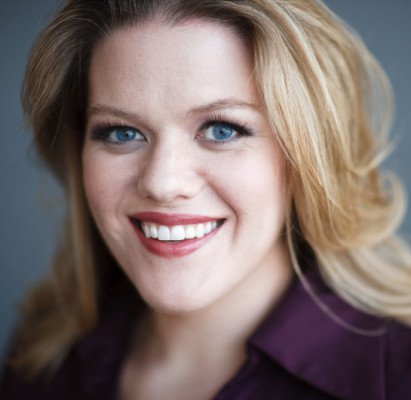 Wm: Although born in Roseville, California, you were raised in Bountiful, Utah. In my discussions with opera singers, many were first introduced to vocal performance through church music. Did choral music in church inspire an interest in singing?
WBH: I started with the Salt Lake Children's Choir. In fact, operatic soprano Erin Morley and I grew up together. What is so wonderful about singing with a children's choir is that the tone and technique is so pure. Ralph Woodward Junior taught me when I was a seven year old.
I was in the Children's Choir until I was 17 years old. On many of those days I had hissy fits, but my mom would take me to choir practice anyway. I'm glad we kept at it!
I was also a flautist, which also lends itself to good vocal technique and breath control.
Wm: You entered the Boston Conservatory after high school. What led you to choose that institution?
WBH: I needed a small, safe place to work and learn and study. I was accepted to larger schools, but in hindsight I am so grateful I went to BoCo. The entire undergrad and graduate population hovers around 550 students. My largest class had maybe six people in it.
I went there for my teacher, really. I was able to study with Sheri Greenawald while I was at BoCo.
Wm: A teacher who, among other things, runs both the San Francisco Opera's Merola Young Artists' Program and the Adler Fellowships. What were your other formative experiences at the Boston Conservatory?
WBH: For the first years, my parents had paid for me to attend, but even though I was fond of the Boston Conservatory, I had planned to transfer to a less expensive school. For some time, I had been auditioning for schools and programs that could offer me some financial aid.
As a 20 year old undergraduate, I needed nurturing. This came in the form of a master
class taught by Soprano Christine Brewer. When she learned I was planning to leave the Conservatory for financial reasons, without my knowing it, she wrote a letter that led to my receiving a financial scholarship, permitting me to stay.
Knowing that someone had invested in me at age 20 placed responsibility on ne to live up to their expectations. I took advantage of every opportunity.
Wm: Those opportunities included participating in the 2002 and 2003 summer programs of the Music Academy of the West in Santa Barbara. You have been quoted as saying that your acceptance at this institution, founded by Marilyn Horne, was the breakthrough for your career.
WBH: During this period I was receiving contradictory advice: not to go to graduate school, not to sing mezzo roles, not to sing soprano roles. But then I received an offer to spend the summer after my junior year at the Music Academy in Santa Barbara. I started there as a Rossini mezzo at age 22.
Marilyn really took me under her wing. At first, she didn't care if I was a mezzo or a soprano, she just wanted me to support a clean tone. Fach will iron itself out later.
Wm: You received an invitation to join the Gerdine Young Artists' program at the Opera Theater of St Louis in late Spring, 2003, even while you were still a student at the Boston Conservatory and were planning to return to Santa Barbara that summer.
WBH: The Opera Theater of St Louis would not have accepted a student with obligations at another institution to their Young Artists' Program, but the Boston Conservatory let me graduate early. In fact, I missed my Boston Conservatory baccalaureate graduation ceremonies, because I was performing in St Louis.
Meanwhile, Marilyn Horne held a place at Music Academy to permit to finish my obligations in St Louis. A lot of people helped me make that summer a success. It was busy, but fulfilling.
Wm: Your biography mentions your participation in 2004 in a nine-artist master class at the Villecroze Music Academy on the French Cote d'Azur. What were the circumstances that led to your selection for that program? What did you learn there?
WBH: I learned that I ADORE Wagner. Marilyn taught me the Wesendonck Lieder, and we worked out some kinks on my road to "soprano-hood". I loved, loved, loved the work environment there. We had master classes every day, all day.
[Below: Wendy Bryn Harmer as Gutrune; edited image of a photograph for the Metropolitan Opera.]
Wm: From there you took part in San Francisco Opera's Merola summer program in 2004 and then entered the Met's Lindemann Young Artist's Program.
WBH: When I was auditioning for graduate schools, I was heard by the Metropolitan Opera's artistic administrator, Lenore Rosenberg. She encouraged me to apply to the Lindemann program.
The Lindemann Program has an outstanding faculty. When I was there it was led by Ken Noda, John Fisher and James Levine, of course. The best ears in the business!.
Wm: You were winning competitions during this period of your career.
WBH: At the time, I think that I won competitions that I had no business winning. Sometimes I felt that I didn't know what the judges had in mind.
It worked both ways. I recall that I competed with an artist who was singing Regnava nel silenzio from Donizetti's "Lucia di Lammermoor". The artist forgot her words and took four tries to complete the aria. I sang an aria from Richard Strauss' "Ariadne auf Naxos" that I thought I did wonderfully, but the other artist won the competition.
Whatever they were looking for, I must have had two years later, because, then, I won that competition.
I believe firmly that you can't try to sing what you think a judge or an audition panel wants to hear. You win some, you lose some. Stick to your guns, sing with your own voice, and at the right time it will work out.
Wm: Ever since your days as a Lindemann Young Artist, you have been closely associated with the Met, enough that one would imagine you considering it your "home company". Is that true, and is there a special comfort that comes from performing in familiar surroundings?
WBH: I have never felt uncomfortable on the Met stage. I went there when I was 23 years old. That's where I grew up. If home is where you start from, home is The Met.
I bake the crew peanut butter cookies, so they know to take good care of me!
The house has a resonance that I understand. I love the orchestra, I have a huge amount of respect for the chorus. It's the best hair and makeup staff in the business. The wardrobe mistress will move heaven and earth to take care of you.
At the Met I have only had good musical experiences. The Met has never been anything but honest with me, which I really appreciate.
For both the Otto Schenk and Robert Lepage productions of Wagner's "Ring of the Nibelungs", there were technical issues that have been scary under other circumstances. Yet, I never once felt unsafe on the Met stage, and always trusted the Met stage crews and technical staff.
[Below: Wendy Bryn Harmer as Freia; edited image, based on a Beatriz Schiller photograph for the Metropolitan Opera.]
I enjoy new and exciting experiences, but, if I'm in a house I don't know well, I don't have the same level of comfort.
It's comforting being in New York, sleeping in my own bed, and knowing that if something about my voice bothers me, I can go to Ken Noda and John Fisher for advice, teachers who knew me when I was singing Mimi.
Wm: For every successful operatic artist, there are some roles that have proved major milestones for their careers. What roles in what houses do you regard as establishing your artistic reputation? And, are they favorite roles?
WBH: Oh, certainly, Vitellia in Mozart's "Clemenza di TIto". I like the way Mozart wrote the role for two different voices. There are moments when you are singing as if she's a mezzo and other times as a soprano.
I liked the 2006 Brad Dalton production at Opera Boston that was theatrically so uninhibited. We had a lot of freedom as how we could perform our roles.
Wm: You were originally engaged by the Houston Grand Opera to perform Vitellia, along with Anthony Dean Griffey, Susan Graham and Laura Claycomb, but the opera company ultimately decided to replace "Clemenza di Tito" with Johann Strauss' "Fledermaus", which is more certain to be a hit at the box office than "Clemenza".
Obviously, the four of you agreed to take on roles that you are likely never to have considered.
WBH: The part of Rosalinde in Johann Strauss' "Die Fledermaus" was a big surprise to me. I didn't think I would enjoy the role nearly as much as I do. Ros has become a good friend!.
They are creative here in Houston. I don't think other houses would have thought to make a "Fledermaus" cast out of this group of singers, but we are having a blast!
I loved the Opera Australia production and the cast they brought in. It is very light – escapism at its finest. If you want opera to be about the affairs of Kings and filled with people dying onstage, there is something to be said for that.
This "Fledermaus" is a joyful production, but there is substance to it. The director, Lindy Hume, dealt face on with the issue between Rosalinde and Eisenstein. Their song to love in Act II is very melancholy. And it should be! No one is paired with the person they want to be with, really.
[Below: Rosalinde (Wendy Bryn Harmer, left) stands up to her husband Eisenstein (Liam Bonner); edited image, based on a Felix Sanchez photograph, courtesy of the Houston Grand Opera.]
Lindy was sure that people in the audience would understand and relate to this. There are boatloads of Eisensteins and Rosalindes who are content in their marriages, but not necessarily happy.
They ask, how did we get here? One day, all is well. The next, they are moments away from throwing a marriage away. It happens in real life, so we all found a way to tap into that in our characters.
Wm: I suspect you were no more likely to have been offered Rosalinde anywhere else than Griffey to be offered Alfred.
WBH: True! I am usually heard as a Wagnerian soprano, but Ros is no lightweight. She has some serious singing to do!
[ Below: Rosalinde (Wendy Bryn Harmer, left) arrives at the police station where Alfred (Anthony Dean Griffey, right) has spent the night; edited image, based on a Felix Sanchez photograph, courtesy of the Houston Grand Opera.]
I am so glad HGO thought outside the box and introduced me to my new favorite role.
Wm: Speaking of Wagner, the first time I saw you in performance was as Gerhilde in the San Francisco Opera performance of the Zambello production of Wagner's "Die Walkuere" in which the valkyries appeared as parachuting aviators. Was that production as much fun to perform as it was to watch?
WBH: Absolutely! The valkyries are always fun to play. They are a gaggle of eight warrior women, who all wake up with Gerhilde's first hoyo to ho.
The first two acts of "Walkuere" deal with the destruction of marriages, so Zambello wants the third act to be energetic and fun. It is like being in a girl's clubhouse with a sign saying "No boys allowed" taped on the door.
[Below: Brünnhilde (Nine Stemme, center, without helmet) is surrounded by her eight Valkyrie sisters; edited image, based on a Cory Weaver photograph, courtesy of the San Francisco Opera.]
When that scene starts, we know it's going to be the "funnest" day. I loved Zambello's ideas. The Valkyries Rock was a playhouse. There was scaffolding. There were staircases. We could run and jump and fall. The set became a playground for eight girls.
Wm: I had planned to see you as Glauce in Cherubini's "Medea" at Zambello's 2011 Glimmerglass Festival, but you had to withdraw from that production. Would you relate the circumstances?
WBH: It turned out that I was highly allergic to the latex chemicals used in constructing the sets. I tried to perform as best I could, relying on shots from a New York City allergist.
The Glimmerglass Festival staff worked very hard to make it work for me, keeping the set as dust free as possible, but, ultimately, I was forced to give in to my allergy and withdraw from the production.
I've never canceled a role before, and hate the idea of disappointing audiences. I was anxious to perform the Cherubini role. What's more the originally cast tenor broke his back. I knew it was devastating to a company to lose two principal artists in the same week. We did our best, but it didn't work out.
Wm: You performed superbly in the 2013 Seattle Opera "Ring of the Nibelungs" as Freia and Gutrune, and, of course, reprising Gerhilde. As an experienced Ring performer, what are your thoughts on Stephen Wadsworth's Green Ring in Seattle, and my suggestion that the production be considered a "world treasure" and marked for preservation
WBH: I think it should be preserved for all time and all eternity!. There is something so magical and beautiful and natural about that Ring. It unfolds in such an organic fashion.
[Below: Wendy Bryn Harmer confers with Stephen Wadsworth, stage director for the Seattle Ring; resized image of an Alan Alabastro photograph for the Seattle Opera.]
Stephen worked to realize the images that he believed were in Wagner's mind. Stephen works so hard to make every word matter and to honor what the composer asked for. If Wagner calls for a horse on Brünnhilde's Rock, you get a live horse. The trees give you the feel of a primeval world along the Rhine.
It's very literal, and very beautiful, and very maddeningly but wonderfully detailed!
Wm: With so many performances of Wagner's four opera "Ring" in the future schedules of opera companies throughout the world, it must have a profound effect on your performance repertory.
WBH: That's very true. Accepting any "Ring" kills so much of the time you can be available. They are all cast so many years in advance, that whole months are blocked out.
It truly limits what I can accept, because even an overlap of two or three weeks in the rehearsal and performance times of a "Ring" with some other potential role makes the other role impossible to accept.
It actually is a relief to have a season without a "Ring" scheduled. This coming year I can do a number of roles I've wanted to for so long. For example, I will be in London to do Eva in Wagner's "Die Meistersinger" I've purposely waited for the right time for that role. I am singing Desdemona in Verdi's "Otello" for the first time. I am singing the title role of Janacek's "Kat'a Kabanov" at The Spoleto Festival, Elagantine in Weber's "Euryanthe" at The Bard Festival, and taking on a lovely piece that was written for me this fall in Boston. I am not sure if I am allowed to announce the rest, so I will stop there!
Wm: What roles do you want to add to your repertory?
WBH: The title role in Floyd's "Susannah" would be near the top. I want to do the title roles in Puccini's "Manon Lescaut" and Richard Strauss' "Ariadne auf Naxos". I am dying to do another Vitellia. She is a hoot!
Wm: As a New Yorker who has been identified in the press as a Boston Red Sox fan, can we assume that you were pleased that they have won the 2013 World Series?
WBH: Oh, yes. I'm a rabid Red Sox fan. I have season tickets to their games.
Houston (a National League city) is a tough place to be in the post-season leading up to the World Series. If I were in Boston, I know which restaurant I'd be at to celebrate the Red Sox win.
I've sung the National Anthem before a game that Pedro Martinez pitched at the Red Sox' Fenway Park. I even have been interviewed by the Boston Globe as to the career lesson I learned from what I believed was Martinez error in the 2003 World Series.
If you are not at your best, let a relief pitcher take your place.
Wm: How much opportunity do you and your husband and family have to enjoy a "normal life" and still pursue an operatic career?
WBH: Our "normal life" recently changed quite suddenly. My husband and I had applied to adopt a child. Our little boy found his way to us faster than we could have every imagined!. Our parents and my manager stepped in to make things work for us.
It has caused a transition in our lives. We travel with a nanny, and often my mother and mother-in-law. We have lots of nieces whom we tap into. When I am engaged in Seattle or Houston, these are perfect cities for traveling with an infant.
The staff at HGO, in particular, had loads of ideas for me, toys left for us in our apartment, maps of the museums, everything I needed to keep my son happy while I went to work. What a blessing!
In addition we have two dogs – an American and an English bulldog. The American bulldog, Stilton, sits under our little boy's crib and is his shadow. The English bulldog, Gorgonzola, who was our "only child" for three years, is quite irked by having a new arrival, but she is dealing with the change as well as an English bulldog possibly can.
Wm: Thank you, Wendy, for this interview.
WBH: Thank you also.