The Los Angeles Opera revived Francesca Zambello's now classic interpretation of Britten's grandest operatic work, "Billy Budd", about the struggles of Good and Evil aboard a British Warship during the Wars of the French Revolution,
[Below: Francesca Zambello; edited image, based on a B. A. Nilsson photograph from www.metroland.net.]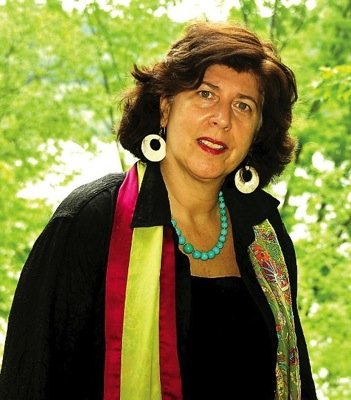 Returning to the Dorothy Chandler Pavilion after a 13 year absence, the production was brilliantly conducted by Music Director James Conlon who has championed this opera, as part of his commitment to the entire output of Great Britain's greatest creator of stage-worthy operas. Zambello was present early in the rehearsal process, while director Julie Pevzner oversaw the revival.
With obvious care given to selecting every member of the large cast, the evening proved not only to be theatrically valid as a whole, but also to be a collection of masterful portrayals of each individual character.
Liam Bonner's Luminous Billy Budd
It was the role debut of Liam Bonner, whose rich lyric baritone and good looks have made him one of the audience favorites of the Houston Grand Opera.
[Below: the prisoner Billy Budd (Liam Bonner) contemplates his death; edited image, based on a Robert Millard photograph, courtesy of the Los Angeles Opera.]
One does not mount "Billy Budd" without confidence in the artist cast in the title role, who must be a believable force of good and leader of oppressed men.
[Below: Billy Budd (Liam Bonner, top) leads the men of the "Indomitable" in cheering for their ship and captain; edited image of a Robert Millard photograph, courtesy of the Los Angeles Opera.]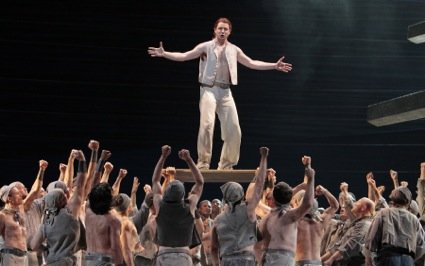 Bonner's affecting portrayal confirmed his readiness for what arguably must be considered the most important assignment to date of his rising career.
Richard Croft's Captain Fairfax Vere
Equally effective was the Captain Vere of American tenor Richard Croft who brings a voice with requisite power, and the vocal control to be able to project both a vigorous commander of British man-o-war and an age-worn relic at the end of life.
[Below: Richard Croft as Captain Edward Fairfax Vere; edited image, based on a Robert Millard photograph, courtesy of the Los Angeles Opera.]
Old Vere in the Zambello Staging
One of the striking features of Zambello's production design is to have Old Vere, who, as the opera is written, appears at its beginning and end, to arrive on deck during the execution of Billy Budd.
[Below: Richard Croft dressed as the Old Captain Vere as the events of 1797 take place on deck behind him edited image, based on a Robert Millard photograph, courtesy of the Los Angeles Opera.]
Having Croft costumed as Old Vere rather than dressed as the ship's captain underscores the character's struggle throughout his later life with his decision not to intervene in the execution that he felt compelled to approve.
(The late conductor Calvin Simmons once said that he felt that Vere spent the remainder of his life consecutively reliving the events of 1797 that constitute the opera's action. The Zambello production and Croft's performance suggest to me that we, the audience, have become part of Vere's continuous replaying of his fatal decision.)
The Zambello staging (on sets designed by Alison Chitty) transforms the spaces aboard the Indomitable into what is most often a flat, raked surface at whose edge a structure, representing the ship's main-mast, forms a cross with two horizontal bars.
[Below: Billy Budd (Liam Bonner) as foretopman; edited image, based on a Robert Millard photograph, courtesy of the Los Angeles Opera.]
That surreal space fits with the idea that we are observing events in the Old Vere's mind. The conversations are remembered clearly, but the specificity of spatial relationships, particularly anything that is supposed to occur in Captain Vere's quarters, has dissipated.
This provides the opportunity for swift scene changes (one of the objectives of Britten's 1964 revision of "Billy Budd"), consolidating action into two acts. It also provides the opportunity for the Old Vere to wander onto the deck to observe Billy's hanging.
Greer Grimsley's John Claggart
Bass Baritone Greer Grimsley, in a belated Los Angeles Opera debut, reprises a role he has performed elsewhere, the sinister master-at-arms John Claggart.
[Below: John Claggart (Greer Grimsley) professes his determination to destroy his perceived enemy; edited image, based on a Robert Millard photograph, courtesy of the Los Angeles Opera.]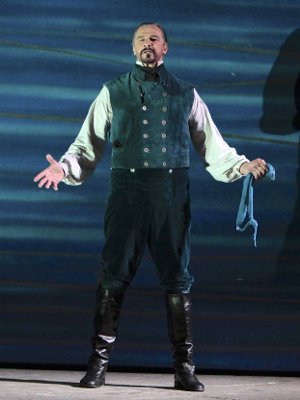 Just as the opera identifies Billy as the force of good, so Claggart is identified as Budd's polarity, the force of evil.
Grimsley's portrayal of Claggart is arguably one of a self-aware apparatchnik, resigned to the fact that failure to keep the Indomitable's potentially mutinous men in check will result in chaos. One can see him perhaps as a gangster's "muscle", yet capable of human emotions beyond repressed anger.
In some productions, Claggart's hostility to Budd is portrayed as explicitly homoerotic. In this production the theme exists, but is more subtle, such as Claggart's fondling of the neckerchief that Claggart took off Billy in a dressing-down (wordplay unintentional).
Keith Jameson's Novice
Claggart's attention to the Novice that has suffered the lash at the command of a ship's officer, is a dramatic element that, in Grimsley's interpretation, seems at once both homoerotic and paternal.
[Below: Master-at-Arms Johm Claggart (Greer Grimsley, above) consoles the Novice (Keith Jameson, below) with the intention of forcing the Novice to serve him; edited image, based on a Robert Millard photograph, courtesy of the Los Angeles Opera.]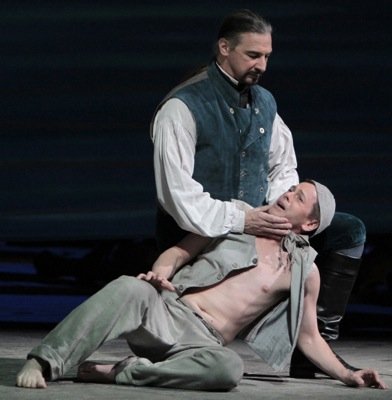 Keith Jameson's Novice is a part already associated with this engaging character tenor [See below for a hyperlink to an account of Jameson's Novice at the 2008 Santa Fe Opera Festival.]
His character is a rich part, the center of attention on five separate occasions, culminating in an attempt at Claggart's bidding to falsely implicate Budd as plotting mutiny.
But it is the poignancy of the despondent Novice's return from the lashings in which Jameson's performance is memorable.
Paralleling it is the bravely attempted intervention of the Novice's Friend, beautifully played by Russian basso Valentin Anikin, whose risky attempt to secure mercy for a disgraced shipmate might suggest the kind of intimate relationship we should expect to find within an all male ship's crew that never will have a chance for shore leave.
James Creswell's Dansker, Greg Fedderly's Red Whiskers, Jonathan Michie's Donald, and Matthew O'Neill's Squeak
In addition to Jameson's and Anikin's performances, there are four other members of the "below decks" crew whose performances are especially noteworthy – each of whom have been praised on this website in other operatic performances.
I have admired James Creswell's several performances at the Los Angeles and San Francisco Operas [see, for example, Ovations for Oksana Dyka, Dalibor Jenis, James Conlon – "Eugene Onegin", Los Angeles Opera, September 17, 2011]. Creswell made a fine impression in the role of Dansker, one of the Indomitable's old salts, and the one character with the clearest read on Claggart's motivations.
[Below: Donald (Jonathan Michie, left), Red Whisters (Greg Fedderly, center) and Dansker (James Creswell, right) determine not to do anything that would result in punishment; edited image, based on a Robert Millard photograph, courtesy of the Los Angeles Opera.]
Greg Fedderly, here performing Red Whiskers, is invaluable in the character tenor roles. appearing at each of the three major California opera companies. He has the capacity to change his appearance from one role to another, so effectively that some opera patrons may not be aware of how many times they have seen him in performance.
Jonathan Michie made a fine impression in the role of Donald. Michie was the Vicar to Liam Bonner's Sid in the Los Angeles Opera's mounting of Britten's "Albert Herring", and had the hilarious role of Prince Paul in the opening production of the Santa Fe Opera's 2013 season [Susan Graham's Star Glows in Offenbach's Sexy, Witty "Grand Duchess of Gerolstein" – Santa Fe Opera, June 28, 2013].
[Below: Billy Budd (Liam Bonner, center, in white) swings at Squeak (Matthew O'Neill,center, in dark clothes); edite dimage, based on a Robert Millard photograph, courtesy of the Los Angeles Opera.]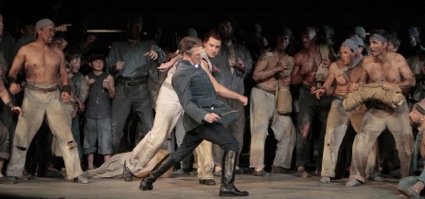 In the role the Claggart operative Squeak, was Matthew O'Neill, another formidable character tenor [see, for example, French Connection: Friedkin's Cinematic "Tabarro" – L A Opera September 6, 2008].
Among O'Neill's many admirable assignments was creating the role of the third mate Flask in another shipboard opera based on a Melville sea tale [see World Premiere: Heggie's Theatrically Brilliant, Melodic "Moby Dick" at Dallas Opera – April 30, 2010.]
Anthony Michaels-Moore's Redburn, Daniel Sumegi's Flint, and Patrick Blackwell's Lieutenant Ratcliffe
Captain Vere's senior officers, who constitute the drumhead court that condemns Billy, contains the juicy baritone role of Mr Redburn, here played by the distinguished British dramatic baritone Anthony Michaels-Moore, like Grimsley making a Los Angeles Opera debut in this production.
[Below: Mr Redburn (Anthony Michaels-Moore, left) and Mr Flint (Daniel Sumegi, right) mock their wartime enemies, the French; edited image, based on a Robert Millard photograph, courtesy of the Los Angeles Opera.]
Michaels-Moore brought the middle voice to the trio of tenor, baritone and bass that takes place in Captain Vere's cabin, anchored by the sonorous lower register of Australian basso Daniel Sumegi.
[Below: a scene in which both the upper deck and the below decks living quarters of the crew are seen simultaneously; edited image, based on a Robert Millard photograph, courtesy of the Los Angeles Opera.]
Joining Michael-Moore's Redburn and Sumegi's Flint was Patrick Blackwell's Ratcliffe, yet another strong performance in this abundantly talented cast.
Interpreting the Meanings of "Billy Budd"
In my review of a different production (and the original, rather than the revised version) of "Billy Budd", I wrote extensively on what I think the opera is about. See [Superlative: Original 1951 "Billy Budd" Catches the Santa Fe Wind – August 14, 2008.] Rather than recounting the entire argument here, I recommend reading my 2008 Santa Fe Opera review.
But briefly summarizing my earlier comments, I believe that that it is correct to consider the opera as a conflict between good and evil, in which Billy Budd and Claggart are "fated" to be adversaries.
But their "fates", in my understanding of the opera, are not so much metaphysical as historical, in the sense that each character represents a position as to how a sovereign power governs its subjects.
In the opera's libretto there is considerable specificity of actual historical events (the French Revolution, the ensuing Anglo-French wars, the events at Spithead, the mutiny aboard the warship Nore, and the impressment of civilians for naval service).
I believe it is illuminating, and I think of great significance, to consider the context of this story as part of the human rights movement, particularly the late 18th century and early 19th century efforts to impose new restrictions on lashings and other excessively cruel shipboard discipline. (I was delighted to be subsequently commended by a British human rights organization for my Santa Fe review.)
[Below: Billy Budd (Liam Bonner, second from right) joins his shipmates in the Indomitable's riggings, an image that is paralleled in the Francesca Zambello productions of Wagner's "Flying Dutchman"; edited image, based on a Robert Millard photograph, courtesy of the Los Angeles Opera. ]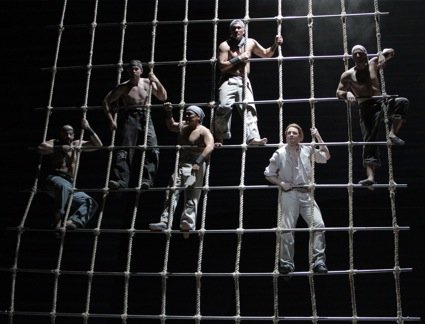 Then Budd, who "knows how to sing" can lead men through kindness and respect, undercutting Claggart's system of terror.
Claggart sees the danger to the system (as do Flint and Redburn) if represssive discipline is discarded,. None of them – particularly Claggart who "understands men" – believe it would work, certainly if Billy's charismatic leadership eventually were to be replaced by a less inspiring leader.
Claggart might even find Billy to be attractive, but, because Billy could destroy the existing system, Billy has to be destroyed to keep the system for controlling men (and, ultimately, the ship) safe.
The advantage of considering this interpretation is that every line of the libretto is consistent with it, whereas some alternative explanations are inadequately supported by the libretto's text – e.g., a Christ-figure and anti-Christ are in a cosmic battle, or, alternatively, repressed same-sex desires are the motivating forces behind the lead characters' actions.
That said, "Billy Budd" is a work of genius that will continually reveal new ways of thinking about it.
Recommendation
I have previously predicted that Britten's "Billy Budd", with sufficient exposure to the opera-going public, could be one of the 20th century operas to join the inner circle of the standard repertory. I believe this production, with its fine cast and excellent work by the Los Angeles Opera Orchestra (led by Conductor James Conlon) and Chorus (Grant Gershon, Chorus Master) is one that is immediately accessible to both the veteran opera-goer and persons new to opera.
I strongly recommend it without any reservations.
For my reviews of previous performances of Britten operas conducted by James Conlon as part of the observance of the centennial of Britten's birth, see: Countdown to the Britten Centennial: Conductor James Conlon, Director Paul Curran in Reverential Mounting of Britten's "Albert Herring" – Los Angeles Opera, February 25, 2012, and also,
Countdown to Britten Centennial: Conlon, Racette and Burden Impress in Enigmatic "Turn of the Screw" – March 12, 2011.
For my reviews of a recent performance by Liam Bonner, see: A Feisty, Funny "Fledermaus" – Houston Grand Opera, November 2, 2013