As a college sophomore, in my third year as a subscriber to the San Francisco Opera, I had already experienced Bellini's "Sonnambula" with Joan Sutherland, Verdi's "Aida" with Leontyne Price, Regina Resnik and Sandor Konya, and Reri Grist, Cesare Valletti and Hermann Prey in Rossini's "Barber of Seville" (I also had purchased seats off my subscription for Saint-Saens' "Samson et Dalila" with James McCracken and Puccini's "Tosca" with Price and Konya).
The fourth night on my Saturday night series was Verdi's "Falstaff" which I had seen with Sir Geraint Evans in the title role the previous season. Therefore, I traded my "Falstaff" seat for a performance of Wagner's "Die Walküre" which I had seen as a young teenager seven seasons earlier with a stellar cast that included Birgit Nilsson and Leonie Rysanek (both in their American debut seasons) as Brünnhilde and Sieglinde, Hans Hotter as Wotan, Nell Rankin as Fricka and Ludwig Suthaus as Siegmund [See Die Walküre – November 4, 1956.
Nilsson in a oral history interview conducted by the San Francisco Opera referred to the Opera under its General Director, the Austrian émigré Kurt Herbert Adler as a "German house" in contradistinction to the Lyric Opera of Chicago which she called an "Italian house".
In fact, with the Austrian Adler at the company's helm, the 1956 "Walküre" conductor being the German Leopold Ludwig, the staging by German director Paul Hager, the sets by German designer Leo Kerz and the cast including the Germans Hotter and Suthaus, the Austrian Rysanek and the Swedish Nilsson, some might find the argument to be persuasive that San Francisco excelled in opera performances of a Teutonic kind.
Nilsson was unavailable to San Francisco Opera for the seasons 1957 through 1963 (although she would return in 1964). Ludwig and Hager were back for "Walküre" and Kerz' controversial pink-toned sets (that today would be considered very traditional) were back also.
What was quite different was the cast, which, rather than the Central European lineup offered in 1956,  included an Anglo-American team of British soprano Amy Shuard in the title role ("Die Walküre" refers to the single Valkyr Brünnhilde), Pennsylvania bass-baritone Leonardo Wolovsky as Wotan, and Saskatchewan tenor Jon Vickers as Siegmund.
[Below: British dramatic soprano Amy Shuard; resized image of a promotional photograph.]
Just as the token Anglo-American among the 1956 principals was Alabama's Nell Rankin as Fricka, in 1963 the lone Central European was Swedish soprano Siw Ericsdotter as Sieglinde.
The role of Fricka proved yet another triumph of Resnik's 1963 season. I will have more to say about Wolovsky and Ericsdotter, both of whom performed admirably later that month, respectively as Don Alfonso and Madame Lidoine in my 50-year anniversary observances of performances of Mozart's "Cosi fan Tutte" and Poulenc's "Dialogues of the Carmelites".
[Below: York, Pennsylvania bass-baritone Leonardo Wolovsky as Wotan; resized image of a production photograph.]
The Canadian Vickers and the British Shuard were important artists in San Francisco during the mid- and late-1960s, who were associated with the power singing that resonates in San Francisco's War Memorial Opera House.
If Madame Nilsson were correct that there was a moment that the San Francisco Opera could be considered a German house, it should be noted that the North Americans had cornered the German heldentenor roles.
[Below: Heldentenor Jon Vickers, here as Samson in Saint-Saens' "Samson et Dalila"; resized image of a production photograph.]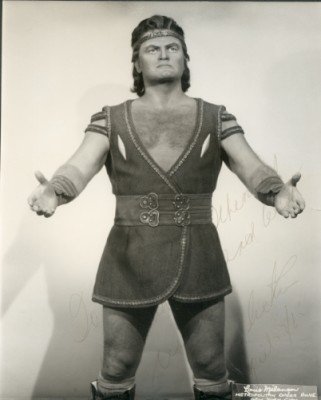 From 1963, throughout the rest of the 1960s, the heroic roles of Wagner, Beethoven and Richard Strauss in San Francisco were the shared property of Vickers, Jess Thomas and James King.
After 1963, it was not until 1970 that a Central European tenor sang a Wagner role in San Francisco, when German heldentenor Wolfgang Windgassen was persuaded to come out of retirement to replace Vickers (who felt he needed more time to prepare the role of Tristan) in a memorable series of performances of Wagner's "Tristan und Isolde" with Nilsson.
Vickers was not confined to Wagnerian roles, nor was Shuard. During the remaining San Francisco Opera seasons of the 1960s, I was to see Vickers perform such diverse roles as Don Jose in Bizet's "Carmen", Aeneas in Berlioz' "Les Troyens", Sergei in Shostakovich's "Katerina Ismailova", Florestan in Beethoven's "Fidelio", Radames in Verdi's "Aida" and the title role in Verdi's "Don Carlo".
Shuard returned in the title roles of Richard Strauss' "Elektra" and Puccini's "Turandot" and as Brünnhilde in Wagner's "Götterdämmerung".
Hunding was sung by 39 year old German basso Walter Kreppel.
Leo Kerz' 1956 production was retired after its 1963 revival. Kerz' reputation in the United States came to be centered on his accomplishments in Broadway theater rather than opera, most famously as the production designer for Ionesco's Rhinoceros.
Of interest to 21st century opera goers is his involvement earlier in his career in the 1949 Broadway production of Weill's opera "Lost in the Stars", recently revived at the Glimmerglass Festival [See Eric Owens is Vocally Powerful, Dramatic and Emotional in Kurt Weill's "Lost in the Stars" – Glimmerglass Festival, July 22, 2012.]