This interview was conducted at the War Memorial Opera House in San Francisco, with much-appreciated facilitation by the San Francisco Opera.
Wm: You were raised in New York City, but your mother is Argentinean. How did your parents meet?
IL: My mother was born in Argentina, but moved to the United States in the 1960s to complete her Ph.D. in physics, after the Argentine universities were closed.
[Below: Isabel Leonard, resized image of a Jared Slater photograph, courtesy of Isabel Leonard.]
Later, she met my father in New York City through mutual friends. He was raised in a German-Irish family in Toledo, Ohio.
My father pursued the visual arts, both as a painter and sculptor.
I believe that it is even harder for visual artists to have a successful career, than it is for opera singers.
Wm: And yet your father successfully maintained a household in New York City. How did he manage that?
IL: My father knew from experience that art galleries, firms and organizations had to move works of art.
Virtually no one in the 1970s was in the business of properly crating and packaging, insuring and transporting art works. He created a service that did this and continued it until his death.
Wm: What was your earliest recollection of music, especially vocal music?
IL: I cannot remember a time when music and the performing arts were not part of my early childhood. My mother and I would sing together, especially rounds like Frere Jacques -"Row row row your boat" – at home and whenever we were in the car. She also taught me some Argentine children's songs.
As a young child, I was also involved in dance. My first formal training in the arts started at the age of five with The Joffrey Ballet School.
For two seasons I participated in the Joffrey Ballet's holiday performances of Tchaikovsky's "Nutcracker", the first year as Punchinello and the second as a boy in the party scene. Those were my first professional experiences.
Someone should have told me then that I would be playing "pants" roles later on in life. I was so mortified having to play a boy in the Nutcracker!
[Below: Isabel Leonard as Sesto in Mozart's "La Clemenza di Tito"; edtied image of a photograph for the Canadian Opera Company, courtesy of isabelleonard.com.]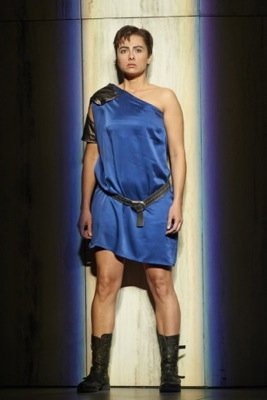 Wm: There are a couple of examples of opera singers with extensive preparation in dance as a child. What impact do you feel that may have had on you?
IL: I've always kept up my dancing. I learned how to tap. I took jazz and modern dance classes. On trips to Argentina, I would work on my flamenco.
I danced throughout my undergrad and masters years at The Juilliard School. In fact, because there were so few opportunities for undergraduate vocal solos at Juilliard, a lot of my undergraduate performance work was through dance.
Wm: Tell me more about your dance experiences at Juilliard.
IL: I continued my own dance education even after I left The Joffrey. I took many classes in different styles at Steps on Broadway, and when I began my training at Juilliard, we had a mandatory dance class as well.
Our dance teacher and now good friend Jeanne Slater choreographed for many of the operas. As our class coincidentally had a considerable amount of movement training, she used us over and over again for all the dance numbers in every show.
Funny enough, our class soon became known as the class of opera singers who could really dance and always surprised everyone with our antics and tricks! Haha!
Wm: Did Emilio Sagi, your "Barber of Seville" stage director, who often uses flamenco in his productions, know about these dance skills?
IL: Oh yes, and I did get a chance to dance of bit of flamenco in the production.
Wm: Tell me more about how your Juilliard education influenced your career.
IL: First of all, it is such a special place. I made so many connections there that – although I didn't realize it at the time – became very important to my career.
Wm: You seem to have emphasized dance in the early part of your Juilliard experience. When did the vocal lessons become your principal focus?
IL: Actually, preparations for the vocal lessons began with my pre-screening tape that I prepared for my Juilliard application.
In preparing the tape, I was working with the pianist Robert Kopelson. After speaking with him about the next step into the land of conservatories, he recommended that I get in touch with Edith Bers who was a friend, and voice teacher at Juilliard.
He introduced me to Bers when I was 17. Upon listening to me sing, she told me that if I was accepted to Juilliard, to put her down as my first choice as voice teacher.
Bers, my first and only voice teacher, with the help of a handful of coaches, helped me build my voice.
I completed my Masters at Juilliard in 2006.

Wm: What were your early "career moves"?
IL: My first summer festival was the Aspen Music festival. The following summer I attended Music Academy of the West in Santa Barbara, the program Marilyn Horne runs. That summer I won the song competition and the prize was a 2005 New York Recital under the auspices of her foundation: On Wings of Song.
A couple of days after the competition, however, I was invited to a consultation meeting with Ms Horne and the artistic manager, Matthew Epstein. I cannot recollect what I sang for them, but, afterwards, Ms. Horne said to me, with a huge grin, "come over and talk to us". In the conversation that followed, Matthew Epstein told me he wanted to manage me.
I was totally shocked and replied that I would think about it, which I actually think started our relationship on a good foot. Shortly thereafter, however, I signed my first contract with CAMI, Mr. Epstein's artistic management agency.
Wm: What were the next career steps?
IL: That winter, the Marilyn Horne Foundation scheduled a recital for me in New York City.
Mr. Epstein invited a large number of people (all without telling me until the recital was over!), including Peter Gelb, the general manager of the Metropolitan Opera. Mr. Gelb offered me the role of the pageboy Stephano in Gounod's "Romeo et Juliette" at the Met for 2006, and an HD cinemacast in 2007.
My next years were carefully planned, with performances in Atlanta and then Bordeaux, where I sang my first Zerlina in Mozart's "Don Giovanni".
Wm: It was then that you appeared as Cherubino in Mozart's "Marriage of Figaro" in 2008, the first of your performances that I reviewed. As a person whose life had been spent in New York City, what did you think of Santa Fe Opera and its location?
[Below: Figaro (Luca Pisaroni, right) describes to Cherubino (Isabel Leonard, on rocking horse) what it will be like to be a soldier; edited image, based on a Ken Howard photograph, courtesy of the Santa Fe Opera.]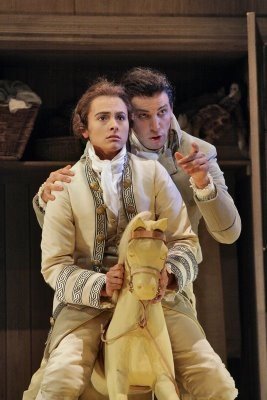 IL; I hadn't driven a car in ten years, so my first concern was how was I going to get around!
On a technical side, one has to adjust to the incredibly dry climate and the whims of the weather there.
But the area is so lovely, and I had so many friends there. It was a great time for me to get to know that company.
Wm: You were in a production that included Marius Kwiecien, Luca Pisaroni and Susanna Phillips.
IL: YES! great cast, and great friends.
Wm: I saw you in Paris as Cherubino in the Giorgio Strehler production, which is one of the productions I have described as "world treasures".
IL: The Strehler sets, which are so beautifully designed and lit, provide such a classic setting for the opera.
Wm: Do you feel more comfortable performing in what you refer to as a "classic setting" than, say, a shift of the opera into a time and place not intended by composer and librettist?
IL: Either is fine by me, as long as there is a reason for it and the choices the director and designer make help tell the story! There are examples of "modernized" productions that I believe have not found a parallel between the opera's story and its "new" setting. The text is saying something different than what people see happening onstage.
In such a production, the struggle is to get the director's vision to match the text. But, it is part of our job.
Wm: How do you as an artist approach such an "innovative" production?
IL: If there is a discrepancy between what I feel the character is thinking, and what the director is asking me to do, then I try to take the time to discuss what is going on, because we, the performers, have the responsibility to make sure that the audience understands the story.
I believe most contemporary artists are flexible and I have met many directors that if asked, are willing to dialogue about their choices. This clarification enables the performer to do their job better as well. If the people on stage are not communicating, then how can we expect the audience to get it?
Wm: Speaking of innovative directors, in your second season at the Santa Fe Opera, you sang Costanza in Vivaldi's baroque opera, "Griselda" in a production conceived and directed by Peter Sellars. What was it like preparing for that work?
IL: Let me separate my answer into my thoughts about "Griselda" and my thoughts about working with Mr. Sellars.
I don't think that "Griselda" is a great piece dramatically. There is a period lasting over two hours in which its characters are in distress about the circumstances that form its plot, then, ten minutes before the end, everything is resolved happily.
It is very hard to sustain such a long period of quasi-unhappiness. That being said, it had some amazing arias!
Wm: How, in working with Sellars, do you approach such a difficult dramatic situation?
IL: I believe, as the cast, we, with Sellars, tried to make "Griselda" as clear as it could be.
Mr. Sellars has a beautiful way of expressing his understanding of the characters. He communicates through a particular physicality to express what each character feels. Some of his language as director is verbal, some non-verbal.
I really enjoyed my time working with Peter. I found his emotional and spiritual approach to the piece very cathartic to me at that time.
As artists we only have our body and voice. So, in order for the audience to understand the journey we want them to take, our story telling has to come from every one of our cells!
Wm: You have performed in both Vivaldi and Handel operas. Do you have a preference for one composer's style over that of the other?
[Below: The final curtain calls for Handel's "Giulio Cesare" at the Opéra National de Paris' Garnier Opera House, with, from left to right, Natalie Dessay as Cleopatra, Lawrence Zazzo as Julius Caesar, and Isabel Leonard as Sixtus; edited image of a photograph from opera-cake.blogspot.com.]
IL: For the moment, I prefer Vivaldi. I do believe there is greater intensity in much of Handel, but his operas are long, and I am not a fan of sitting in an opera house for four and a half hours viewing an opera with a story that does not warrant that length of time. My friend Brian Zeger would die hearing this.
That said, I do believe that much of Handel's music is sublime, and that he has a specific way of showing through music how the characters are feeling.
Wm: You are singing Rosina in Rossini's "Barber of Seville" in the new San Francisco Opera production and also have the title role of Rossini's "Cenerentola" in your repertory.
I believe we are entering a "golden age" of Rossini singing, which, when sung in an authentic style, can be quite different from the styles of his younger contemporaries Donizetti and Bellini.
[Below: Isabel Leonard as Rosina in Emilio Sagi's new production of "Barber of Seville"; edited image, based on a Cory Weaver photograph, courtesy of the San Francisco Opera.]
IL: So far, I've not sung any operas by Donizetti or Bellini, but I feel a kinship with the character of Rosina.
Wm: These parts were written before it became common to designate a female voice as a soprano or mezzo-soprano. Do you see your career as going towards one vocal category over the other?
IL: Actually no. I want to state unequivocally that, although Cenerentola and Cherubino are usually considered as mezzo-soprano roles, I prefer not to be characterized as either a soprano or mezzo.
I believe I can comfortably perform roles in either category, within reason.
Wm: Congratulations on being the 2013 recipient of the Richard Tucker Foundation Award. I believe this is one of the awards that opera managements take very seriously.
IL: Thank you!
Wm: In my conversations with previous Tucker Award winners, I usually ask about their future career directions. As you move from baroque roles and those such as Cherubino and Rosina to the next stages of your career, what kinds of roles do you foresee taking on?
IL: I will be adding the role of Charlotte in Massenet's "Werther", Donna Elvira in Mozart's "Don Giovanni", Adalgisa in Bellini's "Norma" and also am looking at performing again Blanche in Poulenc's "Dialogues of the Carmelites", as well as more new works.
Wm: Excellent! Besides Charlotte and Blanche, I believe there is much in the French repertory that would be a nice fit for your voice and your dramatic interests.
IL: I would like to try one day Melisande in Debussy's "Pelleas et Melisande" and Marguerite in Gounod's "Faust". We shall see!
Wm: And what other kinds of roles interest you?
IL: I would also be interested in American musicals staged by opera companies, such as performing Julie Jordan in Rodgers and Hammerstein's "Carousel" or Guinevere in Lerner and Loewe's "Camelot". "My Fair Lady", "West Side Story", "Show Boat" – the list goes on!
Wm: Those all sound like winning propositions.
May I ask, what do you like to do when you are not onstage or rehearsing? You have been described as very interested in physical fitness.
IL: Physical fitness has become a fad these days when talking to opera singers. I think being healthy is extremely important, as I'm sure most would agree! It is important as physical theater creatures to be agile and own a certain level of physical dexterity.
[Below: Isabel Leonard appears with the Muppets in a Sesame Street episode on "opera singers in your neighborhood"; edited image of a production photograph, courtesy of isabelleonard.com.]
Nowadays, most importantly, I try to sleep, and not get sick! At this time in my career, I have very little time to do anything but work and take care of my three and a half year old son. I believe that if your sleep suffers, everything suffers.
Wm: Thank you, Isabel, for the time.
IL: Thank you.